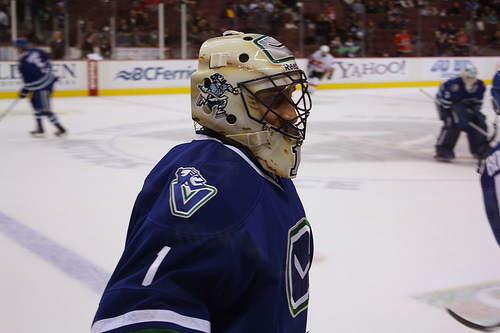 With rumors surfacing that Toronto Maple Leafs general manager Brian Burke is said to have contacted Vancouver Canucks GM Mike Gillis about acquiring Roberto Luongo one wonders what the asking price could be?
The Maple Leafs are set to start next season with James Reimer and Ben Scrivens between the pipes. While both Reimer and Scrivens have lot's of potential, neither one is widely regarded as a true number one goalie.
Last season the Maple Leafs struggled to find a goaltender that could stop the puck, dressing the likes of Reimer, Jonas Gustavsson (who signed with the Detroit Red Wings this summer), Scrivens and Jussi Rynnas between the pipes.
Reimer missed most of last season with what was originally thought to be a concussion, later found to be a neck ailment, forcing Gustavsson into the number one role. Scrivens got into 12 games with the Maple Leafs, posting a 4-5-2 record to go along with a bloated 3.13 goals against average and a less than impressive .903 save percentage.
Through all the bad bounces, injuries and questionable play between the pipes, Burke has continued to back Reimer as a potential star, while also praising Scrivens for his work at the AHL level with the Toronto Marlies.
Needless to say, the fans aren't buying into Burke's plan to employ a 1-2 punch of Reimer and Scrivens, and if the rumors are true, Burke looks to be in doubt as well.
Burke is said to have contacted Gillis about the services of Luongo prior to the 2012 NHL Entry Draft. The talks ended when the asking price was said to be too rich for Burke. If Burke recently contacted Gillis, it appears as if Burke may be having a change of heart, which could be great news for the Leafs Nation.
The Value of adding Luongo to the Maple Leafs roster has been debated in many forums. Despite a solid career record of 339-283-33-50, Luongo has his fair share of doubters.
Most of Luongo's critics point to some questionable efforts during the playoffs. A quick look at Luongo's career playoff numbers reveals a record of 32-29-0, a 2.53 goals against average and a 0.916 save percentage. Those numbers are on-point with Luongo's career regular season numbers which reveal a 2.52 goals against average and 0.919 save percentage.
Last season Luongo posted a 2.41 GAA  and a 0.919 save percentage, proving he is far from "done" as a legitimate NHL goalie.
The Hockey News recently ranked Luongo as the ninth best goaltender in the NHL, just one spot behind Corey Schneider, who beat Luongo out for the number one role in Vancouver last season. Reimer and Scrivens were MIA on this list, which is hardly a surprise when you consider how unproven they both are.
Luongo would be a huge upgrade for Burke, a fact that is likely not lost on the burly Irishman.
Luongo's contract continues to be a sticking point for many NHL teams, but when you consider the riches of the Maple Leafs, money is not really an issue. Luongo's contract runs through 2021-2022 at a cap hit of $5,333,333. On the surface the optics of this deal looks horrific, but when you consider Luongo (33) will probably retire in six or seven years, the numbers are manageable— especially for a team that desperately needs a goaltender.
The other sticking point for Burke is what Gillis will be asking for in return for Luongo.
The Canucks have a very average talent pool within their prospects, which means Gillis will probably be looking to land a package of picks and prospects.
According to The Hockey News Future Watch edition, the Canucks top ten prospects are Niklas Jensen (RW), Brendan Gaunce (C), Kevin Connauton (D), Eddie Lack (G), Jordan Schroeder (C), Anton Rodin (LW), Yann Sauve (D), Alexandre Mallet (LW), Frank Corrado (D) and Adam Polasek (D).
Once thought to be a blue-chip prospect, Schroeder has been inconsistent and has struggled to find his game at the AHL level. At 22-years old, the clock is ticking on Schroeder. Sadly, the once highly coveted forward may never be the impact player that many scouts felt he would be when the Canucks drafted him 22nd overall in 2009.
Should Luongo find himself with a new NHL team, Lack is expected to assume the backup role behind Schneider. When you look at the rest of Vancouver's crop of prospects many are stuck behind a very talented NHL roster or years away from making an impact at the NHL level.
Youth rules today's NHL, and while the Canucks boast an impressive NHL roster they have to be prepared for the future as well, which means they will have to maximize the return they get for Luongo if/when Gillis decides to trade him.
So, what will Gillis be asking Burke for?
Nobody knows for sure, but putting myself in Gillis' shoes I think the asking price starts with a second round pick and one of Toronto's top defensive prospects which may mean Burke saying goodbye to one of Stuart Percy (D), Jesse Blacker (D), or Matthew Finn (D). Gillis may also kick the tires on one of Burke's top forward prospects, such as, Carter Ashton (RW), Joe Colborne (C) or Nazem Kadri (C/LW).
Gillis may also have considerable interest in right winger Matt Frattin, but I find it hard to believe Burke would be willing to trade away Frattin, who is as affordable as he is valuable to the Maple Leafs.
If Gillis is thinking about Jake Gardiner or Morgan Rielly he can forget it, Burke will not trade either one of them for Luongo.
Of course, there is the matter of trying to off-set Luongo's salary by adding in a player that carries a reasonable cap hit. Forwards Matthew Lombardi and Tim Connolly carry sizable contracts, but both of these players have one-year left on their contracts at a cap hit of $3.5 million and $5.75 million, respectively.
With Luongo gone, Vancouver could easily absorb one of those contracts, although with the team so close to a Stanley Cup Championship, Gillis may balk at the idea of taking a contract of significance in any deal for Luongo.
An offer of Connolly, Blacker and a second round pick would seem more than enough to get this deal done.Connolly's veteran experience would be a valuable asset for Vancouver, and he is not a liability defensively.
When you consider as many as 2-3 other teams will be bidding on Luongo's services you have to think Burke will have to give up more than expected, so it is not unreasonable to suggest a deal of this magnitude is what it will take to land Luongo.
What do you think Leaf fans? What should Burke be willing to give up for Luongo? If you were Gillis what would you be asking for?
****Please, no mention of Mike Komisarek in your proposals, Gillis will never take him!