One came into the league as possibly the most hyped prospect the NHL had ever seen, the other came heralded in his own right but expectations were not nearly as high. One was dubbed "The Next One" as the next great superstar to follow the likes of Wayne Gretzky and Mario Lemieux. The other could only muster a silly acronym for his nickname. One went into his rookie season without a shadow of a doubt that he would be on his NHL team from day 1, while the other played his first few games hoping he could impress enough just to stick around.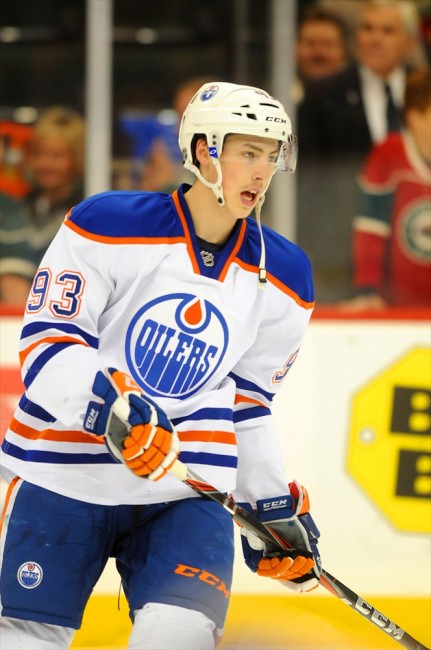 If you haven't figured it out by now who the "one" and the "other" I am referring to are then I've done a good job at masking it, but if you are a hockey fan then you likely know who the two players are. The uber-hyped prospect nicknamed The Next One is of course Sidney Crosby while the acronymed wonder is Ryan Nugent-Hopkins.
The two players, while similar in some aspects, couldn't have been more different as they entered their respective rookie seasons in the National Hockey League. Both were selected first-overall and both were pegged as future superstars, but the buzz that Crosby came with was unmatched by any of the recent first-overall selections; including  and especially Nugent-Hopkins. In fact, the prior four drafts produced top picks (Patrick Kane, Steven Stamkos, John Tavares and Taylor Hall)  that were all more talked about than Nugent-Hopkins but none were able to do what he has done through the first 25 games of his career.
In 25 games this year the 18-year-old Edmonton Oilers center has scored 11 goals and dished out 16 assists for a total of 27 points. In comparison, Sidney Crosby had 12 goals, 16 assists and 28 points through the first 25 games of his rookie campaign with the Penguins in 2005-2006. Crosby went on to an incredible 39 goal, 102 point season and while Nugent-Hopkins has quite a ways to go to reach those numbers, the fact that he is even keeping pace is impressive in its own right.
Raise your hand if you thought Ryan Nugent-Hopkins would spend the whole year in the NHL and produce a decent rookie season. Ok a good number of people would have predicted that. Now raise your hand if you thought that he would have over a point-per-game and have a single point less than Sidney Crosby did as a rookie after the first 25 games of the season. I'm pretty confident not many would have forseen that.
Did I mention that Nugent-Hopkins is currently in a tie for fourth in league scoring, a mere five points off the lead? In short, the rate in which he continues to exceed expectations is astounding.  Add in the fact that the young Oilers are currently holding down a playoff spot and you have what could end up being a truly remarkable season; something we haven't seen since, well, Sidney Crosby.
If anything, this demonsrates two things:
1. The awesomeness of Crosby for being able to deal with so much pressure and exceed the almost other-worldy expectations that were placed upon him at such a young age, and
2. The ability of Nugent-Hopkins to shrug off the notion that he was too small, too frail and plain old just not ready to play with the big boys and become a scoring star THIS YEAR, when he wasn't realistically expected to do so until further down the road.
But where is the love? Where is the fan fare? It is certainly on the rise after each passing game but it is still no where at the level that Crosby Mania was, and thats ok. Because as was the case when Sidney was making his way to stardom–there is always room for the next one, and if 25 games are any indication; the latest installment of the next one just might spell RNH.
Resident of Windsor, Ontario. Extensive knowledge of both the NHL and junior hockey in Canada, particularly the OHL. Writer for THW covering the Winnipeg Jets and the OHL as well as covering Phoenix Coyotes prospects for Hockey's Future.