Ryan Nugent-Hopkins is a former number one overall pick. He's an NHL All-Star and among the league leaders in ice time at his position. He comes into the season as the team's top centre after putting up back-to-back 56 point seasons.
Yet, media and fan attention will not be focused on him. That's what happens when you draft phenom Connor McDavid with your latest top pick. The media and hype tend to follow him around.
Still, Nugent-Hopkins will be the key to success for the Oilers this season, to a far greater extent than McDavid.
An Elite Centre Has Developed
In another year or two, hopefully, we'll be talking about both McDavid and RNH in this conversation, but McDavid hasn't played an NHL game yet.
Nugent-Hopkins has progressed in every year of his pro career and is on track to assume his spot among the NHL's elite this year.
Over the past season there may not have been a dramatic change statistically, but that does not tell the whole story.
Last season, Nugent-Hopkins improved his offensive game by scoring a career high 24 goals, but it was his 200 foot game that made the biggest difference. More attention to detail on the defensive end and a maturation in terms of positioning and awareness allowed RNH an increased role in all three zones.
Since the time he was a rookie he has added almost 20 pounds of muscle and last year it showed. Early on, he was outmatched by veteran players and was too easily shoved off the puck. Last season, there was a dramatic improvement as he won more of those one-on-one battles, especially down low in his zone and along the boards.
Often he went head-to-head against the other team's top centres, and only John Tavares (20:40) played more minutes league-wide then Nugent-Hopkins' 20:38 at their position.
Insulating McDavid
He will also provide significant protection for McDavid. RNH will presumably start the year as the top centre on the depth chart, allowing McDavid to slot in as No. 2. With teams primarily focusing on shutting down the top line, it will give McDavid time to get his feet wet.
Of course, we all expect McDavid to exceed expectations, and if that's the case, he will give opponents a headache trying to plan their defensive game.
While the hype surrounding Nugent-Hopkins was not at the level of McDavid following draft day, RNH will understand more than most the potential struggles for McDavid as he transitions from junior superstar to NHL pro.
"I think I can help Connor on the defensive end of things," said Nugent-Hopkins, who might be a good bet to sit beside McDavid in the Oilers dressing room. "From my experience, I know how difficult it is that way compared to playing junior. I know he's a really smart player, a gifted player, who will pick up stuff quickly." – Edmonton Journal
He will be able to give McDavid breathing room on the ice and become a valuable resource off it too.
Trending Up
The key for Nugent-Hopkins now, is to continue his progression and take his game to another level. While his play has improved drastically, and he was rewarded with an All-Star nomination last season, there are still areas of work.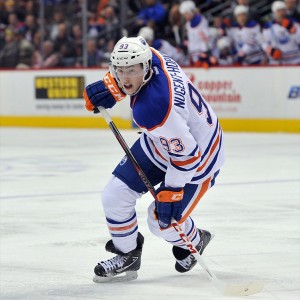 Face-offs are something he has yet to excel at and will be a point of focus going forward. He must also continue to get stronger, especially against centres like Ryan Getzlaf, Jonathan Toews and Anze Kopitar in the Western Conference who he will face for years to come.
There is also the notion that his offensive production will need to improve to get into the upper echelon of NHL centres. A 56 point season is impressive for a 22 year old, however it's below what you expect of a No. 1 centre, especially on a team with playoff aspirations.
Like every young player there are things to tweak and areas to improve. None of these areas however should be concerning to the Oilers however, as Nugent-Hopkins appears to be perfectly positioned in his development and each year has answered the criticisms of his game.
The offensive aspect will continue to grow as well and don't be surprised if there is a dramatic increase in year five for the Oilers' pivot.
For the Oilers to be in the conversation for a playoff spot, Ryan Nugent-Hopkins will play one of the more prominent roles.
In a Conference where strength down the middle has dominated in recent years the Oilers, perennially the weakest in that area, may soon be turning it into one of their stronger assets.
No one expects the Oilers to be dominant as early as next season, but with Nugent-Hopkins maturing into an elite centre and McDavid expected to be a generational talent a la Sidney Crosby, a team once considered the West's doormat will soon be a force to reckon with.
****