With less than an hour before the Buffalo Sabres season commences, here are 10 things to watch for during the 2011-2012 campaign:
1. The play of Ryan Miller. Make no mistake, where this team is headed in April depends very much on the play of the Sabres All-Star goalie. Ryan Miller has been the rock of this team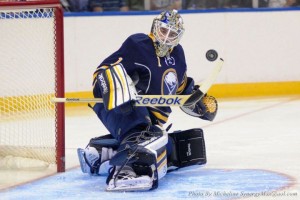 since 2005 and the time is nigh for him to rightly claim his spot in NHL history. The Buffalo defense is stronger this year and the offense seemingly more potent, so that should bode well for Miller. He has been a workhorse these past few years, and since the 2006-2007 season he has played 333 games. Other top-tier goalies like Tim Thomas and Marc-Andre Fleury have only played 277 and 296 in that same period of time. Even Roberto Luongo has played less at 331. We're not even counting post season appearances and his epic Olympic run in 2010. How long can Miller carry the weight of the Sabres?
For the first time since Martin Biron left for the Philadelphia Flyers, Buffalo's former Vezina Trophy winner has a competent backup goalie in Jhonas Enroth. Enroth should help Miller lighten his load and still give the Sabres a very strong chance of winning any game he's starting. Enroth proved his mettle last season by going 9-2-2-1 with a .907 save percentage and a 2.73 goals against average in Miller's stead. Most of those games came late in the season, as Enroth played a key role in securing the Sabres a playoff spot. With Miller's health becoming a lingering concern lately, it's assuring to know that Enroth can step in and give his team a chance to get 2 points. That was missing with Patrick Lalime. Still, I want to see Miller run this team. Jason Pominville may wear the "C," but we all know Ryan Miller is the heart and soul of the Buffalo Sabres.
2. Jason Pominville as team Captain. This was an interesting move by Lindy Ruff. It would seem the days of the rotating "C" are finally over in Buffalo, and I have faith in Pominville that he will don this role with success. Pominville could be dubbed "Mr. Buffalo," and he's very much a fan favorite. How that translates onto the ice is that Pominville's one of three guys you'd look to when this team needs a boost, and he has a strong track record of delivering. He  finished last season with 22 goals in 73 games, and rebounded nicely after a scary injury suffered early last season. Although, his 52 points last year were his lowest since 2005-2006 when he only played in 30 games. Regardless, there's no doubt about it, when Pominville is producing on the ice, the Sabres are a much stronger team. Plus, he's known to make clutch plays, and now that he's the leader of this team, I want to see him take control of his destiny.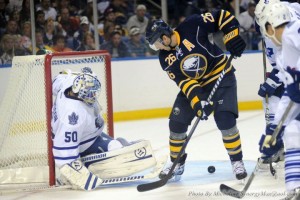 3. The remaining veterans from the 2005-2006 season. The players who remain from the 2005-2006 team that broke so many hearts throughout Western New York, after the Carolina Hurricanes ended their Cinderella season, are few remaining. Sabres fans still feel a swift kick in the pants when that series is brought up in conversation, and you wonder if the players who are still around from that year do, too. Paul Gaustad, Jochen Hecht, Derek Roy, Thomas Vanek and Miller and Pominville are all who remain from that exciting time in Buffalo Sabres History. You could even toss Drew Stafford into that mix since he joined the club a season later. Are these guys still able to produce like they did 6 years ago? Has their prime come and gone? We already talked about Miller and Pominville, but can Vanek score meaningful goals when his team needs them most? Is Derek Roy able to produce early on like he did last year? When will Jochen Hecht play again? Is Paul Gaustad still the tough 4th/3rd liner we love him for being? Will Stafford continue his shocking surge? Remember "One team, one goal?" Well, the old guard is running out of time to prove they can win it all, despite the fans pulling for them year in, year out. These guys need to really step it up this year and play like there's no tomorrow, because lingering injuries and old age are things they can't slow down.
4 . Ville Leino, Christian Ehrhoff and Robyn Regehr- worth the hype? Acquiring these three guys made the most buzz surrounding the Buffalo Sabres in the offseason since Daniel Briere and Chris Drury left the team that horrendous day in the summer of 2007. They didn't come cheap, but they come with great potential, experience, and winning vibes. In Ville Leino we have a winger who is on the cusp of blooming into a 20+ goal scorer. He had his best season ever last year, scoring 19 goals and 53 points. Sabres fans already know of Leino's skill from game 6 of their first round playoff series with the Flyers last year. Leino scored the game winning goal in OT for the Flyers, sending the series back to Philly for game 7, which they won 5-2. The talent surrounding Leino mirrors that of what he had in Philly, so hopefully he blows it open this year for Buffalo. Christian Ehrhoff and Robyn Regehr add some grit, veteran leadership and firepower to the blue line- the first two were seriously lacking last season, and maybe even since the Lockout. The soft defense has resulted in many amazing displays of Ryan Miller's acrobatic ability, but I think all Sabres fans would be ok with Miller's job being easier, and these guys can make that happen. Dubbed "Errorhoff" by critics, Ehrhoff has proven them wrong with his strong play and scoring ability the last two seasons  (+/- rating of 19 and 36, scored 14 goals in both and a total of 94 points). Regehr's toughness and leadership ability mirrors what Sabres fans hoped Craig Rivet would bring to the club a few years back. It's easy to see the holes these two guys filled in the roster, now we need to see them deliver on the ice and not just on paper.
5. Can Tyler Ennis, Tyler Myers and Nathan Gerbe claim this team as their own? When Sabres fans think of their team's future, this trio is usually in the forefront of our minds. Ennis and Gerbe have established themselves as legitimate 2nd liners, putting up 20 and 16 goals last year. When you hear about how the Sabres have depth and can roll 4 lines, these guys are major reasons as to why; especially now with Leino and a more productive Brad Boyes (more on that later). While Myers may have suffered a minor slump from his rookie season, there's no reason to doubt him this year. Look for all three to play key roles on the team during this campaign and beyond.
6. Lindy Ruff- still badass. I love Lindy Ruff, and if you're under the age of 30, it's tough to even remember what the Sabres were like before him. I have so many great memories of Ruff standing up for his players in the heat of the moment, getting in the face of the other team's coach, a ref, or even a fellow Sabre for making a bonehead move. This one is still my all-time favorite:
"Go after Peters! Go after Peters! Don't go after our ******* Captain!"
His energy is intoxicating and his anger motivates, and his 438-352-112 career record speaks for itself. Lets not even talk about how he's in the top 10 all time for wins with one team and just the 23rd coach in NHL history to make it to 400 wins. But how much gas does Ruff have left in the tank? Can he keep going on like this, year after year? Isn't the risk of a heart attack imminent? Well, I'm no doctor, but Lindy Ruff as we know him isn't going anywhere. He's obsessed, sometimes possessed, and I don't expect him to cool off or wimp out anytime soon. The day he does will be a dark, dark day for the Buffalo Sabres franchise.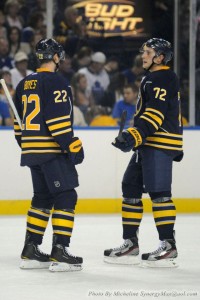 7. Brad Boyes. This guy needs to earn his keep this season, because while he had a pretty good start to his Sabres career, he was a dud in the playoffs. I really, really don't want to add Boyes to the list of failed trade deadline acquisitions made by the Sabres in recent history. A list that includes Dainius Zubrus (19 games, 4 goals, 8 points), Steve Bernier (17, 3, 9… he was -14 last season with the Panthers) and Raffi Torres (14, 0, 5). Well, Boyes has already outworked all of them (granted with more time to do it in), playing in 21 games and scoring 5 goals and 14 points. Unfortunately, none of that showed up in the post season, and that's worrisome. Sabres fans don't want history repeating itself, and are hoping for more production from Boyes given how the excuse for his lack of production in the past was that he played for a crappy team. Well, he's not now, so lets see him step it up.
8. How much longer can Pat Kaleta last? Kaleta, a WNY native, is the enforcer Sabres fans love and everyone else absolutely loathes. He's been nicked and dinged over the years, but holy hell, he's like Rob Ray Jr. on the ice. However, Kaleta has never played more than 55 games in a season, and he dropped from 10 goals in 2009-2010 to just 4 last year. When he gets going, Kaleta's an entertaining guy to watch, but only when his presence adds to the intensity of the game and he's not providing the other team with scoring opportunities. He's taken a beating over the years, but has also dished that out double to his opponents. Depending on Kaleta's health status throughout the year, Zack Kassian may get to see some playing time. I can't think of any Sabres fan who wouldn't relish the thought.
9. Just how deep are Terry Pegula's pockets? The new owner in shining blue and gold armor has already opened his wallet and dug deep for his team in the last 7 months; not only in the free agent market, but also by purchasing the Rochester Americans of the AHL, keeping the farm team close to home. But just how much more can he offer this team? Is he willing to make the moves necessary if the Sabres fail to deliver come April and make an early playoff exit? Or when in February we're looking at a bunch of injuries, or even worse, a crappy record. Does Pegula turn to his bank account in order to buy the team's problems away? We all know Pegula is for real, Buffalonians wish Ralph Wilson would take notes, but my history of being a Buffalo sports fan keeps telling me one day we'll wake up and Pegula will have had enough. He's said otherwise, and I certainly wish it so, but until our city is able to bring home a Championship, my skepticism prevails.
10. Schadenfreude. Hockey Nation, I openly admit this one isn't nice, but I need to get it off my chest. If Tim Connolly doesn't play at all this season, that would be… wow. I can't even put the euphoria I would experience into words. Ok, not really. Wishing ill will on an athlete for purposes of spite is wrong, and I won't take part in that. I wish Tim Connolly a speedy recovery from his ailments. However, to bear witness to him being a lame duck for Toronto would be highly entertaining. The Maple Leafs overpaid for him in the offseason at $9.5 million for two years, and his bald, glassy body is already proving why he's a bust as he missed the season opener last night against Montreal. In his 8 seasons with Buffalo, Connolly never scored 20 goals. Why? Because he was always broken. Always! Add to the pile 28 straight post season games without a goal dating back to 2007, a -10 rating last year, and how he's generally regarded as not the nicest guy in the room, and Toronto's move doesn't look so good. I only hope for the worst. Speaking of Schadenfreude, it's worth noting that in the 2009-2010 playoffs, the Sabres were eliminated by the Bruins who then suffered one of the worst meltdowns in sports history against the Philadelphia Flyers. Last season, the Sabres were eliminated by the Flyers, who went on to get swept by the Bruins, who then won the Stanley Cup. The moral of this story? Don't eliminate the Sabres in the post-season.
Tonight Buffalo takes on the Anaheim Ducks in Helsinki, Finland. Rumor has it the Sabres are the away team, as Anaheim has three players who have strong ties to the region. Hopefully Buffalo can ride the momentum of a successful preseason, and start showing right away that they're expecting to still be playing in June.
Sources: NHL.com, WGR550.com. All photos courtesy of Micheline (synergymax@aol.com)
Lived in Buffalo, now resides in Los Angeles. Sometimes sports a mustache. Owns an actual sabre and knows how to use it. Also cheers for the Buffalo Bills & Atlanta Falcons. Likes comics, too.