The Columbus Blue Jackets have never had a true #1 defenseman in their franchise history.  They still don't, but this season should see them ice the best group of blueliners they have ever had.  The most points scored in a season by a Blue Jackets defenseman is 45 by journeyman Jaroslav Spacek back in the 2002-3 season.  Though deeper and more talented there are still question marks about the depth and overall ability of the corp as a whole.  Gone is the stalwart Jan Hejda, replaced by the equally defensive-minded and underrated former New York Islander Radek Martinek.  After last year's mid-season trade that saw the Blue Jackets send Rostislav Klesla to Phoenix, GM Scott Howson decided to gamble on young, fiery defender James Wisniewski.  Coming off the best season of his career that saw him post 10-41-51 with the Islanders and Montreal Canadiens, Wisniewski was signed to a huge six-year contract.  Will this defense improve on last year's below average defense?  While Wisniewski serves his suspension Martinek and Grant Clitsome will move up one pairing each and rookie David Savard will slot in on the third pairing with Kris Russell.
FIRST PAIRING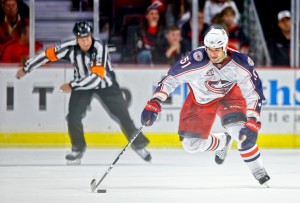 Fedor Tyutin – James Wisniewski
While short of spectacular this pairing is the closest this team has ever had to a true #1 pairing.  Tyutin was on fire in the preseason, putting up 7 points in four games.  Wisniewski looked as dangerous as advertised in the two games he played, his shot from the point is an absolute cannon, and he gets it through most of the time.  Unfortunately Wisniewski has already caused a bit of a headache for the team as a preseason shot to the head of Minnesota Wild forward Cal Clutterbuck earned him an eight-game suspension.  Can Wisniewski play at the level he's being paid to play at?  At the very least this pairing should hold its own with most teams and in some cases overpower some lines as well.  The true questions are whether Wisniewski can stay on the ice, and whether Tyutin can continue his hot streak.  If Tyutin continues to impress and Wisniewski controls himself this tandem could be something to watch, especially on the power play.
SECOND PAIRING
Marc Methot – Radek Martinek
This appears to be the Blue Jackets shutdown pairing as both Methot and Martinek are both known more for their defensive prowess than their offensive.  Questions persist on this pairing as well.  Can Martinek stay healthy?  He has been an excellent, steady presence in New York.  When he's on the ice at least, and that hasn't been often in the last few years.  Martinek has missed an average of 28 games in his eight years in the league.  As for Methot, Head Coach Scott Arniel believes that a move back to the left side of the ice will benefit the big defenseman.  While he didn't have a horrible season last year, Methot didn't manage to post a single point after January 11th.  The former London Knight played for Team Canada in the 2011 World Championships and by all accounts played extremely well.  If they can stay healthy this pairing could prove to be troublesome to opposing teams first lines.
THIRD PAIRING
Kris Russell – Grant Clitsome
As if there weren't enough questions already this pairing is full of them.  Can Clitsome replicate the success he found last year?  Will Russell ever develop into anything more than a 6-7 defender?  This undersized duo played together at the end of the season last season and looked shaky at best.  Clitsome stormed onto the NHL scene last year sporting a name made for the Twitter age and a booming slapshot he isn't hesitant to pull the trigger on.  The former 9th-round draft pick (no, there are no longer 9 rounds in the draft) made the most of his mid-season callup and forced the Blue Jackets to keep him on the big club.  Clitsome helped the power play improve from corpse-like to mostly-dead and usually wasn't a liability defensively.  As for Russell, the former CHL Defenseman of the Year has never come close to carrying his junior successes over to the NHL.  While he is a swift skater and possesses a nice wristshot, he is undersized and doesn't position well enough to make up for it.  There was some trade scuttlebutt earlier in the week about the Blue Jackets possibly talking with some teams about a defenseman.  I have little doubt that the Blue Jackets were looking to move Russell for the right price.
OTHER EXPECTED TO CONTRIBUTE
David Savard, Aaron Johnson, John Moore
Rookie Savard will start at least the first eight games of the year while Wisniewski serves his suspension.  After that should depend on his performance.  Savard may be a rookie but he plays like a veteran and was AHL affiliate Springfield's best defenseman last season.  He skates smoothly, doesn't panic, and has a nice first pass out of the zone.  Johnson, an inconsistent yet competent journeyman, adds some depth and insurance in case of injuries.  The Blue Jackets are hoping that former first-round pick John Moore stays in Springfield to work on his defense and consistency, but if injuries mount the speedster could find himself with the big club.