After years and years of being atrocious at developing prospects and incorporating new players, the Buffalo Sabres have finally gotten it right and are embracing their current youth movement, including, and especially, the standard bearer of that movement: Jack Quinn.
Since he was drafted in 2020, Quinn has ascended through the ranks and found himself in the NHL full-time this season at age 21. With plenty still to learn, he has all the makings of a star and could be one of the leaders of the next generation of hockey in Buffalo.
Quinn Helped Stack Buffalo's Pipeline
The biggest factor behind the Sabres' ongoing 12-season playoff drought has been the team's total inability to cultivate their own talent. For the last decade, they either drafted poorly or drafted well but failed to develop their prospects. As a result, numerous talented young stars have fallen through the cracks despite their talent and ability to get the team back on track. Luckily, the paradigm has finally shifted.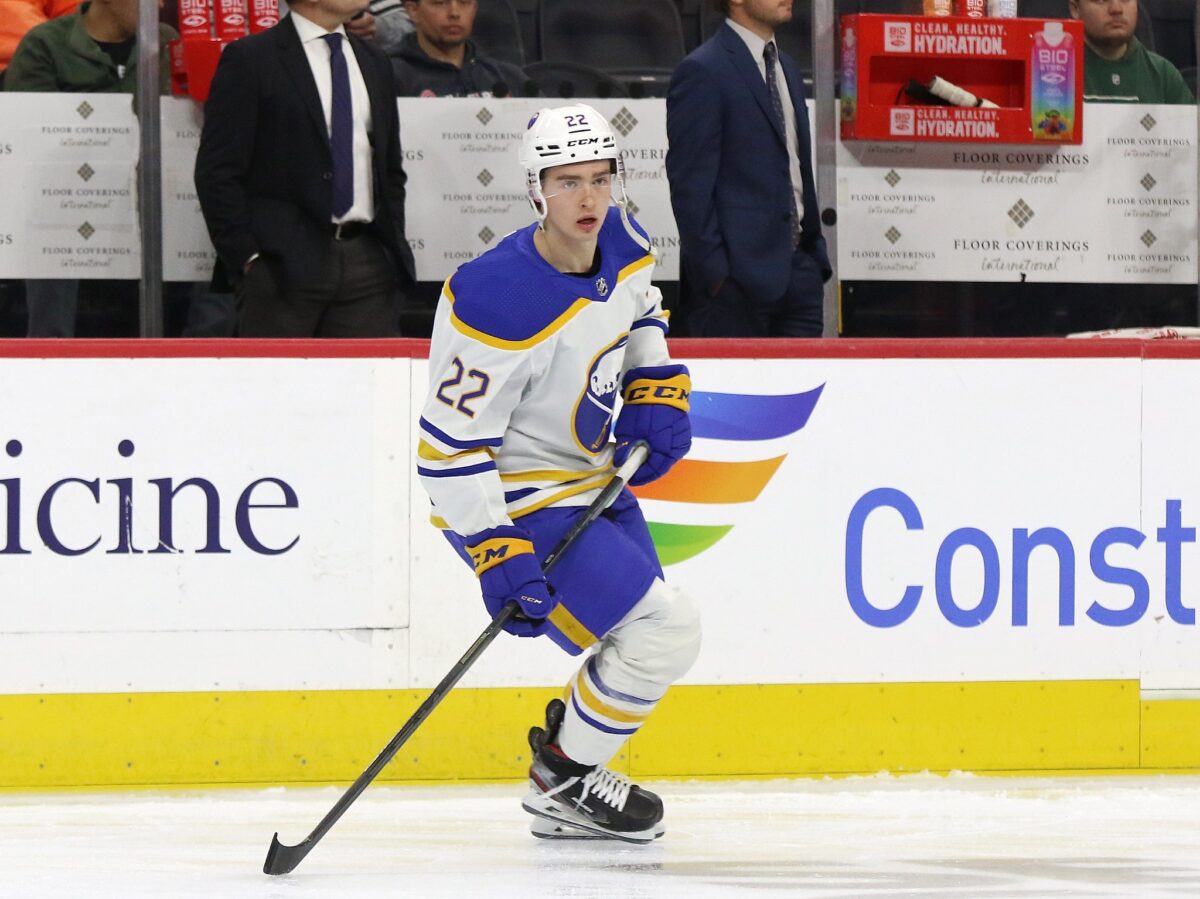 After adding Rasmus Dahlin, Mattias Samuelsson, and Dylan Cozens, the Sabres were in a unique position at the 2020 Draft, as one of the few teams not to qualify for the NHL's restart during the COVID-shortened season. Though he was one of the best prospects available, Jack Quinn hardly received any attention because of flashier players like Alexis Lafreniere and Quinton Byfield who ranked ahead of him. But after a sophomore season with the Ottawa 67's that saw him put up 52 goals (ranked second in the Ontario Hockey League), Sabres general manager Kevyn Adams nabbed him with the eighth overall selection. Though it may have seemed like a gamble at first, Quinn quickly proved it wasn't.
---
Latest News & Highlights
---
Deciding to turn pro for the 2021-22 season, he was sent to Buffalo's American Hockey League (AHL) affiliate, the Rochester Americans, where he recorded 26 goals and 61 points despite missing nearly half the campaign due to injury. The remarkable performance won him the Dudley Garrett Memorial Award as the league's Rookie of the Year (the first Amerk to receive the honor since 2000) and put Sabres fans on notice. From that point forward, they knew they had a star in the making, and it came as no surprise when he was called up to the NHL alongside fellow 2020 selection John-Jason Peterka.
The Kids Are Alright
Quinn turned 21 less than a month before his rookie season, and fans tempered their expectations. No player is immune to growing pains, and though he left the AHL in his wake, nobody was expecting him to replicate that performance in his first NHL campaign. The lack of pressure ended up paying dividends, as he pieced together a respectable season with 14 goals and 37 points in 75 games (good enough for eighth on the team). But his stat line didn't do his performance justice.
Like Cozens, Quinn displays a poise not often seen in players so young, and it was immediately evident that he was mature beyond his years. His on-ice vision and playmaking ability are strong, and he's able to both create and convert scoring opportunities despite his relative lack of size. He doesn't possess blazing speed, but his shifty agility (similar to Jeff Skinner) more than compensates for it.
Quinn quickly became an integral part of the Sabres' top-six. He was shuffled around but found the most success playing with his fellow youngsters. Head coach Don Granato often played him alongside Cozens and Peterka, a decision that worked out surprisingly well. He also worked well with Peyton Krebs, whose disruptive, high-energy style proved to be a near-perfect match.
Related: Sabres 2022-23 Season Report Card: Peyton Krebs
The results on the other side of the puck were a bit more mixed. Quinn was a minus-7 on the season and improvement will be needed with his two-way play, though it wasn't as bad as some of his teammates. On the other hand, he recorded only 15 penalty minutes, five of which came when he showcased his gumption in his first career fight on Feb. 26 against the considerably bigger Nicholas Aube-Kubel of the Washington Capitals.
Final Grade for Quinn
He clearly still has some growing to do, but Quinn has all the tools and fans should be very excited for his future. His offensive abilities are already impressive, and they should only get better as he continues to develop. A restricted free agent (RFA) after next season, he has the potential to be a consistent 30-plus goal scorer and 70-plus point producer, and the Sabres will surely be looking to lock him up long-term. With so many other young standouts on the rise beside him, the team is heading in the right direction.

The only real question for Quinn is his durability. He's struggled with injuries pretty significantly, dating back to his junior career, and though he managed to stay healthy this season, he may want to consider adding weight to his slight frame (just 185 pounds). The once spindly Tage Thompson benefited immensely from muscling up, and the same could be true for the Eastern Ontario native. Nevertheless, Quinn figures to be a big name in Buffalo for years to come, and many more No. 22 jerseys will be seen at Sabres games going forward. Final Grade: B.