Now that the 2023 NHL Draft is just around the corner, I thought it was time for my final mock draft, a full walkthrough of my best guess at how the first two rounds of the draft will play out. Since the Stanley Cup Final is still being played, I've determined the final draft order based on regular season points percentage so don't take the positioning of either remaining team as a prediction of any kind.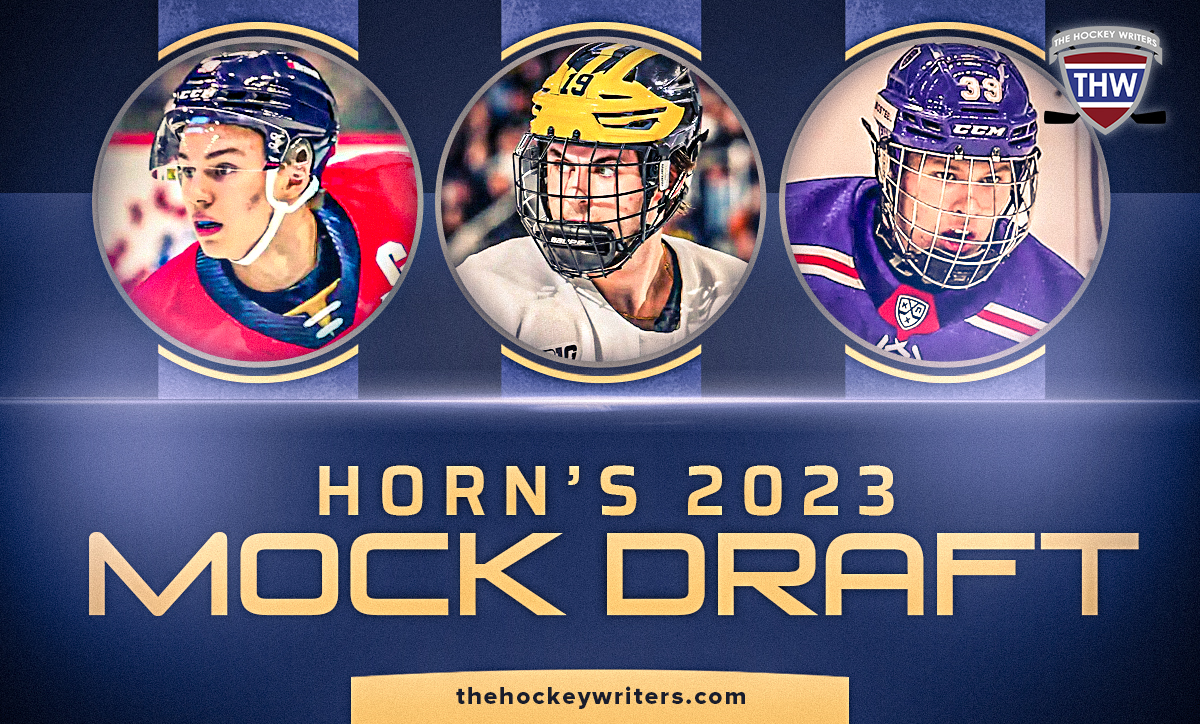 There are always lots of rumors flying around this time of year, connecting teams with players they are reportedly interested in so I've done my best to keep up to date on some of that. If you want to know how I would rank these players based on talent rather than on where I think they'll land, feel free to check out my latest draft rankings here where I ranked the top-100 prospects as I see them.

Without further ado, let's get into my final mock draft of the year!
(updated Tuesday, June 6 following the Ivan Provorov trade that saw the 22nd overall get traded to the Philadelphia Flyers)
First Round:
1. Chicago Blackhawks: Connor Bedard, C, Regina Pats (WHL)
Connor Bedard has been the no-doubt first overall pick since the World Juniors and rightfully so. He gives Chicago a foundational piece and it'll be interesting to see what the Blackhawks can build around him in the next few years. Landing Bedard also turns their training camp next fall into tryouts to play on his wing.
2. Anaheim Ducks: Adam Fantilli, C, University of Michigan (NCAA)
Adam Fantilli will be an excellent piece in Anaheim, allowing them to move Trevor Zegras to the wing and further deepen their already exciting top-six forward group. One of the league's best young cores is only going to get better no matter who they take here but Fantilli feels most likely at this point.
Related: 2023 NHL Draft Guide
---
Latest News & Highlight
---
I think Leo Carlsson has made the Ducks' decision much tougher following his great performance for Sweden at the World Championships, where he centered their top line, but Fantilli is still the pick at two.
3. Columbus Blue Jackets: Leo Carlsson, C/W, Örebro HK (SHL)
Leo Carlsson has tons of potential to be the top-line center that Columbus has searched for over the last few decades, and would pair nicely with youngsters like Kent Johnson and David Jiricek. He's got tons of skill and plays a very mature two-way game that should translate well to the NHL very soon.
4. San Jose Sharks: Will Smith, C, USA U18 (NTDP)
I expect San Jose will be the first team to seriously consider taking Matvei Michkov, since Will Smith will likely be a serious NHL contributor one year sooner than Michkov at the earliest, but the certainty Smith provides and the control they would have over his development is incredibly valuable.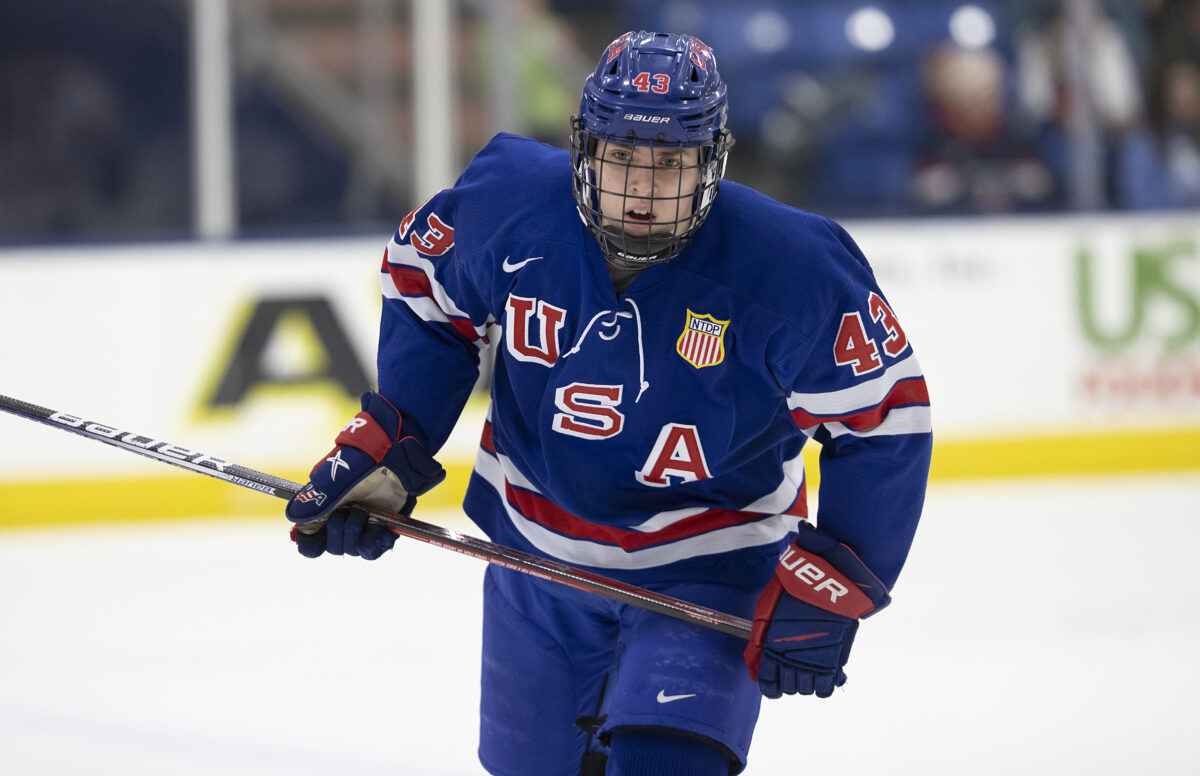 He gives the Sharks their first big piece down the middle who can be eased into a larger role behind Tomas Hertl and Logan Couture as they transition to their new, young group of players.
5. Montreal Canadiens: David Reinbacher, RD, Kloten (NL)
Montreal holds the first true wild-card pick here because I could realistically see them going for Dalibor Dvorsky, David Reinbacher, Ryan Leonard, or Michkov with this pick. In the end, I have them adding the top defender of the class in Reinbacher, a mature, two-way defender who is very highly thought of by a great number of NHL teams. He could likely play in the NHL as soon as next season, though another year of pro hockey in Europe or the AHL would do him good.
6. Arizona Coyotes: Dalibor Dvorsky, C, AIK (Allsvenskan)
Dalibor Dvorsky has yo-yo'd a bit this year going from a lock as a top-10 pick to a questionable top-16 pick, and now firmly back into the top-10 conversation. His shot and goalscoring instincts really stand out when you watch him, but he's got great skill with the puck as well and has a very high motor. Arizona added a top-six quality center in Logan Cooley last year, and adding Dvorsky gives them another prospect who is likely to become a high-in-the-lineup center (though Dvorsky would still succeed on the wing if need be).
7. Philadelphia Flyers: Ryan Leonard, RW, USA U18 (NTDP)
I wouldn't be surprised if the Flyers went for a center here (Dvorsky if he's still on the board or maybe Nate Danielson), but I have them taking Ryan Leonard, a hard-working, play-driving winger who has shown a ton of finishing talent this year. He will quickly endear himself to Flyers fans, coaching staff, and management alike as soon as he decides to move on from the NCAA.
8. Washington Capitals: Matvei Michkov, RW, HK Sochi (KHL)
Matvei Michkov will be the most interesting prospect to watch on draft day in my opinion, with the talent to be a sure-fire top-3 pick, but the context of his play and future will see him drop out of that range almost certainly. It's hard to see the Capitals passing up on the chance to draft the best Russian prospect since Alexander Ovechkin, especially since he'll arrive in North America right after Ovechkin's current contract finishes.
9. Detroit Red Wings: Nate Danielson, C, Brandon Wheat Kings (WHL)
The Red Wings have a well-documented need at center and on right defense, but I don't see them addressing the defensive issues at ninth overall unless Reinbacher is somehow still available. Instead, I have them taking Nate Danielson, a well-rounded, two-way center who already has a ton of pro traits and will give Marco Kasper some real competition for the second-line center spot in the near future, making Detroit's center depth a position of great strength rather than one of weakness.
10. St. Louis Blues: Matthew Wood, LW, University of Connecticut (NCAA)
Matthew Wood has an incredibly high skill level and scored at an impressive clip as the youngest player in NCAA hockey this year. He may not fill the biggest positional need for this team, but there are plenty of exciting wingers available in this range and I think the ability of other NHL teams to develop tall forwards with subpar skating (thinking especially of Tage Thomspon in Buffalo) gives them confidence that Wood can be a serious contributor. Tom Willander could also be an option if they want to go for a defenseman.
11. Vancouver Canucks: Tom Willander, RD, Rögle BK J20 (J20 Nationell)
Vancouver is yet another team with great need on the right side of defense and at center, and with Reinbacher, Dvorsky, and Danielson off the board, I have them taking Tom Willander, a big, right-handed defender who skates like a dream.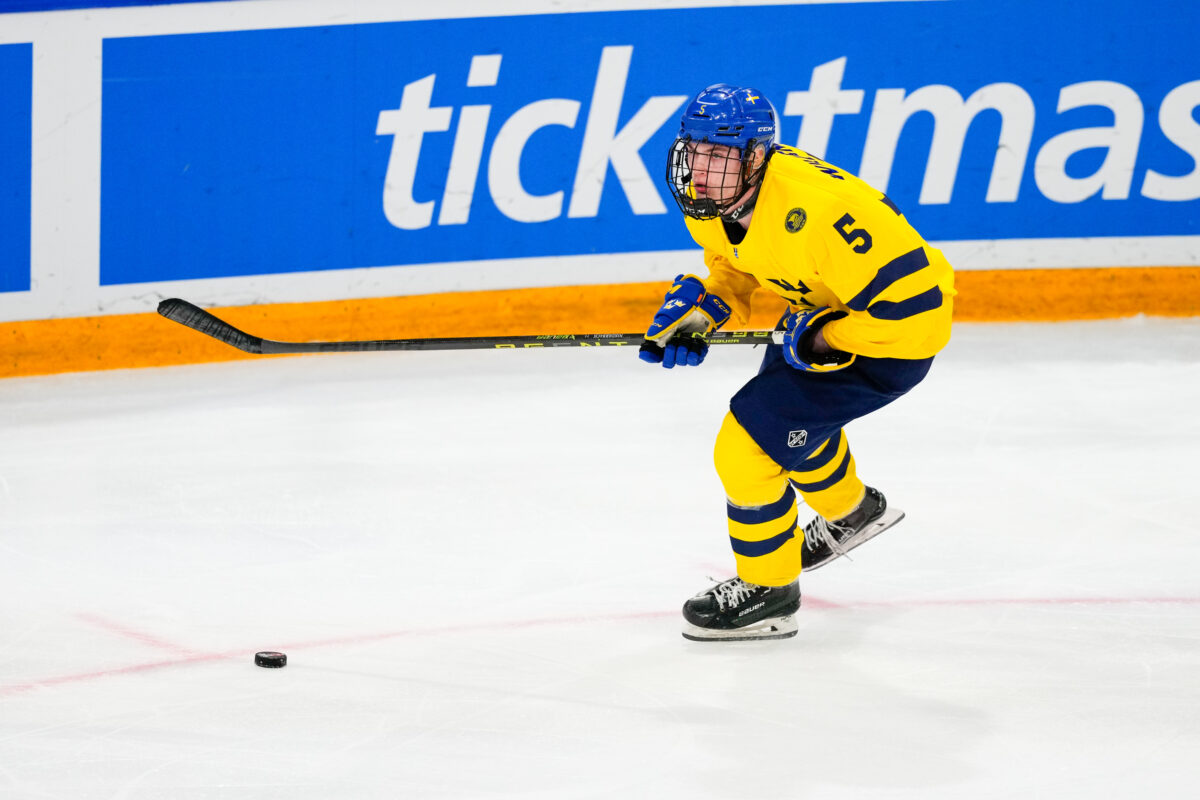 Willander is a late riser in the draft following a good second-half of his league play and a stand-out performance for Sweden at the U18 World Championships. Taking the right side of your defensive group from Tyler Myers/Ethan Bear to Filip Hronek/Willander in a few months would be tidy business for the Canucks.
12. Arizona Coyotes (via. Ottawa): Oliver Moore, C, USA U18 (NTDP)
I've got the Arizona Coyotes going back to the NTDP a year after landing Logan Cooley at third overall, this time taking the best remaining centerman in Oliver Moore. Moore's skating is high-end and will likely make a great second-line center behind Cooley in Arizona someday. I believe he has more to show with better line mates, and was under appreciated by many people who tuned into NTDP games last year to watch the stacked top line.
13. Buffalo Sabres: Axel Sandin Pellikka, RD, Skellefteå AIK (SHL)
The Buffalo Sabres have an incredibly deep group of talented young forwards, from JJ Peterka and Jack Quinn already breaking into the NHL and guys like Jiri Kulich and Matthew Savoie not far off. They've also got a really great group of defensemen on the left side with Rasmus Dahlin and Owen Power, so with this pick I have Buffalo adding the most gifted offensive defenseman in the draft class in right-handed Axel Sandin Pellikka. A rare pick that is a perfect combination of the best player available and picking for positional fit. 
14. Pittsburgh Penguins: Colby Barlow, LW, Owen Sound Attack (OHL)
If the Pittsburgh Penguins still own the 14th overall pick by the time the selection is due, I expect they will be looking for someone who can support Sidney Crosby and Evgeni Malkin sooner than later on the wing while also being a decent player for them once their older core has moved on. Colby Barlow is a great goalscorer, and is quite mature physically so he could be in the NHL just over a year from now, possibly spending some time on the wing of either of the above-named future hall-of-famers.
15. Nashville Predators: Zach Benson, LW, Winnipeg ICE (WHL)
Nashville's brand new general manager, Barry Trotz, recently shared his draft philosophy which was essentially to take swings on prospects who could be legit top-of-the-lineup talent rather than safe picks with lower upside. Zach Benson will likely slide a bit on draft day, probably out of the top-10, because of his size and lack of footspeed.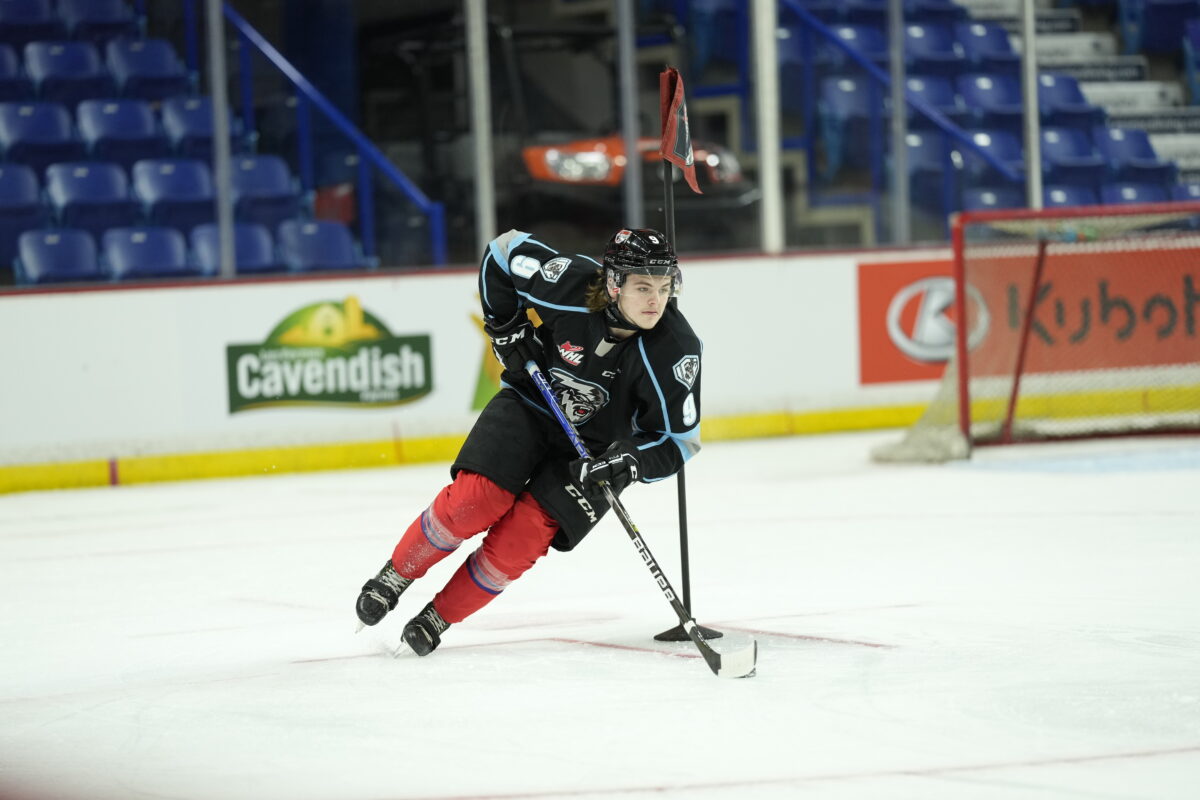 He would be an incredibly valuable pick here for Nashville and would be a fitting start to the Trotz era as an incredibly skilled and competitive forward who will get the fans out of their seats.
16. Calgary Flames: Brayden Yager, C, Moose Jaw Warriors (WHL)
Brayden Yager is a goalscorer first and foremost, with the shot, speed, and compete level to score at the game's highest level. I think Calgary will draft him hoping he makes it as a center in the NHL, with most of their top prospects being wingers, though they'll likely be able to live with him ending up as a winger if his goalscoring translates like some think it will.
17. Detroit Red Wings (via. New York Islanders): Gabe Perreault, LW, USA U18 (NTDP)
After taking a relatively safe prospect in Nate Danielson, I have the Red Wings swinging here on Gabe Perreault, one of the most intelligent and skilled players in the draft. Perreault will need to put on a bit of muscle to be effective in the NHL, but he will have time to do so in the NCAA for the next year or two. He looks like a one-way winger, but Detroit is in serious need of some game-breaking offense and Perreault has the highest offensive upside of anyone left on the board.
18. Winnipeg Jets: Oliver Bonk, RD, London Knights (OHL)
The Winnipeg Jets have selected forwards with each of their last four first round selections, so I've got them going for a defenseman this time around. It could be Dmitri Simashev here, but they didn't take any Russian's in the 2022 Draft so I'm not confident they'd go that route.
Related: Early Look at the 2024 NHL Draft
Instead I have them reaching a bit for Oliver Bonk, a solid two-way defender who is a jack-of-all-trades type. Bonk is 6-foot-2 and looks like an everyday NHLer to me who will likely play second-pairing minutes for most of his career.
19. Chicago Blackhawks (via. Tampa Bay Lightning): Samuel Honzek, LW/C, Vancouver Giants (WHL)
The Chicago Blackhawks are one year into their rebuild now and I think that they'd be very happy to leave the first round with two prospects in Bedard and Samuel Honzek who both figure to be fixtures in the team's top-six forward group for a long time, either at center or on the wing. Honzek is a big forward who skates well, competes hard, and has a great shot. He's got a solid two-way game and killed penalties well in the WHL this year. 
20. Seattle Kraken: Quentin Musty, LW, Sudbury Wolves (OHL)
Quentin Musty has been an interesting prospect to follow this season, with significant highs and lows throughout the year. I think the Kraken would be willing to take the risk with Musty since he is a dynamic, offensive winger with great playmaking and an even better shot. His lack of footspeed and his defensive deficiencies could be mitigated by playing him next to one of Seattle's great young centers Shane Wright or Matty Beniers a few years down the road.
21. Minnesota Wild: Daniil But, LW, Loko Yaroslavl (MHL)
Minnesota showed a willingness to take top Russian talent in the 2022 Draft and I think there's a good chance they take one of Dmitri Simashev or Daniil But at this spot if they're both still available. But is 6-foot-5 and skates quite well for that size with an admirable top-speed and decent lateral mobility. He is a sniper first and foremost, with a heavy shot thanks to his large frame. But is going to go higher on draft day than many expect, and I think this is probably the latest he could possibly go with a good chance at rising into the top-20. 
22. Philadelphia Flyers (via. Columbus Blue Jackets): Dmitri Simashev, LD, Yaroslavl (KHL)
Philadelphia recently signaled quite clearly that they're rebuilding when they traded Ivan Provorov in a three-team trade that saw them net this very draft pick, among other pieces.
They didn't take any Russians last year but their new management group seems to be willing to take their time in setting the team up for future success so I've got them snagging Dmitri Simashev. Simashev is a massive (6-foot-4) defender who has high-end skating and has the highest defensive potential of all defensemen in the 2023 Draft as a result of his mobility and reach. 
23. New York Rangers: Calum Ritchie, C, Oshawa Generals (OHL)
Calum Ritchie who could realistically fill out the Rangers' middle-six as a good two-way center who has tons of NHL skills/tools. He's 6-foot-2, skates well, and has great hands, all tools that help young forwards, especially centers, translate their game to the NHL. A selection in this range is a bet that he can become an above average 2C someday but his skill set lends itself to a great 3C role someday at the least.
24. Nashville Predators (via. Edmonton Oilers): Andrew Cristall, LW, Kelowna Rockets (WHL)
In following Trotz's theme of taking big swings with early picks, I have the Predators using their second pick of the first round on another undersized, super-skilled winger who I expect will fall on draft day in Andrew Cristall. Cristall is probably the best bet to lead the WHL in scoring next year if he has a healthy year.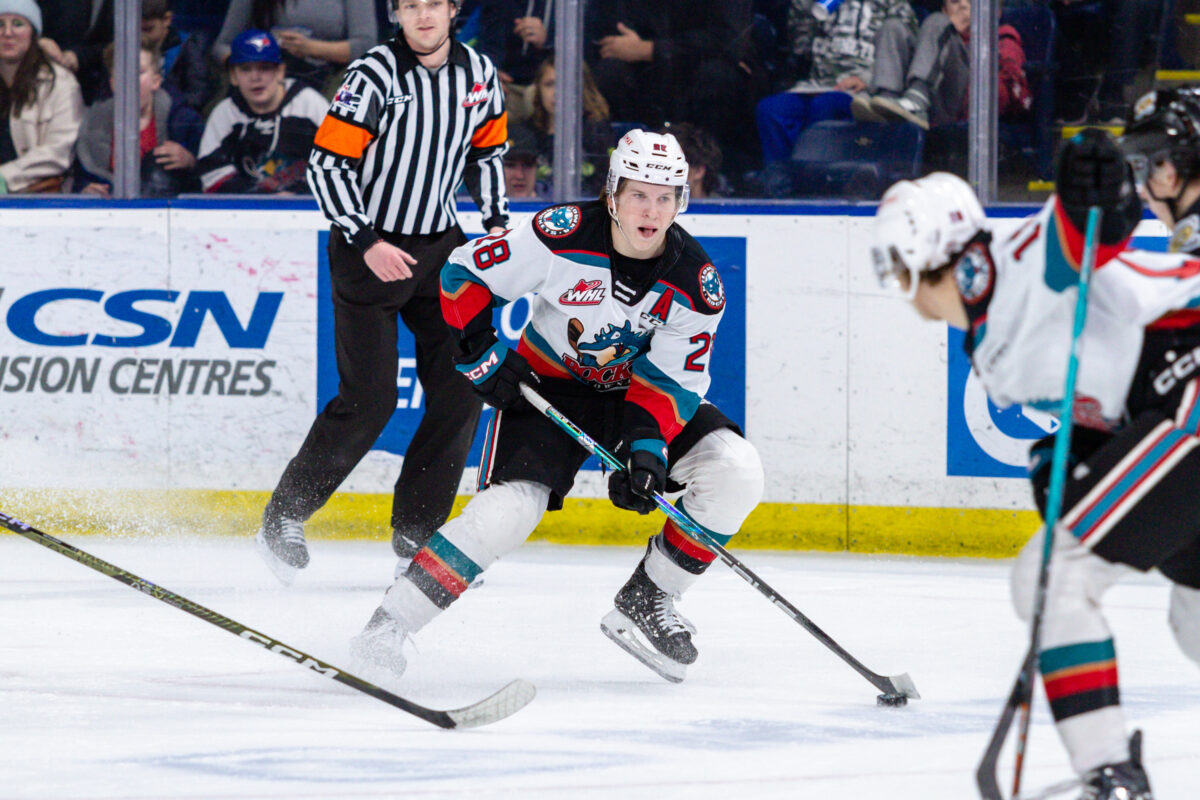 He has a ton of skill and a sneaky-good shot. Getting out of the first round with Cristall and Benson would be an absolute haul for a Predators team that looks prepared to take a small step back in order to allow themselves to take a big step forward again in the near future. 
25. St. Louis Blues (via. Toronto Maple Leafs): David Edstrom, C, Frölunda HC J20 (J20 Nationell)
David Edstrom is a 6-foot-3 center who has tons of speed and competes really hard. He has risen up draft boards a ton lately, mostly due to his great performance at the U18 Worlds where he scored eight points in seven games, often as Sweden's first line center. He doesn't appear to be a particularly dynamic offensive creator, but he has good hands and makes smart decisions very quickly, a good sign for his NHL projection. 
26. San Jose Sharks (via. New Jersey Devils): Eduard Sale, RW, HK Kometa Brno (Czechia)
Eduard Sale has had a rollercoaster of a draft year, but it ended off on a bit of a sour note and I think he'll slide from the top-10 range he was being talked about in this Winter and back into the 20s. He has a ton of skill with the puck and is big enough to get around or through defenders consistently. If Sale can work on his consistency issues, he has the potential to be a top-six, playmaking winger in the NHL who succeeds on the powerplay. The Sharks are at a point in their rebuilding cycle where they can afford to take a risk like this on Sale and hope that he can show his flashes of great skill on a more consistent basis going forward.
27. Colorado Avalanche: Bradly Nadeau, C, Penticton Vees (BCHL)
Bradly Nadeau was the best Junior A player in Canada this year, leading the BCHL in goals, assists, and points as a 17-year-old. Nadeau is very quick and has one of the best shots in the entire draft, ripping wrist shots and one-timers with a quickness and power that makes me believe he'll regularly beat NHL goalies in a few years. He is a 5-foot-10 winger which complicates things a little, but the Avalanche are firmly in their competitive window and should be comfortable taking a little bit of a risk on a player with so much potential. 
28. Toronto Maple Leafs (via. Boston Bruins): Otto Stenberg, C/LW, Frölunda HK J20 (J20 Nationell)
It feels rather unlikely that Toronto will hold onto this pick, with new general manager Brad Treliving likely moving it either to free up cap space or to improve their NHL roster immediately as they try to win now with their "Core Four". Should they keep the pick, then it's hard to see them coming out with a much more talented player than Otto Stenberg. Stenberg is a hard-working forward with a really good shot and NHL quality skating. He's played at center in junior but is probably a middle-six winger in the NHL, still a very valuable proposition this late in the first round for a Toronto team in need of talent on affordable contracts.
29. St. Louis Blues (via. Dallas Stars): Riley Heidt, C, Prince George Cougars (WHL)
After going for size with Wood and Edstrom with their previous two picks, I have the Blues taking a bit more of a risk on a 5-foot-10 forward in Riley Heidt. Heidt is an excellent playmaker who sees the ice incredibly well, making difficult passes through tight passing lanes regularly at the junior level. Being 5-foot-10 and not having high-end speed will not work in his favor as he makes his way to the NHL, but adding a bit more strength and another gear to his top speed will go a long way in solidifying him as a middle-six forward with a ton of powerplay value.
30. Carolina Hurricanes: Gavin Brindley, C/LW, University of Michigan (NCAA)
Gavin Brindley is likely to be drafted much later than he deserves, all because of his size. Brindley is 5-foot-8.5 but don't let that fool you, he is an excellent skater and one of the most competitive players in the entire draft. Brindley was a force in the NCAA this year as a freshman, and will be an impact player in the NHL. He retrieves pucks, wins more battles than you'd expect, and does it all while never leaving his top gear. 
31. Montreal Canadiens: Tanner Molendyk, LD, Saskatoon Blades (WHL)
Tanner Molendyk is one of the best skaters in the draft this year, with only Oliver Moore beating him out when it comes to edgework specifically. Molendyk's edgework makes him incredibly mobile in all directions, capable of acting on new information at a moment's notice. He isn't the biggest defenseman (just under 6-feet) but he competes hard and defends well as a result of his energy and skating. Montreal will hope that his growth spurt continues and that he also continues to develop his offensive game which has been great in brief flashes.
32. Vegas Golden Knights: Charlie Stramel, C, University of Wisconsin (NCAA)
Charlie Stramel is a big centerman who struggled offensively as a freshman with the University of Wisconsin this year. While the points never really came for Stramel this year, he is still a big center who has NHL skating and is ridiculously competitive and physical.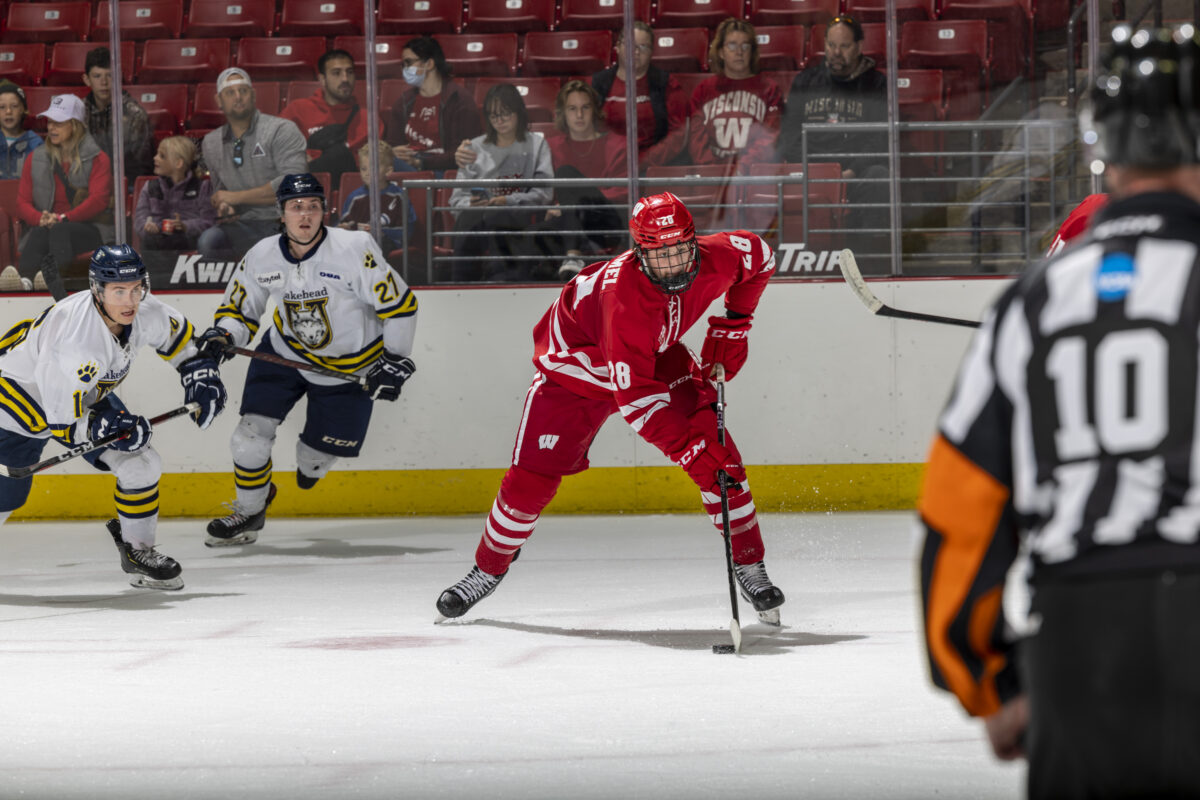 Stramel doesn't really seem to have a great picture of what's going on around him at any point in time, but he plays incredibly hard and will be a fan favorite for his thunderous checks and his willingness to play in front of the net. Adding Stramel to an already excellent bottom-six group would be a huge success for Vegas in the first round.
Second Round:
33. Anaheim Ducks: Oskar Fisker Mølgaard, C, HV71 (SHL)
Oskar Fisker Mølgaard (OFM) is an excellent defense-first forward prospect who played as a middle-six center for a good SHL team as a 17-year-old this year. If Anaheim can mine some of his offensive potential, then OFM could be a great middle-six piece for them at center or on the wing.
34. Columbus Blue Jackets: Mikhail Gulyayev, LD, Omskie (KHL)
Mikhail Gulyayev is going to be another player who drops due to the Russian factor, but 5-foot-10 frame doesn't do him any favors either. Gulyayev is an excellent skater and has great hockey IQ, making him a great puck-mover who will likely put up points in the NHL. The big question is how well will he defend against pros.
35. Chicago Blackhawks: Ethan Gauthier, RW, Sherbrooke Phoenix (QMJHL)
Ethan Gauthier has good hands and beats defenders cleanly with his skill pretty often at the junior level. He's also a very competitive player who is borderline mean on occasion (in the good way), and who could be a fun complementary piece to Bedard someday.
36. San Jose Sharks: Michael Hrabal, G, Omaha Lancers (USHL)
San Jose doesn't have a top goaltending prospect at the moment, and Michael Hrabal fits that bill as a 6-foot-6 goalie who moves very well. Hrabal has a great glove hand and moves well for such a big guy, but will need to tighten up a few things (as is common for most goaltender prospects) if he wants to hit his potential as a true number one starter in the NHL.
37. Montreal Canadiens: Nick Lardis, RW, Hamilton Bulldogs (OHL)
After a slow start to the year in Peterborough, Nick Lardis was electric in 33 games with the Hamilton Bulldogs. He's a quick skater and has an excellent shot, including a good curl-and-drag wrister that is getting more and more popular in the hockey world.
Lardis is on the smaller end but we've seen that Montreal is comfortable taking risks on shorter players in recent years.
38. Arizona Coyotes: Gracyn Sawchyn, C, Seattle Thunderbirds (WHL)
Gracyn Sawchyn is one of the more underrated players in this class in my opinion, with the speed and hands to be a legit difference maker for the Coyotes, likely in their middle-six forward group. He played pretty far down the lineup on a stacked Seattle team this year so a larger role and a bit of added muscle could see Sawchyn's production sky-rocket next season.
39. Buffalo Sabres (via. Philadelphia Flyers): Hunter Brzustevicz, RD, Kitchener Rangers (OHL)
Hunter Brzustevicz is a great skating defender who has a lot to give offensively. His skating is his best defensive tool, but he could use some help in that area regardless. Thankfully, the right-handed Brzustevicz could line up next to any of Buffalo's three great lefties in a few years who could help mitigate his weaknesses.
40. Washington Capitals: Koehn Ziemmer, RW, Prince George Cougars (WHL)
Koehn Ziemmer is a great junior goalscorer who regularly found the scoresheet this year and has great hands. The problem is that he doesn't have the skating ability to be a really impactful player in the NHL. If Washington can help him build his skating from a serious weakness to just a slight one, then they will be getting a really solid player.
41. Detroit Red Wings: Lukas Dragicevic, RD, Tri-City Americans (WHL)
Lukas Dragicevic is a talented offensive defenseman who will likely lead an NHL power play someday and put up video game numbers in the WHL this year. However, his skating is a glaring weakness and brings up questions about how well he'll defend against the bigger and faster NHL players coming his way. Thankfully, Detroit can afford to take that weakness because he wouldn't need to play difficult even strength minutes behind Moritz Seider.
42. Detroit Red Wings (via. St. Louis Blues): Anton Wahlberg, C, Malmö Redhawks (SHL)
Anton Wahlberg is a bit of a raw prospect, with all the physical tools in the world and questions around if he will be able to put them all together. He's a big center with good skating and hands, but his decision making is suspect. Detroit's recent track record of developing more raw prospects (see: William Wallinder) is cause for optimism.
43. Detroit Red Wings (via. Vancouver Canucks): Jayden Perron, RW, Chicago Steel (USHL)
With the last of their three consecutive picks, I have the Red Wings taking their biggest swing yet in the draft with Jayden Perron, an undersized winger with immense potential. Perron is a boom-or-bust type guy this year because of his size (5-foot-9) but his smarts and skating are excellent tools and I think he deserves to be a first rounder on talent.
44. Chicago Blackhawks (via. Ottawa Senators): Trey Augustine, G, USA U18 (NTDP)
After adding a few great forward prospects with their first three picks, I think Chicago will be looking to the remaining goaltenders and take their pick of the bunch.
I think Trey Augustine will be their play at this point, a smaller (6-foot-1) goalie with incredible anticipation and a knack for tracking pucks through any amount of chaos.
45. Buffalo Sabres: Maxim Strbak, RD, Sioux Falls Stampede (USHL)
Maxim Strbak is a right-handed defensive defenseman who hasn't scored a whole lot at any level over the last few years. Even if his offensive game doesn't develop much further, his reliability defensively would make him a nice fit alongside one of Buffalo's talented lefties.
46. Nashville Predators (via. Pittsburgh Penguins): Juraj Pekarcik, LW, HK Nitra (Slovakia)
Another high upside play here for the Predators who select Juraj Pekarcik, a Slovakian winger who burst onto the scene at the U18s where he was a huge part of Team Slovakia's run to the Bronze medal game. Pekarcik is super competitive and has a ton of time to grow into his offensive potential, being just a few days away from being eligible for the 2024 Draft.
47. Nashville Predators: Luca Cagnoni, LD, Portland Winterhawks (WHL)
Luca Cagnoni is a smooth skating defender who defends well and creates a ton of offense with his great shot and playmaking. The only thing holding Cagnoni back will be his size since there are very few NHL defenders who are 5-foot-9. The Predators would need to believe that he's the next one to select him in this range, but I think it'd be worth it. 
48. Calgary Flames: Theo Lindstein, LD, Brynäs IF (SHL)
Theo Lindstein was seen as a top prospect for this class a year ago, but his offensive game has dried up and has shown little signs of returning. Despite that, Lindstein is great defensively and skates well so the Flames will be hoping that they can help him rediscover his offensive game, especially when it comes to his play in the offensive zone since his transition offense is still pretty solid.
49. New York Islanders: Kalan Lind, C/LW, Red Deer Rebels (WHL)
Kalan Lind is a good two-way forward with an incredibly high compete level that keeps him engaged in play no matter where he is on the ice. Lind is a very physical player and has a real edge to his game which would be welcome on an Islanders team in desperate need of some youth.
50. Seattle Kraken (via. Winnipeg Jets): Adam Gajan, G, Greenbay Gamblers (USHL)
Adam Gajan is an athletic and aggressive goaltender who can take that a bit too far sometimes, putting himself in poor position for rebounds or dekes. He was incredible for Slovakia at the World Juniors this January so I have the Kraken giving him a chance in the middle of the second round. 
51. Chicago Blackhawks (via. Tampa Bay Lightning): Caden Price, LD, Kelowna Rockets (WHL)
Caden Price is a jack of all trades, master of none, with his playmaking vision standing out as his best trait, especially on long cross-ice passes.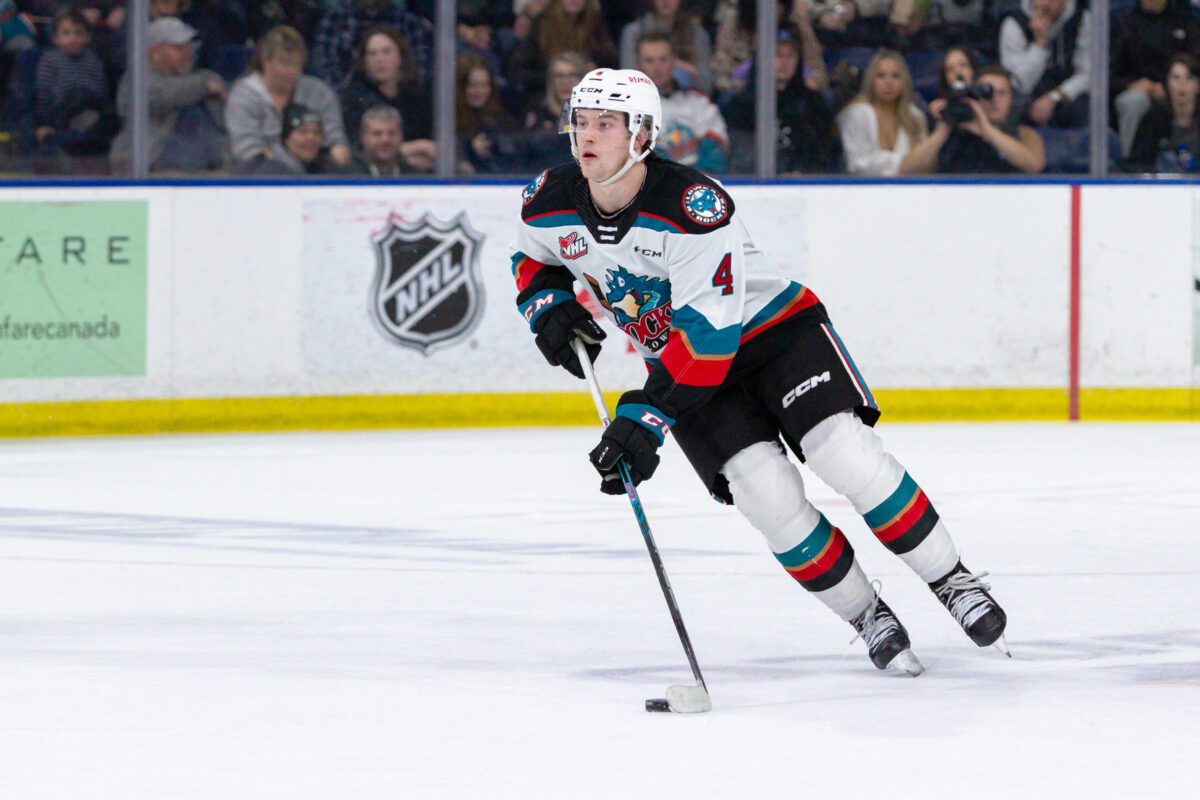 He defends well and moves the puck with confidence so he should be a good bottom-four defender for the Blackhawks to add to their prospect pool.
52. Seattle Kraken: Andrew Strathmann, LD, Youngstown Phantoms (USHL)
Andrew Strathmann is another consistent two-way defender who isn't flashy but has enough offensive sense and good enough skating mechanics to project as a bottom-pairing defender in the NHL. He walks the blue-line well and can get passes through tough lanes from the top of the zone, he also has a strong motor and plays bigger than his 5-foot-11 frame.
53. Minnesota Wild: William Whitelaw, C, Youngstown Phantoms (USHL)
William Whitelaw is an undersized winger who is a gifted skater and carries pucks through the neutral zone very well, a skill that will translate well to the NHL someday. The bigger question is if his 5-foot-9 frame keeps him from being an effective pro player or if he has enough offense (mostly his shot) to break through.
54. Los Angeles Kings: Carson Bjarnason, G, Brandon Wheat Kings (WHL)
Carson Bjarnason was very inconsistent this year on a bad Brandon Wheat Kings squad, though he showed flashes of brilliance in his ability to read both shooters and plays incredibly quickly. If he can figure out how to turn those flashes into consistent play, then Bjarnason will play NHL games. Considering how Cal Peterson has trended lately, adding a goaltending prospect would like be in LA's best interest.
55. Chicago Blackhawks (via. New York Rangers): Etienne Morin, LD, Moncton Wildcats (QMJHL)
Etienne Morin is an offensively-minded defender who has an excellent shot and a decent chance at playing on an NHL power play someday. He isn't the quickest skater which, when paired with his average size, raises questions about how well he'll defend in the NHL. Morin would be another good prospect to add to the pool in Chicago, with a chance to be more than just a bottom pairing guy.
56. Edmonton Oilers: Kasper Haltunnen, RW, HIFK (Liiga)
Edmonton selected big, goal scoring winger Reid Schaefer in the first round last year, but they gave him up to Nashville as a part of the Mattias Ekholm trade. I've got the Oilers taking Kasper Haltunnen with their first pick in this draft, a big, goal scoring winger. Haltunnen has an excellent shot and enough skill with the puck to beat NHL defenders someday, but his skating and decision making are legitimate issues at this point.
57. Seattle Kraken (via. Toronto Maple Leafs): Carson Rehkopf, C/LW, Kitchener Rangers (OHL)
Carson Rehkopf is a big forward prospect who is incredibly fast and has a great shot. His playmaking consistency and awareness aren't quite at the level most teams would like.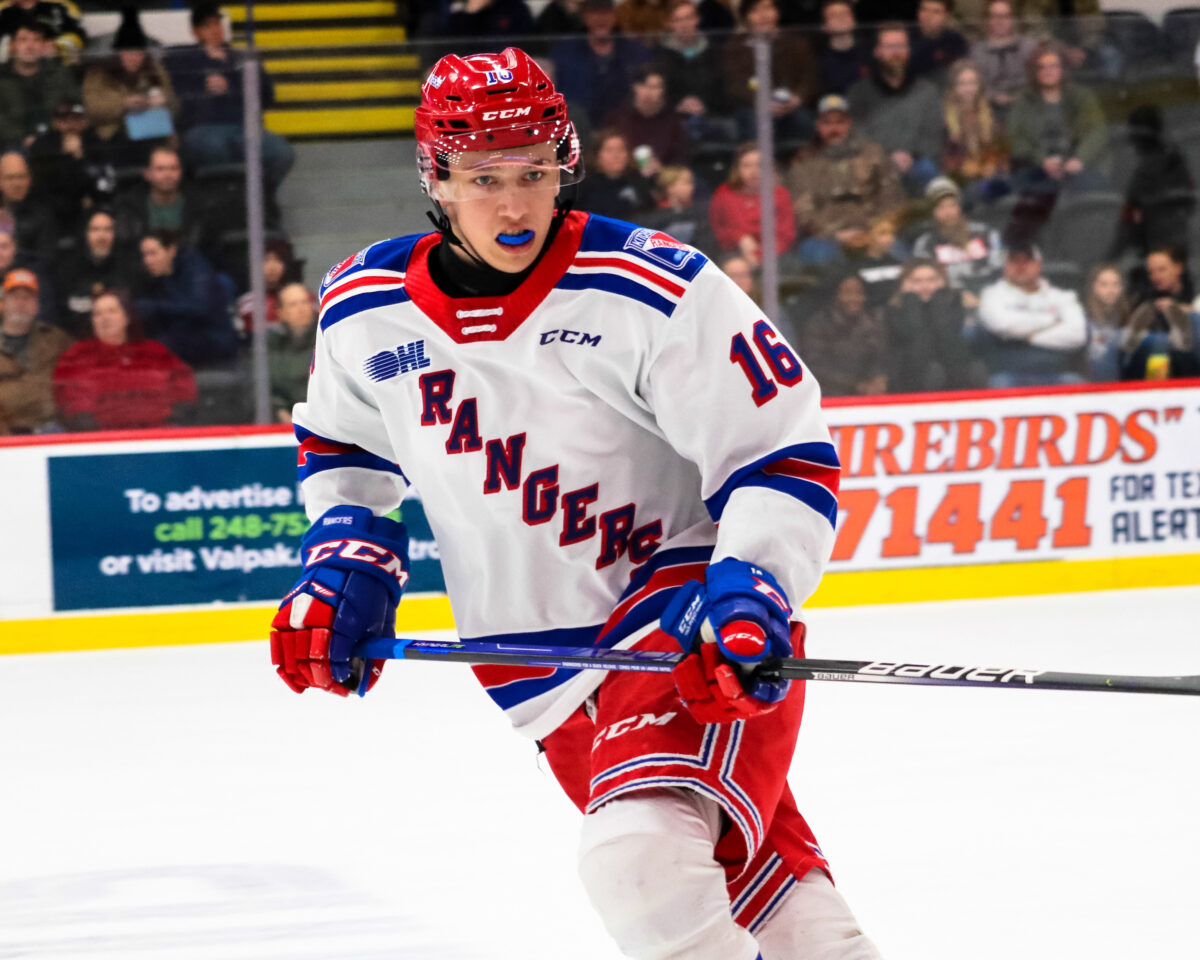 However, I think the Kraken take a bet on him being better than his detractors say and try to get him to buy into their hard-working, two-way style.
58. New Jersey Devils: Felix Nilsson, C, Rögle BK J20 (J20 Nationell)
Felix Nilsson is a great playmaker who makes smart passes from the perimeter and has enough skill with the puck to make it past defenders on the rush, at least at the junior level. He spent some time in the SHL this year but in such a small role that he never really got settled, he works hard enough to likely be a good NHL forward, likely maxing out as a middle-six wing.
59. Anaheim Ducks (via. Colorado Avalanche): Lenni Hameenaho, LW/RW, Ässät (Liiga)
Lenni Hameenaho is a winger who played well in the Finnish Liiga this year. He is at his best in puck battles around the net and has a knack for finding loose pucks and putting in rebounds. Hameenaho could use a touch more speed and playmaking if he wants to be a serious middle-six NHLer, and the Ducks will be willing to take on that risk if he can be a complementary winger to one of their great center prospects.
60. Anaheim Ducks (via. Boston Bruins): Felix Unger Sörum, RW, Leksands IF J20 (J20 Nationell)
Felix Unger Sörum is a very skilled playmaker, sneaking tons of passes to his teammates in the slot every game. His skating is underwhelming at this point and will need some work, but it's easy to dream of him feathering passes to guys like Mason McTavish and Adam Fantilli on the powerplay someday if lots of things go right in his development.
61. Dallas Stars: Andrew Gibson, RD, Soo Greyhounds (OHL)
Andrew Gibson is a big, right-handed defenseman who defends well against junior competition and skates well enough that he'll likely be an NHL defender. Selecting him this early means that the Stars would need to be reasonably confident that they can help him take the necessary steps to being an NHL caliber offensive player.
62. Carolina Hurricanes: Timur Mukhanov, C, Omskie Krylia (VHL)
Timur Mukhanov is an incredibly talented player who will suffer from both the Russian factor and the fact that he currently stands at just 5-foot-7.
He's got tons of offensive potential and would be a no-doubt first round pick if he were two or three inches taller, but his size will certainly limit what he'll be able to do against pros. I'm a really big fan of this prospect and I hope he gets a real chance in North America.
63. Florida Panthers: Beau Akey, RD, Barrie Colts (OHL)
Beau Akey is a skilled offensive defender who carries the puck well in transition, though his defensive game could use some improvements. Akey has a strong shot from the point but his playmaking is a bit pedestrian so far at the junior level, something that doesn't bode well for his ultimate offensive production in the NHL.
64. Minnesota Wild (via. Vegas Golden Knights): Denver Barkey, C, London Knights (OHL)
Denver Barkey is another player who will likely fall on draft day due to his size, standing at a hair under 5-foot-9. Barkey is an ultra-competitive forward who creates tons of offense with his speed and his motor. The Wild feel like a team that won't be too put off by his lack of size and will give him the shot he deserves.
Team-by-Team Results
Anaheim Ducks
2. Adam Fantilli
33. Oskar Fisker Mølgaard
59. Lenni Hameenaho
60. Felix Unger Sörum
Arizona Coyotes
6. Dalibor Dvorsky
12. Oliver Moore
38. Gracyn Sawchyn
Buffalo Sabres
13. Axel Sandin Pellikka
39. Hunter Brzustevicz
45. Maxim Strbak
Calgary Flames
16. Brayden Yager
48. Theo Lindstein
Carolina Hurricanes
30. Gavin Brindley
62. Timur Mukhanov
Chicago Blackhawks
1. Connor Bedard
19. Samuel Honzek
35. Ethan Gauthier
44. Trey Augustine
51. Caden Price
55. Etienne Morin
Colorado Avalanche
27. Bradly Nadeau
Columbus Blue Jackets
3. Leo Carlsson
34. Mikhail Gulyayev
Dallas Stars
61. Andrew Gibson
Detroit Red Wings
9. Nate Danielson
17. Gabe Perreault
41. Lukas Dragicevic
42. Anton Wahlberg
43. Jayden Perron
Edmonton Oilers
56. Kasper Haltunnen
Florida Panthers
63. Beau Key
Los Angeles Kings
54. Carson Bjarnason
Minnesota Wild
21. Daniil But
53. William Whitelaw
64. Denver Barkey
Montreal Canadiens
5. David Reinbacher
31. Tanner Molendyk
37. Nick Lardis
Nashville Predators
15. Zach Benson
24. Andrew Cristall
46. Juraj Pekarcik
47. Luca Cagnoni
New Jersey Devils
58. Felix Nilsson
New York Islanders
49. Kalan Lind
New York Rangers
23. Calum Ritchie
Philadelphia Flyers
7. Ryan Leonard
22. Dmitri Simashev
Pittsburgh Penguins
14. Colby Barlow
San Jose Sharks
4. Will Smith
26. Eduard Sale
36. Michael Hrabal
Seattle Kraken
20. Quentin Musty
50: Adam Gajan
52. Andrew Strathmann
57. Carson Rehkopf
St. Louis Blues
10. Matthew Wood
25. David Edstrom
29. Riley Heidt
Toronto Maple Leafs
28. Otto Stenber
Vancouver Canucks
11. Tom Willander
Vegas Golden Knights
32. Charlie Stramel
Washington Capitals
8. Matvei Michkov
40. Koehn Ziemmer
Winnipeg Jets
18. Oliver Bonk