Luca Cagnoni
2022-23 Team: Portland Winterhawks (WHL)
Date of Birth: Dec. 21, 2004
Place of Birth: Burnaby, BC, CAN
Height: 5-foot-10, Weight: 172 pounds
Shoots: Left
Position: Defenseman
NHL Draft Eligibility: 2023 first year eligible
Rankings
Luca Cagnoni has seen offensive growth in each of his three seasons with the Western Hockey League's (WHL) Portland Winterhawks. He's elevated his production from three points in 10 games, to 36 points in 63 games. This season, he's scored 64 points in 67 games, and scored 17 goals from the blue line. It's pretty safe to say he's an offensive-minded defenseman.
Related: 2023 NHL Draft Guide
---
Latest News & Highlights
---
I like his high level of offensive awareness. With or without the puck, he's looking to pinch in the offensive zone to contribute, and he likes to move into the slot. He doesn't have the world's best shot and has trouble elevating it as well. However, he's smart in his shot selection, as he'll typically look to shoot from further out, especially when there's traffic in front. He utilizes the goaltender's inability to clearly see and track the puck, and his low shots are good for both deflections and rebounds to his teammates in the lower slot. 
Cagnoni is eager to find teammates in open lanes, especially to set up a one-timer. Being that he's one to pinch offensively, it can help create open teammates down low and mismatches if he's drawing opposing players out of position to pick him up. He's also decent at handling the puck, which couples well with his willingness to pinch in the offensive zone and help extend possessions.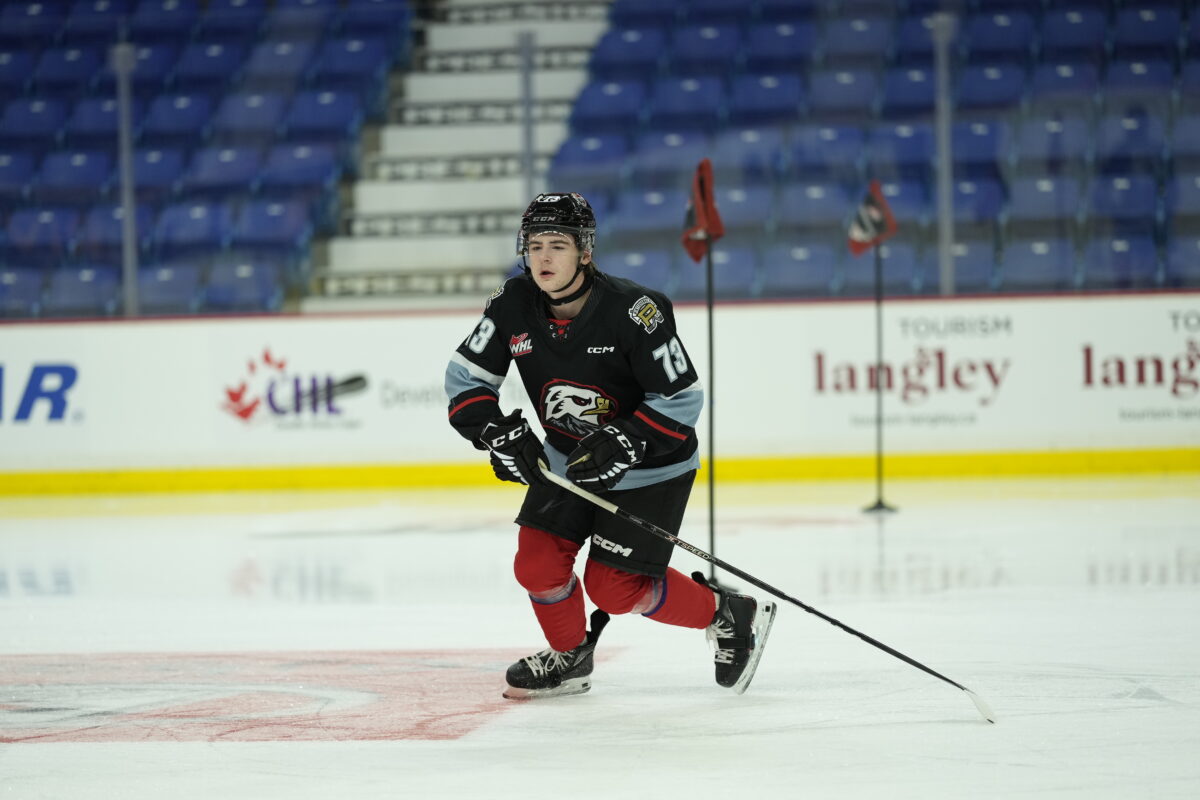 I wouldn't say he's someone who you'll fear in the defensive zone, and that's due in part to his size. He'd need to play alongside more of a stay-at-home defender, similar to pairing an Adam Fox with a Ryan Lindgren. He's been seen to defend the front of the net while his defensive partner would handle battles along the boards. Growth and maturity should help him grow in this area of his game. He's not the most physical, but will pick his spots when it comes to throwing the body.
While he doesn't have the most active stick, his gap control is usually pretty good and he likes to harass opposing players with stick lifts to disrupt plays and make controlled zone entries difficult.  In the video below, you'll see Cagnoni break up a play in the defensive zone with great hand-eye coordination, start the breakout, and his teammates eventually score a goal. He didn't get an assist, but that play wouldn't have happened without him starting things off.
Cagnoni's offensive instincts are strong, and I'd definitely classify him more as an offensive defenseman than a two-way defenseman at this point. Sometimes those offensive instincts can get him into trouble defensively, which reinforces his need for a steady defender as his partner. His skating is decent but he sometimes struggles with transitioning from skating backwards to forwards. However, his edge work and crossover ability are good, which will help him walk the blue line while quarterbacking a power play.
Other THW Draft Profiles
Luca Cagnoni – NHL Draft Projection
I wouldn't say Cagnoni is bad defensively, but I think he has room to grow in that area. That combined with his size is probably what's pushing him out of the first round on most prospect rankings I've seen. I say he'll be drafted in the mid-to-late second round, and if not there then definitely the third round. His offensive ability and overall high hockey IQ are going to be very attractive to teams, especially those who need help in transition from the defensive to offensive zones.
Quotables
"Unfortunately, the market is ruthless when it comes to smaller defensemen with average skating. Cagnoni is likely not going to be a top-20 selection, but his intelligence is among the best, if not the best, among this year's blue-liners, and we would definitely take the risk based on its upside. Whichever team drafts him in the mid-second round is getting a first-round talent, with lots of potential." – Hadi Kalkeche, Dobber Prospects
"If you liked Olen Zellweger in his draft year, you are going to be a fan of Luca Cagnoni. Everything that I liked in Olen, I see the same in Cagnoni. The mobility, the speed, the creativity, the distribution and the defensive positioning. Cagnoni's ability to assess and deliver positive results consistently off the rush is going to pay off at the NHL level. I see a top 4 NHL defenseman in Cagnoni." – Josh Tessler, Smaht Scouting
Strengths
Offensive awareness, hockey IQ
Stickhandling
Transitional play, especially with puck possession in the neutral zone
Defensive gap control
Reach 
Outlet passing
Edgework 
Under Construction – Improvements to Make
Can get himself into trouble trying to force plays through multiple defenders and gets trapped
Shooting, especially from long range
Offensive instincts could take him out of defensive position
NHL Potential
At 18 years old, Cagnoni should have a good amount of time to grow. Even if he's drafted by a team that's in a rebuild and has the lineup slots available, I think he could use another year or two to develop. When he does make it to the NHL, he could see himself playing top-four minutes. He should get onto the power play for sure, whether it's quarterbacking a first unit eventually, or maybe on a second unit where some teams will play two defensemen. Either way, he should absolutely be on the power play. 
While I expect his shooting ability to grow, it would be beneficial to have him on the ice with a player who has good hands in front of the net and could deflect incoming shots, such as a Joe Pavelski or Chris Kreider-type player. At this moment I can't see him playing on the penalty kill, but if he can round out his defensive game to become self-sufficient, while not sacrificing his offensive ability, he'll be in a good spot for success in the NHL. 
Risk-Reward
Risk – 2.5/5, Reward – 4/5
Fantasy Hockey Potential
Offense – 7.5/10, Defense – 5.5/10
Awards and Achievements
Interviews/Links
Klassen and Cagnoni named U.S. Division All-Stars – Winterhawks Website
Homegrown Winterhawks thriving with proven development model – Josh Critzer, PNW Hockey Talk
Luca Cagnoni Stats
Videos
---
---