The St. Louis Blues' 2022-23 season was a shocking disappointment for fans and management alike, leading to the team becoming sellers at the trade deadline and ultimately finishing in a draft lottery position outside the playoffs. So who bears the blames for the team's failings? And who succeeded despite the team's struggles? That's what we'll look to identify in our 2022-23 Blues' Report Cards series.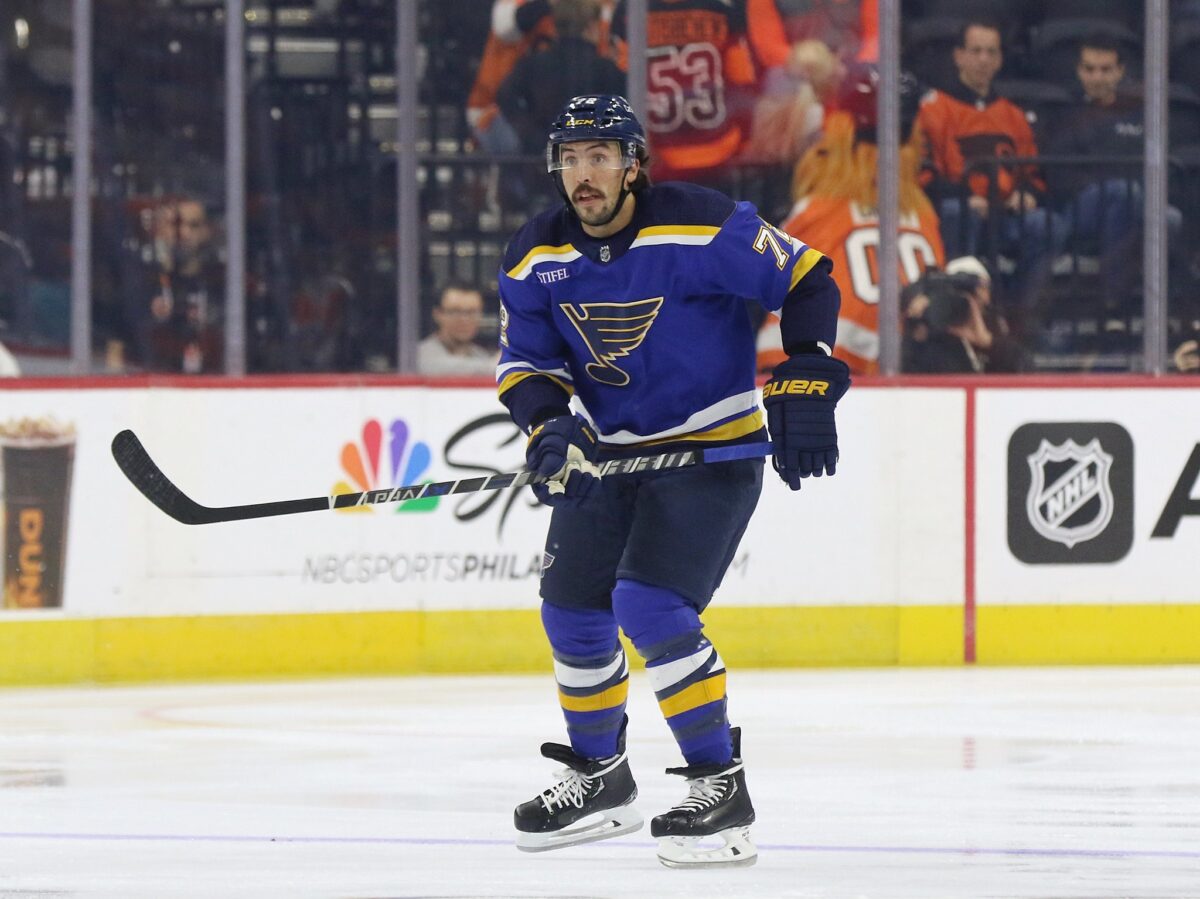 What a difference a season makes. One year ago, when we wrote our 2021-22 Blues report cards, Justin Faulk received an "A" grade. To quote my colleague Ethan Carter from that article: "He had a terrific campaign and was easily the best defenseman in St. Louis during the 2021-22 season." There's no question that Faulk was the centerpiece of the Blues' blueline last season.
One could argue that Faulk remained the centerpiece of the Blues' defense in the 2022-23 season. But it was a campaign of absolute failure across the board for that group. And Faulk led them in their woes. He was still an impactful player offensively, but like many of his peers, he was a sieve defensively, leading a unit that allowed the fourth-most expected goals against (xGA) in the NHL at 5-on-5.
What Went Right: Career High in Points
It must be noted that Faulk arguably had the best offensive season of his career. In 82 games, he managed a career-high 50 points, surpassing his previous career high of 49, which he put up during the 2014-15 season with the Carolina Hurricanes. His eleven goals marked the sixth double-digit goal season of his career. It was also only the third time he'd managed a complete 82-game season in his career.
Faulk managed to be a plus player in expected goals for (xGF) and distantly led his peers on the Blues with 91.98 (Colton Parayko came in second with just 69.33). And he was an above-average player on the power play, one of the few bright spots on a Blues' special teams unit that took a major step back last season. Unfortunately, as good Faulk was offensively, none of his accolades followed him across the blueline into his own zone.
What Went Wrong: The Defense Was Offensive
To call the Blues' defense in 2022-23 a "garbage fire" would be an insult to garbage fires. Almost no one on the team's blueline covered themselves in glory. But Faulk was particularly problematic. In fact, he allowed the second-most xGA amongst defensemen in the entire league at 5-on-5, allowing 80.9 — nearly one per game. The rest of the team struggled as well (Parayko was seventh-worst, and Nick Leddy was 14th), but Faulk was the worst of the bunch.
Related: Blues' Defensive Nightmare is Mess of Their Own Making
---
Latest News & Highlight
---
There's no question that fixing the defense has to be the Blues' number-one priority this summer. But Faulk just finished the second season of a seven-year contract with a $6.5 million annual average value (AAV). Like Parayko, Leddy, and Torey Krug, he carries a large cap hit and a lot of term into the 2023-24 season. While general manager Doug Armstrong might look to offload parts of the defense before next season begins as part of the rebuild that is obviously in progress, if the Blues want to get better, it will be incumbent upon the players that remain to lift their own performance significantly. And Faulk will need to lead that effort.
Key Stats
Career high in points (50)
Sixth double-digit goal season
Second-most xGA (80.9) in the NHL at 5-on-5 (amongst defensemen)
Final Grade: F
It may seem harsh, given that Faulk had a career-high in points this season. But it is tough to assign any player on the Blues' defense much better than a failing grade after the season they put forth. Their poor performance led to the departure of the Blues' defensive coach Mike Van Ryn and new assistant coach Craig McTavish. To allow the second-most xGA in the NHL amongst defensemen is unacceptable. And we're not being any harder than Faulk was on himself. At the team's season-ending press conference, he said bluntly: "A disappointing season for us as a group. We failed, didn't live up to expectations."
What's Next for Faulk
Nothing can be done about the 2022-23 season. Nobody believes that Faulk is as bad as he looked last season or that the Blues' defense can't improve. Next season with new coaching and hopefully some different personnel, they will need to vastly step up their game if the Blues hope to compete. Assuming that Faulk is still a part of that squad, he will need to return to 2021-22 form and lead the blueline back into playoff contention.