Juraj Pekarcik
2022-23 Team: HK Nitra U20
Date of Birth: September 12, 2005
Place of Birth: Trstena, Slovakia
Height: Six-foot-2, Weight: 183 pounds
Shoots: Left
Position: Left Wing/Center
NHL Draft Eligibility: First Year Eligible
Rankings
Juraj Pekarcik has been one of the biggest risers in the draft world following the U18 World Junior Championship where he helped lead Slovakia to a fourth place finish. Dalibor Dvorsky has received much of the credit for Slovakia's great stretch run and for pushing Canada to overtime in the Bronze medal game, but Pekarcik was a massive reason for the team's success as well, and his rise up draft boards reflects that.
Pekarcik is one of the youngest players in the 2023 Draft class, an incredibly valuable piece of context for analyzing his game to this point. Only a small handful of days separate him from being eligible for the 2024 Draft, so while he may be behind some older draft eligible prospects like a Nate Danielson (who has quite an early birthday), he has plenty of time to make up some ground.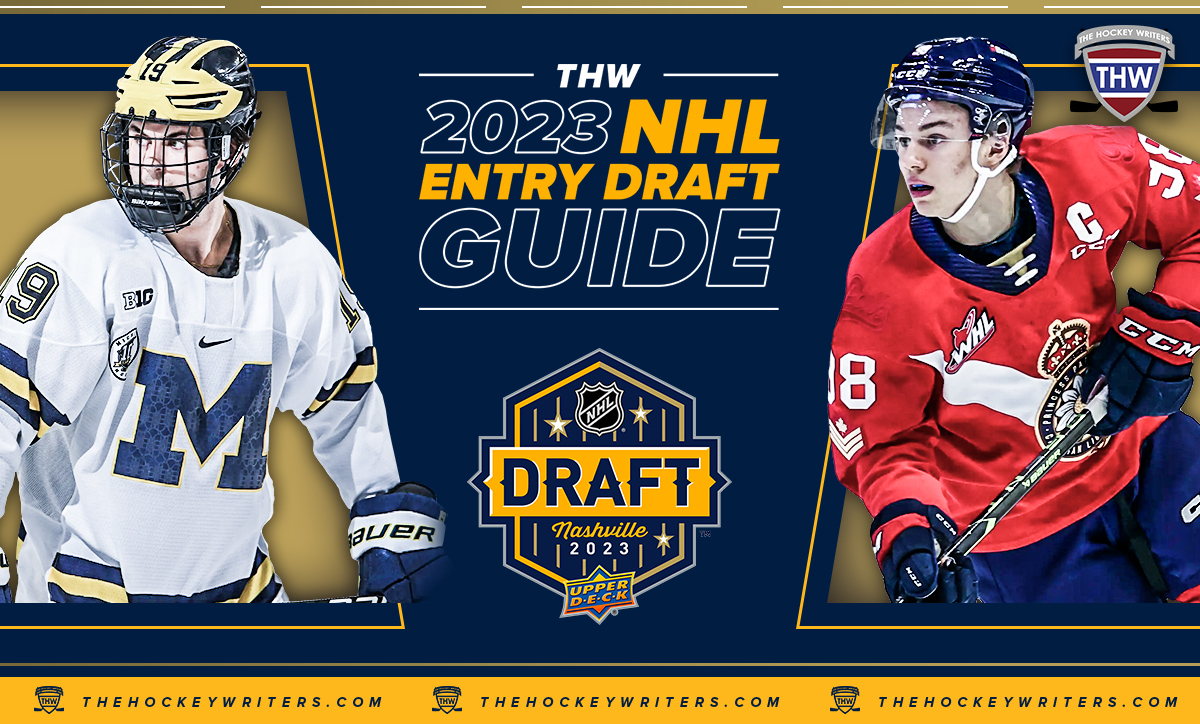 He's got pro-ready size and skating, which are his two most exciting traits by a good margin. At 6-foot-2, 183 pounds, Pekarcik is developed enough physically to earn himself a serious look in the top professional leagues of Slovakia, with eight games played in the second-tier league, and 30 in the top pro league in the nation. He didn't light up the top league production-wise, but he competed well in puck battles and looked to have grown into his frame enough to not be out of place against men.
The biggest reason he could compete against pros for nearly 40 games as a 17-year-old this season was his skating. Pekarcik accelerates quickly through his first couple of strides and has a good top-speed, fast enough to cause problems for opposing defenders through the neutral zone. He has shown enough high-end puck skills and playmaking vision to be a worthwhile bet this year, even though he hasn't been on the grand stage of the prospect world for very long.
Pekarcik was good defensively this year against men, anticipating the play as it came to him and being proactive about cutting off passing lanes and tying up sticks on the rush. He is clearly engaged defensively and backchecks consistently to stay on the right side of the puck. 
Related: 2023 NHL Draft Guide
Pekarcik spent 16 games in the top Slovakian junior league this year, scoring 20 points in that span. In eight games in Slovakia's second-tier league, he scored eight points, though he only managed three points in 30 games in the top pro league with reduced ice time.
Pekarcik's role was reduced each time he played up a level, but his success scoring against grown men, even in a lower-tier league, gives me more confidence that he could produce in the top pro league if given the opportunity to play more minutes and to play on the power play. He will need continue to show his coaches that he is responsible defensively and can provide some depth scoring for his role to increase, but Pekarcik earning more minutes and trust next year would do a lot to calm some fears about his future as an offensive producer.
Other THW Draft Profiles
Juraj Pekarcik – NHL Draft Projection
Prior to the U18 tournament, Pekarcik was only ranked by one major North American outlet, NHL Central Scouting, who ranked him 41st among International skaters. That would most likely place him as a third or fourth round pick, but I think his performance for Slovakia was enlightening and exciting enough that he is selected in the second round, probably around in 45-60 range.
Quotables 
He backchecks hard and smart, looking to cut the most dangerous option for opponent. Thanks to his speed, size, and will to win the puck, his forecheck was relentless – Miroslav Simurka, FC Hockey
He showcased his distribution skills, setting up plays with cheeky little passing plays. His focus on getting the puck to the middle was imperative for the Slovaks, especially on the power play. – Tony Ferrari, The Hockey News
He's a big reason why the Slovaks got as far as they did, with his strong two-way play and great offensive instincts shining through – Steven Ellis, Daily Faceoff
Strengths
Great skating and acceleration
Flashes of solid one-on-one skill
Excellent defensive play as a teenager playing against pros
Under Construction – Improvements to Make
Needs to prove his offense can translate against pros
Turn flashes of offensive skill into consistent showings
NHL Potential
If Pekarcik's offensive game continues to develop and his production carries over to North America, then his speed and defensive game make him a good fit as a middle six winger in the NHL. The nice thing about drafting him is that even if his offense doesn't develop a whole lot and it doesn't really translate that well to North America, he has the work ethic and skating skill to be a depth NHL forward, likely in a bottom-six role. 
Risk-Reward
Risk – 2/5, Reward – 3/5
Fantasy Hockey Potential
Offense – 6/10, Defense – 6.5/10
Awards & Achievements
2021-22: Slovakia U18 Champion
2022-23: Continental Cup Champion
Juraj Pekarcik Stats
Videos

---
Latest News & Highlight
---