Timur Mukhanov
2022-23 Team: Omskie Krylia (VHL)
Date of Birth: June 17, 2005
Place of Birth: Glazov, Russia
Height: 5-foot-8, Weight: 170 pounds
Shoots: Right
Position: Center
NHL Draft Eligibility: First Year Eligible
Rankings
Timur Mukhanov is a great skating, two-way forward with a mature playmaking game that allowed him to play professionally as a 17-year-old this year. He is just 5-foot-8 so it's unlikely he sticks as a center in North America, but he has a solid frame already and is deceptively difficult to knock off the puck.
Despite his diminutive frame, Mukhanov looked good in the VHL this year (Russia's second-tier pro league) where his speed and decision making under pressure allowed him to play at a pro pace despite being on the younger end of this year's draft. He didn't produce a ton of points, but he was great at making short, smart passes to teammates and is excellent when it comes to touch passes.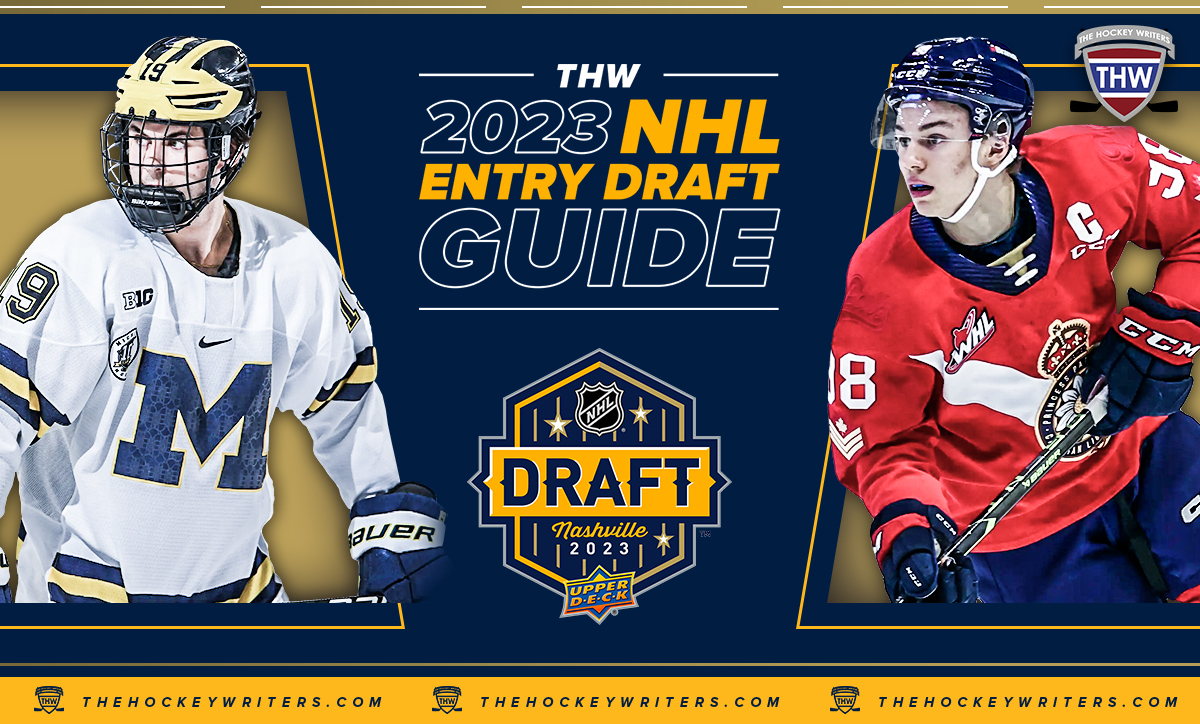 Mukhanov is also an excellent skater, with high-end speed and tons of control over his crossovers, which combine to make him quite elusive off the rush. He'll manipulate defenders with his crossover patterns and then rifle a pass to an open teammate the moment the defender whirls around to try and recover. Mukhanov's skating also allows him to find new angles and passing lanes which he readily utilizes.
His shot is below NHL quality in my eyes (at least right now), and he didn't seem particularly confident in his shot in the VHL games I've seen. However, he is calm enough with the puck in the offensive zone that he can usually find open teammates who have a scoring chance, and he seems to gladly defer to them in those moments. Mukhanov is a very smart player, constantly scanning defenders and goalies for openings and advantages, so I believe his confidence and goal scoring will come at the VHL level eventually, he'll just need time (remember, he's still just 17).
Mukhanov will be limited by his lack of height, with his shorter reach showing up in his ability to stickhandle through traffic and defending with his stick in-zone. However, he is a smart defender, and is always looking to back-check and involve himself in the play. 
Related: 2023 NHL Draft Guide
In 31 VHL games, Mukhanov had eight points this year, which makes him the league's second leading scorer amongst U18 players. He was one of the youngest players in the VHL this season so sticking around for 31 games is impressive in itself, but his skating and playmaking really stood out which is exciting.
When he had the chance to play against his peers in the MHL, Mukhanov scored 17 points in 15 games and was clearly the best player on the ice for his team each time. Mukhanov was traded recently and will play for Severstal Cherepovets next season, a middle-of-the-standings team in the top-tier KHL.
Other THW Draft Profiles
Timur Mukhanov – NHL Draft Projection
The big-three Russian prospects in this draft (Matvei Michkov, Dmitri Simashev, and Mikhail Gulyayev) are all likely to be first round picks, but the next tier of prospects are going to be wild cards. Mukhanov makes sense to me as a massive upside bet in the 50-60 range, but I wouldn't be shocked to see him slip into the third or even fourth rounds where a team that isn't scared to take Russian prospects (Columbus or Carolina perhaps?) will gladly pick him up.
Quotables 
"The standout in Mukhanov's game is his high-end mobility and how he's able to leverage his skating ability to put pressure on opposing defenders." – Brandon Holmes, FC Hockey
"Mukhanov is extremely good at distribution when the pressure has intensified. He uses whatever space is given to him." – Josh Tessler, Smaht Scouting
"He has excellent touch on passes and uses his vision to anticipate where teammates will be and spring them quickly with touch passes in the give-and-go game." – Jordan Harris, Dobber Prospects
Strengths
Great Off-Puck Offensive Instinct
Excellent Playmaking
Smooth and Skilled Skating
Calm Under Pressure
Under Construction – Improvements to Make
Quicker Hands
Lack of Height/Length Will Limit Him Defensively
NHL Potential 
Timur Mukhanov has the potential to be a top-six winger in the NHL, however that feels like a pretty unlikely outcome given his lack of size. The passing, IQ, and skating all grade out as NHL average or above, so there's certainly a chance he plays a significant NHL role as a quick, undersized distributor who will likely find a home on an NHL powerplay, even if he ends up as more of a middle six forward or even an excellent AHLer who plays NHL games in a depth role.
Risk-Reward
Risk – 4.5/5, Reward – 4/5
Fantasy Hockey Potential
Offense – 8/10, Defense – 5.5/10
Awards & Achievements
2021-22: EYOF Bronze Medal
Timur Mukhanov Stats
Videos
---
---
---
Latest News & Highlights
---