Adam Gajan
2022-23 Team: Chippewa Steel (NAHL)
Date of Birth: May 6, 2004
Place of Birth: Poprad, Slovakia
Height: 6-foot-3, Weight: 176 pounds
Catches: Left
Position: Goalie
NHL Draft Eligibility: Second-Year Eligible
Rankings
To be a Stanley Cup contender, a team needs a dominant goaltender. However, acquiring one is much easier said than done; whereas teams typically look to the draft for their top forwards and defencemen, it's much harder to project how an 18-year-old goalie will develop. Ice time, competition level, and even just the team they're on can impact how long they take to reach their peak, if they reach it at all.
Because of their unpredictability, teams have avoided drafting goalies in the early rounds of the draft unless they are a generational talent. In the last five NHL drafts, only four goalies have been selected in the first round. But teams still need goalies, resulting in a new trend of choosing overage goalies. In 2022, 20 percent of all goalies selected were in their second or third year of eligibility. Logically, it makes perfect sense; goalies with more experience get more opportunities, allowing scouts to analyze their skills and playstyle better.
Related: The Hockey Writers' 2023 NHL Draft Guide
Enter Adam Gajan, a 6-foot-3 goalie with the Noth American Hockey League's (NAHL) Chippewa Steel. He was one of the biggest stars at the 2023 World Juniors, where he stunned the United States with a 33-save performance to help the Slovaks win 6-3 and nearly upset the Canadians, allowing just three goals and pushing the game into overtime before Connor Bedard finally beat him on Canada's 57th shot. Although Slovakia didn't medal, his efforts earned him the Best Goaltender of the tournament.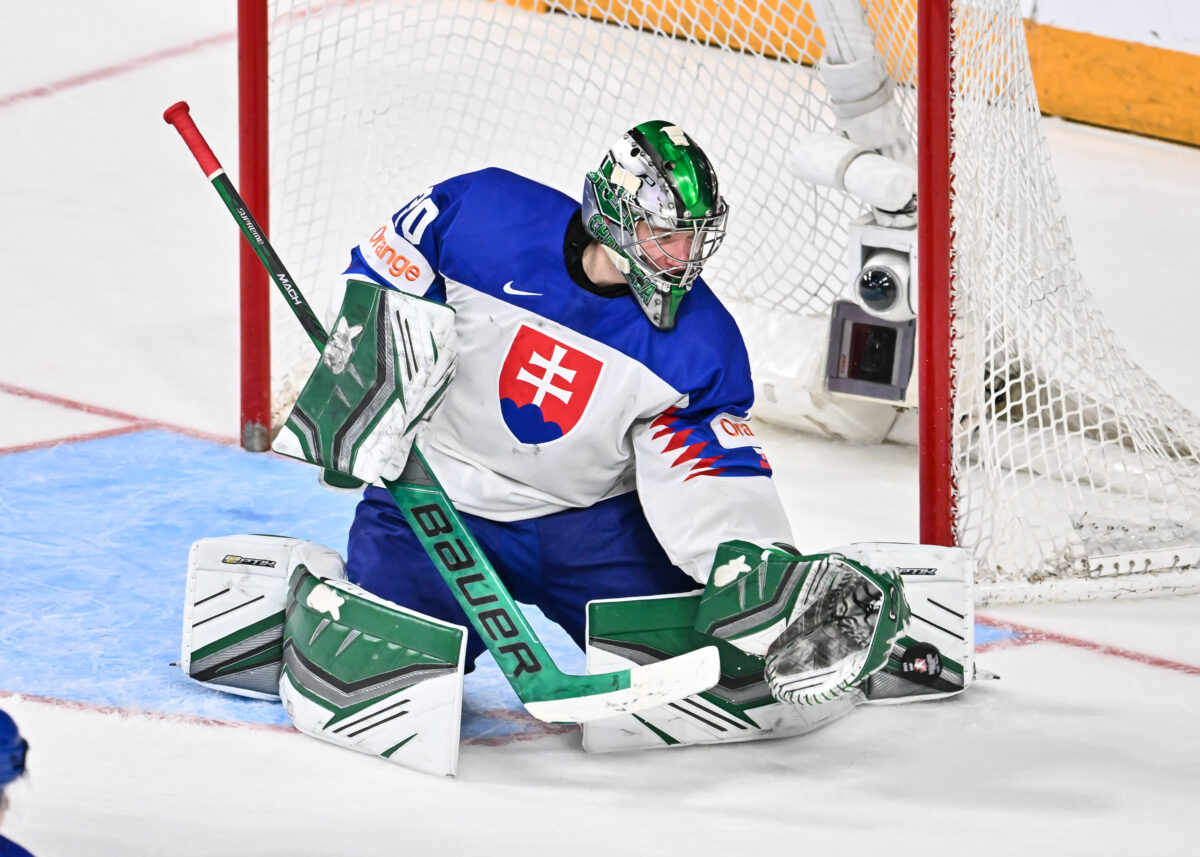 It's incredible to think that Gajan was nearly left off the Slovak roster. Before he joined the Steel, he was a little-known 18-year-old playing in Slovakia's junior circuit, both with the U18 and U20 teams. He put up good numbers on both squads but was rarely scouted, so the 2022 NHL Draft came and went without his name getting called. Seeking a bigger challenge and wanting to further his hockey career, he decided to look for any American team that would take him so he could pursue the college route. That's when Chippewa came knocking and took a chance on the unknown netminder.
With Chippewa, Gajan began to make a name for himself. He won four of his first five games, dipping below a .960 SV% just once in that stretch. In December, he was loaned to the Green Bay Gamblers, and in his second United States Hockey League (USHL) appearance, he posted a 27-save shutout. After the World Juniors, he returned to the Gamblers, winning the next four of his five starts before going back to the Steel, where he went on to lose just five times in regulation over the next three months and was named the Goalie of the Month in March.
Gajan has had a fantastic first season in North America and is destined to hear his name called in his second go around the draft. Teams have already fallen in love with his size and athleticism, as few goalies available can match him in either area. When he drops his pads, he can effectively cover the entire bottom half of the net yet still maintain his mobility to slide around the crease. Should a skater try to get around him to the other side, he can shoot out a leg or go into a split. If they instead decide to go up high, it's not like they have many more options; while on his knees, he still takes up the majority of the net, and he can swivel his torso to take the puck right in the chest or arm. He doesn't have a fantastic glove hand, but his ability to get right in front of the puck quickly makes him incredibly effective at his job.
Gajan is also incredibly confident in his abilities, and it shows when he's gone up against some of the best players in his age group, especially at the World Juniors. When he returned to the USHL and NAHL after the tournament, he had a bit more of a swagger to his game. However, his confidence also got him in a bit of trouble sometimes, as he gave up a few very juicy rebounds at inopportune moments. While his athleticism was able to bail him out nine times out of ten, leading to some highlight-reel saves, he should be careful to rely entirely on it as it could result in some painful, long-term injuries.
Other THW Draft Profiles
Adam Gajan – NHL Draft Projection
Following the trend of drafting overage goalies, Gajan should hear his name called early on day two of the draft, most likely in the second or third rounds. He's committed to joining the University of Minnesota-Duluth next season and shouldn't have too hard of a time asserting his claim as the team's starting goalie, all but guaranteeing him plenty of reps to aid his development. But, given his World Junior heroics, there is a slight chance that he could sneak into the first round, likely within the last few picks. He's a player to watch as a potential riser on draft day.
Quotables
"I just like to play the puck. Every day I shoot the puck and stickhandle. I'm confident because of that, and it's one of my biggest strengths. I can help my teammates get out of the zone with that." – Adam Gajan to Russ Cohen, EP Rinkside
"Gajan is the most athletic goalie in the draft and was named top goalie at the world juniors." – Corey Pronman, The Athletic (from "NHL Mock Draft 2023: Pronman and Wheeler predict the first two rounds," The Athletic, 23/05/2023).
---
Latest News & Highlights
---
"I had a pair of scouts tell me before the [2023 World Juniors] to keep an eye on Gajan, and for good reason. He had all the makings of someone scouts look for – size, skill and mental fortitude. Scouts can't use the size argument. He's 6-foot-4, which is more than good enough for the NHL. He's got good reflexes, good form and can mentally handle the pressure of playing a big game on a big stage against a stronger opponent. Gajan wasn't drafted last year because scouts barely knew who he was, simple as that" – Steven Ellis, Daily Faceoff
Strengths
Puck control and stickhandling
Athleticism
Positioning
Under Construction – Improvements to Make
Needs more chances against better competition
Rebound control
NHL Potential
Gajan cites Andrei Vasilevskiy as his role model, and there are some valid comparisons there, as both goalies use their size and positioning to take away most of the options available to a shooter. But with Gajan's athleticism and ability to lunge out with a pad save or toe kick are also reminiscent of Sergei Bobrovsky. Regardless of who he resembles, though, he's certainly destined to become a starter in the NHL, although teams will need to be patient with his development. Just like Bobrovsky, who was a bit of a late bloomer himself, he'll take over the crease when he's ready.
Risk-Reward Potential
Risk – 3/5, Reward – 4/5
Interviews/Links
Adam Gajan Statistics
Videos
---
---