The Buffalo Sabres knew well what Alex Tuch brought to the team when he arrived in November of 2021 after the Jack Eichel trade: a dynamic power forward with some scoring upside. Expectations were fairly high for the 27-year-old forward after he proved that he was a "go-to" player in any situation. Since then, he has shattered all those expectations by a mile. Not only was he a primary source of offense, but he was also one of the biggest on and off-ice leaders at the Sabres' disposal. He played a hard-nosed game and was one of the most inspiring players out on the ice.
His teammates fed off his energy when he was out there, and the home crowd knew they were in for a show when his legs got moving. There was never a boring shift for Tuch, and he was always moving with a purpose, whether that be in the defensive or offensive zone. Had the trade for Eichel been one-for-one, knowing how the results would be, the Sabres would still do that trade ten out of ten times.
Tuch Was A Driving Force
The best thing about Tuch since his arrival in Buffalo has been his versatility. He can play on any line and produce, but he can also be a catalyst for others that he plays with. Throughout the season, he was a staple on the top line alongside Tage Thompson and Jeff Skinner. But he also found himself being shuffled onto a few "Frankenstein" lines, being partnered up with Dylan Cozens, Peyton Krebs, and even Kyle Okposo. His energy, combined with his play style, functioned as a driving force for the offense every night, while his creativity and finishing ability made it all the more fun to watch.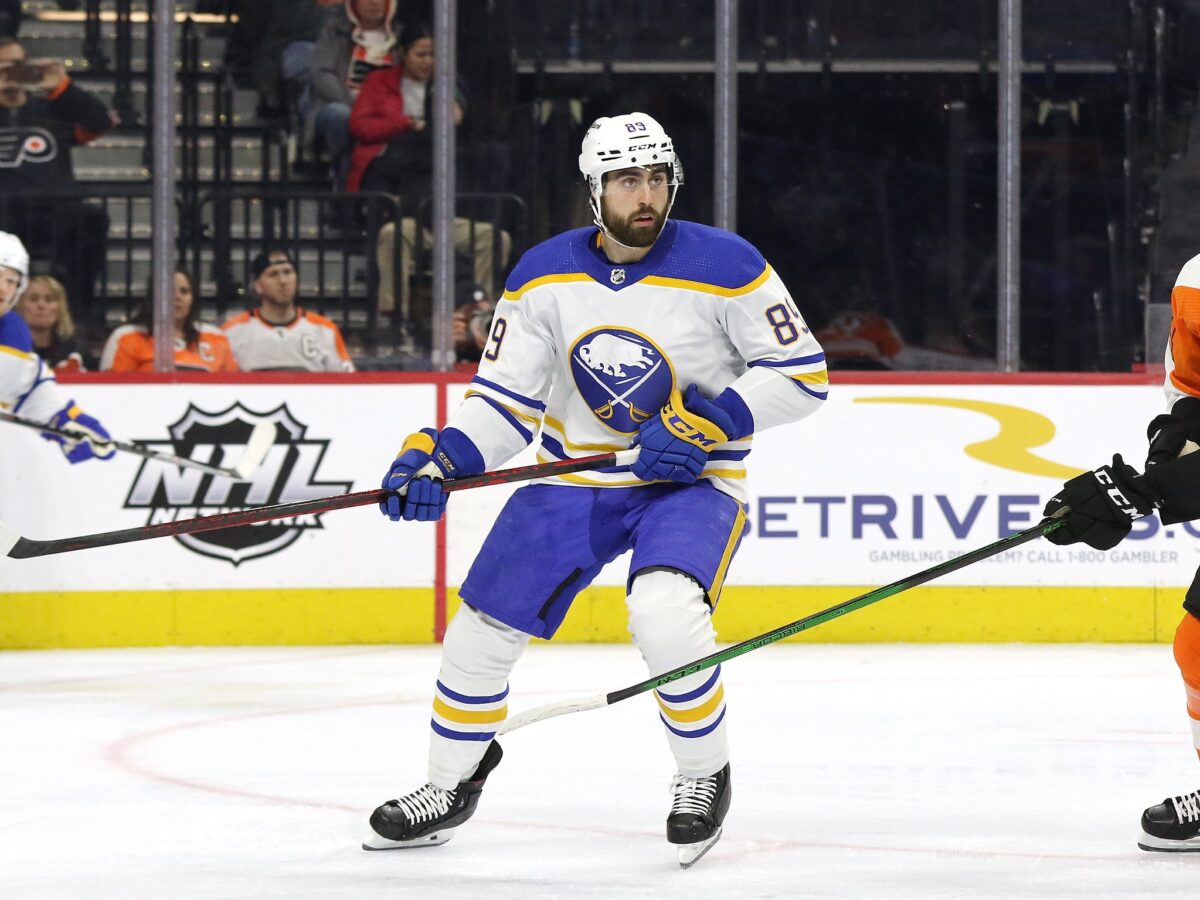 Seeing him fly down the ice at top speed was a spectacle to watch, and it usually meant there was a scoring chance happening. He finished the season with 74 games played and scored 36 goals and 79 points. If he had not gotten injured in late February, he would've likely finished with 40 goals and over 82 points. His undeniable chemistry with Cozens and Thompson makes him an optimal top-six winger to be utilized in every situation, and there is no reason to think he will slow down in his scoring numbers.
Tuch's Fantasy Value
It never hurts to have an offensively inclined player on a team that scores a lot on your fantasy roster. First-line wingers are usually tough to come by at any point in the season, but those who picked up Tuch for the year after his decent 2021-22 season were very pleased. His point pace being over a point per game means he was consistent all year round, and consistency is key for all fantasy owners. Tuch has more to offer in the peripheral coverage department, as he only managed 54 hits and 46 blocked shots, but those numbers are a result of the non-physical style that coach Don Granato runs in Buffalo. He is not a top three rounds pick by any means for redraft leagues, but if he is still available in the earlier rounds, he is absolutely worth the pickup.
Tuch's Final Grades
Few players on the roster exemplify so perfectly what it means to be a Buffalo Sabre, but Tuch is the exception. He lives and breathes everything the team and city are about, and he puts his heart out there on the ice every night. His viral "WOOO" is the perfect icing on the cake after wins, and it just exemplifies his excitement to be such a massive part of this team's turnaround. Tuch is one of the best candidates the Sabres have for their next captain after Kyle Okposo either leaves or retires, and he has the on-ice talent to add to that leadership. The fans love him, and the team plays so much better when he is on the ice, and that is why he deserves these outstanding grades:
Scoring – A+
Defense – A
Playmaking – A+
Leadership – A+
Teamwork – A+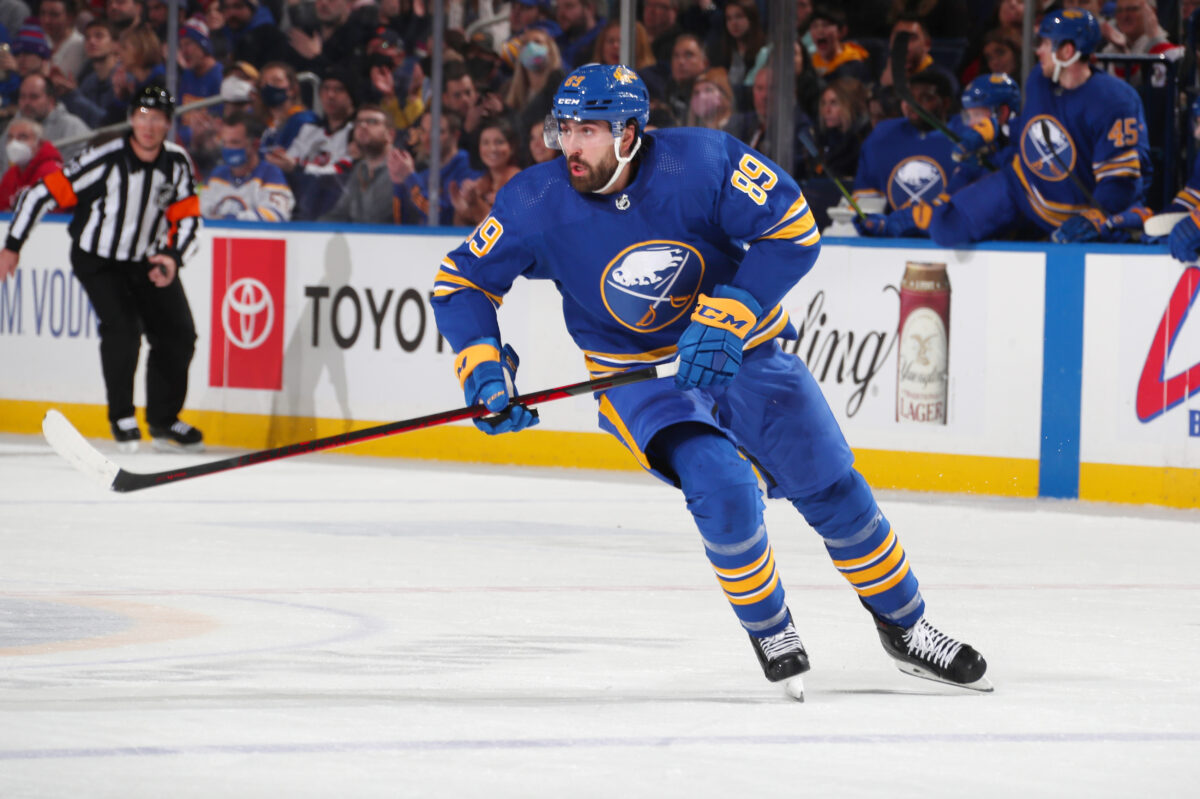 Because of the trade circumstances, he will always be associated with comparisons to Eichel, but so far, he is winning that comparison. Tuch has more points (48 goals and 117 points) from the moment he arrived in Buffalo compared to how many points Eichel has put up for the Vegas Golden Knights (41 goals and 90 points), and he is just getting started. He, alongside his young teammates, will continue to grow and develop into better players. For this year, he has earned a definitive A+ overall grade, and he is one of the few who deserve it.
Tuch's Future in Buffalo
He still has a number of years left on his contract and is collecting a meager salary compared to his production. After this season, he has three years remaining at $4.75 million annually, and he has a modified no-trade clause built into those last three years. When his contract expires, he will likely command a much higher salary, but the Sabres' front office would be wise to make it work. Tuch will continue to be a huge part of the backbone of this team, and if he is named captain in the next few years, he will only be that much more of an integral part.
Related – Sabres Season Report Cards: Rasmus Dahlin
---
Latest News & Highlights
---
He has a chance at being supplanted as the top winger on the team, but that will not come into play until Jack Quinn, Matt Savoie, Jiri Kulich, and Isak Rosen have developed into full-time NHL players. Once one of the many young prospects the Sabres have developed, there will be some tough decisions to make, but I don't believe it will affect Tuch's tenure on this team. He will more than likely be a lifetime Sabre and finish his career in blue and gold. The goal of a playoff run is priority number one for the Sabres, and Tuch will be one of the biggest reasons they get there next year.
---
---