After breaking out last year, Rasmus Dahlin continued his meteoric ascension this season and established his place as one of the best young defensemen in the NHL. It took a bit longer than anticipated, but the former first-overall pick of the 2018 Draft has proven that he was worthy of the hype. And though his Buffalo Sabres have been inconsistent at times, the team is immensely better off for having him.
In the span of one season, Dahlin underwent a remarkable metamorphosis and put together a season the likes of which Sabres fans hadn't seen in quite some time. It was one of the biggest reasons that the team came within one point of ending its dreaded playoff drought and with him on board, even more good things could be coming Buffalo's way down the road.
Perseverance Pays Off
The pot of gold at the end of a truly doleful 2017-18 campaign for the Sabres, Dahlin was called one of the most anticipated defensive prospects of all time and he immediately showed everyone why. The 44 points he recorded in his rookie season were the second-most by an 18-year-old defenseman in NHL history behind Hall of Famer and Sabres legend Phil Housley (ironically his head coach that season). And while that was a phenomenal start to his career, he also had to battle through quite a bit of adversity in the early going.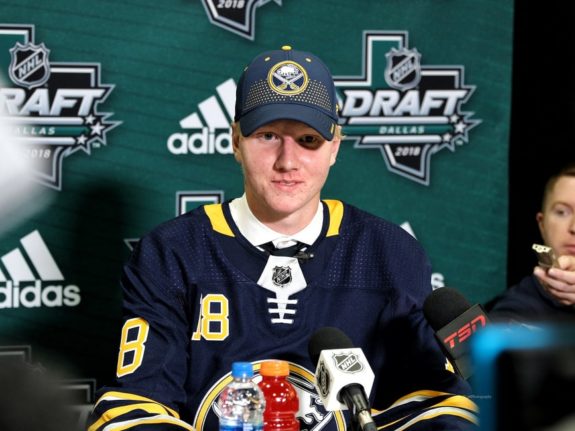 Dahlin's second and third NHL seasons were disrupted by COVID and by the time the third came to an end, he had played for three different head coaches. Though at one point it seemed that the Sabres' organizational dysfunction had derailed yet another promising young talent, the team finally found stability with Don Granato behind the bench and he helped the phenom get back on track. Dahlin was named to his first NHL All-Star Game in 2021-22 and finished the season with a career-high 53 points, a 30-point improvement over the previous campaign and the most by a Sabres defenseman since 2010. The stage was set for him to break out even further in 2022-23, and he did not disappoint.
Dahlin Continues Rise To Superstardom
Granato named Dahlin a permanent alternate captain before the season began, a symbol of his elevated status, and he immediately picked up where he left off by scoring in five consecutive games to open the year, a new NHL record for a defenseman. From there, it was off to the races.
After so many years of being stuck in transition, the Sabres finally took a step forward in 2022-23. Thanks to its torrid offense, which became one of the best in the league, the team was in the hunt for a playoff spot all year long. Dahlin was one of the biggest reasons why and turned in a performance better than anything Sabres fans had seen from a defenseman in decades. He was remarkably proficient throughout the season and finished with 73 points in 78 games, the most by a Buffalo blueliner since Housley in 1988-89. In the process, he was named an All-Star once again.
He also made major strides with his defensive play, once an area of criticism, and posted a positive plus/minus rating for the first time in his career at plus-12. It couldn't have come at a better time for the Sabres, whose immense defensive struggles were well-documented all season long. Dahlin's superb play helped balance the scales slightly as he and partner Mattias Samuelsson were the team's only viable defensemen for a majority of the year.
Though having just recently turned 23, Dahlin emerged as the unquestioned leader of the Sabres' defense and has done his best to improve the performances of his compatriots, but with a group so young (an average age of just 24), there's only so much he can do. It would be in Buffalo's best interest to bring in an experienced veteran this offseason to give the group badly needed guidance and stability. It would also take further pressure off Dahlin and allow his game to continue to grow.
No Norris Nomination?
The Swede ultimately finished fourth amongst defenders in scoring and his excellence and consistency all season earned him considerable buzz for the Norris Trophy, an award no Sabre has won to date. However, a surprise came this past Thursday when he was not nominated by the NHL. Erik Karlsson, Cale Makar and Adam Fox (all former winners) were named the three finalists.
Related: Sabres 2022-23 Player Report Card: Mattias Samuelsson
---
Latest News & Highlights
---
In one sense, it doesn't make much of a difference. Dahlin wasn't going to win either way as Karlsson is all but guaranteed to receive the honor after becoming the first blueliner in 30 years to score 100 points in a season. But it was nevertheless a recognition that he was worthy of after such an excellent season at such a young age. It's possible that the 96 penalty minutes he logged could have been a factor, but Sabres fans nevertheless feel that their anchor was snubbed, and there is weight to the argument.
Final Grade For Dahlin
Though Sabres fans are angry over the Norris snub, they shouldn't fret too much as Dahlin seems destined to win it in his career at some point. In the course of one season he transformed himself from a talented youngster into a legitimate star and though his game still needs some improvement (mainly his on-ice discipline), he showed that he's the real deal. He still has growing to do, and that thought should frighten opposing teams. This season was just the beginning.
Grade: A
---
---