The St. Louis Blues' 2022-23 season was a shocking disappointment for fans and management alike, leading to the team becoming sellers at the trade deadline and ultimately finishing in a draft lottery position outside the playoffs. So, who bears the blames for the team's failings? And who succeeded despite the team's struggles? That's what we'll look to identify in our 2022-23 Blues' Report Cards series.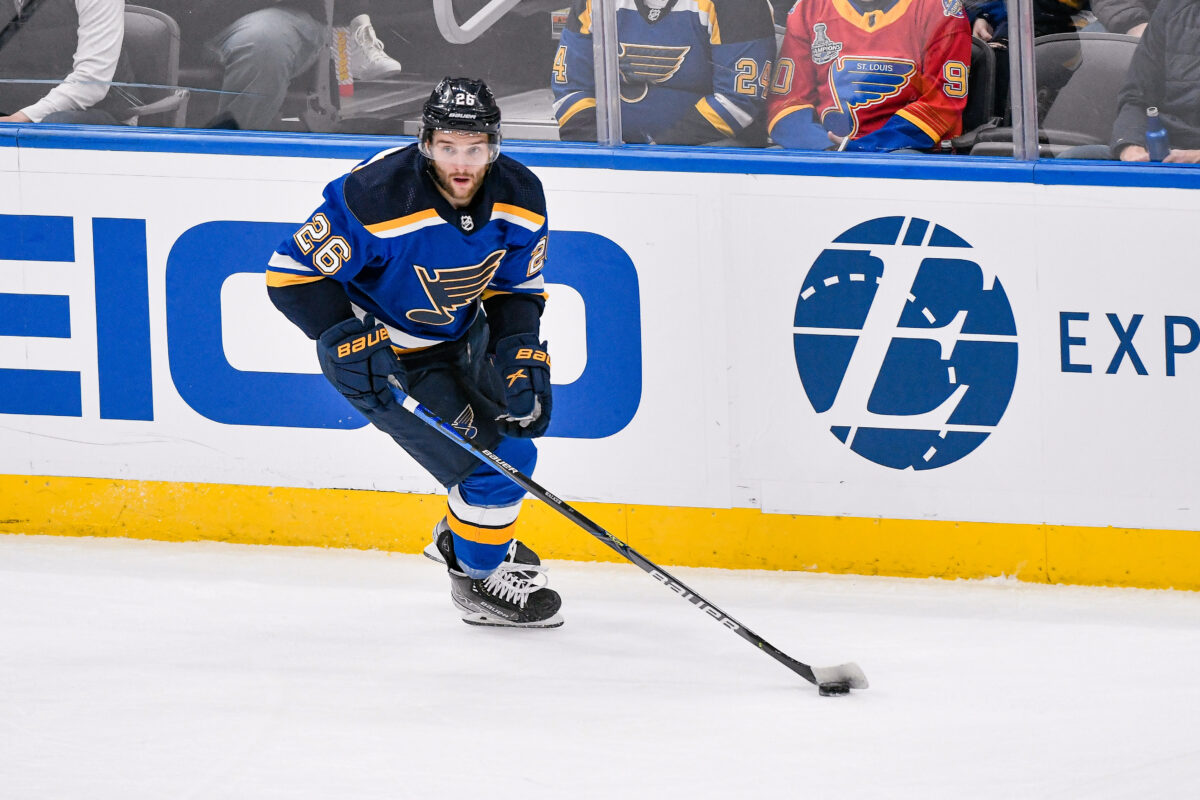 4,080 miles separate St. Louis, Missouri, and Cardiff, Wales in the United Kingdom where Nathan Walker was born. There are 9,057 miles between Gateway City and Sydney, Australia, where Walker grew up and became the first-ever Australian player to make the NHL. And despite all that distance, Walker has quietly become a fixture in the St. Louis Blues' lineup, constantly increasing his time in the NHL across his four seasons with the organization. During the 2022-23 season, he played a career-high 56 games and embodied the "high-intensity" mindset that Blues fans and head coach Craig Berube prize. But did high effort translate to great results? Let's take a closer look…
What Went Right: Goodbye AHL
For the first time since the 2013-14 season when Walker made his professional debut, he did not play a single game in the American Hockey League. He spent the entire season with the Blues as either a healthy scratch or, as was the case more often than not, in the starting lineup. That represents a huge step forward in his career and is a testament to what he's accomplished with the St. Louis organization. It might not be his most memorable season (after all, Walker is not only the first Australian to play in the NHL but the first to win a Stanley Cup, which he did with the Washington Capitals) but it might be his most impactful as a player.
Related: 44 Years Later, Capitals Hoist the Cup
---
Latest News & Highlights
---
Fingered by fellow Blues writer Marcus Ashpaugh as an unlikely potential Blues breakout candidate this season, he lived up to the hype. He may not have made a big impact on the scoresheet, tallying only two goals and eight assists, but he was a good player all around, and finished third in plus/minus on the team at plus-10 (miles ahead of many of his better-paid and more defensively significant teammates). The Blues are likely thankful to have Walker locked up for another season at nearly league-minimum. He brought a lot to the squad this season.
What Went Wrong: The Metrics
If you're digging for reasons to fault Walker's season, you don't have to dig terribly far. His metrics grade out poorly on the whole. According to Evolving-Hockey's Regularized Adjusted Plus-Minus chart (an advanced metric designed to isolate a player's performance from that of his teammates), Walker graded out at over one standard deviation below the league average in most categories.
Of course, this chart doesn't break any ground that most fans would not have known instinctively. No one views Walker as a game breaker. But he is a consistent presence in the bottom-six who brings the right attitude and effort. And his plus/minus finish paints an important picture that complements this RAPM picture. He's an important player for the Blues — even if there are players of higher quality elsewhere out there.
Key Stats
First professional season with no games in the American Hockey League
Career-high 56 NHL games played
Third on the team in plus/minus at plus-10
Final Grade: A-
Sure, you could balk at Walker's metrics and say that there are better players out there for the Blues. But focusing on the margins during a disastrous Blues' season would be laughable. Walker played his role better than just about anyone else in the organization. He provided a work ethic and a likeability factor that many on the team lacked. The fact that a fourth-liner with 56 games played was third on the team in plus-minus says everything anyone needs to know, both about Walker and about his teammates. There is little to fault in his performance this season.
What's Next for Walker?
We know Walker will be in St. Louis next season, barring a trade, which would be highly unexpected. He's popular in St. Louis and won't fetch much in a trade; why move him? Beyond that is anyone's guess. Walker is still the caliber of player who operates season-to-season, earning one contract and opportunity at a time. But he has played four seasons in the Blues' organization. The 2023-24 season will be the fifth for the then-30-year-old. It's entirely possible he sticks around even longer. Walker has moved from Cardiff to Sydney to the NHL Draft to the Washington Capitals to Stanley Cup glory and now to a seemingly-permanent home in St. Louis. That brings a whole new definition to the term "journeyman."