Though they have other areas that also need attention, it's crucial that the Buffalo Sabres pursue a free agent this summer to help their defense. There aren't many big names on the market, but luckily, one player would be a perfect match for the team's young and developing blueliners.
Longtime Colorado Avalanche anchor Erik Johnson is slated to become an unrestricted free agent for the first time in his career this summer. He checks just about every box for the Sabres and is as perfect an addition as they could hope to find. Though speculation on his future is rampant, Buffalo can't afford to miss out on this opportunity.
Sabres' Defensive Corps Needs a Leader
The reason for the Sabres' defensive struggles this season is due to a lack of experience, not talent. The average age of the team's defensemen is 24, and the oldest, Illya Lyubushkin, is just 28. Rasmus Dahlin, Henri Jokiharju, and Mattias Samuelsson are all 23 or younger, and Owen Power is the youngest player on the roster at 20. Additionally, Riley Stillman is the team's only defenseman with playoff experience, having appeared in three games with the Florida Panthers during the 2020 Stanley Cup qualifying rounds.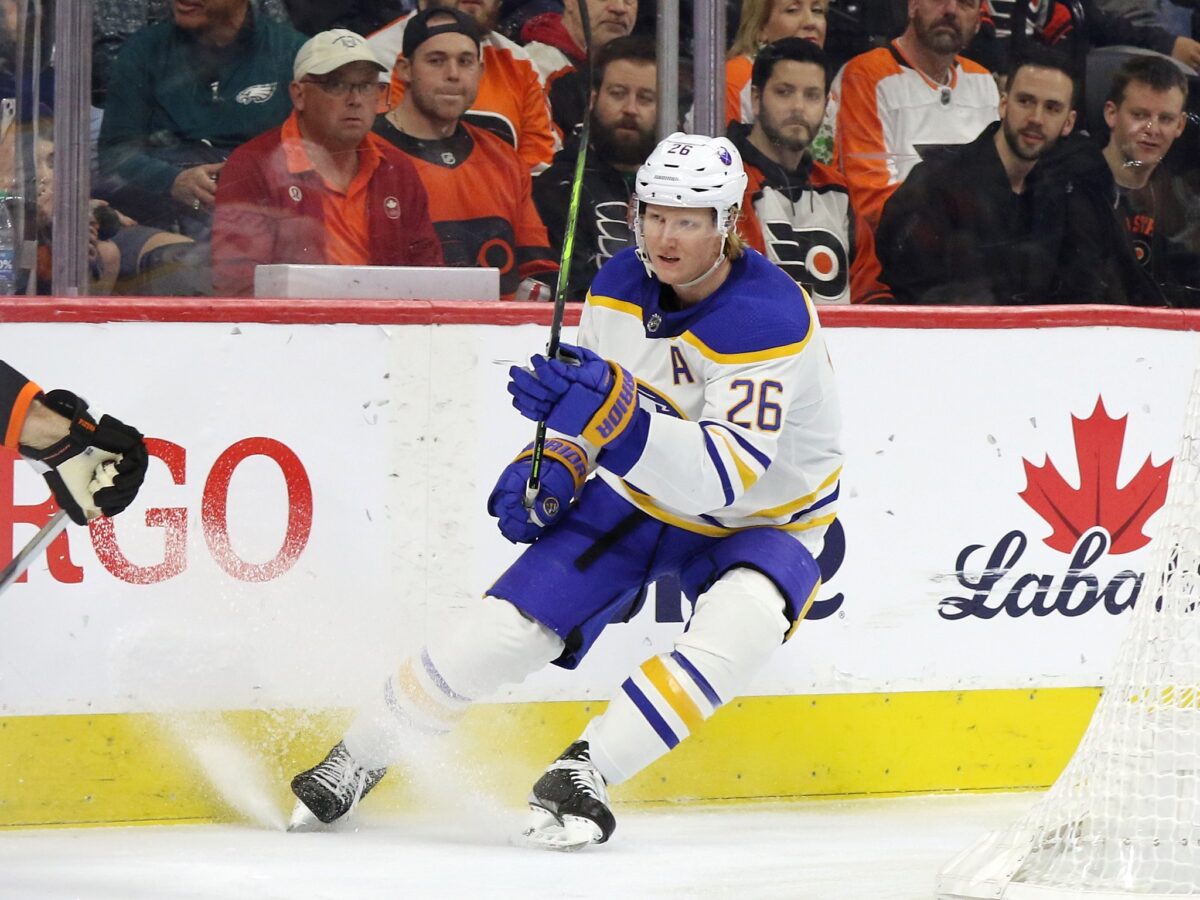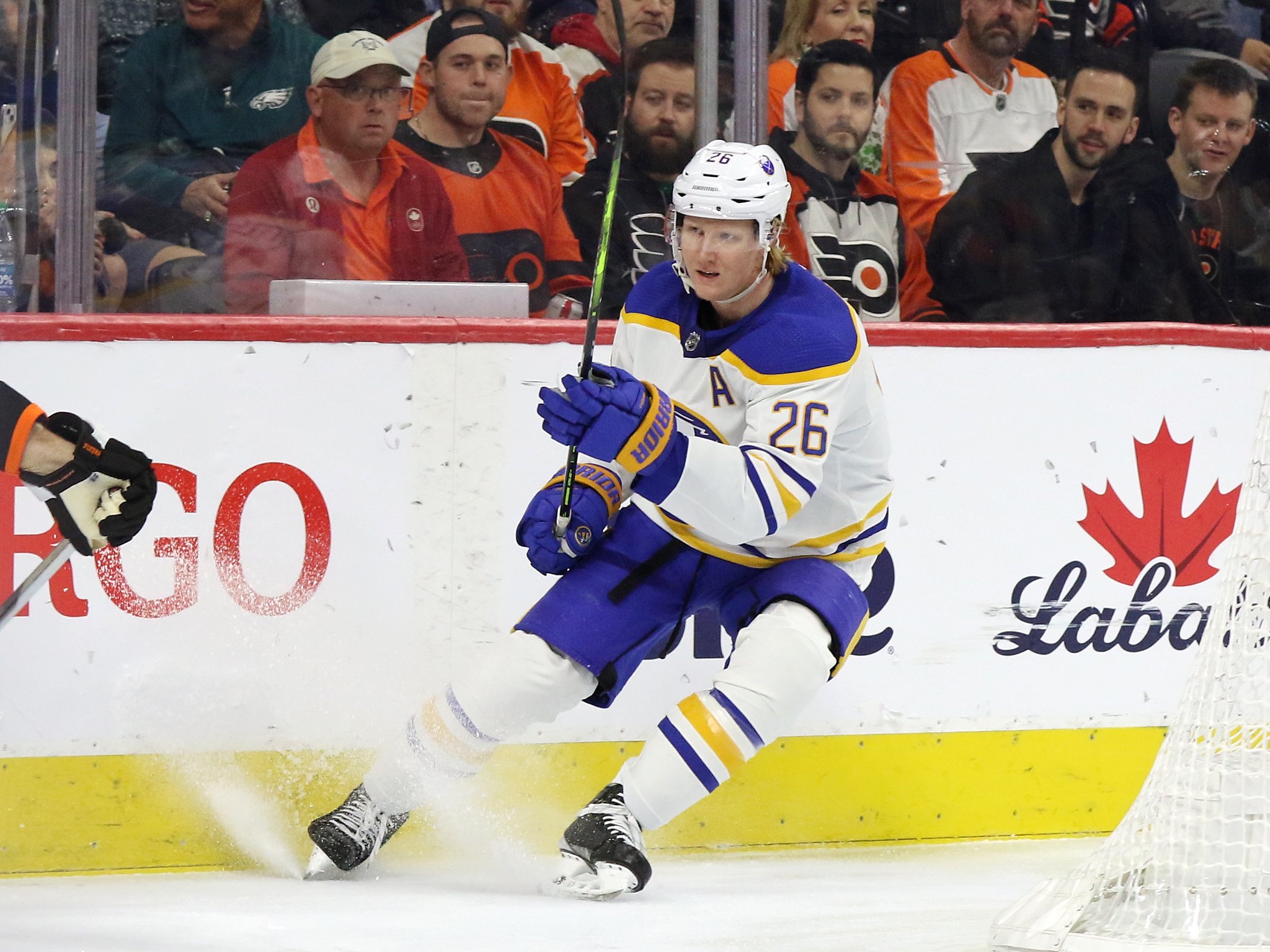 While the Sabres have numerous young forwards as well, they also have Kyle Okposo, Zemgus Girgensons, and Jeff Skinner to guide them. The defensemen are not as lucky, and without a veteran leader, the defense has had to teach themselves on the fly, with the added pressure of the team's extremely thin but still existing playoff hopes. The toll that this has taken on the unseasoned youngsters has been very evident.
General manager Kevyn Adams has to add a name who can close the experience gap, and that's exactly where Erik Johnson comes in.
Johnson Appears Poised for Free Agency
Though he's the Colorado Avalanche's longest-tenured player and played his 900th career game in January, Johnson's time with the club could be coming to an end. This season is the last of his seven-year, $42 million contract signed in 2015, and it could signal the end of an era.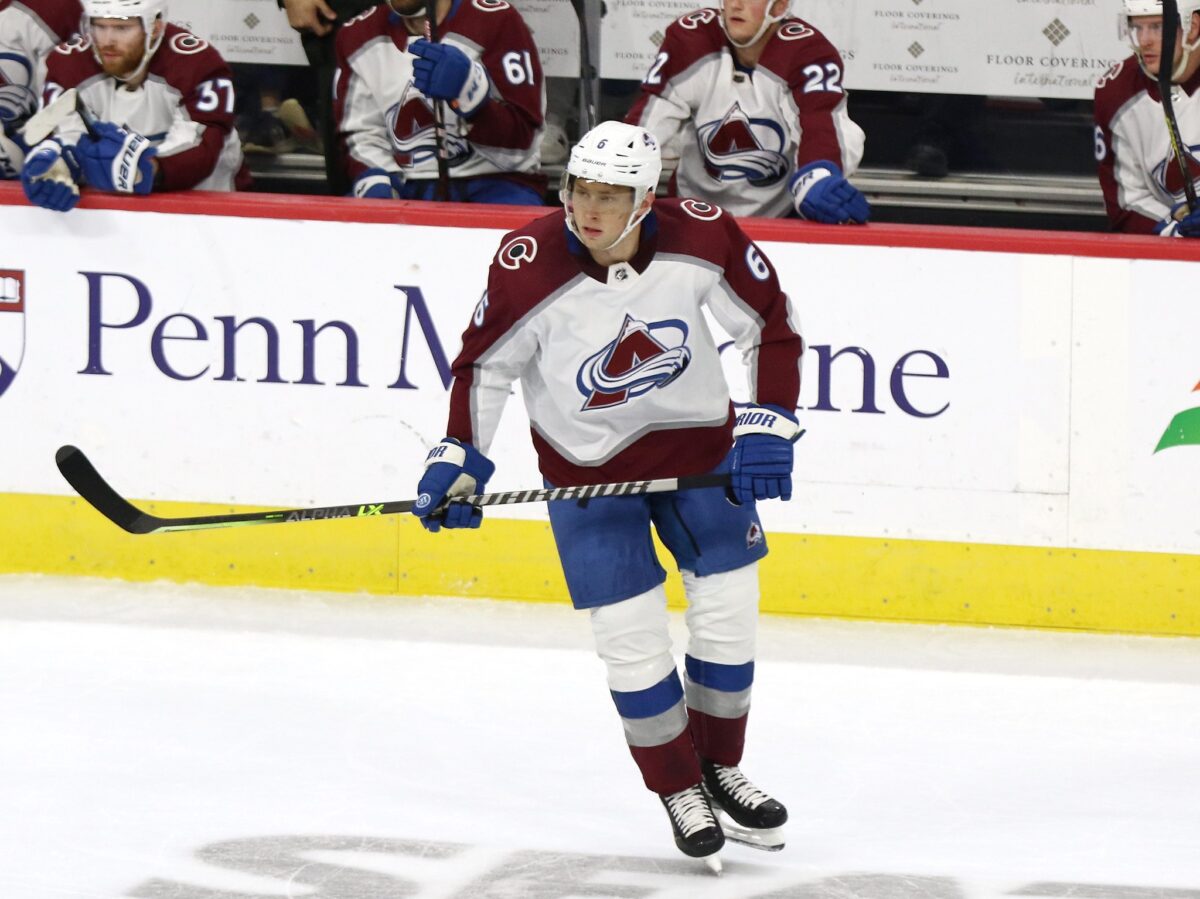 The Avs' salary cap crisis has only been temporarily remedied by Gabriel Landeskog's presence on the injured reserved list. When the captain returns, they will have to create cap room for Bowen Byram and Alex Newhook, who will be restricted free agents. Given this, it's more than likely that Johnson will be allowed to walk, and though he just turned 35 two weeks ago and missed over a month this season with a broken ankle, interest in him should be high with everything he brings to the table.
Related: Sabres' News & Rumors: Thompson, Tuch, Dahlin & Levi
---
Latest News & Highlights
---
Never a flashy player, the Minnesota native instead has dedicated himself purely to defense. He's a strong skater with a powerful shot, but Johnson has never been a big offensive contributor (though he has recorded 25 or more points eight times). Instead, he focuses on shutting down opposing forwards and is never afraid of using his 6-foot-4, 230-pound frame to do so, as evidenced by his plus-4 career rating.
The Sabres need help in both of those areas. Though Samuelsson and Jokijarju are stay-at-home defenders, their game is still growing, and adding an experienced blueliner who embodies the same style would take pressure off them. The team could also use a boost of physicality. Almost every defenseman on the roster embodies a finesse style and adding a punishing, gritty player like Johnson would help to balance it out.
Johnson Is a Proven Winner
Selected first overall in the 2006 NHL Draft by the St. Louis Blues, Johnson has sometimes been labeled a bust due to the high-profile success of Jonathan Toews and Nicklas Backstrom, who were taken after him, but that simply isn't true.
Since being traded to Colorado in Feb. 2011, Johnson has stuck it out with them through thick and thin. He endured the team's early-2010s tumult that led to players like Landeskog and Nathan MacKinnon coming aboard. his faith was finally rewarded this past June when the Avalanche knocked off the two-time defending champion Tampa Bay Lightning for their first Stanley Cup since 2001. Landeskog gave his best friend the honor of the first hand-off, a fitting recognition of his dedication and service to the team.
In addition to a Cup win, Johnson has also had a very successful career on the international stage, highlighted by a silver medal won with the United States at the 2010 Vancouver Olympics.
His pedigree is undeniable, but he has also shown his commitment to his community when he and teammate Devon Toews brought the Cup to the Rocky Mountain Hospital for Children, giving patients and staff a chance to have their photo taken with hockey's Holy Grail. If this season is Johnson's last in the Mile High City, he's sure to be missed.
A Dream Fit For The Developing Sabres
More than any other reason, Buffalo should want Johnson because he's done it all in his career, and he is the exact type of player coaches want on a young, developing team. Though the team's playoff chances this season appear to be gone, the Sabres are on the cusp of becoming a legitimate contender. But outside of Okposo, the team still lacks a tested veteran voice. Sam Girard, Cale Makar, and Bowen Byram all developed into elite defenders thanks in part to Johnson's tutelage, and there's no reason to think he wouldn't do the same for Power.
It all depends on Johnson and what he wants. He admitted to The Denver Gazette that he nearly retired after the COVID-shortened 2021 season (from "Erik Johnson reflects on Stanley Cup win after 12 years with Avalanche: 'I want to get this done in Colorado'", The Gazette, 6/28/2022). Perhaps he'll hang them up now that he's won a championship, or maybe he'll return for one more go-around at a discounted price. However, if he does become a free agent this summer, the Sabres would be fools not to do everything they can to sign him.