Detroit Red Wings general manager Steve Yzerman has a handful of priorities to accomplish this offseason. Fortunately for him, making decisions on Detroit's restricted free agents (RFAs) won't take up too much of his time – the Red Wings only have eight RFAs, with Joe Veleno being the most prominent.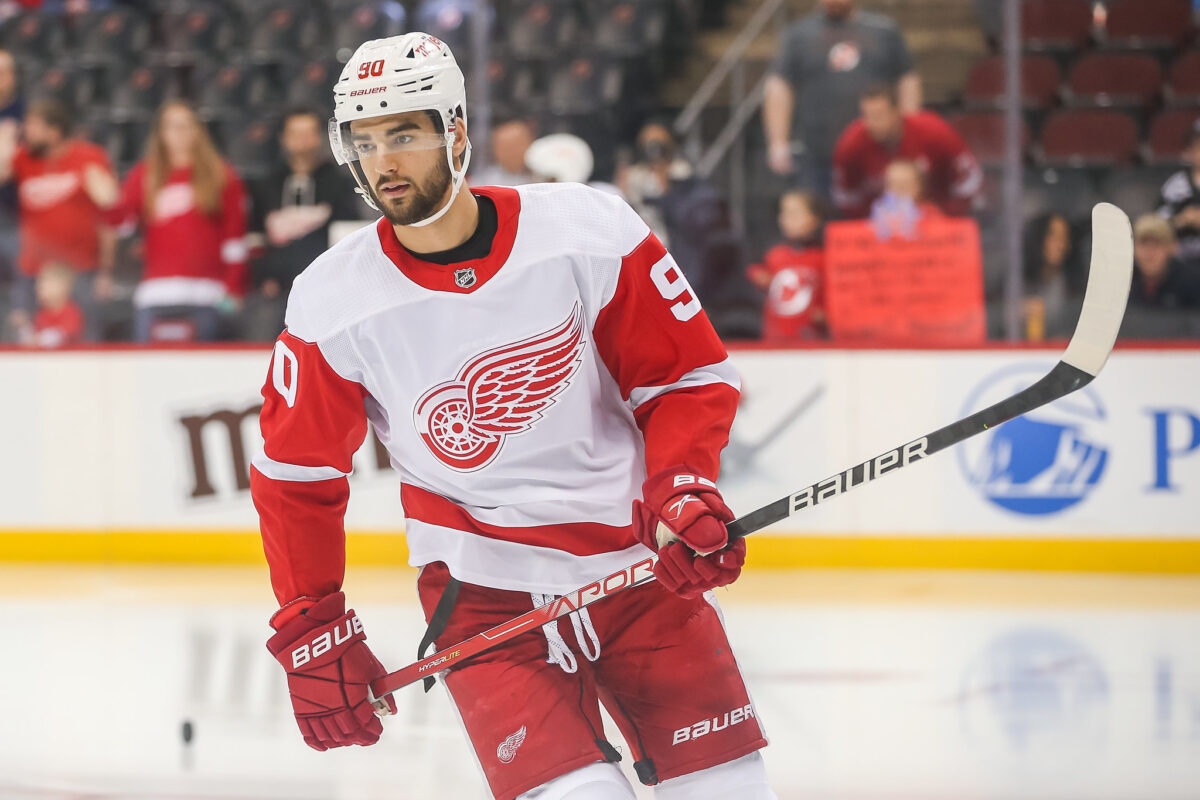 As has been the case for the past few offseasons, I put together contract projections for Detroit's RFAs, with expected production, supply and demand of cap space, roster spots, and player roles factoring in. Also, these projections assume an $83.5 million salary cap for the 2023-24 season, which has been rumored, but hasn't been confirmed yet.
Let's get to it.
Red Wings Likely (and Unlikely) to Receive Qualifying Offers
A few of Detroit's RFAs will receive qualifying offers, which are one-year contracts that come with a slight raise from the prior year. Players can either accept the offer or hold out for a better one. The Red Wings can also decline to issue a qualifying offer to certain players, making them unrestricted free agents.
Of Detroit's eight RFAs, I anticipate that three will receive and accept their qualifying offers:
RW Matt Luff – $787,500
RD Wyatt Newpower – $787,500
LD Jared McIsaac – $787,500
Luff was great in the AHL and adequate as a call-up. Newpower and McIsaac provide depth for the Grand Rapids Griffins and could push for an NHL roster spot, especially if preseason injuries pop up. 
On the other hand, I do not expect Jasper Weatherby, Seth Barton, and John Lethemon to receive qualifying offers from the Red Wings. If anything, the Griffins could sign Barton and Lethemon to AHL deals, with the latter being the most likely of the two to return.
Gustav Lindstrom's Future in Detroit
If there's one player that's a complete toss up this year, it's Gustav Lindstrom. 
The 24-year-old defenseman only skated in 36 games this season, including just 10 of 21 contests after the trade deadline. The Red Wings opted to play veteran pending UFAs Jordan Oesterle and Robert Hagg over Lindstrom down the stretch.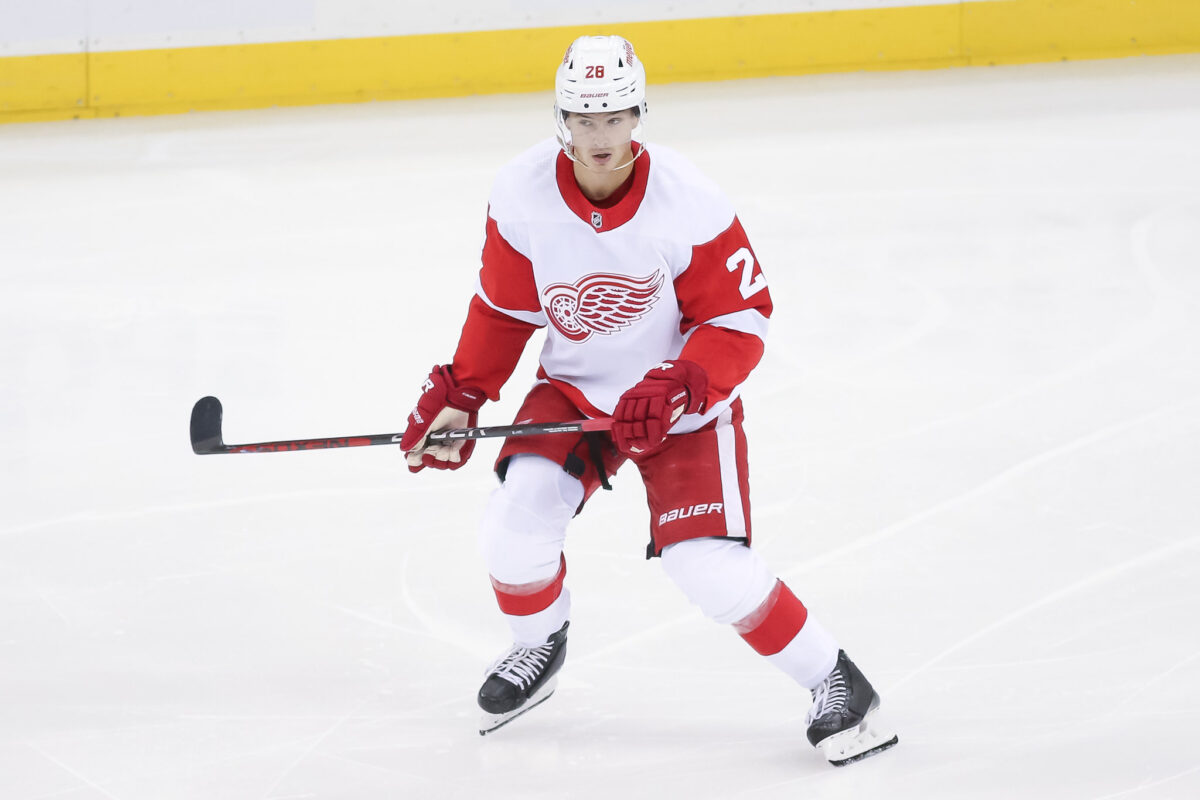 Under Derek Lalonde and Bob Boughner's guidance, his five-on-five Corsi-against per 60 decreased by 2.93 percent compared to the 2021-22 season. But the defensive improvement came with offensive regression – Lindstrom's five-on-five scoring chances-for per 60 decreased by 7.65 percent year-over-year.
In addition, his qualifying offer comes in at $997,500, which is high for a depth defenseman. 
Finally, there have been reports of Lindstrom seeking a contract in Europe for the 2023-24 season. No word on whether there is a deal in place yet, which turned out to be the case for Pontus Andreasson after he was rumored to be heading back to Sweden.
From my perspective, the Red Wings have two options:
Tender Lindstrom a qualifying offer, have him compete for a roster spot in camp, and waive him if he fails to make the team; Detroit would retain his rights if he rejects the offer and signs overseas.
Non-tender Lindstrom, but offer him a one-year, $800,000 deal instead; this would be cheaper and more in line with his talent level, though the Red Wings would not retain his rights if he rejects the offer.
If it was up to me, I would choose the first option. Either Lindstrom shows up to camp and rightfully earns a roster spot or he doesn't and is waived. In the latter scenario, his contract would be fully buried in the AHL with no cap implications for Detroit or another team claims him and the Red Wings move on.
---
Latest News & Highlights
---
But if we're predicting what the Red Wings will do, then I wouldn't expect Lindstrom to be back. He was drafted by the previous regime, so there's no sunk cost bias clouding Detroit's plans. Plus, the rumors of him exploring European league contracts isn't a good sign.
Joe Veleno's Next Red Wings Contract
Now, the main event: Veleno's new deal. The 23-year-old center just wrapped up the final year of his entry-level contract – one that saw his offensive game improve under Lalonde's watch.
The context of Veleno's contract negotiation is relatively straightforward. He's expected to be a bottom-six center moving forward and will likely contribute to the penalty kill. In addition, Veleno is not eligible for arbitration yet, so he won't have any leverage there.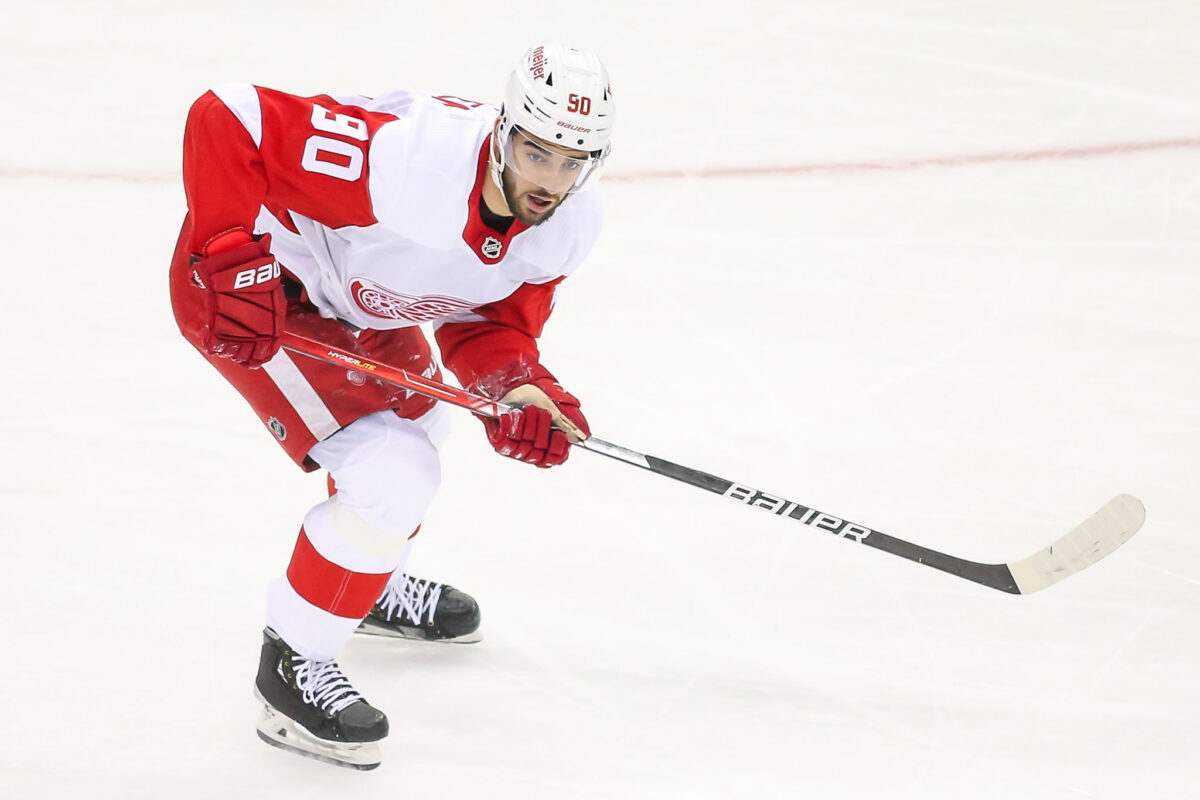 From Detroit's perspective, Yzerman has a history of signing players coming off of their entry-level contract (Michael Rasmussen, Filip Hronek, and Filip Zadina) to three-year deals, and there's no reason for Veleno to push for anything else. As with the other players mentioned, this is a prime scenario for the Red Wings to lock a young player into a cap-friendly deal for the next few years.
As for the contract projection, my model suggests Nicolas Roy of the Vegas Golden Knights and Nico Sturm of the San Jose Sharks as Veleno's top comparables. With these comparables in mind, Veleno's contract extension is projected to land somewhere in the range of $2.12 million and $3.19 million per year. 
That said, I expect Veleno to sign for less than the $2.12 million floor my model is suggesting, meaning he'll provide positive value immediately from an AAV/production standpoint. I think a three-year deal with an AAV closer to $1.75 million is the most likely outcome.
---
More Red Wings Offseason Analysis:
---
Final Contract Projections
To summarize, Detroit's 2023 RFAs are projected to receive the following deals:
Joe Veleno – Three years, $1.75 million AAV
Matt Luff – One year, $787,500 AAV
Jared McIsaac – One year, $787,500 AAV
Wyatt Newpower – One year, $787,500 AAV
Gustav Lindstrom – Released
John Lethemon – Released
Seth Barton – Released
Jasper Weatherby – Released
If the Red Wings sign their RFAs to these contracts, they'll have $54,707,222 committed to the 2023-24 salary cap. That would leave $28,792,778 available in cap space ahead of the draft and UFA season.
Data courtesy of CapFriendly and NHL.com.