Before Steve Yzerman and the Detroit Red Wings make any offseason moves, it's important to take a step back and examine the organization's depth. Doing so will illuminate strengths and weaknesses from a positional standpoint.
We know the Red Wings need to score more. But how can they do that? Are there internal options on the cusp? Free agents? Or is a trade needed? And in the event of a trade, what organizational surplus can Detroit deal from?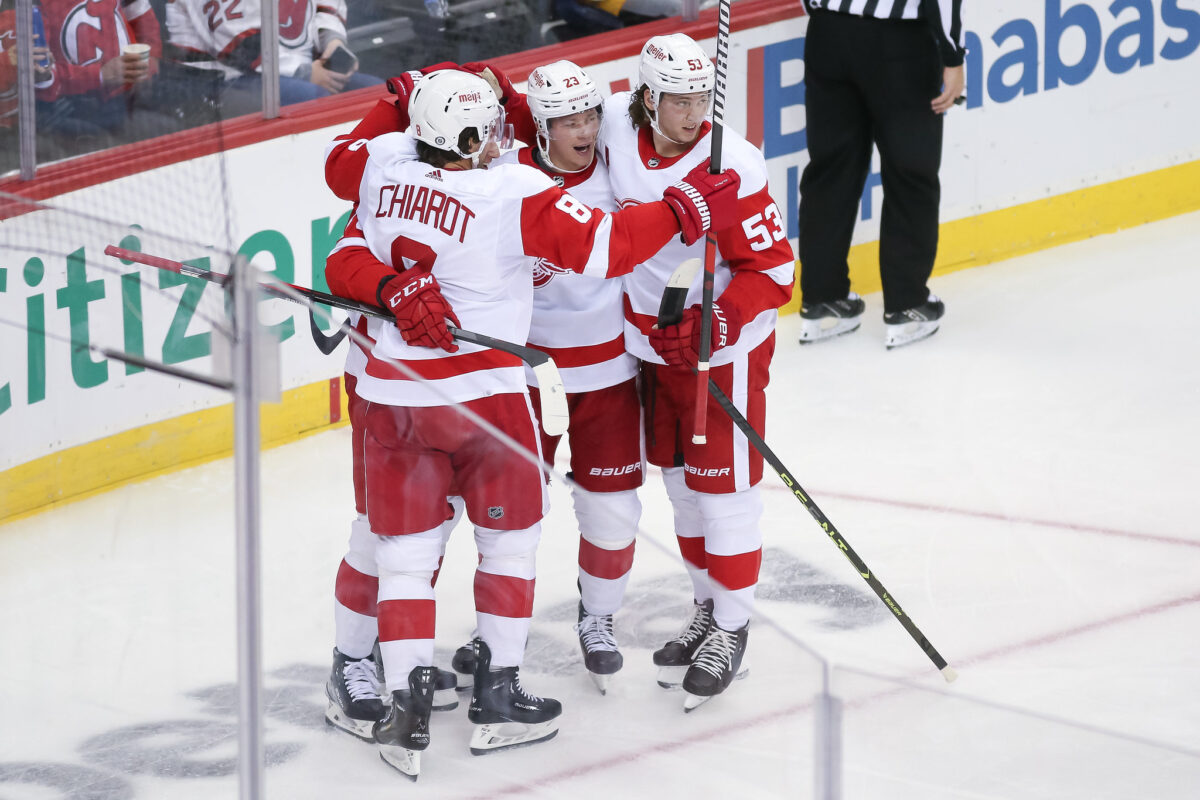 To answer these questions, let's dive into Detroit's depth – both at the professional level and with their 22-and-under prospects.
Red Wings' Current Depth Chart
First, we'll cover the professionals. The chart below ranks Detroit's players based on a full view of their abilities heading into the 2023-24 season. And note that the wingers and defensemen are sorted by handedness – left shot and right shot.
| | | |
| --- | --- | --- |
| LW | C | RW |
| Dominik Kubalik | Dylan Larkin | Lucas Raymond |
| Jonatan Berggren | Andrew Copp | David Perron |
| Robby Fabbri | Michael Rasmussen | Matt Luff |
| Filip Zadina | Joe Veleno | Carter Mazur |
| Elmer Soderblom | Marco Kasper |   |
| Taro Hirose | Austin Czarnik |   |
| Cross Hanas | Jasper Weatherby |   |
|   | Amadeus Lombardi |   |
|   | Alexandre Doucet |   |
| | | |
| --- | --- | --- |
| LD | RD | G |
| Jake Walman | Moritz Seider | Ville Husso |
| Simon Edvinsson | Gustav Lindstrom | Sebastian Cossa |
| Olli Maatta | Wyatt Newpower | John Lethemon |
| Ben Chiarot | Antti Tuomisto |   |
| Albert Johansson | Seth Barton |   |
| William Wallinder |   |   |
| Jared McIsaac |   |   |
| Donovan Sebrango |   |   |
| Eemil Viro |   |   |
*Restricted free agents are denoted with italic font
Starting up front, the Red Wings finally have some good depth at center. Sure, there's room for improvement—is Andrew Copp a true 2C?—but this group is much deeper and more talented than the "depth" we've seen in years past.
In addition, there's a good amount of versatility among Detroit's forwards. Michael Rasmussen, in particular, can be effective anywhere in the top nine – either as a wing on the top-two lines or centering the third line. The same goes for Copp's ability to play multiple roles. Plus, most of Detroit's wings can line up on either side, giving Derek Lalonde more options when filling out his lineup cards.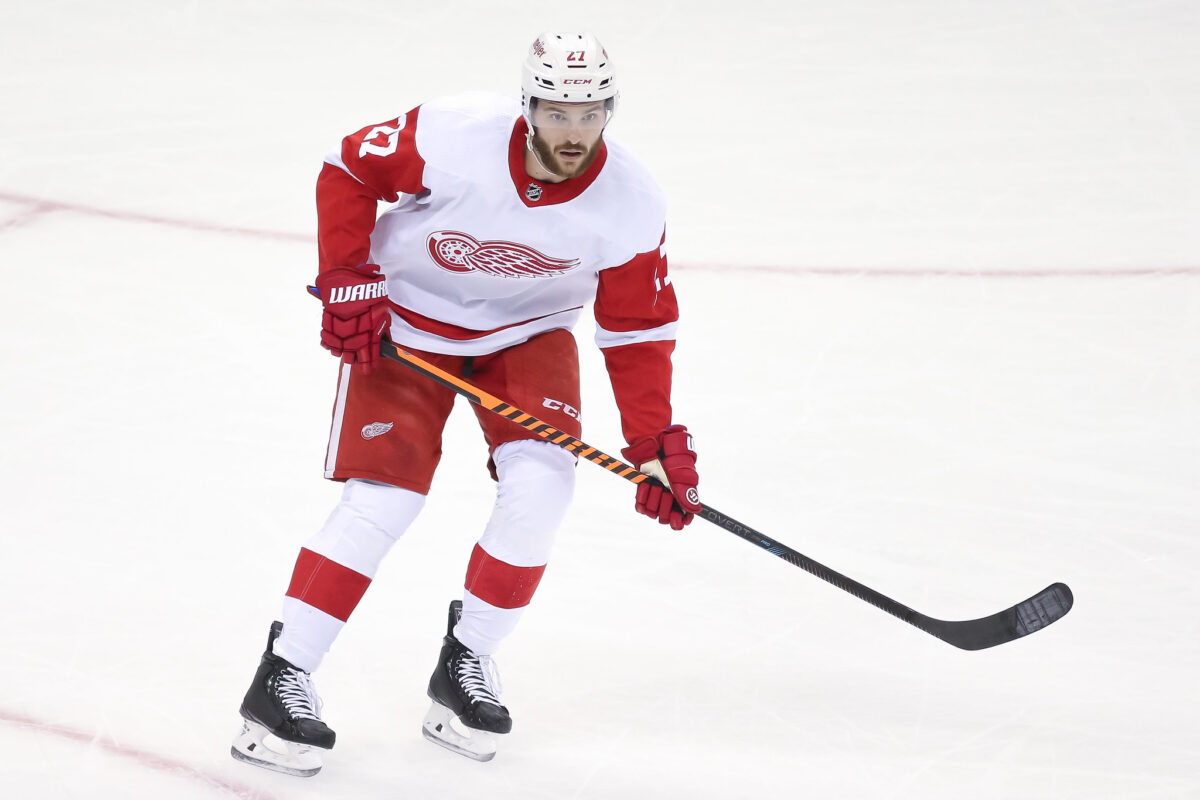 But if the Red Wings are going to score more next year, they need to add some firepower to this forward group. It doesn't matter if they pursue centers or wings, Detroit needs more goal scorers, plain and simple.
They could also benefit from adding more right-handed shots. In particular, a right-handed center would benefit the penalty kill – Detroit could deploy any of their current centers plus the new righty pivot to guarantee someone on their strong hand takes the opening faceoff of the kill (opponents choose the side of the ice the draw takes place on).
As for Detroit's defense, the left side looks much better than it did when I conducted this exercise last summer. There's depth at both the NHL and AHL levels, which, unfortunately, can't be said for the right side. The Red Wings need to add bodies to their roster, plus Grand Rapids', too. The same can be said for goalies – the crease is awfully thin right now.
---
Latest News & Highlight
---
Red Wings' Prospect Pipeline Depth
Next up are Detroit's 22-and-under players and prospects. Please note that I said players and prospects – not just prospects. If you're 22 or younger, chances are your overall trajectory is still ascending, regardless of what league you're playing in.
| | | |
| --- | --- | --- |
| LW | C | RW |
| Jonatan Berggren | Marco Kasper | Lucas Raymond |
| Elmer Soderblom | Amadeus Lombardi | Carter Mazur |
| Cross Hanas | Alexandre Doucet | Ryan O'Reilly |
| Dmitri Buchelnikov | Theodor Niederbach | Sam Stange |
| Dylan James | Liam Dower Nilsson | Kienan Draper |
| Robert Mastrosimone | Red Savage |   |
| Pasquale Zito | Ethan Phillips |   |
| Kirill Tyutyayev | Owen Mehlenbacher |   |
| Max Kilpinen | Brennan Ali |   |
| Albin Grewe |   |   |
| Chase Bradley |   |   |
| | | |
| --- | --- | --- |
| LD | RD | G |
| Simon Edvinsson | Moritz Seider | Sebastian Cossa |
| Albert Johansson | Anton Johansson | Carter Gylander |
| William Wallinder | Antti Tuomisto | Jan Bednar |
| Jared McIsaac | Oscar Plandowski |   |
| Shai Buium | Gustav Berglund |   |
| Donovan Sebrango |   |   |
| Eemil Viro |   |   |
| Cooper Moore |   |   |
| Tnias Mathurin |   |   |
| Kyle Aucoin |   |   |
*Prospects whose rights are expiring this summer are denoted with italic font
There's good overall depth up front. All three positions have a similar distribution of talent:
Tier 1: RW Lucas Raymond & C Marco Kasper
Tier 2: LW Jonatan Berggren, RW Carter Mazur & LW Elmer Soderblom
Tier 3: C Amadeus Lombardi, LW Cross Hanas & LW Dmitri Buchelnikov
What's lacking, though, are true gamebreakers. Raymond and Kasper are core pieces to build around, but are not generational talents. To be fair, the draft lottery hasn't been kind to the Red Wings. And unfortunately, that's how teams most commonly come into possession of the best of the best.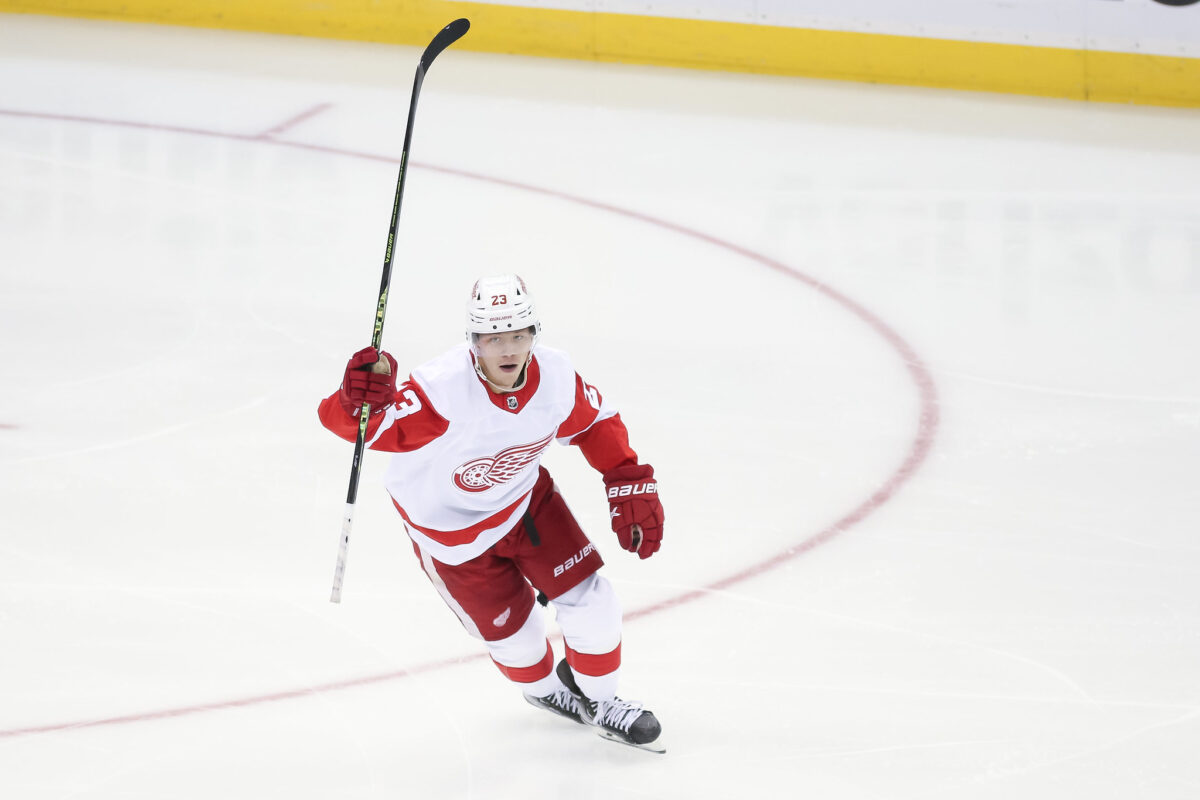 Defensively, the Red Wings are loaded on the left side. Simon Edvinsson has the talent to be a top-pair defenseman in the NHL. Albert Johansson and William Wallinder are not far behind as future NHL contributors. There's also Jared McIsaac, Shai Buium, and Donovan Sebrango – all three could develop into serviceable blueliners.
As for the right side, it's the same story as the professionals shown above – Detroit has zero depth behind Seider. Sure, Antti Tuomisto or Anton Johansson could see NHL ice time in the future, but that's far from guaranteed. Detroit's goaltending pipeline is similar – there isn't much behind star prospect Sebastian Cossa. Carter Gylander probably tops out as a solid AHL goalie and has one more year of college eligibility before the Red Wings need to make a decision on whether or not to sign him.
---
More Red Wings Offseason Analysis:
---
Final Word
After reviewing the organization's depth both at the professional and amateur levels, it's clear that Yzerman still has work to do to finish off Detroit's rebuild. Among other things, the Red Wings need goal scorers at all levels, more goaltending depth, and several right-handed defensemen to balance out the blue line.
Once again, it'll be a busy summer for Yzerman. In the meantime, there's plenty more to come from The Hockey Writers on how the Red Wings can reach that next level. Stay tuned!