As the 2022-23 season winds down, the Detroit Red Wings find themselves at a crossroad. 
Detroit either held or was within striking distance of a playoff spot for most of the year. Then, they sold big time at the trade deadline – dealing Filip Hronek, Tyler Bertuzzi, Oskar Sundqvist, and Jakub Vrana.

The conflict of these events has many wondering – do the Red Wings continue to tear down and rebuild this offseason or do they gear up to make another push for the playoffs?
Well, let's dig into both routes and see if either stands out as the better option.
Option 1: Red Wings Continue to Rebuild
We'll call this one the "lean approach" – inspired by the Lean Six Sigma managerial approach that "strives to eliminate the waste of physical resources, time, effort, and talent while assuring quality in production and organizational processes." Sounds about right for a rebuilding team, huh?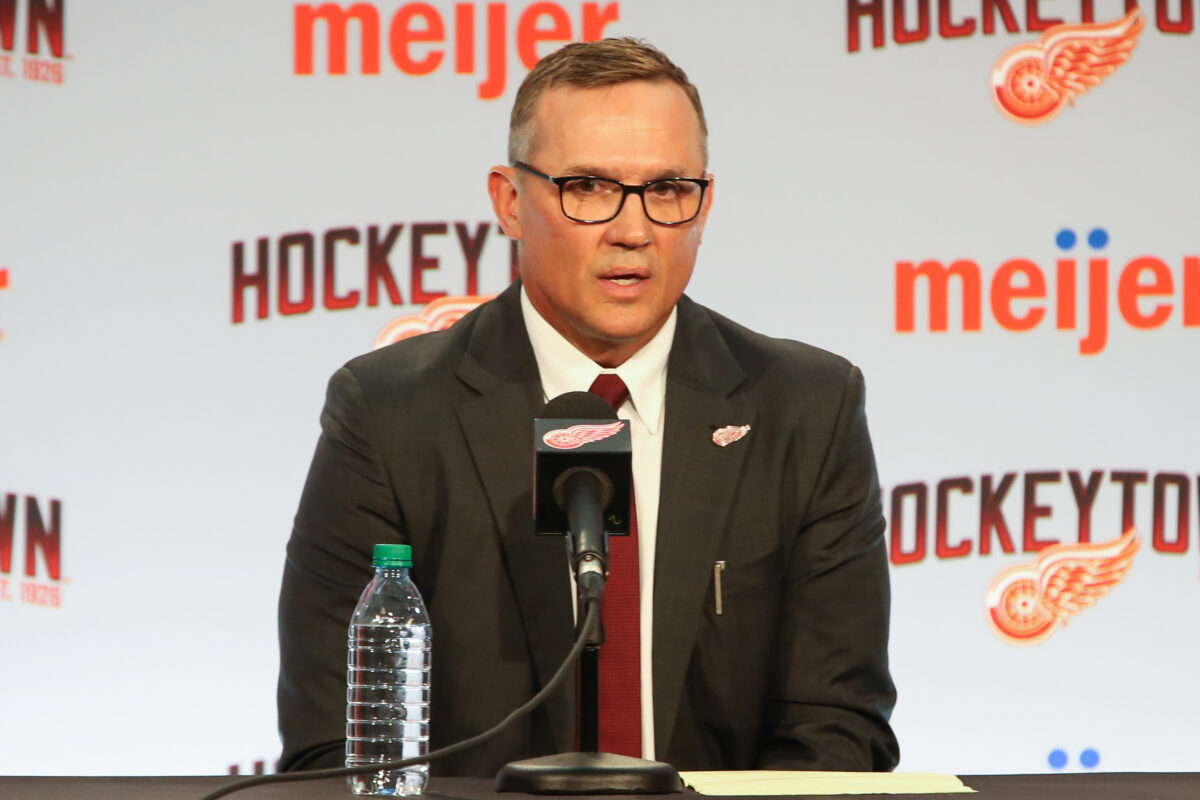 The lean approach would have the Red Wings roll into the 2023-24 season with their current roster, plus prospects and a value signing or two to fill in the gaps. Essentially, they'll return to their roster-building philosophy from the previous few years. This route gives young players and prospects more opportunity to earn meaningful roles on the team, which will in turn help them gain valuable experience early in their careers.
In addition, this year's underwhelming free agent class supports such an approach. John Klingberg and Damon Severson represent the best options on defense. Plus, there isn't a single top-line forward hitting the market. 
This lack of quality free agents would allow the Red Wings to use their cap space elsewhere, such as taking on a bad contract or two in exchange for draft picks. Remember they got a second-round pick from the New York Rangers to take Marc Staal's deal off their hands.
Related: Hidden Value in Red Wings' Recent Contract Extensions
Given Detroit's struggles since the trade deadline and the overall strength of the Atlantic Division, it's reasonable to expect the Red Wings to take a slight step back in the standings next year if they move forward with the lean approach. Regressing is never good, but on the plus side, it would put them in position to grab another top-10 or top-five pick in the 2024 NHL Draft.
---
Latest News & Highlight
---
Option 2: Red Wings Load Up Again
Alternatively, the Red Wings could follow last summer's agenda and add key contributors during the offseason. We'll call this the "contend approach". 
Remember, this team—before the trade deadline, at least—seriously challenged for a playoff spot. If they reload again, a postseason berth is a distinct possibility.
Now, onto the "how" part. As I mentioned above, the Red Wings have a favorable salary cap picture, which gives them the ability to sign free agents or add high-quality players via trade. With regard to the latter, Detroit has plenty of draft picks, a top-notch prospect pipeline, and several redundant players that could be used as trade bait. Steve Yzerman could easily reshape the roster if he wanted to.
It's also important for the Red Wings to ice a quality product for business purposes and to keep their fans engaged. Yzerman preached patience, but patience doesn't pay the bills.
Related: Red Wings' Massive Mirco Mueller Trade Tree Grows Larger with Deadline Deals
And lastly, moving out of the draft lottery and into the 16-25 range wouldn't be the worst thing. The 2024 draft class isn't as strong as this year's crop. It doesn't have a bonafide No. 1 pick, either. Certainly, there are elite 2024 draft-eligibles, but none on par with Connor Bedard, Matvei Michkov, and Adam Fantilli. There's no sense in tanking for players that aren't generational talents.
Which Option Should the Red Wings Choose?
Now that I've outlined both approaches, let's throw in an additional variable: luck. Compared to other major professional sports, luck has a greater impact on the outcomes of NHL games due to their relatively low-scoring nature.
To illustrate this, we'll take a page out of scenario planning with a 2×2 matrix. The chart below shows how luck can influence the outcome of each option: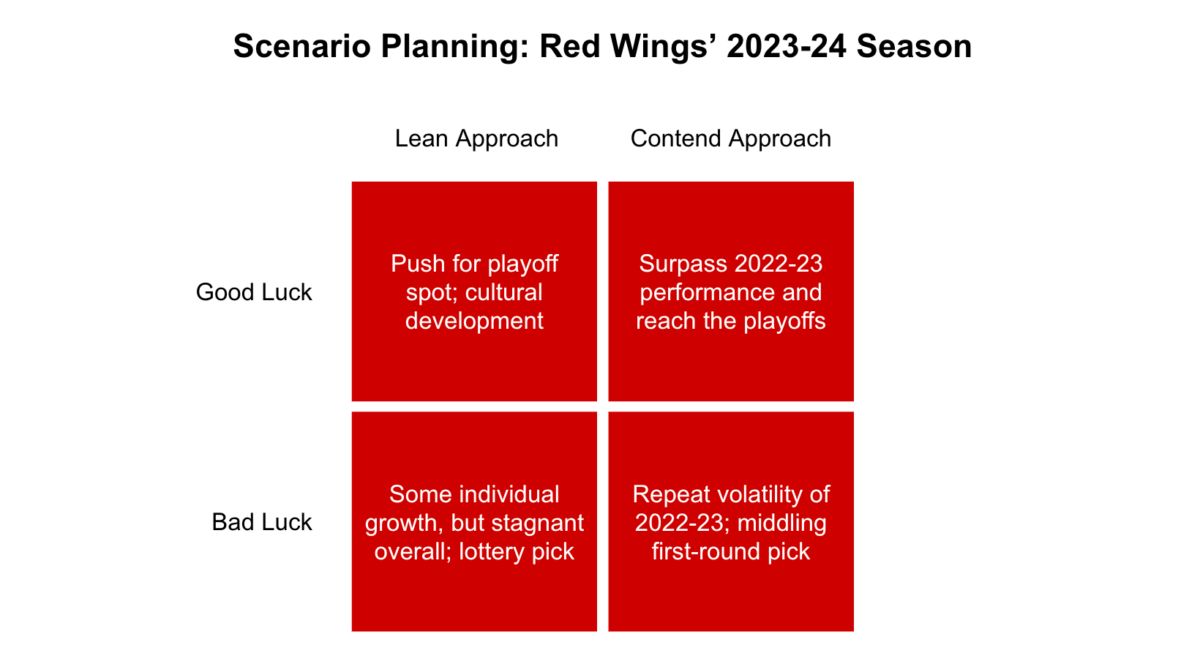 Which path are you leaning toward now? Which path would you choose if your job depended on it?
There's no simple answer here. Both could work out favorably. Both could fall short of expectations as well.
What is certain, though, is that this is a major decision for Yzerman and the Red Wings. It's truly a make-or-break offseason, no matter which route they take.