As a part of their seemingly never-ending quest to find a new franchise goaltender, the Buffalo Sabres signed Eric Comrie to a two-year contract in July 2022. Coming off back-to-back seasons in which they experienced a goaltending crisis, the team decided to take a chance on the talented but unproven netminder and see if he could provide stability.
The move was unquestionably a roll of the dice, and while it wouldn't be entirely accurate to say that it backfired, it also didn't go exactly according to plan. Comrie struggled with injuries and inconsistency through his first season with the Sabres and eventually found himself supplanted by Craig Anderson and Ukko-Pekka Luukkonen. And while he still could factor into the team's future plans, his spot is not guaranteed.
Comrie's Signing Was Risky for Buffalo
To say that Comrie's career has been scattershot would be an understatement, and though he's only 27 years old, he's become something of a journeyman. Before being signed by the Sabres last summer, he struggled to find a permanent home, shuffled back and forth numerous times between the NHL and AHL, and was waived and re-claimed by the Winnipeg Jets on three separate occasions. With the Jets, he showed promise, but the presence of Vezina Trophy winner Connor Hellebuyck was a wall he'd never climb.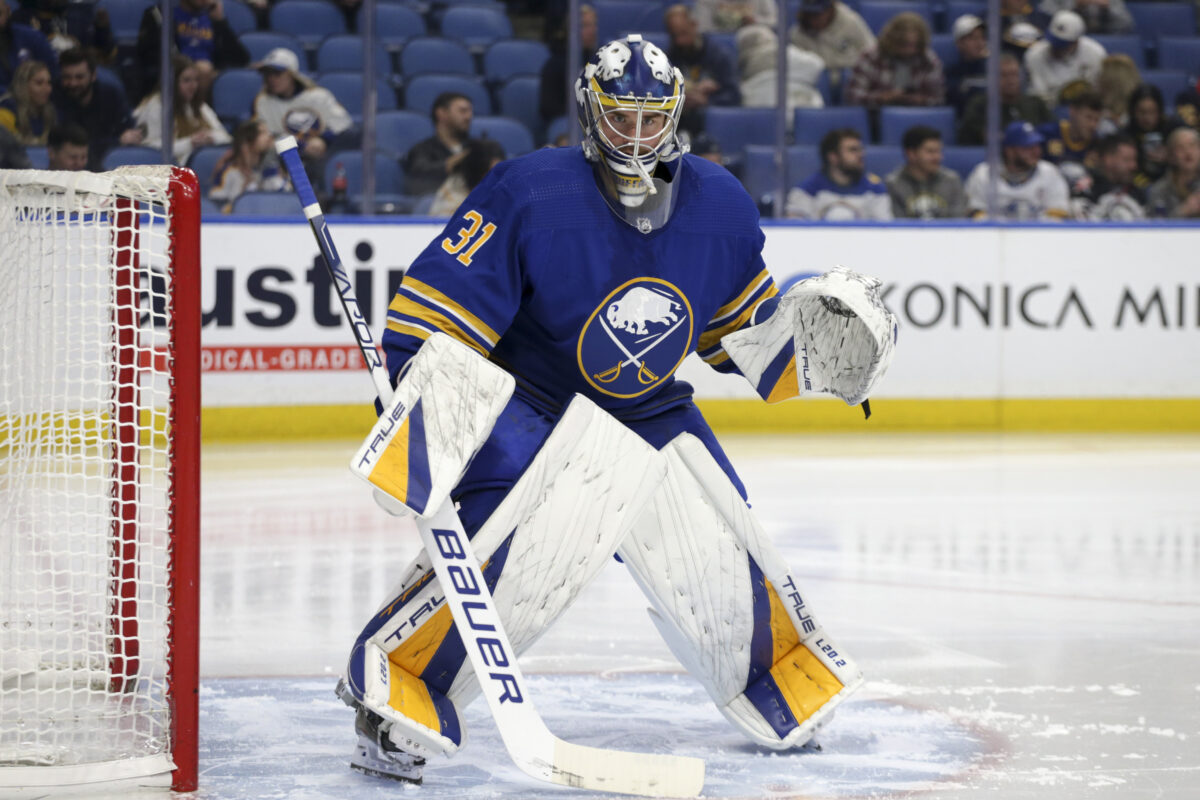 The Sabres were the first team to give Comrie the opportunity to be a number one goaltender, and while signing him was a gambit for general manager Kevyn Adams, there was reason to believe. The 2021-22 campaign had been something of a breakout for the Edmonton native. The Jets finally allowed him a chance to step out from behind Hellebuyck's shadow, and he played to a 10-5-1 record with a 2.58 goals-against average and .920 save percentage in 19 games. Despite the small sample size, it showed that he was worthy of more than just a backup role, and he entered this season as the Sabres' new No. 1.
However, many before him had stumbled upon first stepping into the role, and Comrie proved no different. He started 11 of the team's first 17 games to open the season but went 4-7 in that span. Comrie allowed four or more goals on four different occasions, and many of them weren't exactly highlight-reel-worthy. The team and fans alike knew there was a chance he could struggle, but it's safe to assume that more was expected.
Related: Sabres' 2022-23 Review: Looking Back to See What's Ahead
---
Latest News & Highlights
---
The situation only worsened when he sustained a lower-body injury after Rasmus Dahlin accidentally checked Ottawa's Mathieu Joseph into him on Nov. 16. Luukkonen was recalled from the Rochester Americans and, coincidentally or not, Buffalo's fortunes began to improve afterward.
Will Sabres Carry 3 Goalies Again Next Season?
Luukkonen had firmly established himself by the time Comrie returned in January, and he appeared in just eight of the team's 65 remaining games. Head coach Don Granato decided to finish the season with three goaltenders rather than demote someone, and a fourth was added to the mix when Devon Levi arrived at the end of March.
In all, Comrie's first season in Buffalo was far from successful, but it wasn't entirely his fault. The Sabres' defensive play was abysmal all year, and he may have been the biggest victim of it when he was peppered for 49 shots and 10 goals on March 9 against the Dallas Stars. Granato was criticized for leaving his goaltender out to dry, and captain Kyle Okposo even admitted as much after the game (from 'Blowout loss to Stars pushes Sabres further from playoffs: 5 Thoughts,' The Athletic, 3/10/23).
However, the team made it up to him later in the month and posted one of its best all-around efforts of the entire season to help him to an impressive 26-save shutout of the New York Islanders, one of only two the Sabres had all year. It was a game they desperately needed to win, and it helped keep their playoff hopes alive. Comrie finished the year at 9-9-1 with a 3.67 GAA and .886 Sv%. He stated in his exit interview that he wants to remain with the team, but it's not certain if he will.
Craig Anderson retired after the season, and Granato could opt to carry three goaltenders once again, but that extra roster spot may be needed if the Sabres want to promote someone from the AHL. Comrie has paid his dues in the minors, and it would be tough to see him sent back once again. He's the type of player that coaches want to have in their locker room, and the team would probably like to keep him around as he's shown himself to be a great teammate. It all depends on what this summer brings.
Final Grade for Comrie
His first season in Buffalo may have left a bit to be desired, but Comrie helped make the Sabres better with his positivity and team-first attitude, which is every bit as important as what happens on the ice. His play wasn't great, but to be fair, he didn't have much of a second chance after being sidelined, and there's no reason to believe that he couldn't potentially improve if given more time. It's unclear whether he'll be with the Sabres next season or in Rochester, but he shouldn't be written out of anyone's plans just yet.
Final Grade: C+
---
---