Progress was the story of the year for the Buffalo Sabres, and one of the biggest beneficiaries of that progress was Peyton Krebs. Towards the end of 2021-22, he showed flashes of brilliance and playmaking ability that pointed towards a big 2022-23 campaign. But when the year started, he ran into a bit of a production wall. For the first two months of the season, Krebs only managed to produce three points, and he was relegated to the bottom two lines, along with losing his power play spot.
Due to these challenges, Krebs had to adapt and grow his game in a way that was different from what he was normally used to. He went from a pure skill and speed-based player to a two-way gritty forward with some high-end playmaking ability. This adjustment to his game made a world of difference and ultimately allowed him to become a key piece of their depth scoring and show some significant development in a short span of time.
Krebs Earned Every Opportunity to Succeed
Just like Alex Tuch, Krebs will always be remembered as part of the return in the Jack Eichel trade that happened in 2021. He was the big young prospect for the Vegas Golden Knights at the time, and he was seen as a future top-6 option when his development came to full fruition.
During his time in Buffalo so far, he has shown that he is a capable playmaker, but he has also shown that when his game is one-dimensional, he plays worse. As soon as he took the step to become more of a defensively oriented forward with some grit all around the ice, he found himself with more opportunities to make plays. This, combined with the constant presence of Kyle Okposo and Zemgus Girgensons on his line, was exactly what he needed to get himself going.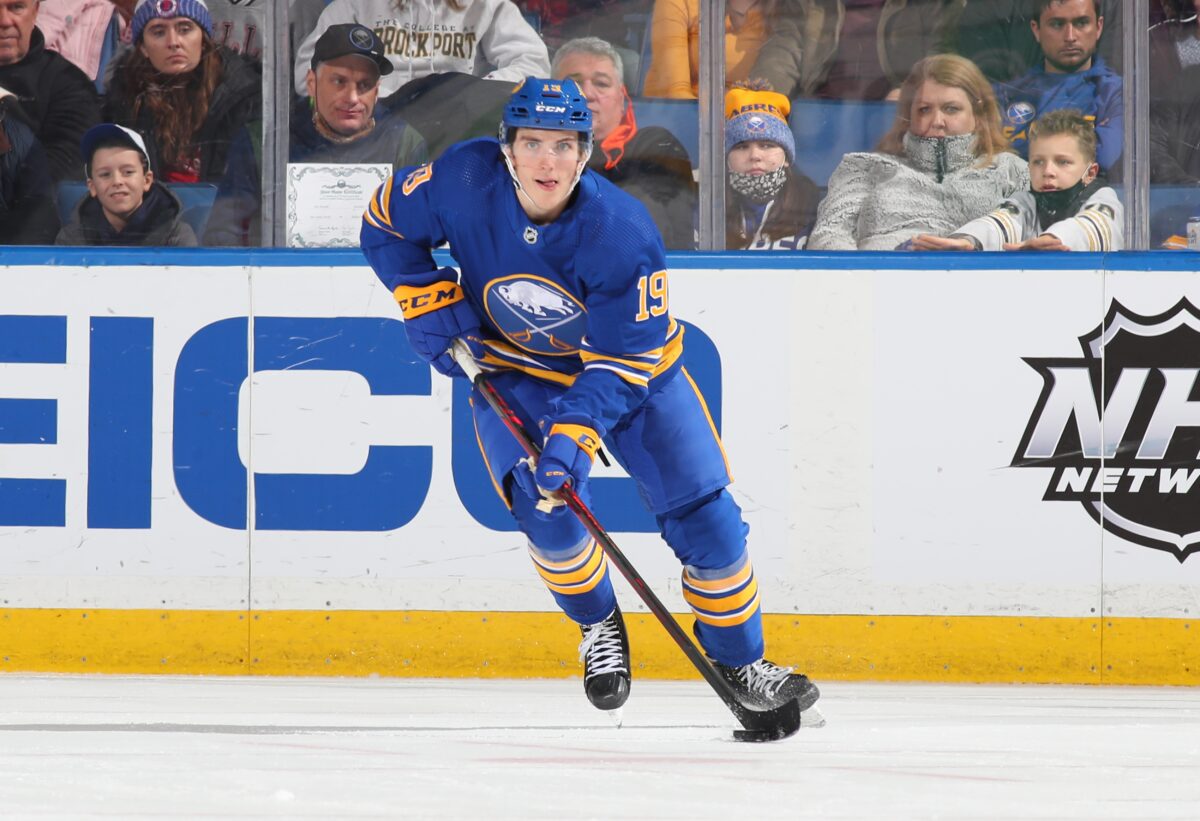 By the end of the season, Krebs finished with a career-high in most categories. He scored nine goals and had 26 points in 74 games, and he added a 45.14 faceoff percentage, which was 10 percent higher than last season. On top of all that, he finished with 93 hits, a substantial increase from his 25 hits in 2021-22. Krebs still has all the right tools to become a top-end playmaking forward, but with how crowded the Sabres' top-six is, he will need to find a way to prove to head coach Don Granato that he can do more and step up when there are slumps or injuries.
Krebs' Fantasy Value
Krebs provided some decent depth for the 2022-23 season, considering his hit totals and faceoff percentage. Moving forward, his value is directly tied to his own ability to produce at a better rate and if he receives more responsibilities as a third-line player instead of a fourth-liner.
---
Latest News & Highlights
---
Krebs is not a draft-worthy player unless you are part of a very deep league and need someone with some good upside to possibly give you a boost. Krebs, for all intents and purposes, is a lower-tier fantasy asset, but watch him carefully on the waiver wire if he gets hot within the Sabres' offensive scheme.
Krebs' Final Grades
At the start of the year, Krebs was one of those players that seemed like they were going to have an offensive breakout season. He had a good points-per-game rate in 2021-22, so it only made sense to assume he would improve on those numbers and be a huge part of the Sabres' offense. While that did not happen, he did find a niche for himself on the team that was unique and needed. The Sabres as a team lacked physicality, but each night, Krebs did not. He was always in the face of the opposing team and running around with a motor that was easily noticeable. Taking his alternate development into consideration and the value his newfound skills brought, here are what his final grades would be:
Scoring – B-
Defense – A-
Playmaking – B+
Leadership – B
Teamwork – A+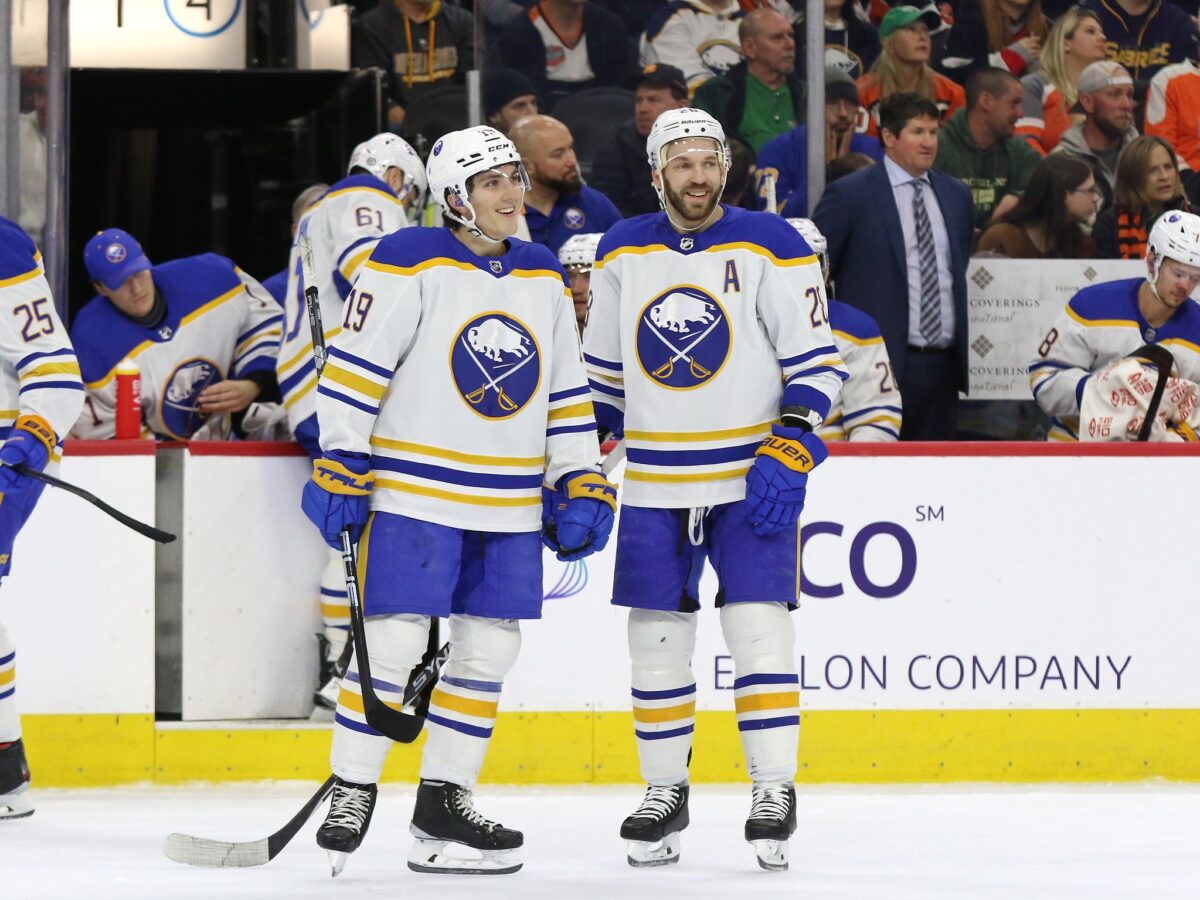 When he was removed from the power play, Krebs could have easily gotten down on his luck and lost his edge while he felt sorry for himself, but he didn't. Instead, he rose to the occasion and became an instrumental depth piece in an otherwise top-heavy organization. He has an underrated shot, and if he gets more of an opportunity to use it, the goals and points will go up for him. The challenge for him now is to find the balance between being a gritty two-way forward and an offensive threat. He could easily carve out a specific role for himself and solidify his place as the Sabres' third-line center, but he needs to increase his consistency and become more of a leader on the ice who drives plays.
Krebs' Future in Buffalo
As of July 1, 2023, Krebs will become a restricted free agent and will need to sign a new contract if Buffalo decides to keep him around. The Sabres have a number of young forwards that will be looking to break into the NHL next season, and that could be a problem for someone like Krebs. While I do not think it is likely that general manager Kevyn Adams will trade him, it is not out of the question either for depth reasons. After the successful year that he had, it makes more sense to keep him around and continue developing his game in the right ways.
Related – Sabres 2022-23 Season Report Card: Craig Anderson
Krebs' next contract will likely not be for a very high dollar amount, but again, Adams has proven multiple times that he is willing to sign players he deems valuable to long-term contracts. If Krebs stays, I believe his next contract will be for around three years and about the $2-3 million range. That contract aligns with the similar play style and production of captain Kyle Okposo, who also just signed a one-year extension recently.
Krebs is in a tough spot due to his role, but I believe the Sabres would be unwise to let him go anywhere for the next few years. He brings heart and a balanced skillset to a team that suits his game, and it would be mutually beneficial to keep him as part of their core for at least the next few years. He may have played a minor role this year, and because of that, he deserves more of a chance to show what he can do in the coming 2023-24 season.