The Buffalo Sabres owe Craig Anderson a massive debt after what he did this past season. In a year where goaltending was one of their weakest assets, the 42-year-old goaltender was an absolute rock for them in more ways than one. Playing in the NHL at over 40 years old is difficult enough, but doing it as a goaltender, as well as putting up some fantastic numbers, is nothing short of incredible.
Anderson came back to Buffalo on a one-year deal after having a fairly successful 2021-22 season, and the question loomed of how he fits into their scheme. Eric Comrie was presumed to take the bulk of the starts but ended up injured, and then Ukko-Pekka Luukkonen was called up to take the crease. As the season progressed, and Anderson was continuously given plenty of rest, he was the goaltender putting up the best numbers of the three. His age and durability were his only limitations as he did get injured a couple of times, but every time he came back, he looked stronger than ever.
Anderson Defies Both Age and Odds
To ensure that he was rested and able to play at his full potential, Anderson was played by coach Don Granato for around one game per week. There were times in the year when he was called upon to play an extra game in that span, but he showed that he was capable of handling it. He played a total of 26 games and finished with a record of 11-11-2 while posting a 3.06 GAA and a .908 save percentage. To top it all off, he even got a shutout on Dec. 13 against the Los Angeles Kings.
Anderson was one of the most interesting and entertaining stories for the Sabres. Every night he was in goal, it was always fun to watch; from the pad and stack saves to the general old-style goaltending that he showed still has plenty of viability in today's NHL, there was never a boring moment with him. In late February, he even set an NHL record by becoming the oldest goaltender to record 50 or more saves in a game. On a team filled with youth, he was always ready to play, and he definitely provided a positive influence on all the young players in the locker room.
Anderson's Fantasy Value
Depending on how much someone's league values goaltending will determine how valuable someone like Anderson was. Since he will no longer be playing in the NHL and has officially retired, he will not provide any fantasy value going forwards, but this past year he did give some decent depth goaltending value. His 11 wins are solid from a backup perspective, and he typically faced over 31 shots per game. On a Buffalo team that struggled defensively, he still put up some good numbers in his role, so fantasy owners likely found some use for him in some situations.
Anderson's Final Grades
He made some big saves when the team needed him to, and he was the biggest veteran presence in the locker room, besides Kyle Okposo. Stability and calmness were his fortes, and he never wavered. He was the definition of a leader, and the team always seemed to rally around him when he was in goal. He was such a big part of building the newfound culture in Buffalo over the past two seasons, and his gameplay stood out amongst otherwise mediocre goaltending (from goalies not named Devon Levi). As a goalie and a leader, Anderson was one of the brightest spots for the team, and he deserves some high praise. With that being said, he will be graded differently from the rest of the group:
Saves – B+
Positioning – B+
Leadership – A
Poise – A
Career – B+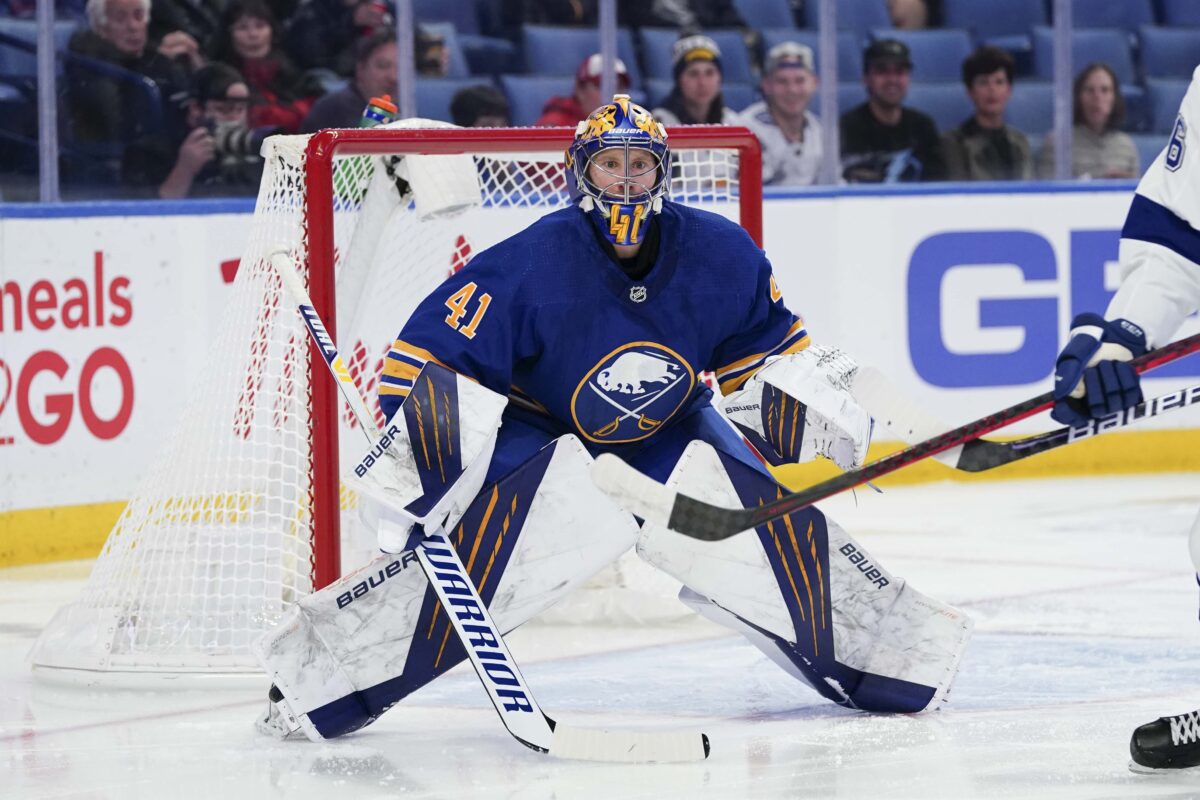 Being a successful goalie in the NHL is far from easy, but Anderson did accomplish plenty. While he never became a Stanley Cup champion, he had an illustrious career playing for the Chicago Blackhawks, Florida Panthers, Colorado Avalanche, Ottawa Senators, Washington Capitals, and the Buffalo Sabres. He concluded his career with a record of 319-275-71 and had 43 shutouts in that span. He sits 32nd all-time on the NHL wins list and 40th all-time on the shutout ranks. Anderson is the pinnacle of what it means to be a Sabres these days, and his dedication to hockey will be a benchmark for the rest of the team to strive for.
Anderson's Departure Opens The Door For Youth
With Anderson retiring, the door is open even wider for the likes of Luukkonen and Levi. Comrie still might be on the team if Kevyn Adams decides to keep him around, but the crease will likely be split between Luukkonen and Levi in 2023-24. Anderson has officially set the standard for what it means to play hard, no matter your age or limitations, and that will be a powerful message for all the young goalies in the organization.
Related – Sabres 2022-23 Season Report Card: Alex Tuch
---
Latest News & Highlights
---
If Anderson sticks around with the Sabres in a consulting, coaching, or managerial role of some kind, it would not be shocking. Many Sabres alumni return to the organization in some capacity, but since Anderson was such a part of their positive transition, he may want to stick around to see the benefits of what he helped create firsthand. His wisdom for the players, and his relationship with the management staff both make for an easy transition if he decides to stick around. If he does not, then on behalf of the Sabres fans, I would just like to say… Thank you, Craig Anderson, for everything you were for this team, and good luck in retirement. We are all forever grateful to have been involved with the last games of your career.
---
---