Henri Jokiharju hasn't had the easiest go of it since the Buffalo Sabres acquired him from the Chicago Blackhawks in July 2019. His career has taken off, and he's become an important piece of the puzzle, but he's also struggled heavily with injuries, and that trend continued this season. But despite that, he turned in a solid campaign, though his efforts were largely underappreciated.
2022-23 was not a fun year to be a Sabre defenseman. The young and inexperienced unit struggled to find cohesion from the beginning, and change will be needed. Though still progressing in his own right, Jokiharju has had to bear the defensive weight of the team as well the brunt of sometimes undeserved fan frustration, but he's still essential going forward.
Jokiharju's Bad Luck Continues
Despite a serious lower-body injury sustained in the first game of the year costing a majority of the first half of the 2021-22 season, Jokiharju still made major strides and solidified himself as one of the Sabres' top four defensemen. His undervalued offensive acumen grew after being paired with Rasmus Dahlin, and his positional play improved as well. He was also praised for his role in mentoring Owen Power after he made his highly-anticipated debut at the end of the year. In all, it was a strong campaign, and he looked to take a further step forward in 2022-23.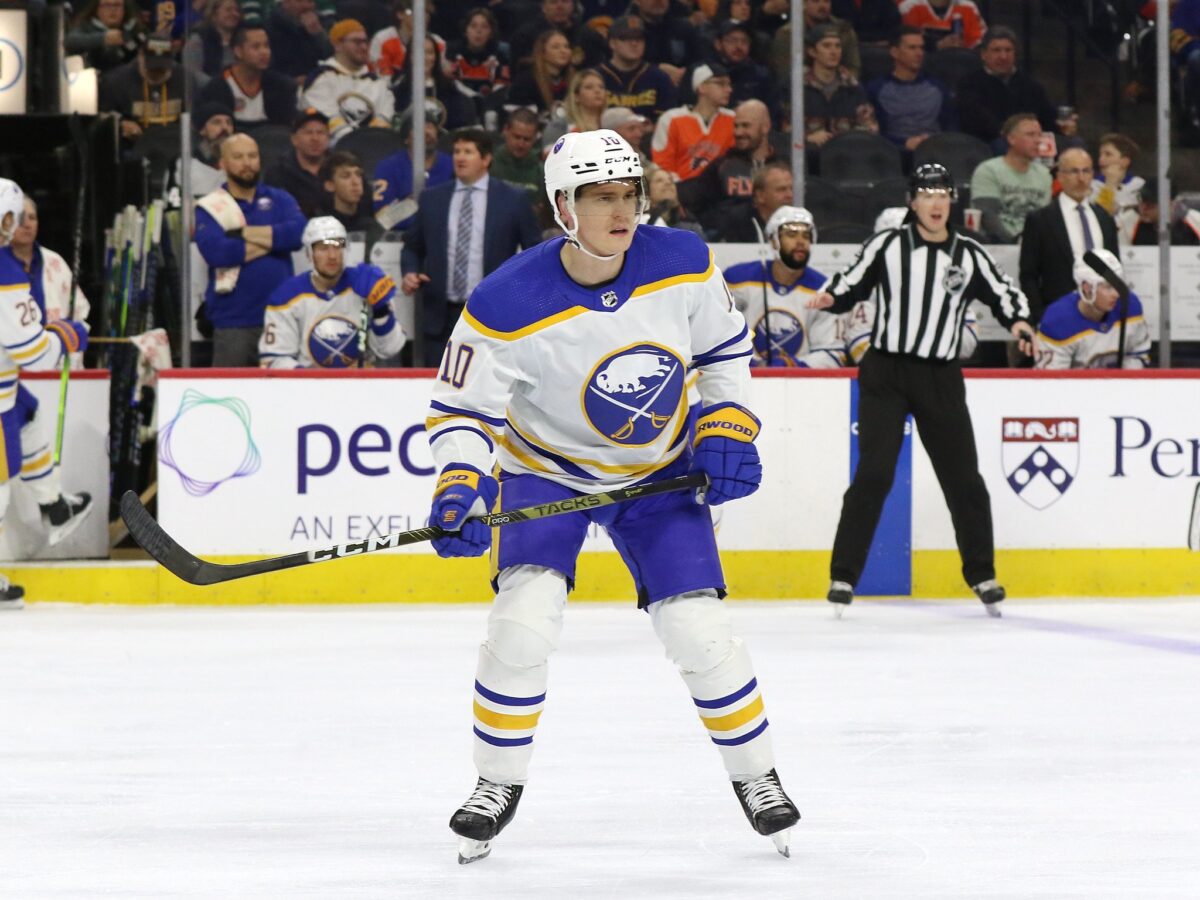 However, the Jokiharju voodoo doll struck again, and he had another frustrating start to the season. In Buffalo's fourth game, he was hit in the face by a shot and suffered a fracture that kept him out for almost a month. Unfortunately, that wasn't the end of it, as he suffered a lower-body injury in December that sidelined him for another month. Though he stayed healthy from there on, the ailments cost him 22 games for the second consecutive season. It was less than ideal, but he picked up where he left off upon returning.
Jokiharju showcased impressive offensive ability in his junior career with the Portland Winterhawks, but since reaching the professional ranks, he's shifted his focus to just playing his position (as evidenced by his 3.8 shooting percentage). As one of only two true defensive defensemen the Sabres have (alongside Mattias Samuelsson), he's often relied upon to be a steadying force opposite his more scoring-oriented counterparts. He finished the season with three goals and 13 points in 60 games, which has been the norm for him to this point.
Though his positional play is very sound, the one thing that causes problems for the Finn is skating, as his lack of speed makes it difficult to recover if he strays too far, and he's sometimes beaten one-on-one. His minus-12 rating was somewhat reflective of that, but it wasn't all that bad, considering that Dahlin and Samuelsson were the team's only blueliners with a positive rating. It also doesn't take the whole picture into account.
Buffalo's Defensive Rollercoaster
Jokiharju is one of Buffalo's steadiest defenders, but he too struggled at times this season, and it often brought the wrath of fans upon him, but how much of it was his fault? It's important to remember that the Sabres' issues on the back end were felt by every player. The team has one of the youngest defenses in the NHL, and their lack of experience was evident all season, being caught out of position, giving up costly turnovers, and being heavily out-shot. None of the team's goaltenders exactly excelled, but they rarely had help in front of them.
---
Latest News & Highlights
---
Though only 23 himself, an age when most players are still finding their footing, Jokiharju is one of the most experienced members of the defense and has had to be a leader. His partnership with Power continued this season, and the two continued to play well for the most part. Just as Samuelsson offsets Dahlin, the right-hander's stay-at-home instincts balance the left-handed Power's skating and give him opportunities to create plays. He led rookie defensemen in points and earned a nomination for the Calder Trophy, something Jokiharju deserves partial credit for.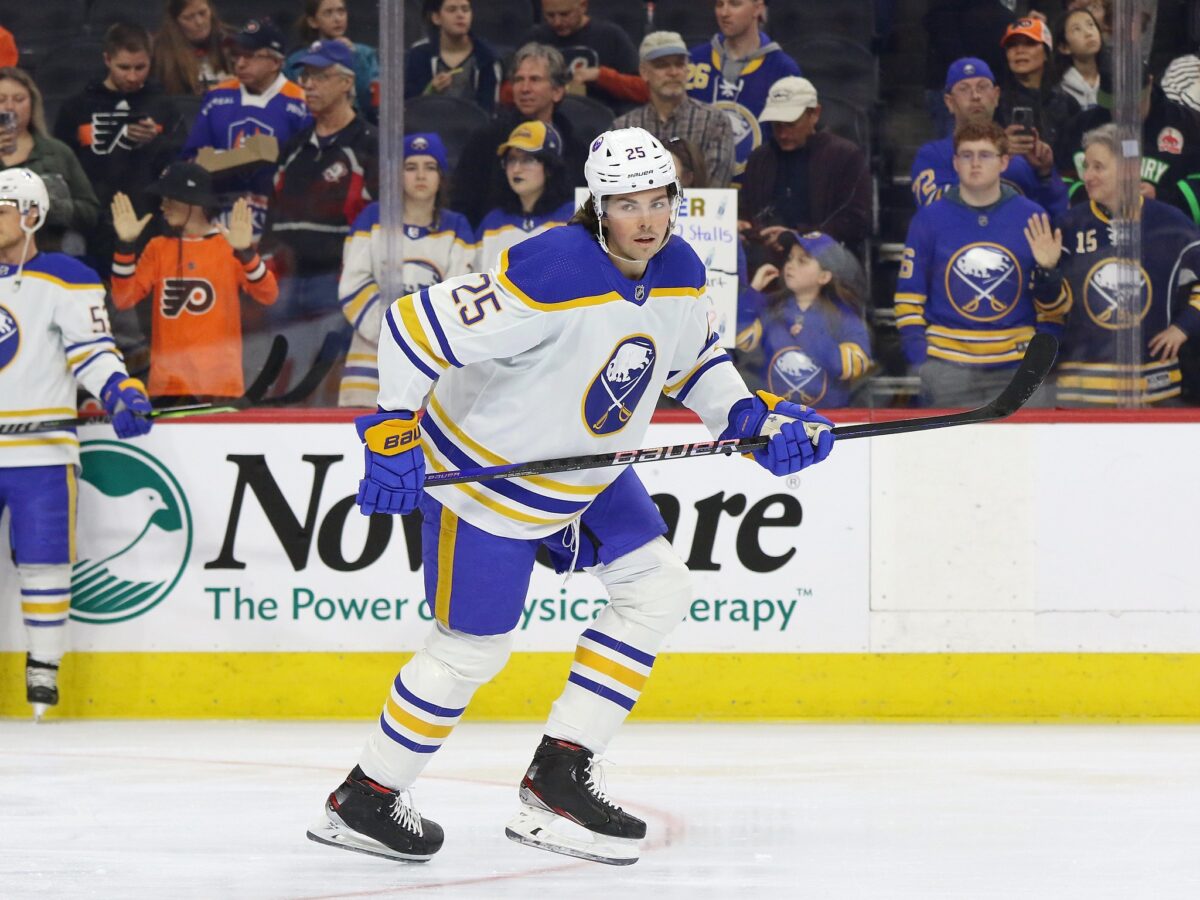 But at the same time, Power was partly responsible for some of his partner's issues. The rookie struggles with his positioning and sometimes over-commits when going up ice. It forced Jokiharju to compensate, but there was only so much he could do. It's safe to assume that the two will continue to play together, and they should become more effective as a tandem as they continue to grow.
One of the general manager Kevyn Adams' top priorities this summer needs to be acquiring an experienced veteran defenseman to help give the group some direction. Pending unrestricted free agent Erik Johnson, in particular, is an ideal candidate and would fill the void nicely. The Sabres' lackluster defense was their Achilles heel all year long, and if the trend continues into next season, it could have very negative effects on the team's progression.
Final Grade for Jokiharju
Jokiharju has been a polarizing figure since coming to the Sabres. His propensity for injuries and sometimes uneven play have caused many fans to lose patience, but his potential is undeniable, and he has shown considerable upside. Since he joined the Sabres at 19, it's easy to think that he is older than he is, when in reality, he's only a year older than Dahlin. Though he turns 24 next month, next season will already be his sixth in the NHL. He's had to learn on the fly, and the Sabres have given him and his fellow defensemen very little stability, but he and the rest of the group are on the rise. The Sabres have the potential for a very strong and balanced top two pairings, and Jokiharju is an integral part of that.
Related: Sabres 2022-23 Season Report Card: Alex Tuch
The 2023-24 season will be the last of the three-year contract he signed in 2021, and the Sabres would be wise to keep him around. Not only has he been essential to Power's development, but he helps provides a steadying force that the Sabres desperately need in the department. Improvement is needed in some areas, as he'll have to find a way to stay off the injured list and could stand to take more chances offensively. Still, Jokiharju is exactly the type of player the Sabres need on their blue line, and cutting ties with him would be a major mistake.
Grade: B-