When it comes to Josh Bailey of the New York Islanders, fans face a familiar conundrum. You either love him or hate him. He is the longest-tenured player on the Islanders and recently celebrated 1,000 NHL games. The Islanders selected Bailey ninth overall in the first round of the 2008 NHL Draft, and since his arrival on Long Island, Bailey has faced his share of highs and lows, from arriving to a team in a rebuild, being sent to the American Hockey League (AHL) to being named a 2018 All-Star, to being a healthy scratch in this year's postseason.
After 15 seasons on Long Island, the 33-year-old forward's future in New York is uncertain. During the 2022-23 regular season, Bailey scored a lousy 25 points – eerily similar to his first season in New York. This led even some of his most loyal fans to question whether his time with the team was finally over. His lack of production led head coach Lane Lambert to bench him for Round 1 against the Carolina Hurricanes. After an emotional interview, Bailey, with grace, made it clear what the team means to him and his family.
This has been home for a long time, and it [Long Island] will continue to be home after hockey, regardless. I think it's a lot to take in for my family and I, but it is part of the business, and I understand that. I'm not playing any poor me cards by any means. It's just a lot.

NHL.com
No matter your opinion of Bailey, one has to admire his dedication, respect, and loyalty. He has devoted his career to an organization that has not always been in the winning column, despite the criticism and even hate. Bailey is a special player who moves silently in the shadows–he has a high hockey IQ, calm presence, clear vision for making plays (even with that 'pass-first' mindset), and humility. Here's a look back at some of his better moments on Long Island, even though they aren't Connor McDavid-level flashy and won't win him a cover on NHL 24 anytime soon.
Bailey a Steady Bright Spot With John Tavares
After nine frustrating seasons with the Islanders, Bailey finally found his stride and chemistry with newly acquired teammate John Tavares. The 'JB-JT' combo began under general manager Doug Weight, and the pair trudged through many losing seasons together. However, with much patience, Bailey found himself glued to Tavares's side on a first line that helped usher in his back-to-back career seasons; he scored 56 points in 2016-17 and a career-high of 71 points in 2017-18. Together, they also became the first Islanders to record multiple points in five consecutive games in 23 years. Their chemistry was unmistakable: Bailey became known for his vision, and Tavares was there for the perfect finish.
---
Latest News & Highlights
---
Many argued that once Tavares signed with the Toronto Maple Leafs in 2018, Bailey would never score 40 points again. However, as a playmaker, he quickly found another productive partnership with Anders Lee. Between 2016 and 2019, Bailey assisted on a Lee goal over 38 times. The two quickly adjusted to life without Tavares and became the driving pair of the team's offense.
Bailey's Backstage Brilliance Lives On
When general manager Lou Lamoriello came in to shake up the organization in 2018, Bailey continued to play some of his best hockey, especially under new head coach Barry Trotz. Sliding down to the second line alongside Brock Nelson and Anthony Beauvillier, known as the "Killer B's," Bailey became an essential part of the trio, and his intelligence and playmaking skills were on full display.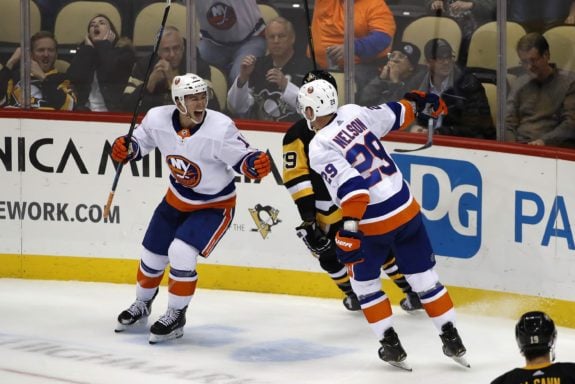 Specifically, this was the case in the best-of-five 2020 Stanley Cup Qualifying Series victory over the Florida Panthers. When asked about Bailey's role in that victory, Trotz noted:
When Josh is playing and skating and doing all of that, he's one of the most intelligent players that we have on our hockey team for sure…He's not afraid of big moments, and he takes a lot of personal pride and responsibility. I thought he stepped up well today, he really did. Bails is one of those quiet leaders and takes a lot of personal responsibility.

Barry Trotz
Bailey's confidence grew and his playmaking skills landed him on the scoresheet. In the 2020 bubble, the Beauvillier-Nelson-Bailey trio accounted for 20 goals and 32 assists in 22 games. They stayed together for most of the 2020-21 season and remained hot–in Oct. 2021, the second line had the highest offensive share on the team. In the 2021 Playoffs, they continued to live up to their namesake and led the team in points for a second year. None of this would have been possible without Bailey's hockey sense, consistently finding Nelson and Beauvillier in the slot.
From Overlooked to Unsung Overtime Hero
When the Islanders began making deep playoff runs in the Trotz era, Bailey became the unexpected hero in high-pressure situations. Shedding that 'pass-first' mindset, Bailey became part of the goal-scoring action. One of his best moments, which some argue was happenstance or even accidental, came in Game 1 of Round 1 of the 2019 Playoffs against the Pittsburgh Penguins. Not only did Bailey score the equalizer to send that game to overtime, but at 4:39 of the extra frame, after Mat Barzal made all the moves he could, Bailey was there for the rebound.
Related: New York Islanders Need to Move On From Josh Bailey
Emmy-Award-winning MSG Networks broadcaster Brendan Burke famously called "Game 1 to the Island!" This moment proved Bailey's importance to team success, especially in the postseason. His calm demeanor and precision passing became his mainstay qualities. In 2021, he was again a menace to the Penguins, capitalizing on a Tristan Jarry mishap in Game 5 of double overtime, scoring 51 seconds in to give the Islanders the win. 
Thinking of Bailey's time on Long Island, the phrase "Don't throw the baby out with the bathwater" comes to mind. While the veteran may have played his last game for New York and has been subject to intense scrutiny over his declining game, his consistency, adaptability, and reverence for the team will not be forgotten.