Just when the Buffalo Sabres started to get hot, the world was quick to respond and say "Nope!" At least, that's what it felt like when multiple upcoming Sabres games were postponed last week after a weekend series with the New Jersey Devils led to the spread of COVID-19, and to subsequent announcements of new players entering the league's COVID protocol with each passing day.
For Sabres' star defenseman Rasmus Dahlin, the timing could not have been worse. Dahlin was just starting to heat up, and was forced, like the rest of the team, into quarantine to err on the side of caution. But, like others on the Sabres, Dahlin might actually benefit from a couple of postponed games and come back stronger than he started the season.
Dahlin Started the Season Slow
Expectations might not have been as high for the Sabres heading into the 2020-21 season as perhaps they would have liked them to be after a number of big offseason acquisitions, but they were certainly through the roof for the now 20-year old Dahlin.
When they selected Dahlin with the first overall pick in the 2018 NHL Draft, the Sabres expected him to perform right away. After all, that's what one would expect from a draft prospect drawing comparisons to fellow Swedes Erik Karlsson and Victor Hedman for his smooth skating, solid puck-handling and offensive prowess.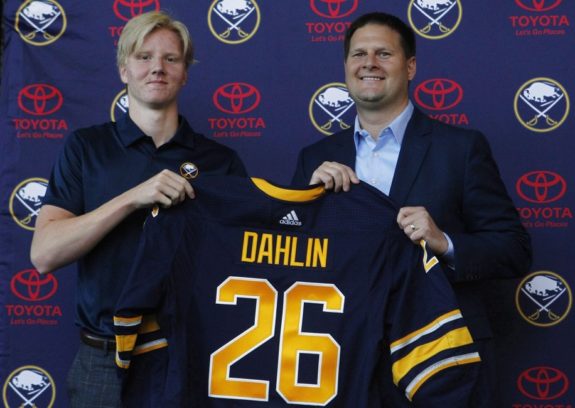 In his rookie year, the Sabres got the whole package. Sure, they still finished much lower in the league standings than they would have liked, but Dahlin was a shining bright spot on that roster. He skated in all 82 games in the 2018-19 season, scoring nine goals and 35 assists for 44 points, 20 of those coming on the power play.
Had last year not been cut short due to the outbreak of COVID-19, Dahlin might have fared even better in his second season; in 59 games during the 2019-20 season, Dahlin scored four goals and 36 assists for 40 points, notching 19 more power-play points in Year No. 2. Talk about avoiding a sophomore slump.
It's not hard to see why expectations were so high on Dahlin coming into this season, but it is is hard to understand how badly it started for him.
Through the first six games of the season, Dahlin was blanked on the scoresheet; it wasn't until the Sabres' seventh game that he recorded his first point of the year. After being snakebitten for that lengthy stretch, though, he seemed to gain some confidence and pick things up offensively. In his last four games before the Sabres' season was put on pause for postponement, he had one goal and two assists for three points.
Sabres Get Going When Dahlin Does
Much like how Dahlin got going right before the Sabres embarked on their COVID-19 break, so did the Sabres as a whole. In the four games where Dahlin recorded his only three points of the season, the team skated to a 2-1-1 record, capturing five of a possible eight points in the standings, and temporarily coming within a single point of a playoff spot.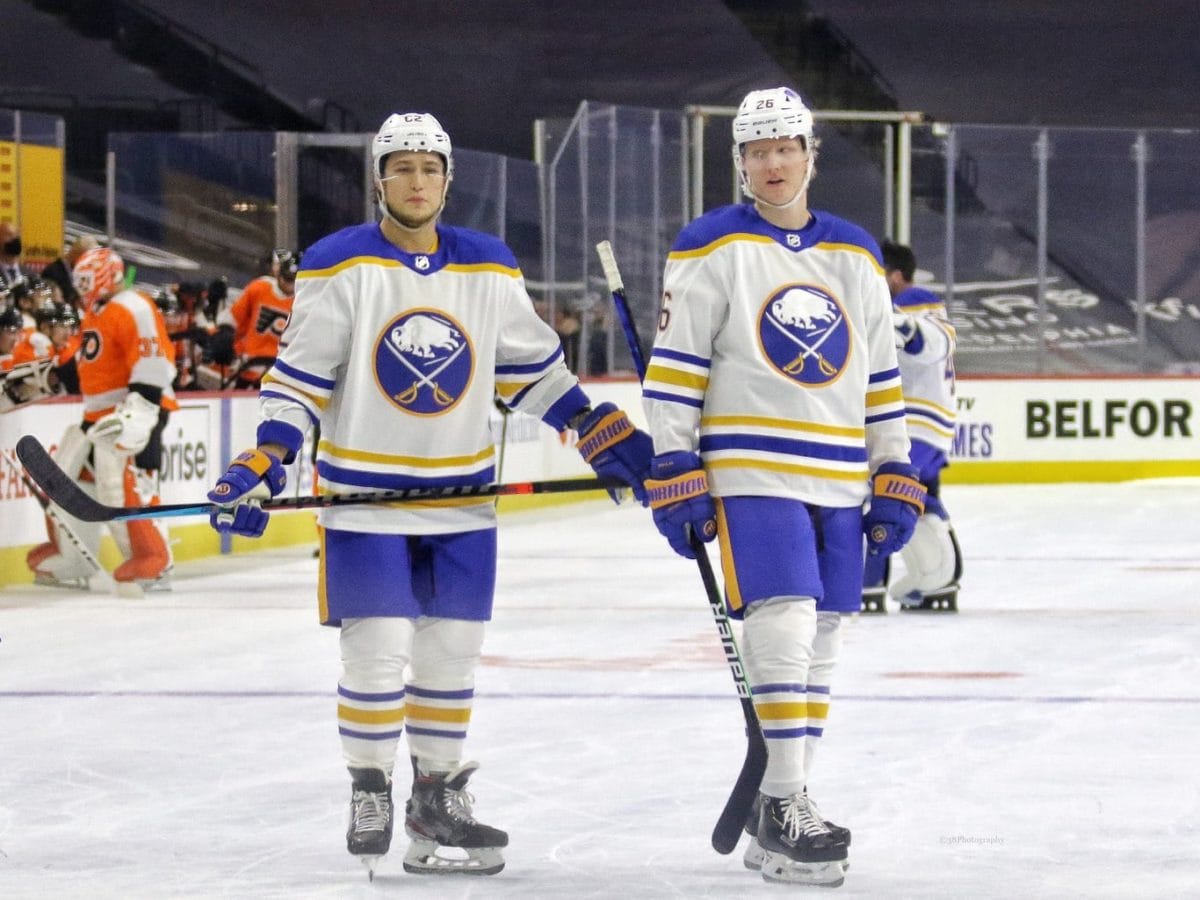 After skating for 24:20 time on ice (TOI) in the season opener, Dahlin's ice time dropped in each of the team's next three games. The lowest ice time he recorded at that point in the season was just 18:34, not typical for what the league's top defensemen see on a nightly basis. Head coach Ralph Krueger even went so far as to put Dahlin on the third defensive pairing as a result.
When he finally got his name on the scorecard, however, Dahlin saw his ice time start to climb back up, playing over 20 minutes in each of his last three games and over 21 minutes in his last two.
It is no coincidence that the Sabres' success goes hand-in-hand with Dahlin's, just as it is no coincidence that it also goes hand-in-hand with that of the captain, Jack Eichel's success. Big-time players are the key contributor to any Sabres win of late, and it is likely going to stay that way.
Break Could Help Dahlin Continue Strong Play
After initially being postponed through Feb. 8, the Sabres are now postponed through at least Sunday, Feb. 14, which takes them into next week, and would mark two whole weeks since their last game.
While the team was, indeed, picking up some steam before their schedule was thrown out of whack, they might actually use this extended hiatus as a benefit for whenever they do eventually resume. The team's 4-4-2 record is not indicative of where they could be in the standings, and some time off could aid in resting their bodies and coming back ready to play and to bank some wins for the club.
For Dahlin, the same applies, perhaps even more so, because of his remarkably slow start. Dahlin's 44 points in his rookie year were good for second-most in NHL history by an 18-year old defenseman, behind only his coach that year, Phil Housley (66 points in 1982-83).
That level of talent doesn't just appear once, and it certainly doesn't go away in just a few short years. Here's to hoping Rasmus Dahlin can capture lightning in a bottle once again and make his mark on the NHL when the Sabres return.
---
---
Brandon is a Buffalo Sabres Contributor for THW and Co-Host of THW's 'Sabres Scoop,' who received his Master of Science in Sport Administration from Canisius College in Buffalo, NY, and founded his website, Seltytending, in 2017. He is an avid hockey writer and podcaster with prior work experience in the OJHL, NWHL, and NCAA. Twitter: @BSalts15