The Buffalo Sabres are in a bit of pickle, as their backend issues are becoming increasingly hopeless. Without a sure thing on the blue line coming through the pipeline, the Sabres know they're headed for big trouble.
Tim Murray was hired as general manager in January 2014, and at the beginning of this season, he signed a multiyear extension on his contract. Murray has embarked in a rebuild and it's safe to assume he's not going anywhere… for now. Dan Bylsma, on the other hand, was hired as head coach in May 2015, and there's been some talk about his future with the Sabres, even though he's only been with the team for less than two years.
Bylsma hasn't been given a fair chance but besides that, he and Murray need to come up with a plan soon. What they do at the 2017 Draft will secure their futures in Buffalo or they will see the chopping block.
The Defenseman Bubble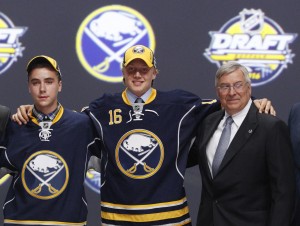 Since Murray's arrival, he's participated in three drafts and his focus has been on securing long-term offensive powerhouses. The Sabres got Sam Reinhart at No. 2 in 2014, Jack Eichel at the same spot the following year and Alexander Nylander at No. 8 last year. Reinhart and Eichel have proven to be excellent choices and Nylander hasn't played in the NHL yet but his brother, William Nylander, was drafted in 2014 by the Toronto Maple Leafs – also at No. 8 – and he holds a 0.74 P/GP rate this year.
Unlike the Vancouver Canucks' general manager, Jim Benning, Murray has a knack for evaluating players and as a result, he makes good picks at the draft. However, with all this offensive talent, the Sabres have become vulnerable on the back end and they know it. Actually, they expected it. Although they're experiencing positive point production progress from defensemen like Rasmus Ristolainen and Jake McCabe, the rest seem to be lost causes.
The need for talented defensemen in the NHL continues and teams like the Sabres are case and point. Taking a top-to-bottom approach in rebuilding an NHL team couldn't have happened at a worse time, as the demand for two-way defensemen continues to exceed the supply.
On Monday, Mar. 20, 2017, they recalled two defensemen, Casey Nelson and Brady Austin from their AHL affiliate. Austin is a seventh-round pick from the 2012 Draft and Nelson was never drafted. This is what it's come down to for Murray, who felt the full effects of the market's lack of available defensemen at the trade deadline earlier this month. Perhaps Murray's hoping Nelson will be to the Sabres, what Troy Stecher is to the Canucks. Stecher, another non-drafted defenseman, spent three seasons developing in the NCAA before surprising the world with a 0.34 P/GP as a rookie this year.
Changing Landscape Is League-Wide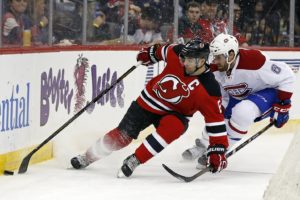 Last summer, we saw one of the NHL's biggest one-for-one defensemen trades with P.K. Subban and Shea Weber and at this year's trade deadline, we saw the St. Louis Blues trade Kevin Shattenkirk, arguably one of the NHL's best defensemen, to the Washington Capitals.  The Subban and Weber trade goes to show the lengths teams are willing to go to find a suitable defenseman that fits into their system.
If Murray and Bylsma have any chance at securing their futures, they need to fix their defense problem now. Even if they do draft a defenseman within the top 10 spots in the 2017 Draft this summer, there's simply not enough time for this option to run its course before Murray and Bylsma get canned, so maybe that's why Murray got an extension.
Available Options for Sabres at the 2017 Draft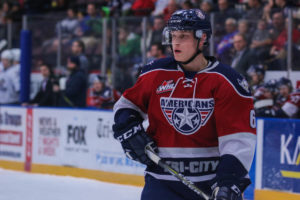 If you take a look at the upcoming draft's top 10 defense prospects, there are some good options available, including Timothy Liljegren, Juuso Välimäki, Miro Heiskanen and Cale Makar. Any of these prospects would be good choices for the Sabres but each one will compliment Bylsma's system differently. Meaning, certain skills are better suited for some systems than they are for others and the Sabres need to take advantage of a defensive prospect who's best-suited for their unique system. For example, Liljegren plays a game similar to that of Drew Doughty, who found his success in the Los Angeles Kings' system. Similarly, Liljegren will need a well-structured system to hone his true potential and if the Sabres' defense system is well-structured, Liljegren may be a good choice.
It was only this year that Välimäki realized he's good at scoring and he also happens to be the biggest of the bunch, standing 6-foot-2 and weighing 201 pounds. He's also the oldest, although not by much, as his birthday is on Oct. 6, 1998, which is why he wasn't included in last year's draft. He might be the first to handle NHL competition from a physical standpoint as well, which would come in handy for Murray's time-sensitive problem.
Then there's Heiskanen, who requires a good understanding of what his unique skills are in order to meet his full potential. Since he's good at drawing shooting lanes from the blue line, Bylsma's system would need to include this skill by perhaps giving him the support of a speedy winger with an impeccable close-range shot for rebounds.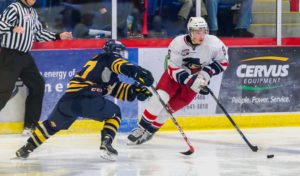 And now there's Makar, one of my personal faves because he's defying the status quo by playing in the AJHL during his draft-eligible year. He's also committed to the University of Massachusetts (Amherst) for the 2017-18 season and won't be NHL-ready for at least a year, probably more. If Murray feels comfortable waiting out Makar's development, then he would do wonders for the team.
Regardless of which one Murray drafts, other teams have higher probabilities of drafting before the Sabres and about three to six of these teams are in need of an elite defenseman too. This means that in order for Murray to improve his odds of getting what he wants, he'll need to make a trade on draft day.
At the 2015 Draft, the Leafs offered Jarmo Kekäläinen, the Columbus Blue Jackets' GM, an opportunity to move up from the No. 8 pick to No. 4, in exchange for three second-round picks. Kekäläinen declined and got the best pick of all anyways, Zach Werenski.
This is absolutely not the kind of trade Murray should entertain either.
The Sabres would be better off to make a Stan Bowman move, such as Bowman's trade with the San Jose Sharks at the 2014 Draft. Here, they swapped first round picks (Bowman moved up seven spots) and Bowman traded a third round pick for a sixth round pick. Murray has a relatively high second round selection in the upcoming draft this summer but really needs to hold onto it to preserve whatever depth he has left. At the same time, though, he really needs a top defenseman.
As the chief architect of the Sabres' rebuild, Murray has simply not maintained trading chips, stockpiled assets or planned for the increasingly sparse defensemen market and now he's running into problems because of it. The clock is ticking and it looks like his time may have already run out. Although his job's not on the line today, the draft may open the eyes of the Sabres' owners when they realize there's nothing left to do but start over again.