The Vancouver Canucks are one of those controversial teams when it comes to being well-managed. The problems raining down on the club have been long and grueling, while not all fans understand what their issues are exactly. The controversy lies in the direction the club is going and has been going over the last two and half seasons. Although they've claimed to have changed direction over recent years, the results are simply not there.
In April 2014, the Canucks hired Trevor Linden as their newest President of Hockey Operations. A month later, Jim Benning was hired as general manager and a month after that, Willie Desjardins was hired as their new head coach. Changes like this are sure signs that a rebuild is on its way but owner Francesco Aquilini didn't want to gut the team like the Toronto Maple Leafs were doing. Instead, he committed to what was called an extended rebuild, placing a focus on drafting and developing players.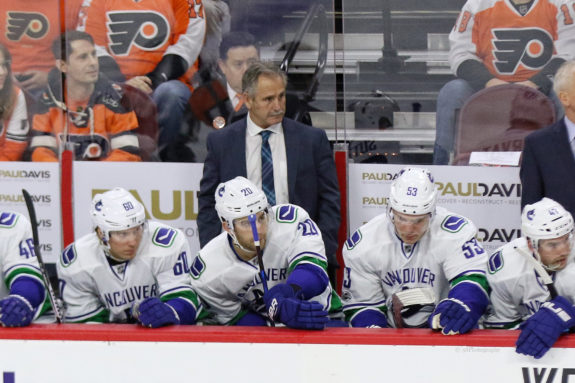 When Benning was hired, the Canucks showed fans just how serious they really were with their rebuilding intentions, as Benning had extensive experience in drafting and developing players into the NHL. On paper, he looked exactly like the guy the Canucks needed, as he served five seasons as an amateur scout, eight as a Director of Scouting, one as a Director of Player Personnel and seven as an assistant general manager to an NHL team throughout his career.
On the ice, though, his experience hasn't transpired into a whole lot.
Canucks & Their Accelerating Rebuild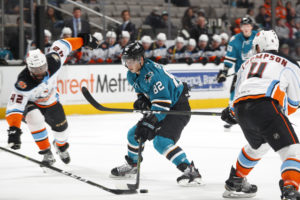 It's been nearly three seasons since the hiring of Benning and fans are not content with the results so far. Upon realizing this year's run for Stanley Cup contention was a bust, Benning asked Desjardins to give more ice time to the team's younger players and while the request was seen by some as a subtle gesture towards tanking, that's unlikely to be the case.
Desjardins job is at stake and tanking wouldn't do him any good. Linden has publicly stated he would consider different coaching options at the end of the season but what if Desjardins isn't the real problem here? Maybe he is but it's all too easy to place blame because the situation is upsetting, then it is to pinpoint what's actually going on. Among the controversy, some fans are pointing fingers at the players instead, believing there's only so much Desjardins can do with what he's got to work with.
Well, let's use a magnifying glass on Benning for a moment.
Now that the season is coming to an end, perhaps the real possibility of getting fired is causing some unusual behavior out of Benning, who had surprising success at the NHL trade deadline earlier this month. On top of that, Canucks' fans are more surprised with Troy Stecher, a non-drafted, NCAA-developed defensemen in his rookie year, holding a point-per-game played (P/GP) rate of 0.35.
Not bad.
Furthermore, we're seeing some promising point production progress from guys like Bo Horvat, Markus Granlund and Sven Bärtschi. However, since Benning's arrival, there hasn't been a whole lot of top talent added to the roster through the draft, despite having four first round picks.

In Benning's defense, though, his first draft as GM was only three drafts ago. As you can see, his two most recent first-rounders haven't even played in the NHL yet and one could argue that McCann and Virtanen may simply be a result of poor coaching, even with McCann playing for the Florida Panthers now.
Problems Found in Rebuilding Via the Draft
One of the reasons Benning was hired in the first place was because of his wealth of knowledge as a builder and talent evaluator. Before joining the Canucks, he served as assistant general manager of the Boston Bruins for six seasons and in this role, he acted as an advisor to Peter Chiarelli, the Bruins' GM at the time. He advised on all matters relating to player evaluation, trades and free agent signings and throughout his tenure there, the Bruins drafted 11 first and second round picks. Although Benning wasn't solely responsible for them all, he did play some sort of influential role in attaining them.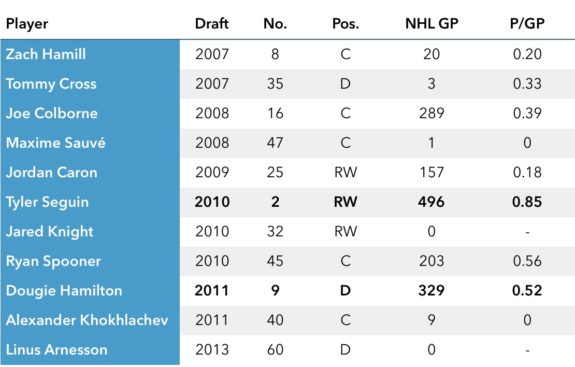 Of these 11 picks, there's really only two guys who're producing the way they're supposed to be producing for a first or second-rounder. If they were all fourth, fifth or sixth round picks then yeah, Benning would be considered a drafting master. But they're not. If you consider Ryan Spooner to be producing the way he should be as a No. 45 selection, that still means only 27 percent of these draft picks turned out the way they should have.
Before joining the Bruins, Benning had spent 12 seasons with the Buffalo Sabres, the last eight served as Director of Amateur Scouting. Here, he was responsible for overseeing the club's scouting staff, leading the team in the draft and scouting amateur players. During this time, the Sabres drafted a total of 22 players in the first and second rounds. There were nine first round picks and three of them went on to play in more than 500 NHL games while maintaining a P/GP of at least 0.30.

Two other first-rounders went on to play in more than 500 NHL games, however, they only maintained a P/GP of just under 0.30 and yes, they were both forwards. The Sabres also drafted 13 second round picks during this time and only two went on to play in more than 500 NHL games while maintaining a P/GP of at least 0.30.

Only one other second-round pick during this time period has gone on to play in more than 500 NHL games and that's Chris Thorburn, who's played in 739 games with a P/GP of 0.17. Of these draft picks, only 23 percent turned out the way they projected to.
Considering we're only looking at first and second round picks here, Benning's track record for drafting elite talent is not the most attractive, even if he was only on board with half of the picks listed here. Perhaps Desjardins isn't a bad coach at all. Perhaps he really is doing the best he can with what he's got.
Once the season is over, Linden is going to take a closer look at the contributing factors weighing down the team. Not much has been said of Benning and his future with the Canucks but maybe what the team really needs is someone who scouts and drafts amateur players with a different approach.