The 2017 NHL Entry Draft is only four months away and conversations about this year's pool of defense prospects are already interesting no matter what is being said. Among the deliberation, there's an underlying truth that defensemen are becoming increasingly valuable to the league.
At this point during the season, general managers and their fleet of scouts are analyzing depth charts and writing their draft lists. As usual, there's a number of teams seeking defensemen and there's a lot of good choices available.
Upon reviewing the top 31 prospect rankings of six scouting services; Hockey Prospects, Future Considerations, ISS, Sportsnet, McKeen's Hockey and The Hockey News. I've added the rankings of each top defenseman prospect and divided it by six. For defensemen who were only ranked by several of these organizations, I've assigned a ranking of 32 since that's the maximum rank they could get if these lists were extended to the top 100. The top 10 defensemen prospects heading into the 2017 Draft are listed below:
1. Timothy Liljegren, Rögle BK (SHL)
Timothy Liljegren remains the top defensive prospect going into this summer's draft. Regardless of all the doubt and demotion in pretty much every scouting service's top prospects ranking, he's still the number one ranking blueliner.

2. Juuso Välimäki, Tri-City Americans (WHL)
Interestingly, Juuso Välimäki has never been much of a goal scorer until this season:

Out of nowhere, Välimäki is becoming an offensive powerhouse from the blue line with no signs of slowing down. At the 2016 World Junior Championships, he represented Finland, served as team captain and won the gold medal. In six games, he had two assists. At the 2017 World Juniors, he also played in six games and scored two goals, both against team Latvia.
3. Miro Heiskanen, HIFK (Liiga)
Miro Heiskanen is one of the most-improved prospects on the list. He provides a unique skill set that's becoming increasingly common for players coming out of European leagues. His ability to seek out and create shooting lanes is a shared trait with Erik Karlsson. Although Heiskanen doesn't have Karlsson's flair, his aptitude for finding the lane makes him stand out from the other top 10 blue liners.
#41 Heiskanen scores with a wrist shot during a game on Feb. 3, 2017, against Oulun Kärpät (Liiga).
4. Cale Makar, Brooks Bandits (AJHL)
At the beginning of the season, scouts were skeptical about Makar's future in the NHL, not because he wasn't playing well but because he's playing in the Alberta Junior Hockey League (AJHL), a lower-tier league. This skepticism seems to be passing though, as scouts have been making their way to Alberta to watch the young defenseman play.
Over the last two years, Makar has participated in the World Junior A Challenge and this year, he served as team captain for Canada West, scoring four goals and getting four assists in four games.
In this video taken of Makar during a game on Mar. 3, 2017 against the AJHL's Canmore Eagles, #8 Makar gets an assist first and then scores a backhanded goal.
Makar plays a bold game and looks a little bit like Brent Burns of the San Jose Sharks. He also has a little bit of Mitch Marner's flair, although Makar is more comfortable scoring backhanded goals.
5. Nicolas Hague, Mississauga Steelheads (OHL)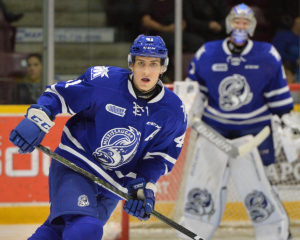 The 6-foot-6, 214-pound defenseman is the biggest top ranked d-man going into this year's draft. Serving as alternate captain for the OHL's Mississauga Steelheads, Hague has scored 18 goals and registered 26 assists in 59 games. That, coupled with his size, makes this guy a defensive force not to be reckoned with.
6. Callan Foote, Kelowna Rockets (WHL)
Son of retired NHL Colorado Avalanche defenseman Adam Foote, Callan Foote currently plays in the WHL for the Kelowna Rockets. He's 6-foot-3, weighs 209-pounds and has really improved his point production from last year. Foote senior was renowned for being a stay at home defenseman but Foote junior believes his game has a little more offensive knack than his fathers. Brad Ralph was Foote's coach last year with the Rockets and according to him, Foote plays his game with tremendous vision.
7. Urho Vaakanainen, JYP (Liiga)
Urho Vaakanainen has played in a ton of international championships, including the 2016 and 2017 World Juniors (won gold in 2016), the 2016 Ivan Hlinka Memorial Tournament, the 2014 and 2015 World Under-17 Hockey Challenge, as well as the 2015-16 and 2016-17 Champions Hockey League tournaments. It says a lot about a guy who's never been one for contributing much offensively, yet is always asked to participate in the next big event. Although he may not be the added layer of offense some teams are in desperate need of, he is solid on the defensive side.
8. Erik Brännström, HV71 J20 (SuperElit)
Erik Brännström has picked up the pace this season and as a result, he's received increased interest from scouts. Serving as team captain for HV71 J20, Brännström has become quite the offensive contributor in the SuperElit League. His points-per-game played (P/GP) is 1.17 and that's higher than Liljegren's, which is only 0.58.
Brännström's played for two teams this season, including 35 games with the SHL's HV71, and has competed in the 2015 and 2016 Ivan Hlinka Memorial tournaments serving as team Sweden's alternate captain in 2016.
Really nice shot on goal by #17 Brännström, scoring his first SHL goal on Jan. 21, 2017, during a game against Örebro HK
9. Luke Martin, University of Michigan (NCAA)
The draft's age eligibility criteria includes that all players must be 18-years-old before Sept. 15th of the draft year. Luke Martin's birthday is five days after the cut off date and that's why he's already playing for the University of Michigan, which happens to be the same team that Zach Werenski played with for two seasons before cracking the Columbus Blue Jackets' roster this year.
Martin was invited to audition for a spot on the U.S. National Junior Team (Under-20) for the 2017 World Juniors but didn't make the roster. However, he played for team USA at the 2016 World Juniors and served as one of their alternate captains.
10. Conor Timmins, Sault Ste. Marie Greyhounds (OHL)
Conor Timmins is having a really great season this year with the OHL's Sault Ste. Marie Greyhounds. Similar to Välimäki, Timmins' second season in the CHL looks a lot different than his first when it comes to point production. Unlike the majority of prospects on this list, Timmins doesn't have any international tournament experience. This isn't hindering his ability to get noticed, though. In 62 games so far, he's registered an astonishing 51 assists, while last year he played in 60 games with the Greyhounds and tallied nine.
#21 Timmins scores a beautiful goal against the OHL's Niagara IceDog's on Dec. 8, 2016, taking the puck from his own end and into the offensive zone.
The majority of these prospects will likely be picked in the first round but it's really hard to predict which team will draft them. Since this year's draft isn't considered to be as strong as other recent drafts, there's a wide-spread group of players expected to be ranked differently from team to team. What it really comes down to are the unique differentiating features that each blueliner brings to the table and how well-suited they're projected to fit into the prospective drafting team's system.