Casey Mittelstadt will make his NHL debut tonight as the Buffalo Sabres play host to the Detroit Red Wings.
In case you're living under a rock or not connected to the World Wide Web, news hit Monday when Mittelstadt agreed to leave the University of Minnesota after his freshman year to sign an entry-level contract with the Sabres.
First-Game Jitters
Transitioning from NCAA Division I to the NHL isn't easy. The pace is faster, the skill level is higher and the physicality is greater. Mittelstadt is taking it all in stride.
"I'm going to try to approach it like any other game I've played," said Mittelstadt after chugging a Hawaiian Punch juice box, his tongue now stained red. "I like my routines and I'm going to try to stick to them. They've gotten me to this point."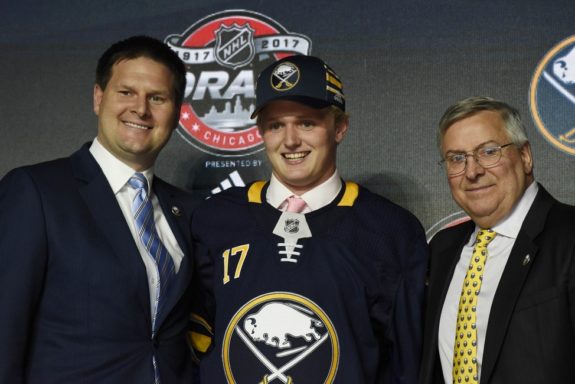 Mittelstadt dominated the World Junior Championship which was played in Buffalo. He'll bring his speed, skill, hockey IQ and compete level to the organization.
It's common for most NHL players to take a nap on game days. For the 11-year-old playmaker Mittelstadt, it's already part of his routine. He has his grilled cheese sandwich with the crust cut off, watches SpongeBob, then grabs his binky.
The speedy, 5-foot-11, 190 lbs, Mittelstadt is still awaiting puberty. He's growing at an alarming rate and could very well surpass Zdeno Chara's height and weight by mid-summer. In Minnesota, he had been marking his height on the doorway with a new pencil mark. Often twice per day.
New Teammates
Mittelstadt teammates went out of their way to welcome him. They know he's a beacon of light in a season full of darkness and misery. They know he's one of the only Sabres prospects with a chance to pull this team from the League's abyss. His job is to transform the Sabres from perennial bottom-feeders to Stanley Cup contenders.
At practice on Wednesday, Mittelstadt's first as a Sabre, he centered a line with Sam Reinhart and Evan Rodrigues. He looked cool, calm and fit right into the play. Earlier in the week, Jack Eichel took the playmaking prospect out for lunch. They engaged in pleasantries and shared conversation over burritos. "He double dipped in my guac," said a perturbed Eichel. "That's a no-no. I mean he may be new and all, but respect the guac."
Later in the day, Sam Reinhart took Mittelstadt out for dinner. Mittelstadt is riding the free meal gravy train and expecting every player and fan living in Western New York to treat him to meals for the rest of his career. Hockey-mad hopeful Sabres fans are volunteering. So far the online sign-up schedule has been completed for 7,021 days. Fans are encouraged to register now to close out his sixth consecutive year of freebie meals.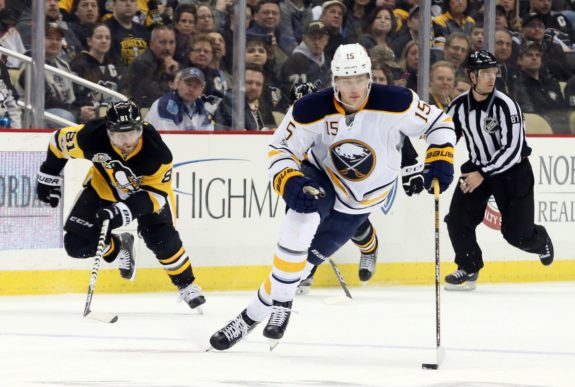 Demand for Tickets
Season ticket holders, who had been having trouble giving their tickets away for most of the season, are now relishing in the demand to see the star from Eden Prairie, Minnesota. Prices on sites such as StubHub and SeatGeek have skyrocketed eight-fold and are now as high as $10. With a parking pass.
For the first time since 2006-07 season, Sabres fans are excited to see hockey in downtown Buffalo. They've witnessed one of the worst seasons in franchise history this year, with a scant 11 home wins thus far–the least of any team in the NHL.
Pull-Up Progress
What Mittelstadt, the former Golden Gopher, may lack in physical power he more than makes up for with his newfound upper-body strength. After being ridiculed by some for being unable to do even one pull-up at the NHL Combine, Mittelstadt has bulked up by spending time in the weight room. His arms are now like lead pipes chiseled with muscle. These days, he's doing 30 minutes of continuous one-arm pull-ups while watching old re-runs of Scooby and Shaggy solving scary mysteries.
Casey Mittelstadt did one bench press and zero pull-ups. #NHLCombine

— Mark Scheig (@markscheig) June 3, 2017
Mittelstadt isn't the first top hockey prospect that's been unable to do a pull-up. Calgary Flames center Sam Bennett couldn't do one either, yet he was drafted with the fourth overall pick in the 2014 Draft.
The soft-spoken phenom also managed one only rep on the bench press of 160 pounds–double his own body weight. Now, Mittelstadt is throwing around VW punchbugs like they're tinker toys.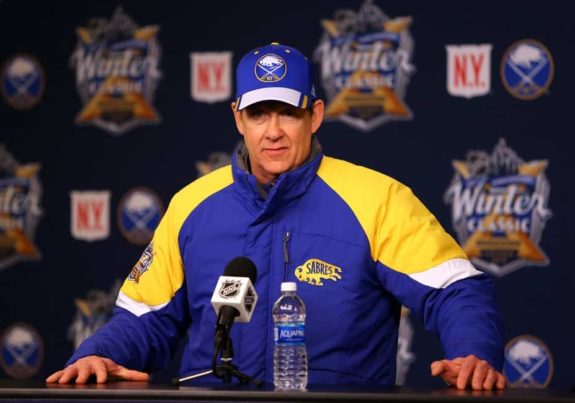 Head coach Phil Housley knew the strength would come. He knows Kevin Durant of the NBA's Golden State Warriors couldn't do one rep of 185 pounds at the NBA combine. And Durant is well on his way to a Hall-of-Fame Career. "There's no column on the stat sheet for executing pull-ups," said Housley. "Then again, maybe there is. I mean…there's advanced stats for five-on-five offensive zone faceoffs on Tuesday nights in the left circle vs. the right."
In contrast, at the Combine, up-and-coming talent Connor McDavid, did nine bench reps and six pull-ups. It was enough to make him a consensus No. 1 pick. He's also really, really, really good.
Playoff Bound
The expectations are stratospherically high for the eighth overall pick in 2017. And nothing short of perfection will be tolerated.
With Mittelstadt in the lineup, the Sabres are expected to finish on a high note. In fact, most fans anticipate them winning 23 of their remaining six games in the 2017-18 season. It should be enough to squeak into the playoffs. Last week, the Sabres were well out of the playoff picture, mathematically and literally. Now, they're on the cusp of greatness.
*Relax. It's satire.
---
Enjoy more 'Off the Crossbar' columns.
---