Free Agent Frenzy is a phrase coined by every league to describe the tossing around of money on the start of a league's new year.
For the NHL, that date has always been July 1. It's a day that fans across North America wait for in order to see what moves their teams will make to get the over the Stanley Cup hump. Lately, however, a lot of money was thrown around on not-so-worth-it names. In fact, many could say – I wrote about it last year – that Free Agency has fallen behind the NHL Draft in terms of excitement for fans. Nevertheless, every team is looking to add pieces to help the team get better on the ice, and July 1 is usually the day a lot of moves get done.
The Buffalo Sabres are a team that will no doubt have playoff aspirations in 2016-17, and will be looking for ways to improve the roster enough to become contenders. While it may be tempting to go out and sign a player like David Backes, Eric Staal or even Steven Stamkos, Buffalo needs to do the smart thing and stay away from them.
The team has a solid young core in Jack Eichel, Sam Reinhart, Ryan O'Reilly, Evander Kane and others up front. Paying a top-level free agent the money he'll demand just wouldn't make sense for a team with contracts to extend in the coming years. Sure, the Sabres need to add a top-six forward to the team as well as a third-line scorer, but Tim Murray is better off adding pieces via trade than free agency.
Players and picks will have to be dealt away, but it's more likely to be a more affordable option than anything that comes via the free agent market. Just look at teams like Chicago, Los Angeles and the New York Rangers where salary cap will likely have to come off the books in some form before the start of the season. Because of that, Buffalo could ultimately land a player that will help them win while not only saving money, but saving on the cost to acquire such players as well.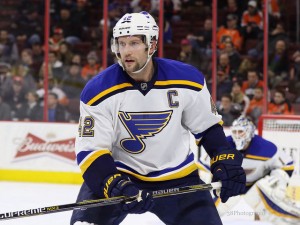 You may not get a Stamkos or Staal, but a younger Andrew Shaw could be available for the Sabres at a lower salary than the aforementioned All Stars. Would you really rather pay someone like Backes over $6 million per year to come in and perform at the equivalent of an average third-line player? Highly doubtful.
While Stamkos may be worth the money he'll command on the open market, the fact of the matter is that he'll likely take away a spot up the middle from Eichel or O'Reilly. Stamkos has said he wants to play center, and I don't think signing in Buffalo would allow that to happen. The team has too much invested in their current top two centers that it would seem like a step back in terms of creating chemistry among the current group.
Murray has shown that he has the guts to make bold moves via trade, but he's been safe when it comes to free agency. It just doesn't seem to be in his nature to go after names that are likely to cost more than they're worth solely because of a weak free agent market. And, quite frankly, the organization is better off because of it.