The Buffalo Sabres will have three representatives in this fall's return of the World Cup of Hockey.
Jack Eichel and Rasmus Ristolainen were already known to be a part of Team North America and Team Finland, respectively, when the initial rosters were announced earlier this year. However, a new member of the team has been named to a roster, and that would be starting goaltender Robin Lehner.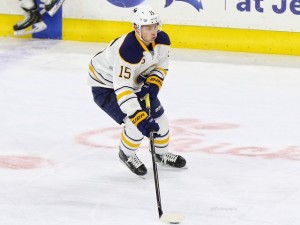 Lehner heads to the tournament as one of Team Sweden's three goaltenders as Henrik Lundqvist of the Rangers and Jacob Markstrom of the Canucks are the other two. Lehner is likely to battle Markstrom for the backup spot behind Lundqvist as many expect the Rangers netminder to shoulder the load in September.
A surprise to many Sabres fans will be the fact that Ryan O'Reilly, who had an impressive first season in Buffalo where he led the team with 60 points in 71 games, was omitted from Team Canada's final roster. The Canadians are a loaded team with only so many spots to fill, but fans will no doubt question why Matt Duchene would get in over O'Reilly.
That being said, the World Cup of Hockey is still certain to be an exciting time for Sabres fans as they get to watch a couple of their young building blocks showcase their talents on the World stage. The tournament begins on September 17 with the games being aired on the ESPN family of networks.