In their latest game (Thursday, March 2), the Buffalo Sabres met the best team in the NHL and got soundly beaten by a score of 7-1. Casey Mittelstadt scored the Sabres' only goal and goalie Ukko-Pekka Luukkonen was under siege for the night. He stopped 35 shots, but he also let in four goals.
The game was close until Luukkonen's unusual tripping penalty led to a Bruin's power-play goal. That seemed to turn the game against the Sabres. It was their second straight loss and another setback for the Sabres in their playoff push.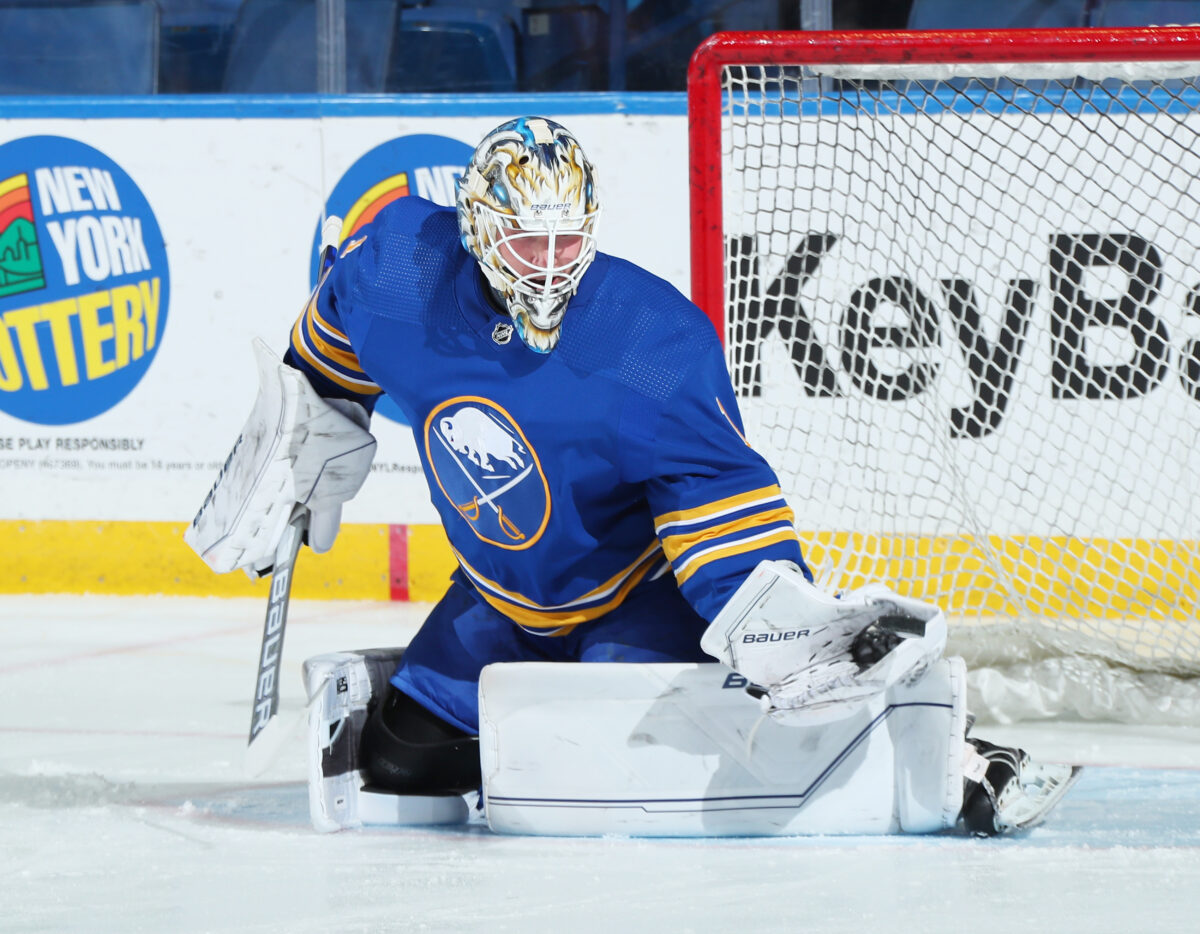 In this edition of Sabres' News & Rumors, I'll take a look at some of the player news that emerged from the game. I'll also look at the new players moving to the team. Is it my imagination, or is this team setting out to get bigger and stronger? I'll look at Rasmus Dahlin's career season. Finally, I'll take a minute to give a shoutout to the ageless Craig Anderson and his recent play in the net.
Item One: Newcomer Riley Stillman Makes an Impact 
The Sabres have been facing injury challenges with key players Alex Tuch and Rasmus Dahlin currently hobbled. To fill the void left by Dahlin's absence, the Sabres traded for defenseman Riley Stillman from the Vancouver Canucks. Once Stillman was cleared for game action, he made an immediate impact in his debut. He totaled five hits in the first period alone and six for the game.
Related: Sabres News & Rumors: Thompson, Anderson, Skinner & Boosh
Stillman had been activated off the non-roster list and was in Thursday's lineup against the Bruins. Although the Sabres completed the trade on Monday, he was placed on the non-roster list while he was working through the immigration process.
Item Two: Defenseman Austin Strand Moves to the Sabres
The Buffalo Sabres acquired defenseman Austin Strand from the Anaheim Ducks in exchange for Chase Priskie. Strand, who was born in Calgary, is a right-handed defenseman. He fits what seems to be the Sabres' plan of building a bigger and stronger team. 
Strand stands 6-foot-3 and weighs 215 pounds. He's played in five games with Anaheim this season without any points. However, he has scored two goals and six assists (eight points) in 46 American Hockey League (AHL) games with the San Diego Gulls. 
---
Latest News & Highlights
---
It will be interesting to see how Strand performs if he plays with the Sabres and how he fits into their defensive lineup. Right now, he looks to be headed to the AHL's Rochester Americans.
Item Three: Sabres Even Get Bigger with Jordan Greenway
Standing at 6-foot-6 and 231 pounds, forward Jordan Greenway was traded from the Minnesota Wild to the Sabres in exchange for a second-round pick in 2023 and a fifth-round pick in 2024. In 45 games this season, he has scored two goals and added four assists (seven points). He's averaging 13:18 of ice time per game. 
Related: Sabres Acquire Greenway from the Wild for Picks
The 26-year-old Greenway is currently finishing the first year of a three-year, $9 million contract. With his size and physicality, Greenway should be a valuable addition to Buffalo's third line. He was drafted in the second round (50th overall) in the 2015 NHL Entry Draft.
Item Four: Is Rasmus Dahlin Ready to Return?
Rasmus Dahlin was placed on the injured reserve list on Thursday, Feb. 23 with to an undisclosed injury. He hadn't played since Feb. 17. However, he might be close to returning to NHL ice. He was a full participant in practice on Friday, and although he isn't likely, he hasn't been ruled out of Saturday's game against Tampa Bay.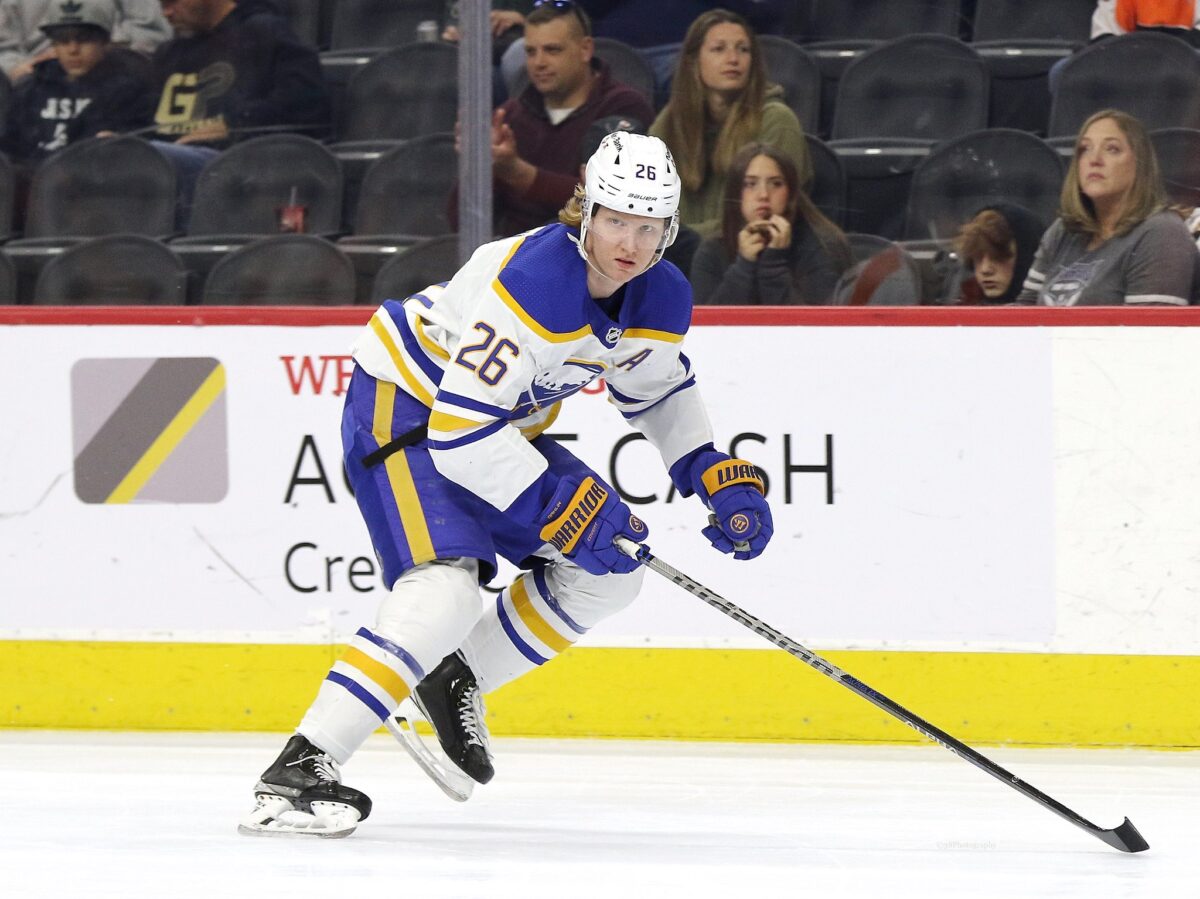 In 56 games this season, Dahlin has scored 14 goals and added 48 assists (for 62 points). Those are already career highs in goals, assists, and points for the 22-year-old Swedish defenseman. He's the first Sabres defenseman with 14 or more goals since Alexei Zhitnik scored 15 in 1997-98. 
Related: Maple Leafs-Sabres Rivalry Is NHL's Most Underrated
Over the Sabres' history of defensemen, only the great Phil Housley had reached 200 career points in fewer games than Dahlin. Thus far, he's the only NHL defenseman to record a five-point game this season. If he's able to return to play soon and proceeds at the pace he started the season, there's a chance he might even reach the 90-point milestone.
Item Five: A Shoutout to Craig Anderson
To say that Craig Anderson is a veteran is a bit of an understatement. He's currently the elder statesman of NHL hockey, but he still has it in the net. In his previous start against the Florida Panthers, he stopped 49 of 50 shots to earn his fourth 40-plus save victory of the season.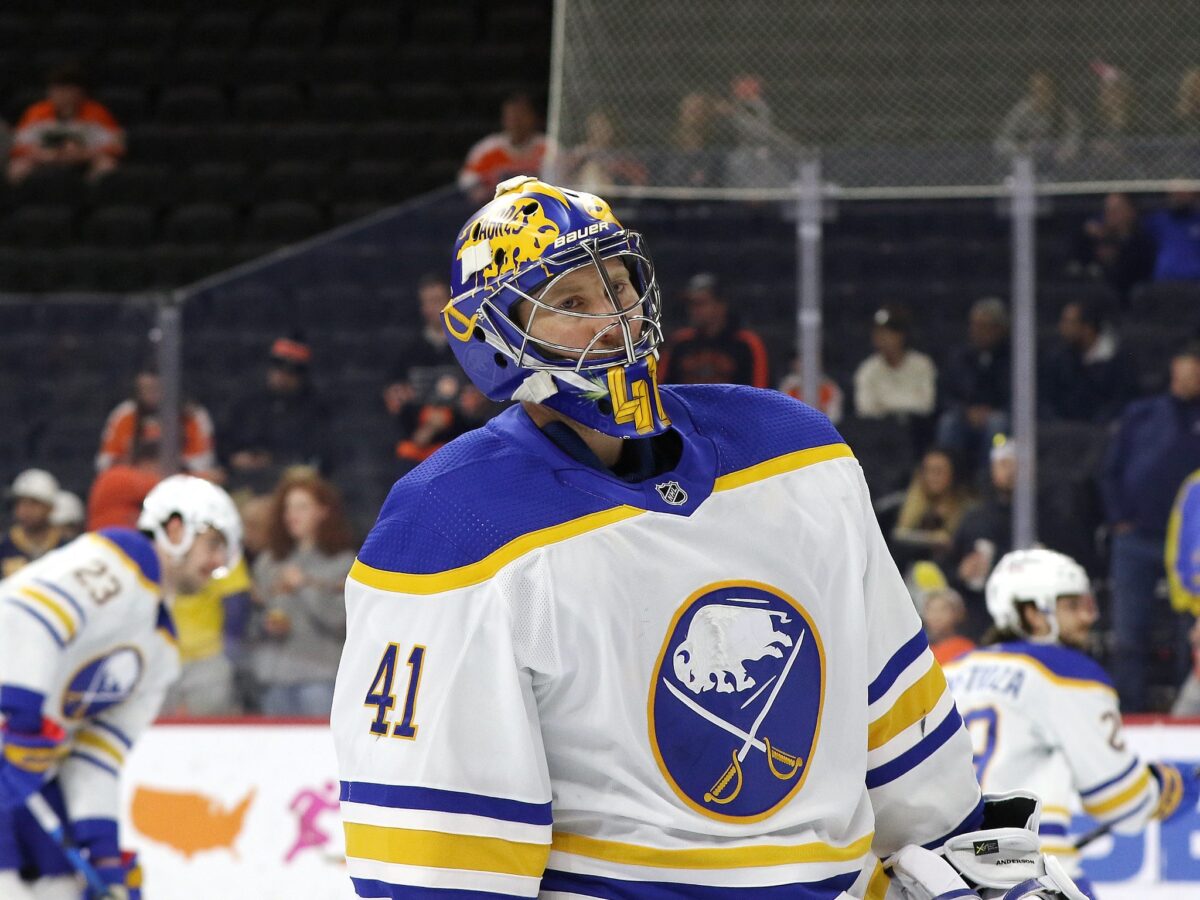 Despite being 41 years old, Anderson has been playing exceptionally well this season. He carries a record of 9-7-2, a 2.70 goals-against average, and a .920 save percentage. He's been good.
What's Next for the Sabres?
The last time Buffalo played the Lightning was Feb. 23. In that game, they logged a 6-5 win thanks to Ilya Lyubushkin's overtime goal. In fact, the Sabres had won three games in a row before losses to the Columbus Blue Jackets and the Bruins. In the Bruins' game, they just seemed to forget how to play simple and effective hockey. 
The Sabres play four of their next five games at home. Tomorrow, they'll be trying to improve their 1-1-1 record against the Tampa Bay Lightning. It would be a good time for a postseason push.
---
---