The Buffalo Sabres have not made the NHL playoffs in 11 years. But they are still in the hunt this season, the latest point that they have been in contention since 2012. 
The Sabres' playoff chances increased from 10.8% to 23.6% after their 6-3 win over the Philadelphia Flyers on Saturday. The Pittsburgh Penguins hold the second wild-card berth with 86 points, followed closely by the Florida Panthers with 85 points. The Sabres are sitting with 81 points, but they have two games in hand on both the Penguins and Panthers.

Buffalo is also on a hot streak, going 4-0-1 in their last five games. The Panthers have also won their last three games and are trying to salvage their season. It will take hard work and tons of luck for the Sabres to reach the playoffs, but they're fighting hard.
Item One: Tage Thompson Practiced Yesterday
Tage Thompson has missed three games with an upper-body injury. However, he participated in Monday's practice, and it looks like he'll play in tonight's game against the Panthers. Thompson has been a key player for the Sabres this season, leading the team in points with 44 goals and 45 assists in 72 games.
Related: Sabres Getting Strong but Underrated Season From Cozens
As noted in this morning's post in The Buffalo Beat (cited above) Thompson was excited about two things. First, he was happy his team was playing meaningful games this late in the season. Second, he was pleased about his team's recent good play – especially because he couldn't be part of it.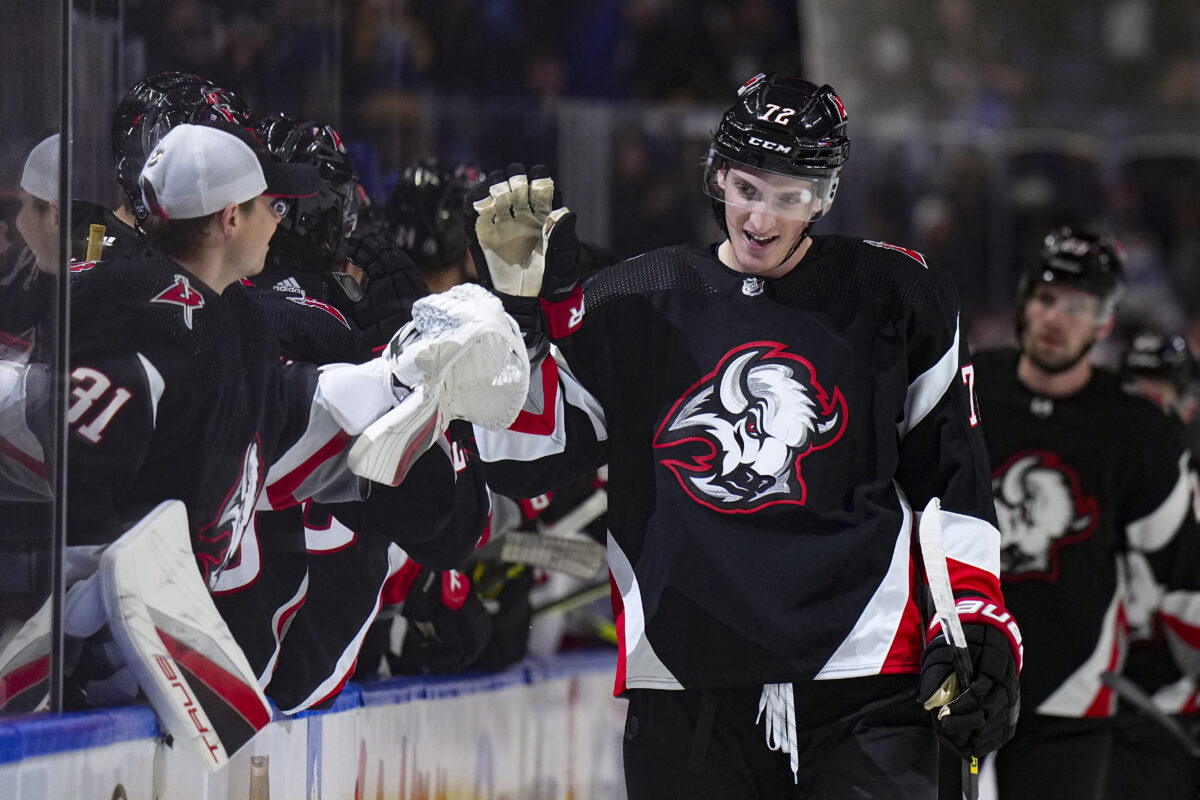 Thompson had a great season in 2021-22, but he's shown notable improvement in his offensive production this season. In 2021-22, he played 78 games and scored 38 points (30 goals, 38 assists), with a minus-17 rating. This season, he's played in 72 games and already has 89 points (44 goals, 45 assists), with a plus/minus rating of plus-6. Such a significant increase in both points and plus/minus rating demonstrates that he has become a more effective and productive player.
Item Two: Sabres Have Five Players with More than 60 Points
The Sabres have had a few players step up and make significant contributions this season. As noted, Thompson has 89 points in 72 games. Left-winger Jeff Skinner has been having a career season with 33 goals and 40 assists (for 73 points) in 72 games. 
Related: Sabres News & Rumors: Levi, Luukkonen, Mittelstadt & Tuch
Right-winger Alex Tuch is also having the best season of his career with 35 goals and 37 assists (for 72 points) in 67 games – he's having a significantly better season than Jack Eichel, who has played 64 games with the Vegas Golden Knights, scoring 27 goals and 63 points.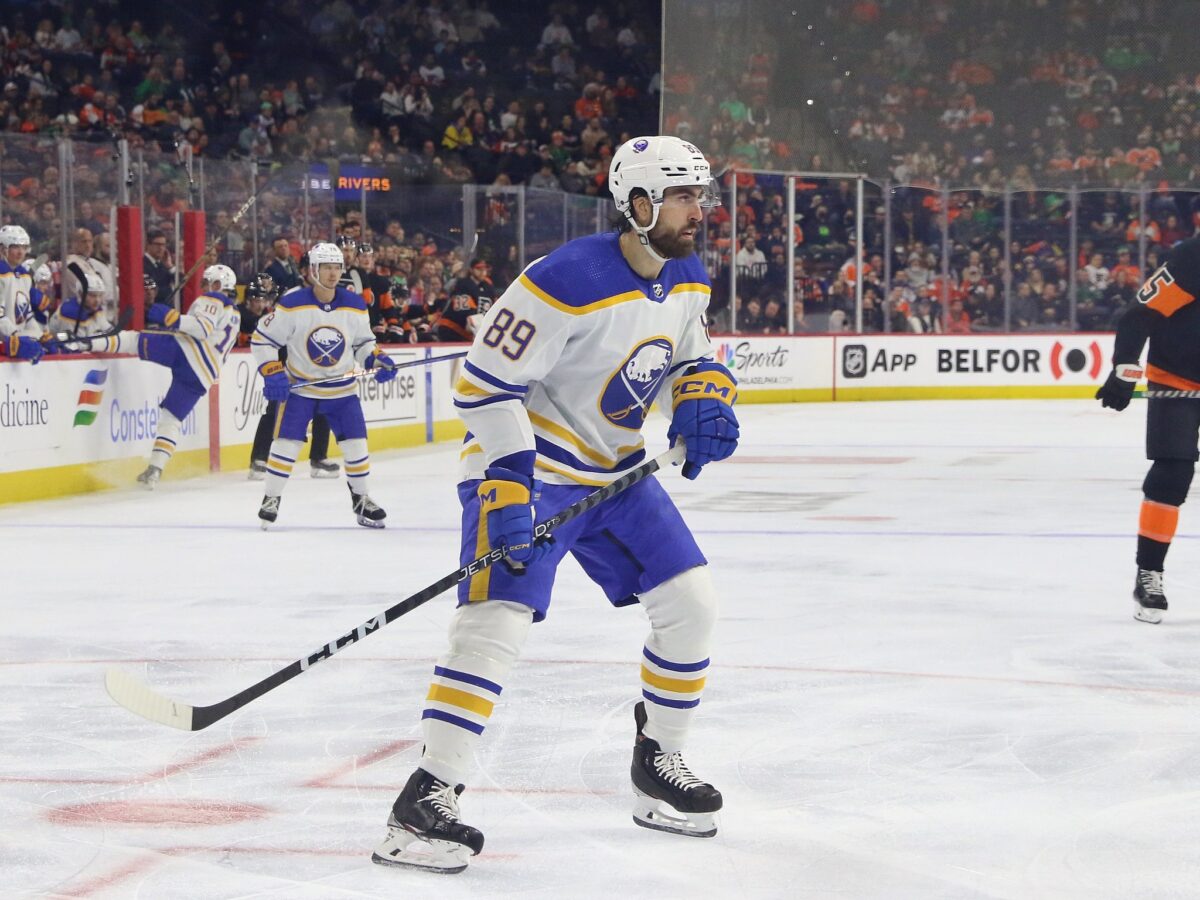 Defenseman Rasmus Dahlin leads the team in assists with 53, and has also scored 14 goals (for 67 points) in 71 games. Finally, center Dylan Cozens has 28 goals and 34 assists (for 62 points) in 74 games. 
Item Three: Will Devon Levi Start Tonight?
The Daily Faceoff has projected, although it's unconfirmed, that rookie goalie Devon Levi might be in the Sabres' net tonight. His NHL debut against the New York Rangers was highly successful, stopping 31 shots in a 3-2 overtime win. 
Related: Sabres' Goaltending Group Needs To Be Fronted by Devon Levi
Interestingly, the 21-year-old Levi was drafted by the Panthers in the seventh round in 2020 before being traded to the Sabres as part of the Sam Reinhart deal. That isn't lost on Levi who said that it would be "really cool" to play against the Panthers.
Levi noted: "I didn't come just to play one game. I want to play more, and I want to be able to give the team a chance to win. So, I've moved past the game (his debut game). It was probably one of the best days of my life. I just enjoyed it, soaked it all in. But when it's over, it's over. You turn the page."
What's Next for the Sabres?
The Sabres have played the Panthers three times this season. They lost the first two games before winning 3-1 on Feb. 24 in Florida. That win briefly pushed the Sabres into a playoff spot. However, they then went 2-8-2 in a stretch that almost knocked them out of postseason contention altogether.
Related: 7 Cool Things About the Buffalo Sabres French Connection
Tuesday's game is one of the most important in recent memory, and both teams will be fighting hard.