In today's NHL rumors rundown, the Toronto Maple Leafs don't believe Michael Bunting is being treated fairly by NHL officials. Meanwhile, one scribe makes a prediction regarding some off-season plans for the Pittsburgh Penguins. What are the Detroit Red Wings looking for this offseason? Finally, one journalist believes the Montreal Canadiens won't be re-signing Jonathan Drouin. Will he wind up getting a chance with another team?
Maple Leafs to Talk to League About Bunting Calls
According to David Alter of The Hockey News, "It has reached a point where the Toronto Maple Leafs want to talk to the officials about the standard of officiating when it comes to Michael Bunting." After a series of calls they believe to be excessive and targeted towards the forward, there is a growing concern in Toronto.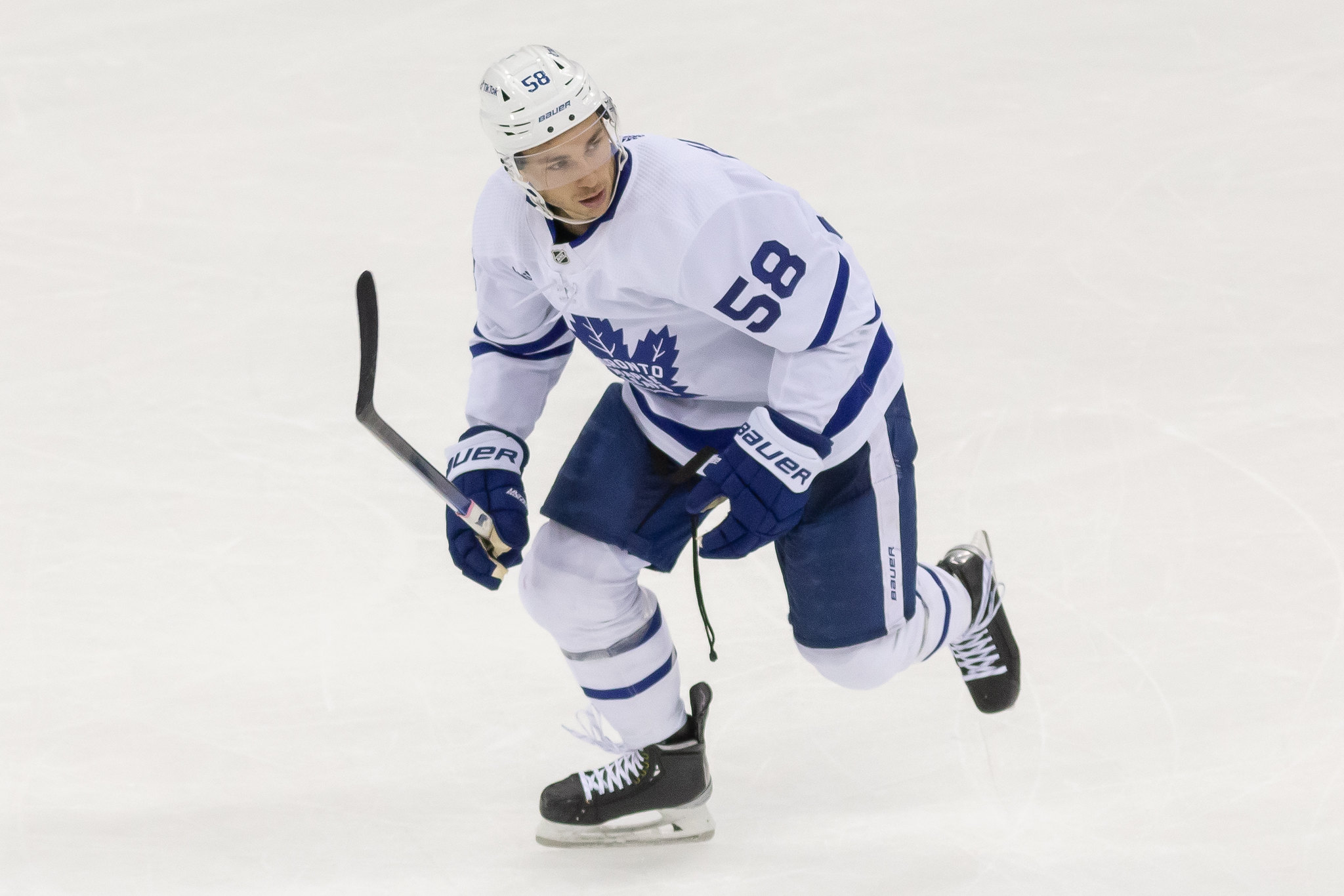 Alter adds:
"Having been a target by officials this season with numerous embellishment penalties, it's hard to doubt this is anything but a reputation call. But unfortunately for Bunting and the Maple Leafs, things escalated quickly after the forward left the penalty box."
Elliotte Friedman noted, "Bunting, as I understand, was told at the beginning of the year – don't talk to the officials. I think [the Leafs] felt that some of the officials were trying to bait Bunting, and they said whatever the case is, you can't do anything." Clearly, that strategy hasn't worked.

The big concern here seems to be how Bunting's rep with referees could affect calls during the playoffs. If he's on their radar, it could lead to calls that really hurt the Leafs at inopportune times.
Penguins to Shake Things Up This Offseason
According to Josh Yohe of The Athletic, "I wouldn't expect Brian Dumoulin or Chad Ruhwedel to be back next season." He adds, "That could be addition by subtraction on the blue line. Perhaps they'll find a third-line center, which could change everything."
---
Latest News & Highlight
---
He also writes that, unless the Penguins win the Stanley Cup, it will be time to move on from general manager Ron Hextall. He explains:
He's made too many mistakes. It's the bottom line. Look at this roster, look at the system. Everything has regressed in the time that he's been in Pittsburgh. Ultimately that's on him, regardless of how difficult the job was when he assumed power.

source – 'Fire Ron Hextall? Tristan Jarry contract? Where do the Penguins go from here? Mailbag' – Josh Yohe – The Athletic – 03/28/2023
When asked by another reader how long it would take for the Penguins to make a decision on Hextall once the season ends. He responded, "I'd imagine if he's going to get fired that it will happen quickly. Within 10,000 minutes, we'll say."
Red Wings Won't Be Big Players in UFA Market
Suggesting there is no "silver bullet" for the Red Wings in the unrestricted free-agent market this summer, Max Bultman of The Athletic writes that GM Steve Yzerman is potentially looking for a younger scorer via trade that can make an impact. He suggests — "think the equivalent of Ottawa trading for Alex DeBrincat last summer".
Related: Red Wings Face Critical Decision Heading Into the Offseason
He notes:
Among the big names potentially available in free agency, the ones with a demonstrated history of finishing are largely on the wrong side of 30 — Patrick Kane and Vladimir Tarasenko being at the top of that list. There's a tier lower that includes Alex Killorn, Jason Zucker and Michael Bunting, but the first two are also getting up there in age, the latter is going to want a big money, long-term deal to make up for being dramatically underpaid currently, and all three are coming off a run of playing next to some of hockey's most elite players.

source – 'What the Red Wings' post-deadline slump says about their offseason needs' – Max Bultman – The Athletic – 03/27/2023
Bultman believes the Red Wings will also be looking for a backup goaltender.
Canadiens Unlikely to Bring Drouin Back, Working on Caufield Deal
According to Marc Dumont of Montreal Hockey Now, winger Jonathan Drouin will be playing in the NHL next season, but it probably won't be with the Canadiens. He doesn't see the Habs re-signing the pending UFA but does believe that Drouin has played well enough this season that another club would take a chance and offer him a deal.
Dumont also provided an update on Cole Caufield and wrote, "As for Caufield, the latest reports suggest Pat Brisson and the Canadiens have started negotiations, but things do not seem to be advancing very quickly, which is par for the course considering it will be one of the biggest contracts handed out in club history."