News broke last Sunday that the Buffalo Sabres and the likes of the New Jersey Devils were rumored to be interested in Winnipeg Jets goaltender Connor Hellebuyck. What would a potential trade package from the Sabres to the Jets for the 2020 Vezina Trophy winner cost? And would the Sabres have to part with Devon Levi? Here are a few potential ways Hellebuyck could end up a Sabre.
Deal No. 1: Connor Hellebuyck for Ukko-Pekka-Luukkonen, Isak Rosén and the 2023 13th-Overall Pick
Unfortunately for the Jets, Hellebuyck only has one year left on his contract and with Winnipeg trending closer to a full rebuild, it seems unlikely that their best goaltender in the franchise's history will be willing to stick around.
---
Latest News & Highlights
---
This is perfect for Buffalo who had an .890 save percentage (SV%) as a team last season and were a goaltender away from ending their 12-year playoff drought. Ukko-Pekka Luukkonen has been shaky during his brief time in the crease (46 games) despite his status as a top goaltending prospect. Buffalo could be willing to part with him for a more proven goaltender like Hellebuyck paired with a higher-ceiling prospect like Devon Levi who looks like a franchise goalie in waiting.
Luukkonen is by no means a bad goaltender and still has time to adjust to the NHL game, however, with the trajectory of the Sabres, you could not really blame them for going with a more proven, consistent option between the pipes. Adding in the 13th-overall pick sweetens the deal for Winnipeg a bit who will be entering some of their darkest days since the move from Atlanta.
Deal No. 2: Connor Hellebuyck for Isak Rosén, the 2023 13th-Overall Pick, and a 2024 First-Round Pick
This trade is an option if the Sabres want to give Luukkonen another year of development, barring an injury to Levi or Hellebuyck, in the American Hockey League (AHL). Winnipeg will not be willing to deal their franchise goaltender for anything less than one of the Sabres' top prospects, and Rosén fits that mold. The additional draft pick for 2024 makes sense here because Winnipeg will want to get as much value as possible for a top-five NHL goaltender.
The 20-year-old Swedish winger was drafted 14th overall in 2021 and had a great World Junior Championship scoring eight points in nine games. He is still showing his ability to perform well in big games as he has eight points in eight Calder Cup playoff games this year for the Rochester Americans who are currently in the Eastern Conference Final against the Hershey Bears.
Rosén is known for his skating ability but is also knocked for being undersized. If he can add some muscle to his frame in Winnipeg, he could be a 20-goal, 40-assist type of player in due time. Again, this year's first-round pick is added to aid in Winnipeg's rebuild.
Deal No. 3 Connor Hellebuyck for Matthew Savoie and the 13th-Overall Pick
Why would Buffalo trade the best prospect in their system for one season of Connor Hellebuyck with no guarantee that he will re-sign with the team? The answer is the sign-and-trade.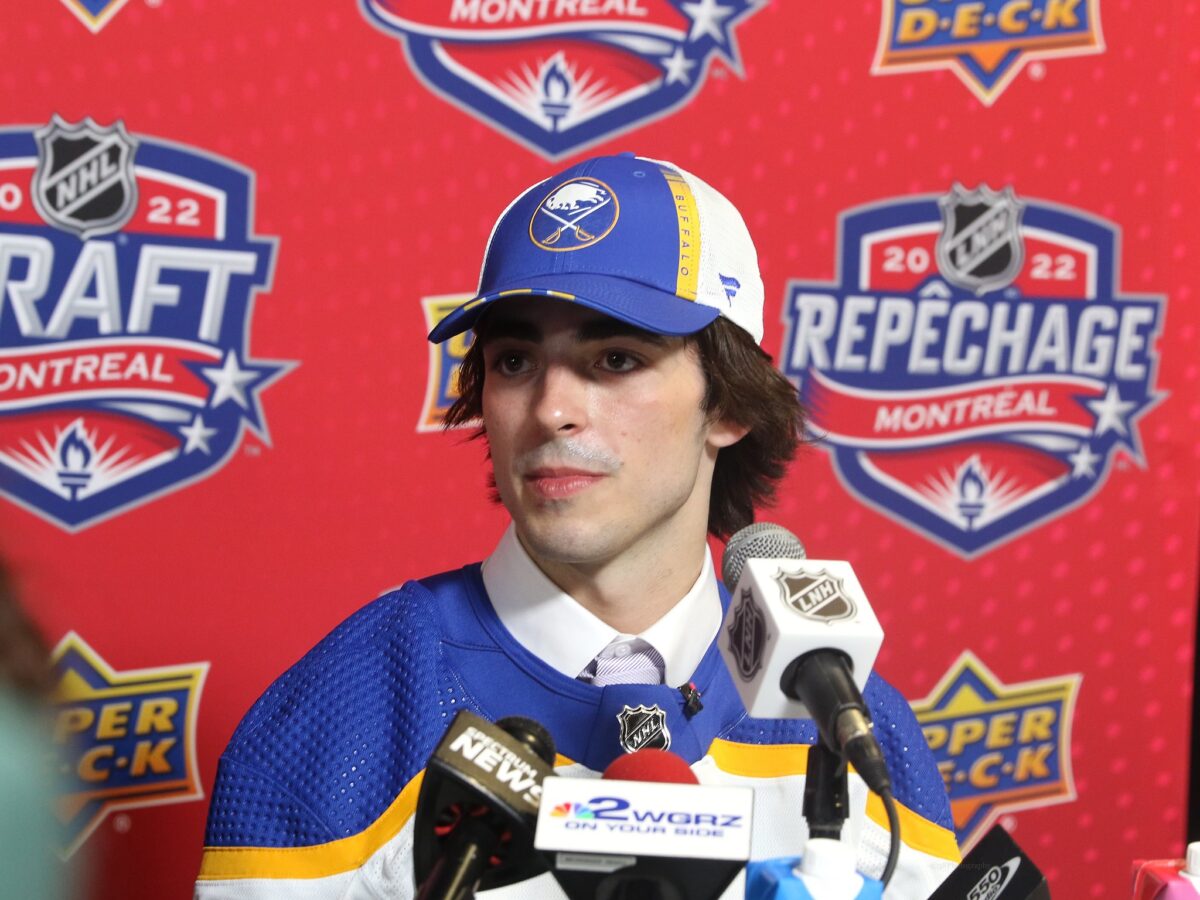 Now that the precedent is set in the NHL with the Matthew Tkachuk trade, this trade format would make the most sense for both teams. What would Hellebuyck's new contract terms potentially look like? The Sabres currently have over $17 million in cap space with a lot more coming off the books, so they have the cash to go out and spend. Somewhere in the ballpark of a four-year deal for $9-10 million per season seems reasonable for a former Vezina winner who turned 30 on Friday.
Losing Savoie could potentially be a big blow down the road, but because of the fact that the Sabres are so close in their current state and one goaltending upgrade could change everything, it makes a deal like this a lot more tempting, especially for a franchise with the longest playoff drought in the NHL.
Related: Sabres Top 10 Prospects for 2022-23
The Jets are also going to want a center in return due to the fact that Pierre-Luc Dubois and Mark Scheifele's futures with the team are very uncertain heading into this offseason. Savoie gives the Jets a future top-line center, he would fit the timeline of their current rebuild perfectly, and he is already playing in Winnipeg.
Savoie tore it up in the Western Hockey League (WHL) with the Winnipeg Ice this season notching 38 goals and 57 assists for 95 points during the regular season and an unbelievable 29 points in 19 playoff games on 11 goals and 18 assists in Winnipeg's run to the finals of the WHL Playoffs where they fell 4-1 to the Seattle Thunderbirds.
Regardless of if the Sabres make any of these moves or not, and Hellebuyck himself insisting that he wants to play for a Stanley Cup contender, making a trade to the Edmonton Oilers or Vegas Golden Knights far more likely, the Sabres are a team that is on the brink of breaking through and it's always fun to speculate what kinds of potential trades could be made, especially for a superstar goaltender who is consistently a Vezina finalist.
---
---