The Buffalo Sabres have a potential goaltender controversy on their hands and there's only one logical way to solve it. Eric Comrie has been out since mid-November due to a lower-body injury and appears to be on the cusp of returning, but there's an issue blocking his way. In his absence, Ukko-Pekka Luukkonen (UPL) has stepped up to the plate and established himself as the team's clear-cut starter. And veteran stalwart Craig Anderson is firmly entrenched as the backup.
Though this may make it seem as if Comrie is the odd man out, he shouldn't be. In order to maximize their depth and prevent an issue from the past two seasons from recurring, the Sabres should carry three goaltenders for the rest of the season.
Sabres Need Goaltender Insurance
Though he struggled early in the season, it's still far too early for the Sabres to write Comrie off, and keeping him aboard could help keep the Sabres from being in a tough situation for a third straight year. In each of the past two seasons, Buffalo endured a goaltending crisis of absurd proportions. Injuries, inconsistency, and suspensions required the team to use six different men in net in back-to-back seasons, nearly tying the record of eight set by the Philadelphia Flyers in 2019.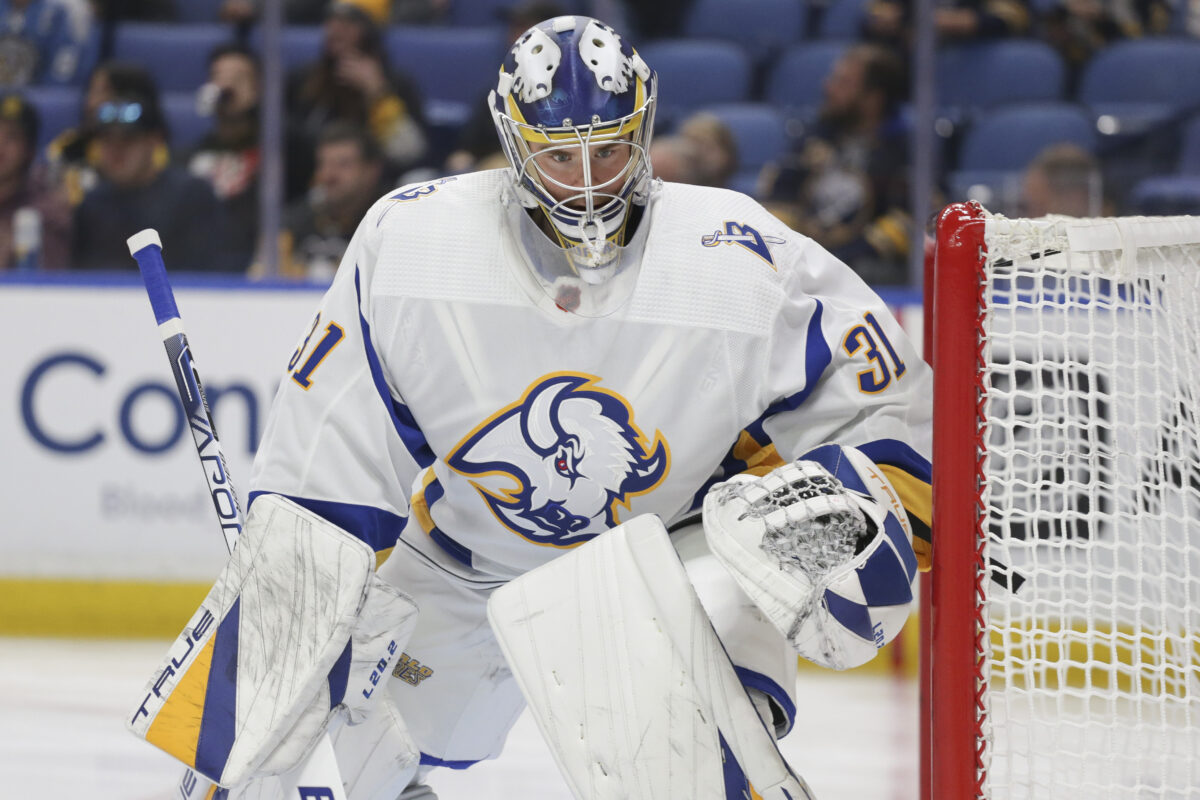 It was a wild carousel that significantly hampered the Sabres' progress, but to be fair did allow minor league journeyman Michael Houser the chance to finally make his NHL debut (from "Houser becomes Sabres 6th starting goalie", Spectrum Local News, 1/18/2022). It's safe to assume that head coach Don Granato doesn't want his squad to have to endure such struggles again, and carrying a third goaltender would be an easy way to help prevent it. Being as close as they are to a playoff spot (just four points out as of Jan. 8), the last thing the Sabres need is to be sunk by injuries yet again.
A downside to having three goalies is that it takes up a spot that would otherwise be occupied by a skater, but that too could prove beneficial. It would likely force general manager (GM) Kevyn Adams to move one of his many defensemen and break the team's logjam in that department, which in turn could help the unit gain coherency.
UPL Is Here to Stay
It was getting to a point where fans were wondering if Luukkonen would ever join the Sabres full-time after spending parts of four seasons in the American Hockey League (AHL). Comrie's injury gave the 23-year-old the chance to finally establish himself and it looks like he has.
Related: Sabres Must Find Consistency in the Second Half
---
Latest News & Highlights
---
After being recalled in November, UPL struggled through his first few games and relied on the Sabres' offense to carry him. That all changed on Dec. 15 against the Colorado Avalanche when he made 39 saves to steal a 4-2 victory over the defending Stanley Cup champions. Since then, he's continued to find his footing and the Sabres have won each of his starts dating back to Dec.15.
The Finn's numbers haven't always been sparkling, but he's come up big when it matters most and it's given the team the edge in goal that it had been missing all season. As long as he continues to play well, the Sabres should take full advantage.
Anderson's Experience Is Invaluable
Though he's too old to be a viable no.1 option in net anymore, Craig Anderson's value to the Sabres goes far beyond that. Since he arrived last season, the veteran has become a leader on the team and his wisdom has had a noticeable effect on the younger players.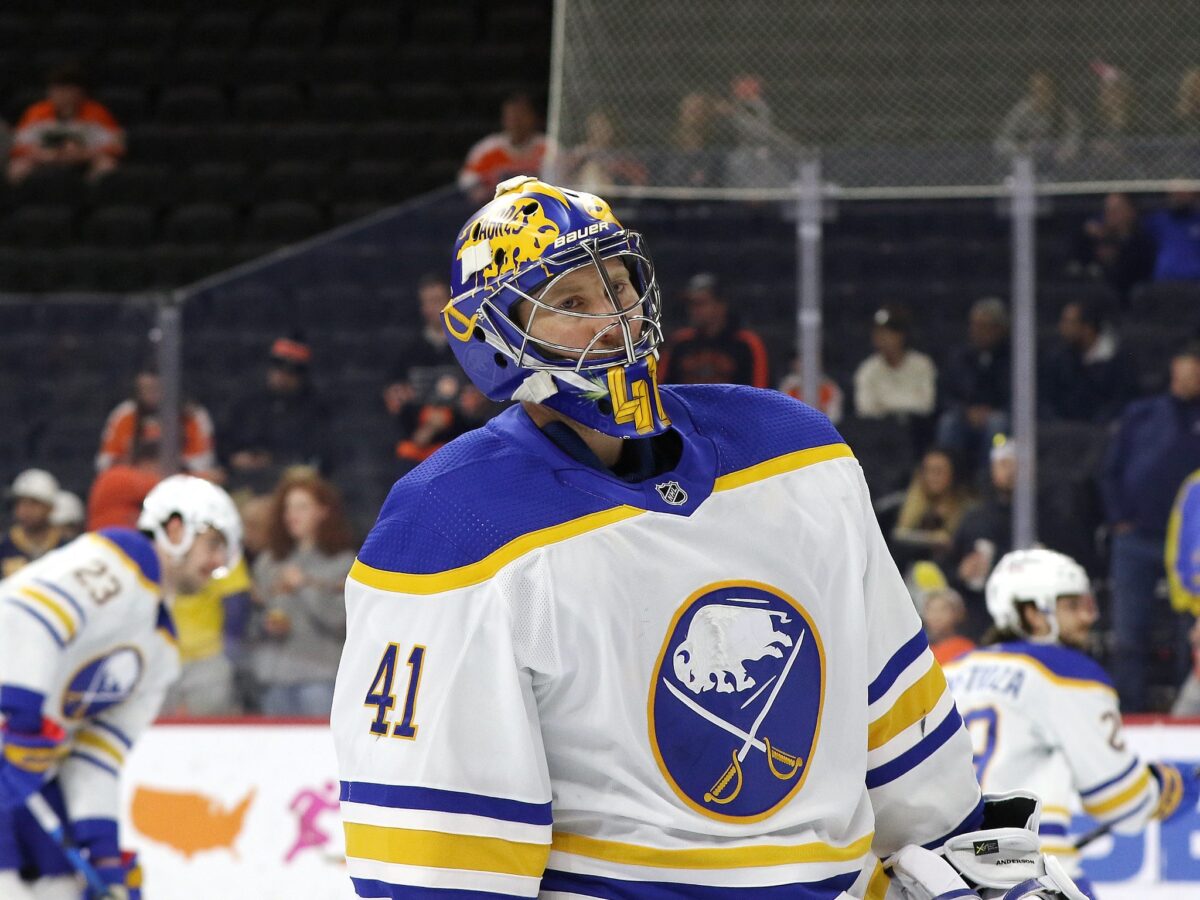 If the Sabres want UPL to become their go-to guy, Anderson is the perfect person for him to learn from and his impressive career is a testament to that. A former Masterton Trophy winner and one of just six American netminders to win 300 career games, the 41-year-old has experienced numerous ups and downs throughout his career and any young player would be crazy not to listen to what he has to say.
When Dominik Hasek came to Buffalo, he grew into one of the greatest players in the history of hockey thanks in part to the wisdom he gained from teammate Grant Fuhr. And though UPL is hardly in that same category, both he and Comrie stand to benefit immensely from Anderson's mentoring.
Carrying 3 in Net Is Buffalo's Best Chance
It's been almost 10 years since Ryan Miller departed the Sabres in Feb. 2014 and it's crazy to think that the team still hasn't found his replacement. Buffalo's ongoing 11-year playoff drought has been brought on thanks in no small part to a lack of stability in net, as every candidate since has failed for one reason or another.
The practice of carrying three goaltenders has worked for the Sabres in the past. In the mid-2000s under then-head coach Lindy Ruff, Miller, Marty Biron and Mika Noronen were all on the roster all at once. It gave the team three solid options to turn to and Miller eventually blossomed into one of the best goaltenders in franchise history.
Whether UPL is the guy to finally become the Sabres' next big goaltender or if he's just another table-setter, having both Anderson and Comrie around would further his development and also give the team its best odds of success. The Sabres are as close to the postseason as they've been in over a decade and shoring up their goaltending is the best way to ensure that springtime hockey returns to KeyBank Center this year.