The New Jersey Devils earned their 25th victory of the season on Jan. 7 after beating the New York Rangers in overtime by a final score of 4-3.
Defenseman Damon Severson was the hero Saturday afternoon. After the game, he walked into the locker room, quietly sat at his stall, and removed his skates. I walked over and was met with a smile from the Melville native, and wearing my own smile, I congratulated him and asked how he was feeling.
"Great! I think it's my first overtime goal. I've had assists, but I don't think I've had an NHL overtime goal in my career so far. No better time or place to do it than a 1:00 PM Saturday game against the Rangers."
It was a thrilling ending that perfectly complimented the intensity within the arena.
An Electric Atmosphere at Prudential Center
Last season, I wrote an article about the Hudson River rivalry and how it has officially been restored. My observations were confirmed when a sold-out crowd of 16,514 piled in and filled every inch of Prudential Center. There were plenty of blue sweaters scattered among Devils fans and the combination led to an absolutely electric environment. Chants of "Let's Go Rangers" were drowned out by chants of "Let's Go Devils" and the love for Igor Shesterkin eventually transitioned to Vitek Vanecek who skated off the ice as the winning netminder.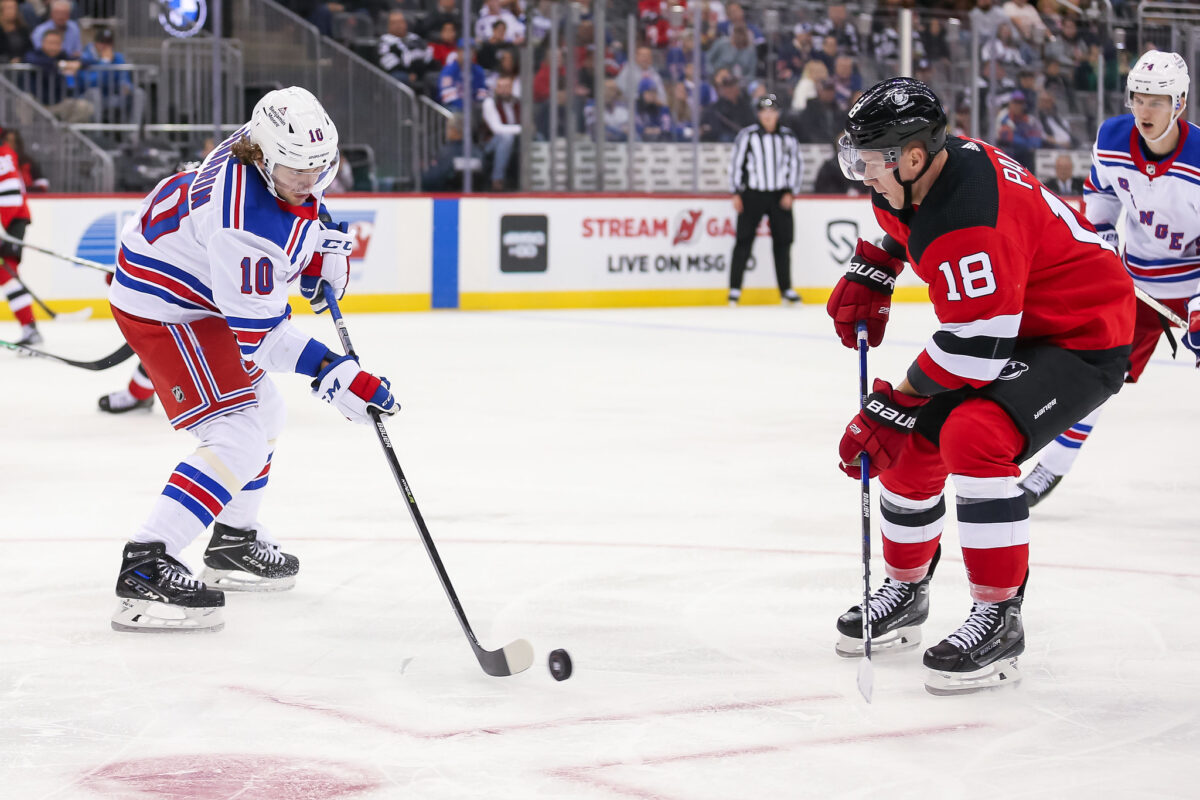 "That was a pretty crazy crowd today," said Jack Hughes post-game. "It's a lot of fun playing the Rangers, so when you get to beat them, it's kind of a statement win."
Severson wholeheartedly agreed with his teammate.

"That was the best. You can't beat that. That's the best it's been all year, if not the past few years. So you know if we could play the Rangers every night, I think the atmosphere would be great," he said. "There's nothing better than a game that everybody can make on a Saturday at one o'clock. Kids, parents, anybody can come to this and not have to worry about school the next day and stuff like that. The atmosphere was the best it's been and we hope to continue that and get some more wins for our fans so they keep showing up for us."
Related: Devils Have Won Their Fanbase Back
---
Latest News & Highlights
---
There has been a noticeable shift in attendance at Prudential Center this season. There have been multiple sold-out crowds and the arena has been the loudest it's been in years. With their winning record in addition to the talents of Jack Hughes and Nico Hischier, there has been no shortage of fans in Newark this season, and the players have continued to recognize it.
What Else Can Be Said About Jack Hughes?
The 21-year-old continues to impress as he earned his fifth multi-goal game for the season, which marks a career-high for the forward. Currently, he is on a five-game goal streak and has 10 points in that duration (eight goals, two assists). At the time of publication, he has taken 184 shots this season, which is the second-highest among players behind Timo Meier and David Pastrnak who are tied with 188.
Hughes finished his game against the Rangers with three points (two goals, one assist) and a career-high 10 shots on goal, which is the most in a game for a Devils player since Taylor Hall on Jan. 4, 2018. Since Dec. 1, 2022, the former first-overall pick has collected 14 shots on goal, which ranks as the fourth most behind Alex Ovechkin (16), Tyce Thompson (16), and Connor McDavid (15).
Recently, head coach Lindy Ruff talked about the development of Hughes.

"He has come a long ways," Ruff said of Hughes, "And he puts the work in, you know, he's a guy that every day is going to practice, he's there for the extra work, he's working on his shot. He's been working around the net more. I think if you want to be a true goal scorer, you've got to be around the net more. You have to score the type of goal he scored (against the St. Louis Blues)."

The Devils will be off on Jan. 8 and are scheduled for practice at RWJBarnabas Health Hockey House on Monday before a five-game road trip starting with the Carolina Hurricanes at PNC Arena.