The Detroit Red Wings placed Jakub Vrana on waivers on Jan. 3, less than three weeks after he returned to the team after taking part in the NHL/NHLPA's player assistance program. The 26-year-old went unclaimed and was sent to the Red Wings American Hockey League team in Grand Rapids for a conditioning stint. Despite being unclaimed, there's no questioning his talent — as per Natural Stat Trick, from 2019-2022 his 1.59 goals per 60 minutes at 5-on-5 were second in the NHL, behind only Auston Matthews.
Vrana has scored 57 points in his last 78 games played, but he's only played two games this season. Undoubtedly, a reason why he went unclaimed was due to his $5.25 million cap hit on a contract that ends after next season. With that in mind, Oilers' colour commentator and host of "Oilers Now", Bob Stauffer brought up Vrana's name and asked guests if the forward would be a good pickup for the Oilers.
Stauffer posed the question, "Assuming you could move a contract back, would you take a swing on Jakub Vrana?" He also added, "I'm not saying that's what's going on, I'm just saying would you consider doing it." Sportsnet's Louie DeBrusk was in favour, and hockey analyst John Shannon was not. The intrigue in bringing up Vrana's name might be for curiosity's sake, but at the same time, Stauffer, who works for the Oilers' Entertainment Group, is a connected person, in the know. In the summer, he was one of the first people to bring up a hypothetical scenario for Patrick Kane as a potential fit for the Oilers, and it was later reported that they were actually kicking tires on the Chicago Blackhawks' forward. Also, general manager (GM) Ken Holland was the former boss of the Red Wings for 22 seasons, and you'd have to wonder if he's had conversations with current GM, Steve Yzerman.
With that in mind, in the hypothetical scenario the Oilers are interested in Vrana, should they trade a contract to acquire his services? Well, any team in the NHL would benefit from adding an offensive talent like him; however, if salary is going to be cleared out and assets spent, the Oilers should pass on Vrana, and use it to upgrade their blue line instead.
---
Latest News & Highlights
---
Vrana Would Bring Additional Firepower, but Oilers Do Not Need It
The Red Wings' forward could've been had for free as a waiver pickup, but there are very few competitive teams that can fit his $5.25 million cap hit under the salary cap. The Oilers are one of the teams with very little cap space to work with, and in my opinion, if they're making a trade to acquire a significant player, Jesse Puljujarvi and his $3 million cap hit is the likely main trade chip that gets moved the other way to free up money.
Could the Oilers use Vrana and his scoring ability? Absolutely, but at the same time, they currently have four players that are having career years — Connor McDavid, Leon Draisaitl, Ryan Nugent-Hopkins, and Zach Hyman. Also, when Evander Kane returns to the lineup, he'll need some time to get up to game speed, but he'll be almost an acquisition itself, the way he'll inject energy and provide additional scoring. What Vrana would bring to the team (offence), isn't necessarily needed.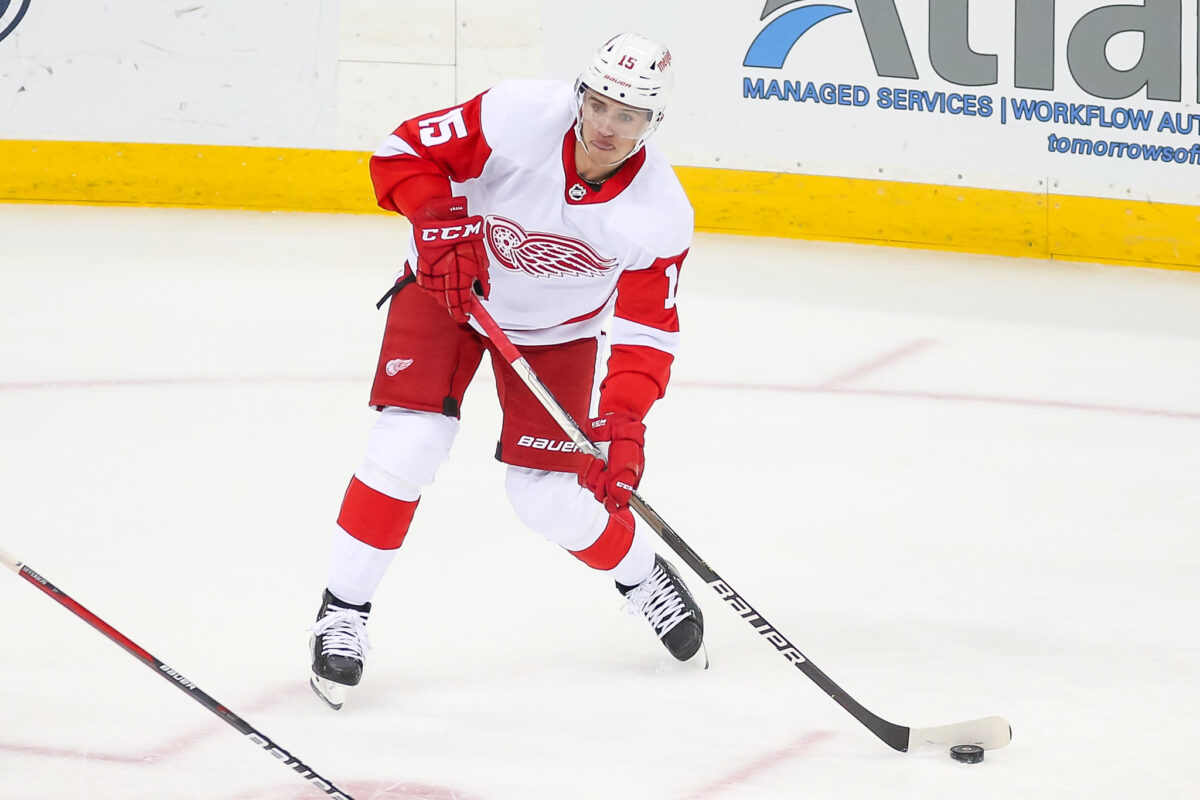 Yes, the Oilers' depth players have struggled to produce for the majority of the season, but Edmonton is top three in the NHL for goals scored, so even though their bottom six has struggled to produce, the fact of the matter is, their goal scoring isn't necessarily the problem. The issue lies in defending and keeping the puck out of the net. As The Hockey Writers' Rob Couch puts it, they continue to have defensive breakdowns, with bad turnovers, failed breakout attempts, and lost coverage in their own end. On top of that, according to Money Puck, blueliners Darnell Nurse and Evan Bouchard are top ten in giveaways in the defensive zone at 5-on-5. So, if they're trading away significant assets, it has to be for a responsible defensive defenceman, not a forward.
Related: Oilers Have Defensive Fix by Trading for Predators' Ekholm
Another scenario is that if the Oilers traded Puljujarvi and additional assets to acquire Vrana, another option to free up cap space for a big trade is to move Tyson Barrie and his $4.5 million cap hit. However, at this point, I don't think that would be wise for the Oilers to move him, especially with Bouchard struggling as of late. Unless you're getting an elite offensive defenceman like Erik Karlsson back (which would cost a fortune to acquire, and Edmonton should also avoid this) to run the power play, the Oilers shouldn't mess with a good thing – Barrie's been steady over the last couple of months and he's been a vital component on the NHL's number one power play.
In saying that, when John Shannon was asked whether he thought Vrana would be a good option for Edmonton, he responded saying, "No, because that's not the problem the Oilers have. If you need to address [an] issue for the Edmonton Oilers, you need to address the blue line. You need to find a way to instill a level of confidence or reinforcements, in helping the young players like Bouchard and Broberg play the game the right way."
Vrana Has Talent but Also Some Risk
Even if there was no such thing as a salary cap, there's also a little bit of uncertainty with Vrana. Hopefully, he's been able to resolve his personal matters through the NHL/NHLPA player assistance program, but at the same time, he's also dealt with injuries over his course with the Red Wings, suiting up in only 39 games in parts of three seasons, and had significant shoulder surgery last season.
Overall, Vrana would be a welcomed addition to any NHL team with the offensive talent he possesses, and would unquestionably make Edmonton the most dangerous offensive team in the NHL. But they have very little cap space and if they're moving assets out, it needs to be for a defenceman to improve their blue line, plain and simple.
Do you think the Oilers should acquire Vrana? If so, what would you include in the deal? Have your say in the comments below.