The acquisition of Taylor Hall brings legitimacy to the Buffalo Sabres' top-six forward group. Head coach Ralph Krueger has all but confirmed Hall will be playing alongside center Jack Eichel on the first line.
So, adding the former first-overall pick will also push another forward out, and there are a couple of options for the Sabres.
Can Sam Reinhart Drive His Own Line?
Eichel and Sam Reinhart have been a duo with the Sabres for some time now. It seems whenever there is an ounce of trouble after changing line combinations, the top three is reverted back to some combination of Eichel-Reinhart-and another forward. This isn't exactly the best way to spread around offense, but then again, there isn't a whole lot of offense to spread around.
One positive that did come from splitting up Eichel and Reinhart was the confirmation that Reinhart can drive offense on his own line. His individual goals above replacement numbers are pretty solid, but take into account his improvement in expected even-strength defense, according to Evolving Hockey, from 0.7 to 1.2 this past season.
Even-strength defense is going to be very hard to come by in the current bottom six for the Sabres, especially after the departure of Johan Larsson who piloted that department. Turning Reinhart into solid transitioning center for the bottom six does not sound sexy at all for a former second-overall selection, but using him in that role gives the team room to breath when looking at matchups.
There is a bump in the road here, though. Signing Cody Eakin, and the support he has been getting from the front office does put a damper on this proposal.
It is possible to find Reinhart alongside Eakin on the third line, but the addition of Eakin and the previous hesitation to move Reinhart to center makes it less likely to see him fill that role.
Can Skinner Produce With Another Defensive Center?
Jeff Skinner was very much down on his luck last season. It was well documented how low his shooting percentage was despite how many high-danger shots he was taking. Some of his brightest moments came when paired with Larsson as his center. The two sparked a bit of chemistry only to never be seen again.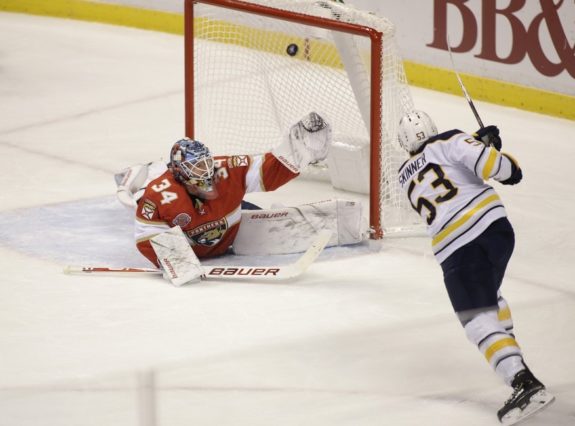 Bumping Skinner to the third line would come as a result of two things — Hall slotting right next to Eichel and Victor Olofsson being put on the second line with Eric Staal. Olofsson needs a very good center in order to reach his maximum potential. Skinner doesn't, for the most part.
In an effort to spread out offense and to shelter someone like Dylan Cozens, Skinner could see time on the third line with Eakin. This isn't ideal, but is a feasible prediction based on previous decisions from Krueger and his staff.
A setup that has heavy offensive potential would be to put Skinner on the first line with Eichel and Hall. The two wingers are coming off unlucky years and would be able to almost guarantee a significant bounce-back by flanking Eichel. This would leave Staal to center Olofsson and the choice of Reinhart or a younger skater in Cozens or Tage Thompson.
Bet on Cozens Early?
Seeing how the Sabres have conducted their hockey operations over the past few seasons, it would not be that surprising to see Cozens be thrown into the fire early on in his career. He comes into this upcoming season with a lot of hype and what seems to be a lot of potential. Perhaps the Sabres think he can really produce on his own and hope he can boost someone like Eakin along the way.
It is a very risky move — Cozens' development could take a hit by being force-fed defensive zone starts and removing him from a position to thrive with a role model like Staal. However, he was never a lock to break into the top six, let alone the NHL roster, to begin with.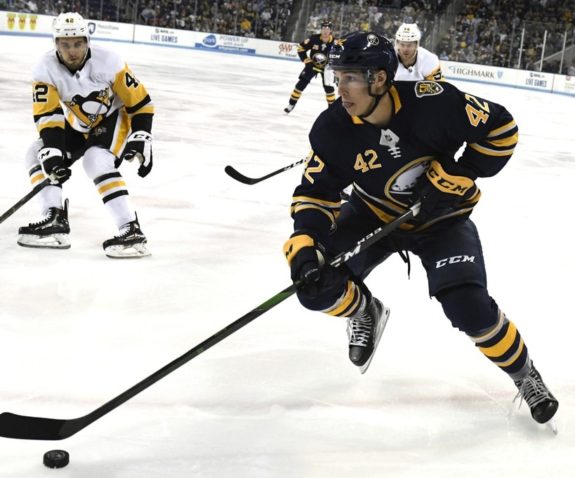 When taking a look at all the options, one particular and ideal scenario come to mind.
Hall – Eichel – Skinner
Cozens – Staal – Olofsson
Reinhart and Eakin on the third line.
Here the Sabres would collect all of the positives from each player. Hall and Skinner can finish what Eichel starts, Cozens can learn while growing with Staal, and Olofsson remains with, what many hope to be, two good centers. Reinhart can make up for the deficiencies in Eakin's game.
---
---