During the waning days of 2015, while most of the World prepared for a new calendar year permeating with a renewed sense of hope, those in Hockey Heaven were filled with doubt and discouragement as a remade Sabres roster performed much the same as the previous two seasons' last place editions. Fast forward to the waning days of the 2015-16 NHL season and the Sabres are climbing up the standing and playing their best hockey.
Growing Pains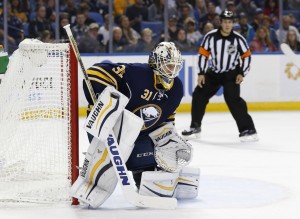 The Sabres have gone 7-2-2 in their last 11 games and won three straight games for the first time since November. And if you stretch it out over their last 39 games, their 19-13-7. Currently ranking 22nd in the NHL, puts the team eight spots higher than their finishing spot from the last two seasons. Although there were a lot of new pieces added in the offseason, it's taken time for those pieces to come together.
"It just shows how much we've grown throughout this year," said Sabres goaltender Chad Johnson. "You get rid of October with that learning curve as a new group with a new coach, new players and we've shown we can be a good team. We've grown throughout the season."
Among the both figurative and literal growing pains of the Sabres were inserting multiple rookies in the lineup, including Jack Eichel, Sam Reinhart and Jake McCabe and more recently Justin Bailey, Hudson Fasching and Casey Nelson. On top of that, a number of veteran players including Matt Moulson, Ryan O'Reilly, Evander Kane, Tyler Ennis and Robin Lehner have either dealt with injury or performance issues.
Playoffs In Sight
The Sabres ability to overcome the adversity this season and to grow into a cohesive unit bodes well for the immediate future. Expect the Sabres to carry over this momentum into next season and make the playoffs. That's right, I'm pencilling the Sabres in for the 2017 Stanley Cup Playoffs!
Eichel and Reinhart (which I must confess, didn't expect) have had exceptional inaugural NHL seasons and have shown growth throughout the year. Couple that with the impressive seasons of Rasmus Ristolainen and O'Reilly and the Sabres have themselves an impressive young core to build around. And build Sabres GM Tim Murray will.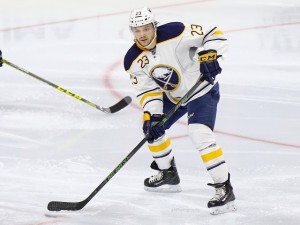 Look for the shrewd roster architect to add to the roster, likely with a scoring winger and a puck moving defenseman. By adding a few more pieces and giving the young talent another year to develop, the Sabres will be in prime position to battle for one of the Eastern Conference's wildcard spots.
Not only do fans have reason to be excited for next season, so do the players. Last year, [the Sabres players] had to be in mental cruise control since early February, but this year they are building morale and momentum to go into next season," said former Sabres forward and current radio personality Andrew Peters. "These guys probably can't wait for September to roll around already and get back at it."
After some truly abysmal seasons, it's safe to say that everyone surrounding the Sabres can finally and confidently believe there are great things in store for the organization right around the corner.
As an American based in Amsterdam, Joe provides a unique hockey insight, bringing a global perspective to the game. Joe has several years of experience covering the game on both a domestic and international level, including being credentialed for multiple World and World Junior Championships.