Last season, the San Jose Sharks put together their best season ever. While the regular season was nothing special, the Sharks' impressive postseason run to the Stanley Cup Final was the first such run in team history.
Though there was much to cheer about, the Sharks were exposed in the Stanley Cup Final by an impressive and fast Pittsburgh Penguins team.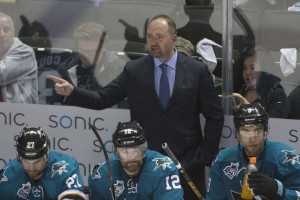 An unimpressive start to the 2015-16 season caused some concern, but past the midpoint of the year, the Sharks found another gear. The midseason change was attributable to three items — the turnaround in Brent Burns' game, adapting to the new system of new coach Peter DeBoer, and the return to health for Logan Couture.
A strong second half led to several players getting consideration for individual honors. Joe Thornton had an exceptional year. Brent Burns, always an offensive tour de force, found his defensive game and became one of the best all-around players in the league. Burns was particularly complimentary of assistant coach Bob Boughner in turning his game around.
Defenseman Marc-Edouard Vlasic put together another very strong season; some consider him the Sharks' best defenseman and among the best defensemen in hockey. Joe Pavelski continued to be an elite goal scorer. Couture missed most of the first half of the season, but had a blistering playoff run, scoring 30 postseason points to lead the league.
Team 2015-16 Record: 46-30-6 (3rd in the Pacific Division)
Offseason Moves
San Jose responded to the loss to Pittsburgh by adding two elements which were problematic in the Cup Final — speed at forward and puck handling on defense. They got both in free agency with the additions of Mikkel Boedker and David Schlemko.
Key Roster Additions:
Mikkel Boedker
David Schlemko
Key Roster Losses:
Roman Polak
Nick Spaling
James Reimer
Dainius Zubrus
Key Organization Changes:
The Sharks have run a stable organization. The front office and coaching staff appear to be returning intact. No doubt the Sharks are happy to see assistant coach Bob Boughner returning, as he was a candidate for the surprise vacancy in Colorado in August.
Forwards:
Projected Lines:
LW1-C1-RW1: Tomas Hertl, Joe Thornton, Joe Pavelski
LW2-C2-RW2: Mikkel Boedker, Logan Couture, Joonas Donskoi
LW3-C3-RW3: Timo Meier, Patrick Marleau, Joel Ward
LW4-C4-RW4: Matt Nieto, Chris Tierney, Melker Karlsson
Joe Thornton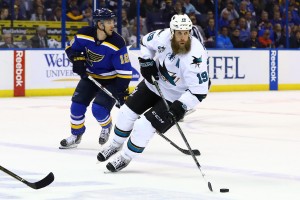 'Jumbo', as he is often called, is the best player on the Sharks. Thornton was fifth in the Hart Trophy balloting last season, and he was robbed. He led the league in goals-for percentage, the first major player in years to be over 70%. The three skaters who finished ahead of him were all under 60%.
The Hart winner, Patrick Kane, was at 55%. The number of five-on-five goals scored while Kane or Thornton was on the ice was almost identical (67 to 65). However, opponents scored twice as many goals with Kane on the ice as compared to Thornton (53 to 27). Plus, the Sharks power play led the NHL in goals, and at the heart of it was Thornton.
Thornton is a slam dunk Hall of Famer for a reason. He's an amazing hockey player. At age 36, he showed no sign of slowing down. As long that continues at age 37, he remains the Sharks' most valuable player.
Joe Pavelski
The team captain, Pavelski has been a top-five goal scorer for each of the last three seasons. He provides the team with energy and confidence. Pavelski is among the most complete players in the game. His combination of skill, savvy and determination make him one of the best players in the league.
Logan Couture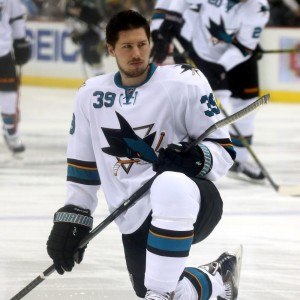 For Couture, every year seems like it will be the breakout season where he goes from a very good player to a major star. Last season, it finally happened in the playoffs — Couture was a beast. Over the years, Couture has never seemed to center a line which got the most out of its talent, but in the 24 games of the Sharks postseason, this changed.
Couture scored 30 points and his lines were often electric. With teams throwing their top resources at the Thornton line (with little success until the final series), Couture found himself up against lesser opponents and took full advantage. It was the best chemistry I've seen on a Couture line, even when DeBoer made changes on the line. Should this continue, Couture has the opportunity for his first dominant season running the Sharks second line, and the Sharks could have the best second line in hockey.
Defense:
Projected Pairings:
D1-D1: Marc-Edouard Vlasic, Justin Braun
D2-D2: Brent Burns, Paul Martin
D3-D3: Brenden Dillon, David Schlemko
Brent Burns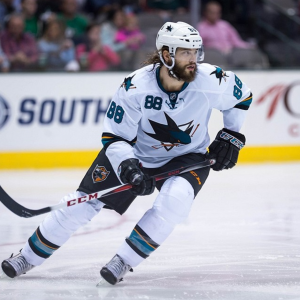 Burns may well be the best defenseman in hockey, and a large credit has to go toward his improvements on — well, playing defense. Burns, with the help of the coaches, finally found his defensive game in the second half of last season and the transformation was breathtaking.
He improved on offense as well, making higher percentage plays with the puck from the point. Burns is fun to watch. He is enormously talented and a mismatch for pretty much every team. There is no reason to expect less from Burns this coming season.
Marc-Edouard Vlasic
If Burns is not the best defenseman in hockey, then Vlasic might be.
Style-wise, they could not be more different. While Burns overwhelms with talent, Vlasic overwhelms with fundamentals. In the playoffs, it seemed each of the Sharks opponents carried a similar storyline; their top scorer needed to start scoring. The common thread, of course, was the guy in teal they were playing against — Vlasic. He simply clamped down on opponents' top players.
Vladimir Tarasenko, who scored 40 goals in the regular season, didn't score a goal in the series against San Jose until the final 10 minutes of the series with his team down 4-0. Sidney Crosby, who recorded 36 goals in the regular season, didn't score at all against the Sharks in their series. Tyler Toffoli led the Kings in goals with 31 goals during the regular season, but also had goals against San Jose in the playoffs.
Vlasic is underrated offensively, as he scored only 10 of his 39 points from the power play. The 29 points away from the power play were two more points than Norris Trophy winner Drew Doughty had, and Vlasic played 15 fewer games.
Paul Martin
As good as Brent Burns is, he's not an easy player to play with. He is as unpredictable as they come.
It takes a special player to make sure Burns is as productive as possible, and that is where Paul Martin comes in. The savvy veteran sees the ice extremely well, allowing Burns to be Burns. Martin kicked in 20 points last season while playing 78 games, the most games he's played in since the 2006-07 season.
If Burns is to be, once again, an elite defenseman, his partner is going to be a critical part of the success. At age 35, Paul Martin's ability to handle the workload will be a key part of San Jose's success.
Goaltending: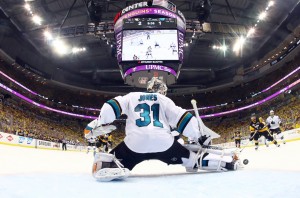 The Sharks' back-up goalie is Aaron Dell, likely awaiting his first NHL game at age 27. For now, the story is Martin Jones.
Jones took the starting job for San Jose last season and was superb out of the gate, giving up just two goals in his first four games. While the middle of the season was a bit more muddled (possibly because of the heavy workload), Jones was terrific in the playoffs and one of the few Sharks who had a strong series against Pittsburgh. San Jose's Game 5 win was goalie larceny at its finest, with Jones dealing one of the best big game goalie performances in Sharks history.
Jones will be the main goalie story for San Jose again in 2016-17. He has proven he is a number one goalie with the ability to carry a team.
Breakout Player:
The popular choice will include Tomas Hertl, now fully recovered from his knee problems. It will include Mikkel Boedker, finally getting quality linemates who can leverage his speed. And Joonas Donskoi, the standout rookie whose breakthrough playoffs included one of the Sharks all-time highlight goals, the only Stanley Cup Final overtime winner in Sharks history.
The Sharks will be looking for breakouts from several players. San Jose professed to have great depth, but the three top line players were a combined plus-66 while the nine from the lower lines were a combined -55.
The Sharks want to use a balanced approach and as such, they will need improvement from their lower lines. The player who seems poised to make a jump is Melker Karlsson. Against Pittsburgh while on the same line as Logan Couture, Karlsson proved very effective. A careful look at the Final against Pittsburgh showed that Couture and Karlsson had terrific chemistry. Couture is a great talent, but his lines have usually been less than the sum of its parts.
With Karlsson, it was more than the sum of its parts. Head coach Peter DeBoer could do some line juggling in the early portion of the season. If he combines Karlsson and Couture, I wouldn't be surprised if he likes what he sees and sticks with it, which means both players should benefit.
Player with Most to Prove: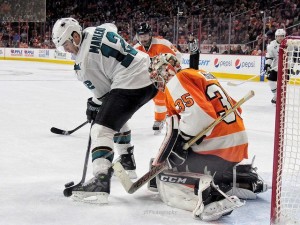 You'd think a guy with borderline Hall of Fame credentials wouldn't have much to prove, but Patrick Marleau is the player who sticks out. His declining productivity, especially at even strength, has been a problem the last few season. His combined minus-40 over the past two years tells much of the story.
It is possible Marleau will be relegated to the fourth line. Further, his time on the Sharks highly effective top power play unit is in jeopardy, as younger players such as Hertl, Donskoi and even rookie Timo Meier show their offensive skills.
First Players in the 'Call-Up' Line:
The Sharks prospect pool is in better shape than it has been in a while. The two acquisitions from Scandinavia (Donskoi and Karlsson) coupled with five major NHL player acquisitions (Jones, Martin, Ward, Schlemko and Boedker) over the past two offseasons have allowed San Jose to let younger players develop.
The time may be now for Timo Meier, San Jose's top prospect. He'll probably be on the roster at some point this season, quite possibly out of training camp.
Timo Meier aims to 'steal someone's job' at #SJSharks training camp https://t.co/pexjHEE1bI

— Kevin Kurz (@KKurzNHL) September 16, 2016
The forward group behind Meier includes Nikolay Goldobin and Barclay Goodrow. Marcus Sorenson, this year's signing from Scandinavia, has turned heads with his speed and agility. Who the Sharks turn to (and when) will be dictated by performance, style of play needed and commitment to defense. Veteran Tommy Wingels looks to be the odd man out at the moment but has enough heart and talent to work his way back into the line-up.
Defensively, San Jose would love to see a major push from smooth-skating Mirco Mueller. Mueller has been given opportunities at the NHL level in the past two seasons, but he hasn't shown himself ready. Meanwhile, it is Dylan DeMelo who now sits as the Sharks' defenseman most likely to see action should any of the established starters need some time off. DeMelo had a solid half-season with the Sharks last year and proved he can be an everyday player. With four of the Sharks nominal starters left-handed, the right-handed DeMelo has a pretty clear path to a starting spot if an injury occurs.
Goalie depth is an issue and could prove an Achilles heel. Troy Grosenick has two NHL games under his belt. If the probable back-up Aaron Dell goes down, Groseneck is the likely replacement. But if Jones goes down for any length of time, expect Sharks general manger Doug Wilson to make a trade.
Season Outlook:
San Jose is not content to simply repeat last season's strong run. The Sharks have added a talented forward, a responsible defenseman and are likely to incorporate a very talented rookie into their daily line-up. This is a deep team with quality at every level (save back-up goalie). The challenge for the Sharks is one common to teams who have made a deep playoff run: Can they do this in back-to-back seasons?
This is a team with its eyes firmly on the big prize. This team should make the playoffs in a weak Pacific Division. The top Pacific competitors (Los Angeles and Anaheim) are good but seem stuck at their current level. The lesser Pacific competitors are rebuilding, but not yet rebuilt.
The Sharks making the playoffs is expected, and the challenge for the 2016 -17 Sharks is to excel in the playoffs. The usual caveats apply — notably good health. The Sharks were a good team last season, but also lucky to have essentially a fully healthy roster for almost the entire playoff run. They have sufficient talent to make another deep playoff run and capture that long-awaited championship. As long as they are reasonably lucky, this team can live up to these lofty expectations.
Team 2016-17 Record Prediction: 48-25-9 (1st in the Pacific Division)
Make sure to comment below to discuss your thoughts on the 2016-17 Vancouver Canucks, or take to the THW Twitter feed or Facebook page to check out the wide range of NHL coverage from The Hockey Writers.