Ever since the Sharks historic collapse in April the organization has made some questionable changes. These recent moves within the organization currently have Sharks fans losing their minds. Personally I do not agree with everything Doug Wilson and the Sharks organization has done but I cannot criticize something that is unfinished. If you include Tye McGinn and Mirco Mueller the Sharks only have twenty players on their roster leaving three more roster spots to fill. With over $14 million left in cap space the Sharks may add five more players to the team before summer is over either through free agency or via trades. Fans, writers and hockey analysts are acting like it is the end of the world when we are less than a week into the free agency period and a month into the offseason. People are making assumptions before a final roster has been decided or a single game has been played. This is media sensationalism at its finest.
Misunderstood
In retrospect all of these moves at their core are quite small which makes the sky is falling mentality quite strange. After the team was knocked out of the playoffs Doug Wilson made numerous public announcements and used the term "rebuild." Regardless of what was said by the Sharks GM, actions speak louder than words do. The term "rebuild" can mean just about anything coming from the guy who invented the phrase "reset and refresh." When the Sharks started to "reset and refresh" in the 2013 season they traded away Ryane Clowe, Douglas Murray and Michal Handzus in an effort to get faster and younger. Those three players had a combined 16 points in 85 games. So when looking at this years "rebuild" you have to assume that Doug Wilson is approaching it with the same mentality.
Have you ever said something you did not mean or it has been interpreted differently than you intended? Doug Wilson may have said the word "rebuild," but that does not really mean anything until a player like Joe Thornton is actually traded. It is true that Dan Boyle and Marty Havlat were not brought back this season but both players were aging and no longer fit into the Sharks future plans. If San Jose kept both Havlat and Boyle they would only have about $5 million in cap space to resign Tommy Wingels, James Sheppard and Jason Demers. Finally, how can you take a so called rebuild seriously when every player making over $3 million except Antti Niemi has a no-trade or no-movement clause? Words are just words until action has been taken and right now no action has been taken, so there is no rebuild going on in San Jose.
Blown Out of Proportion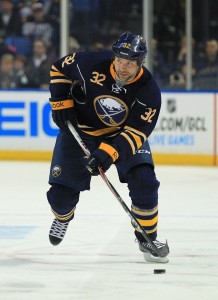 The Sharks started their summer by resigning Alex Stalock and Mike Brown. They also added Tye McGinn, John Scott and issued qualifying offers to six restricted free agents. Overall they did not sign any major free agents to fill voids left in the lineup. Instead they chose to allocate about $2 million dollars in salary to John Scott and Mike Brown. Along with Adam Burish the Sharks are using $3.75 million dollars on three players who have a combined ten points over the past two seasons.
At first this looks terrible but when you look from a different perspective it really is not. These three players have played a combined 246 games over the last two seasons due to injuries and being scratched. Averaged out, each player makes about $1.23 million which is still a slight overpayment for basically two points a season. Still the Sharks are currently paying Marty Havlat $2 million dollars to not play for them. It does not count against the cap but for a team complaining about not making enough money from a TV deal that is concerning. While the Sharks may be making some controversial signings for fourth line players they are not burdening themselves with major cap moves. The Sharks overpaid by a few thousand instead of overpaying by a few million in the cases of Dave Bolland, Matt Niskanen, Brooks Orpik, Deryk Engelland, and Leo Komarov. They also did not overextend themselves into lengthy unmovable contracts. All three players do not have no-trade clauses and their contracts expire within two years. The Sharks also have over $14 million left in cap space meaning anything can happen from now until the trade deadline in March.
Magnified By the Media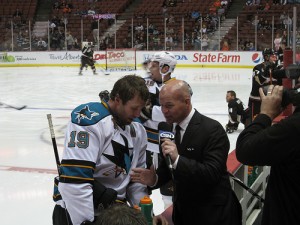 Color commentator, Drew Remenda was let go and will not continue with the Sharks broadcast but perhaps it was better for both parties. We will never know what the inner workings of the CSN broadcast is like and at the end of the day the color commentator does not affect the score on the ice no matter how much fans may like him. Ice Girls were added to the Sharks staff showing that the NHL knows how to demean women too. Still is it really that shocking when so many other teams do it, and when we live in a country where sex sells? Having Ice Girls in San Jose will also not affect the team's performance on the ice. These are two small changes that most fans may not like but neither will have any effect on the team itself. Most will forget about both changes immediately after the season starts.
To make things clear I do not support most of the changes the Sharks have made this offseason but I am level headed enough to realize that these changes will not effect the organization for the long haul. Remember this is a team that is still pursuing its first Stanley Cup. So far in 23 seasons nothing has worked and the Sharks are still trying to get the recipe right. In the 2003 season, the Sharks fired Darryl Sutter, traded Owen Nolan, fired Dean Lombardi and lost Teemu Selanne to free agency. The following season they went on to have their most successful season in franchise history, 6 wins from the Stanley Cup.