TRAVERSE CITY, MICHIGAN– On the afternoon of the second day of activities (July 5, 2014) at Detroit Red Wings Development Camp, the atmosphere changed from that of a classroom on ice to one of head to head competition.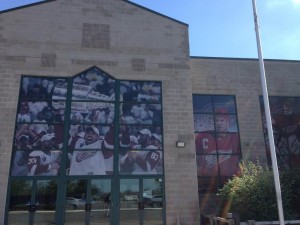 The annual scrimmage game pits the prospects against one another in a game-like atmosphere, complete with a puck drop by Lt. Kristine Volk of the United States Navy Expeditionary Combat Camera Command. A national anthem and game-time playlist imported from Joe Louis Arena completed the scene. The teams, called Team Lidstrom and Team Yzerman, had an impressive audience. In addition to the usual camp personnel and an estimated 250 fans, Red Wings General Manager Ken Holland was on hand to inspect the future of the Red Wings first hand.
Team Lidstrom (White)RobinsonPaterson

Peressini

Hamilton

Marshall

Zottl

Bertuzzi

Natasiuk

Pope

Obuchowski

Spink

Anthansiou

T. Spink

Llewellyn

Nedomlel

Turgeon

Schmidt

Babcock

Nosek

Clarke

Ehn

Czaenowczan

Team Yzerman (Red)HodgsonChelios

Larkin

Hicketts

Coreau

Cooper

Mantha

Globke

Marchenko

McKee

D'Agostini

Johnstone

Sandler

Baun

Gustaffson

Rymsha

McNulty

DeHaas

Bardreau

Vahatalo

Holmstrom

Clare
The goals came quickly in the first period, as the score stood at 2 to 1 in favor of Team Yzerman, dressed in the red jerseys with white trim. However, the moment that drew the largest reaction from the crowd at Centre Ice Arena was from a hit by Team Lidstrom's Richard Nedomlel, a Detroit draft selection in 2011. The hit wasn't malicious; it just stood out in s scrimmage in which no one seemed overeager to bang bodies. While not as rough or wild, the hit brought back memories of Tyler Bertuzzi's freewheeling performance last year during this contest. Play was stopped, but the hit escalated no further, and Nedomlel went on to play responsibly the rest of the game.  Team Yzerman's first tally came from speedy forward camp invite Joe Hicketts who scored a good-looking wrist shot goal that showcased him using his smaller stature (5' 8", 184lbs) to his advantage, by slipping inside the defense and cutting to the center. Team Yzerman's first tally was from Alex Globke. Scoring for Team Lidstrom was center Tomas Nosek, the only Detroit free agent signing to attend the camp. Even though he has some adjusting to do before he truly can excel in North America, his game was strong and he looks like a solid signing for the Red Wings.
Cristoffer Ehn for Team Lidstrom and Julius Vahatalo both added a goal, making it 3-2 in favor of Team Yzerman heading into the final minutes of the game. Team Lidstrom went to an empty net, but couldn't muster the tying goal.
The game concluded with a 5 shooter per side exhibition shootout, and only Team Lidstrom could find the back of the net.  Scoring were Andres Athansiou and Tomas Nosek. Nosek's move was brilliant, dekeing the goalie out side-to-side and firing the puck into a wide open net. What stood out about this goal was his patience to wait the shot out, and not panic with the puck and the spotlight on him. 2013 first-round draft pick Anthony Mantha's shootout attempt tried to get a little too fancy, and he wound up missing the net and crashing into the end boards.
Overall, the scrimmage provided an outstanding opportunity to see how far many of these prospects have come from last year. Tyler Bertuzzi has settled down and looked very steady and responsible on the ice, and Anthony Mantha looks to have added size. Camp continues this week, and The Hockey Writers will be on site until Monday afternoon.