Garth Snow, making moves and headlines.
Islanders have traded a 2015 5th round pick to the San Jose Sharks in exchange for the right to negotiate with the 37 year old Dan Boyle. Should Boyle sign with the Islanders, the pick will turn into a 4th round pick. Newsday's Arthur Staple broke the news.
Boyle has collected some impressive offensive numbers over his career, scoring over a half a point per game for his career. However, Boyle's production has dipped in recent years, netting only 36 points in 76 games played for the Sharks. He's perhaps best known for winning a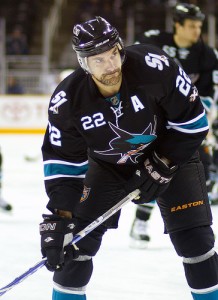 Stanley Cup in 2004 with the Tampa Bay Lightning.
At 38 years of age, Boyle is no spring chicken and one has to question if it was a wise decision to trade a pick for an unrestricted free agent that could refuse to sign and, even if he does sign, would be 38 when the season begins. However, this further proves my point that Garth Snow is taking no prisoners this year and that Jack Capuano will be responsible for the success or failure of the team, not Snow.
Cut to the Chase- Is This a Good Move?
That hinges on whether or not he signs, and what the contract is. My hope would be two years, eight million with a cap hit of four million dollars. He's coming off a season where he made over six million, so a pay cut may hurt the ego but would be deserved considering his age and production.
Also, considering that they traded away a 5th (or optimistically, a 4th) to talk to Boyle- the Islanders do not need to stack the barn with deep picks anymore. The team is built to be competitive within the next few years, minus the need for a top line winger with a lot of time remaining in the off season. I have no issue giving up the pick.
The other thing with Dan Boyle is that he is a righty. Why is this important?
Boyle's a righty, and that's important given Martinek's probably gone and Carkner is, well, Carkner. Only other righty is Hamonic.

— Mike Halford (@HalfordTSN) June 5, 2014
This balances the pairing a bit more and will certainly help on the power play.
The biggest thing to hope for is that should Boyle sign, that he will not be playing upwards of 20 minutes per game, simply because of his age. Hopefully he's find himself as a second pairing guy, perhaps next to Visnovsky (should he return) or Hickey.
So with this trade and eventual signing, another chapter on the 2014 Islanders off season is written. What are you hoping for next in the summer of Snow? Leave your comments in the section below!