Columbia, MO (July 6, 2014) – Blackhawks general manager Stan Bowman always seems to have cap troubles on his mind during the offseason. After capturing the Stanley Cup in 2010, Bowman was forced to deal key players from that team. Centerpieces such as Dustin Byfuglien (17 G, 17 A), Andrew Ladd (17 G, 21 A), Kris Versteeg (20 G, 24 A), and goaltender Antti Niemi (26-7-4, 2.25 GAA, .925 SV%), among others saw their times come to and end in Chicago as Bowman felt the pressure to stay under the cap. The next season, Chicago stayed elite with a 44-win and 97-point season.
Again in 2013 after winning the Cup for a second time in four years, the 'Hawks had to shake up the roster in the offseason. Between free agency and trades, fan favorite Dave Bolland along with Viktor Stalberg (9 G, 14 A), penalty killing specialist Michael Frolik, as well as goaltender Ray Emery (17-1-0, 1.94 GAA, .922 SV%) departed. The following year, Chicago was one goal away from reaching the Cup Finals again.
Recent/Expected Moves
Why should this offseason be any different? Bowman once again faces the same challenge of figuring out which guys to pay while satisfying the salary cap. This one may not be quite as hectic, but nonetheless Bowman will have to work his magic. Having signed cheap a second-line center in Brad Richards and traded away Brandon Bollig and his $1.25 million cap hit, the 'Hawks are in fairly good shape. However, there is still work to be done because Chicago sits $2,216,795 over the cap and still is in negotiations to re-sign Jonathan Toews and Patrick Kane. Although it has been reported that Toews and Kane have asked for $12 million per season, expect each to sign for somewhere closer to $9-10 million.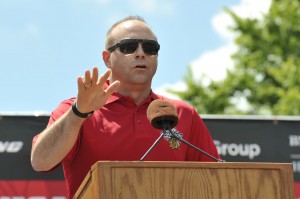 As far as unrestricted free agents go, Bowman has done a nice job of solidifying depth in the roster and has done it inexpensively at that. He inked Antti Raanta, Ben Smith, Jeremy Morin, and Peter Regin for a combined $3.7 million.
Who Else?
Now comes the question of how to shed more salary to make room for the larger contracts of Toews and Kane. The biggest dent in that issue could be made by getting rid of Kris Versteeg's $2.2 million cap hit. Versteeg is an easily replaceable commodity, especially given the disappointing numbers he put up last season, and at that salary, he just is not worth it. Replace him with Joakim Nordstrom, who has primarily played the center position, but can also fill in on the left side. Nordstrom played in spurts with the 'Hawks last season, but spent most of his time down in Rockford (AHL). He tallied 17 goals and 33 points over 58 games with the IceHogs. Even more important is that Nordstrom comes at a bargain at $750,000.
Although he is idolized by fans, Bryan Bickell is the next name on the list based on his unimpressive numbers from last season. The 28-year old tallied just 11 goals and 15 points last season after he received a pretty hefty extension for his playoff heroics in 2012-13. Bickell's $4 million cap hit can be looked at as dead weight. Teuvo Teravainen might need a little more time to develop but could be a nice replacement for Bickell. Doing so would save the 'Hawks $9,317,499 over the course of three seasons before both become free agents in 2018.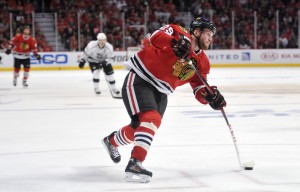 Switching over to the defensive side, Michal Rozsival is the biggest name to jump out as easily replaceable. His production has slowed every season since 2006-07 and at a $2.2 million cap hit and 35 years of age, Bowman should have no problem finding someone to fill in for him. Take a David Rundblad at $785,000 or seal a new contract with Sheldon Brookbank for a touch over $1 million and either one would save some money without losing much production.
Bowman has been quiet in revealing what the Blackhawks plan to do to shed more salary, but he has plenty of options.