The Sharks have officially entered the 2018 offseason after their Game 6 loss to the Vegas Golden Knights. Players and management will take a few days to digest the heartbreaking end to their season, but after that, it's back to work. Doug Wilson has an important summer ahead of him and can alter the franchise's next decade. Here's what is on Wilson's list this summer.
Make John Tavares a San Jose Shark
The Sharks have the cap space and financials to make a John Tavares contract work. The Sharks haven't had to worry about finding a first-line center since they acquired Joe Thornton in 2005. Once you have your franchise center, you can usually build around them for a decade which is actually what Wilson has done with Thornton. Now that Thornton is nearing 40 years old, it's time for him to pass the franchise center tag to someone else.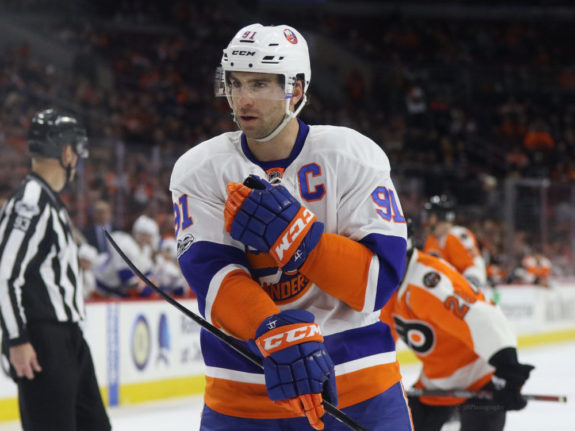 Since the Sharks won't have a top three pick anytime soon in the draft, they need to acquire a franchise center another way. Tavares seems to be headed towards the open market this summer and the ability to add a player of his caliber without trading away any assets is a rare situation to come across. Wilson appears to be setting the stage for a massive offer to Tavares due to the health of their cap space situation. If Tavares decides to leave New York, there isn't a place that makes more sense than San Jose. The Sharks can offer him the most money, most term, a team in win-now mode, an opening at first-line center, and a desirable place to live. No other team can offer him all of those things like San Jose can.
What could a Tavares contract look like? Wilson would be faced with at least $10 million per season for seven years. Tavares could potentially command equal to Connor McDavid's contract of $12.5 million per season due to the high competition for his services. No matter how much, Wilson needs to get it done if he wants the Sharks to remain a top team for years to come. Tavares is the most important signing that Wilson could make and all other signings should work around Tavares.
Re-Sign Evander Kane
Evander Kane changed the dynamic of the Sharks as soon as he arrived from the Buffalo Sabres. In 26 games, he had 13 goals and 19 points at the end of the regular season and two playoff series. He achieved a .5 goals per game average while playing injured for most of the last few games of the season and all of the playoffs. After losing to the Golden Knights, it was reported by Kevin Kurz with The Athletic that Kane was playing through a separated shoulder and MCL injury.
Evander Kane tells me he had a separated shoulder, and earlier an MCL injury #SJSharks

— Kevin Kurz (@KKurzNHL) May 7, 2018
It's unfortunate that Kane was banged up to start the playoffs, but it is somewhat of a relief because he wasn't playing like the type of player everyone knows he can be. The injury trouble explains his lack of jump in the Vegas series. Judging Kane off of this playoff series would be a mistake because he is fully capable of being a 40-goal scorer on a good team like the Sharks. Kane brings more than pure goal-scoring ability too. Every team needs some tough guys, and although the days of one-dimensional tough guys are over, there is plenty of room for a high-scoring tough guy. The only player the Sharks currently have on their roster that throws his weight around is defenseman Brenden Dillon. A speedy top-six forward who protects his teammates is hard to find.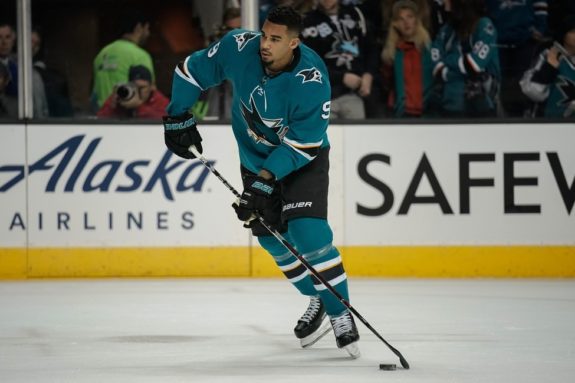 Wilson acquired Kane with the hope that he would resign and now he can start negotiations without distracting the team. If Wilson can get Kane to sign in the $6-$7.5 million range for five years, then it would be a win for the organization.
What To Do About Joe Thornton?
Words aren't able to describe the impact that Thornton has had on the Sharks organization. He's by far the franchise's greatest player of all time and probably always will be. He's a sure-fire Hall of Fame player that still has people scratching their heads on how he didn't make the NHL's Top 100 Players list.
However, Thornton turns 39 this summer and is coming off another knee injury. Although Thornton has been skating for the last month, he didn't play a single game in the playoffs and those that know Thornton know that he will play through pain if it means he's helping his team. He had 36 points in 47 games this season before suffering his knee injury and was just starting to ramp up his play after a slow start. Thornton made $8 million on a one-year contract this season, and if the Sharks want to sign him to another deal, they will need to get his salary down.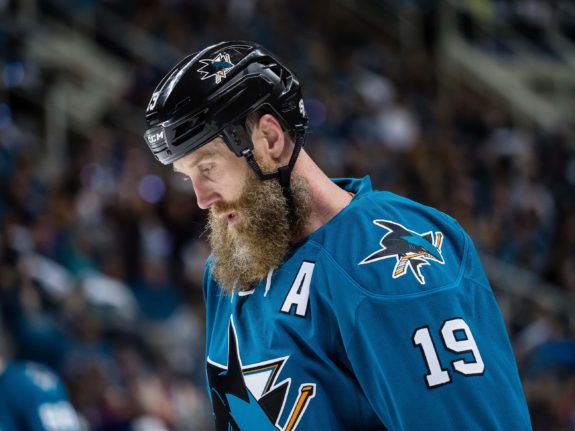 He's not a first-line center anymore, and he would have to take a reduced role if he were to re-sign. The most logical spot for Thornton to slot into is the third-line center role. He can play with a couple of speedy young wingers who will get him the puck and allow him to do what he does best in the offensive zone – protect the puck and make mesmerizing passes.
If the Sharks can get Thornton to sign a one-year contract worth $2-$4 million, then they shouldn't hesitate to bring Jumbo Joe back to the Bay Area. Thornton may be looking for a higher dollar amount, and if that's the case, then the Sharks may have to say goodbye to their franchise's most treasured player.
Wild Card: Would Kovalchuck Reunite With DeBoer?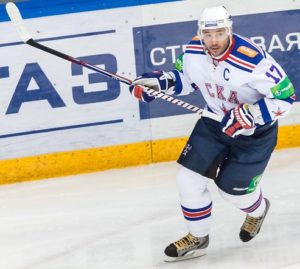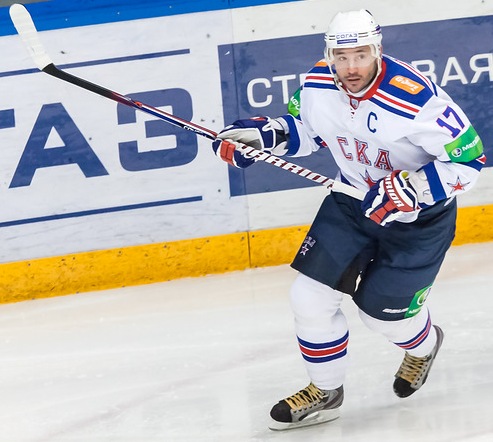 Tavares gets all the headlines, but Ilya Kovalchuk has said he is coming back to the NHL next season. It would be quite a feat if Wilson were able to sign Tavares, Kane, Thornton, and Kovalchuk but if the price is right, he should pursue. Kovalchuk has played 816 NHL games and recorded 816 points. He has a history with Peter DeBoer from their time in New Jersey together, and DeBoer had nothing but good things to say about his time coaching Kovalchuk.
Kovalchuk has been in the KHL since 2013 when he "retired" from the NHL and left the New Jersey Devils. While in the KHL, he has amassed 327 points in 298 games (including the 2012-13 season during the NHL lockout) and won two KHL Championships. He just turned 35 years old, but he can still make an impact in the NHL. If Kovalchuk values winning a Stanley Cup above money, then the Sharks have to be in the conversation.
Signing Kovalchuk to a similar deal as Thornton would allow the Sharks to add the former first overall pick and instantly become one of the top contenders in the league for the 2019 Stanley Cup. At the very least Kovalchuk would be a nice consolation prize for the Sharks if they are unable to sign Kane.
What Could the Sharks' Lines Look Like?
This is a lot to ask of Wilson, but he's a seasoned vet working the phones, and if anyone can make this happen it's him. Here's what next season's lines could look like with all of the above signings.
Evander Kane – John Tavares – Joe Pavelski
Timo Meier – Logan Couture – Ilya Kovalchuk
Tomas Hertl – Joe Thornton – Joonas Donskoi
Marcus Sorensen – Chris Tierney – Kevin Labanc
The Sharks' defensive core and goaltending are great as is. No changes would be necessary on that front.
Can Doug Wilson Fit This All Under the Cap?
The burning question is how the Sharks' cap situation would look like with all these signings? Get ready for some numbers. The salary cap is currently $75 million and is expected to increase to $79-$80 million for next season and the Sharks are committed to $60,490,417. The currently rostered players that will need new contracts are Hertl, Tierney, and Dylan DeMelo. Tierney will likely get a contract in the neighborhood of three years for $2 million per year after a good regular season. DeMelo is also looking at a three-year deal at about $1.5 million. Hertl is the tricky one.
Hertl had 22 goals and 46 points in 79 games this season. He followed that up with six goals and nine points in nine playoff games. He's certainly due for a raise from his current $3 million, but the question is, how much? He's shown flashes of elite ability, but 46 points are still not close to being elite. He is likely to land a three to five-year deal in the $6 million per year range.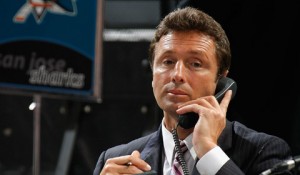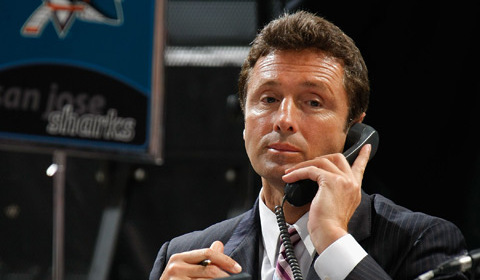 If you're doing the math then this would put the Sharks at $69,990,417 after signing Hertl, Tierney, and DeMelo. Adding Tavares at $10 million, Kane at $6 million, Thornton at $3 million, and Kovalchuk at $4 million would put the Sharks at $92,990,417. They'll need to shed Paul Martin's contract now that Joakim Ryan has replaced him which would get them down to $88,140,417. Sorensen's emergence makes Mikkel Boedker expendable and also frees up another $4 million in cap space. Melker Karlsson seems to lose his spot on this team with other younger players in the system, so that's another $2 million off the books. This puts the Sharks cap hit at around $82 million and about $2 million over the projected cap.
Wilson is capable of finding clever ways to get the overall cap hit down, and it could involve Thornton taking an even smaller contract. It was something he was willing to do last summer when he thought Marleau would also be re-signing with the Sharks. Thornton's $8 million this year was the most he has ever earned in one season, and it seems like Wilson was okay with giving that to the veteran since there was an abundance of cap space this past season.
Landing all four of these players would easily put Wilson in the front running for GM of the year. The most likely situation is that two of these four get signed by the Sharks, but it remains to be seen who Wilson's number one priority is. Wilson has expressed that he is looking for players to help now and in the future. Kane and Tavares are the two that fit that bill since they are both 26 years old. Which big fish do you think Wilson lands?
Mac has been playing hockey since he was four years old and as he grew older he discovered a passion for sharing this great sport through writing. Growing up in California, hockey always took a backseat to other sports, but that never stopped him from learning more about hockey. His primary focus will be covering the San Jose Sharks.