The Providence Bruins were a good team this season. They were able to blend youth with some key veteran players to compile a 45-26-3-2 record. Although the 95-point season was only good enough for the Atlantic Division's fourth and final playoff spot, their place in the standings doesn't tell the whole story.
The P-Bruins finished with the seventh-best record in the league overall. They outshot the Lehigh Valley Phantoms in three out of four games but lost the first round series 3-1. The game they were outshot was by one shot. Yes, they deserved better, but a lot of positives can be taken from the season for fans in Boston and Providence alike.
Goaltending Question Mark for 2018-19
In the end, the P-Bruins' goaltending duo of Zane McIntyre and Jordan Binnington was unable to match the performance of Lehigh Valley's Alex Lyon. Lyon helped his team steal a game on the road in Game 1, and later stopped 49 of 52 shots in a clinching game five. Dustin Tokarski even filled in for Game 3, stopping 33 of 34 shots. The P-Bruins' tandem just couldn't match the performance from the Phantoms' netminders.
The P-Bruins had some slow starts on the road. To be fair to the goalies, a slow-starting team on the road isn't a recipe for success. However, they needed better than the combined .871 save percentage to have a chance on the road. It will be interesting to see what the organization does at the AHL level with the goaltending position.
Despite the disappointing playoff performance, Binnington made the AHL All-Star Game this season but remains St. Louis Blues property. McIntyre will be back next season. He had mixed results, bouncing back from early season struggles to finish with a 2.52 goals-against and 9.14 save percentage in 47 appearances.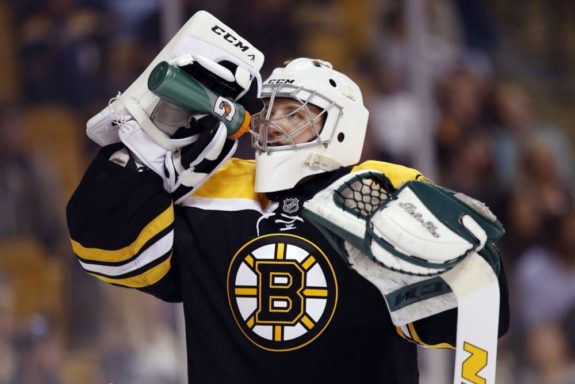 It's likely 20-year-old Daniel Vladar will be given his first full AHL season in 2018-19. Vladar was a third-round pick in 2015 and already has two ECHL seasons under his belt. The 6-foot-5 netminder will be worth keeping an eye on. Despite the professional experience, he's still very young for a goalie. Moving to the AHL at a young age would be a big step for his development.  The Bruins should give him the opportunity instead of signing a veteran to compete with McIntyre.
One of the benefits to the Bruins' organizational depth means a lot of hungry young players will be returning to the Providence roster next season. On defense, a couple of prospects will be looking to take the next step. 2015 first-round pick Jakub Zboril looks poised to break out in 2018-19. He was visibly more assertive towards the end of the season.  The Czech defenseman had a solid rookie season and was one of the P-Bruins' top defensemen by season's end. He will likely be back as an impact player at the AHL level, with a chance for his first call-up next season.
Jeremy Lauzon is another young defenseman who will be looking forward to 2018-19. Lauzon was off to a hot start, looking much like the versatile and physical presence he was in the Quebec Major Junior Hockey League (QMJHL). Although he wasn't racking up the points, positive things were happening with Lauzon on the ice. Unfortunately, a concussion seemed to slow Lauzon. After missing 22 games mid-season, a summer to train and return to the lineup healthy could do wonders for the defenseman.
Both defensemen are still young. Lauzon just celebrated his 21st birthday in April. They both have shown flashes of the skill that enticed Boston to make them high draft picks, Lauzon went in the second round in 2015. They will be back on the P-Bruins' blue line with what should be another solid group next season. Connor Clifton will be joining them, as the hard-nosed former Quinnipiac Bobcat earned his first NHL contract this season.
Young Forwards Showing Promise
The forward group may have more uncertainties heading into next season. The big question for Providence fans will be Austin Czarnik's future. Czarnik separated himself as one of the league's elite offensive threats this season, earning a second-team All-Star selection. As an unrestricted free agent, it seems likely Czarnik will want to explore his options. He hasn't been able to crack the Boston lineup and the Bruins organization has added more young talent at forward over the last year.
Czarnik was the best forward on the ice for either team in the first-round playoff series. There isn't much left to prove at the AHL level. If he does decide to seek a new opportunity, it will be a tough loss. With that said, there s still plenty of young talent returning at forward. A number of late-season additions impressed in a small sample size as well.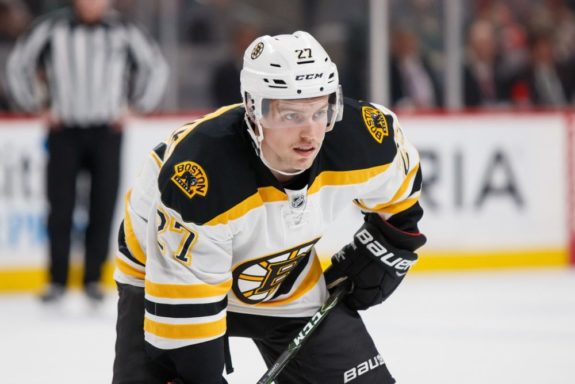 Jakob Forsbacka-Karlsson was in the midst of a strong rookie campaign before suffering a concussion in February. When healthy, the smart two-way player appears to be a player that will be a part of the plans in Boston moving forward. Combined with Trent Frederic, the P-Bruins will be very strong at center next season.
Frederic was impressive after joining the P-Bruins at the completion of his sophomore season at Wisconsin. He put up a 5-3-8 stat line in 13 regular-season games. The physical nature of the pro game didn't seem to phase the big center. Frederic has the look of a player that may not spend too much time in Providence. For 2018-19, he should be expected to be an impact top-six forward in Providence. Ryan Fitzgerald, Jordan Szwarz, and Peter Cehlarik are other forwards that can play a top-six role and will return next season. Cehlarik showed off his sniping capabilities with a pair of goals against Lehigh Valley.
There will be some turnover as there always is at the AHL level, but Providence will be returning a lot of key pieces to what was a talented group. It's unfortunate the Atlantic was one of the league's toughest divisions, but the P-Bruins look poised to be back next season.