It was not the happily-ever-after ending this team was looking for. The Stanley Cup cannot call San Jose home for yet another year. It just was not the Sharks' time.
The San Jose Sharks' 2016 playoff run was one for the ages for this younger NHL franchise. For the very first time, this fan base witnessed their Men in Teal power through not one, not two, but three brutal playoff rounds, each with their own formidable opponents.
The Sharks achieved their initial task of knocking out their beloved rival Los Angeles Kings, getting over their first major hump of the postseason and ridding the San Jose faithful's minds of the epic collapse from two seasons before.
Then came the Nashville Predators, who gave the Sharks their first major scare, forcing the series to seven games. But this San Jose squad showed that they could come to play when put under the pressure of a Stanley Cup Playoff elimination game, devouring the Predators 5-0.
When the St. Louis Blues came to matchup against the Sharks, San Jose proved itself worthy of its first ever title of Western Conference Champions, as they were able to solve the mysteries of Blues head coach Ken Hitchcock and stop the likes of David Backes and Troy Brouwer.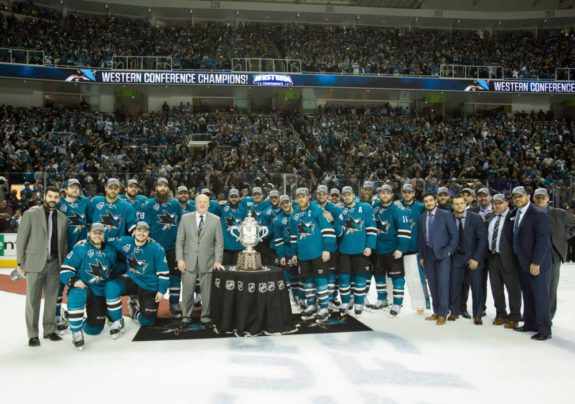 The Round Three, Game 6 victory was possibly the greatest win in San Jose Sharks history. Not only was it the first time San Jose would see its beloved Sharks advance to the Stanley Cup Final, it was the first time Sharks fans could legitimately chant, "We want the Cup! We want the Cup!" as the seconds on the game clock ticked away.
And while the Sharks were clearly outplayed in the Final series, facing the Sidney Crosby-charged Pittsburgh Penguins, San Jose never truly appeared to be so down-and-out of the series with no hope at all. Despite being outshot 206-139 in six games, the Sharks did not lose a game by more than two goals.
Many critics will believe this was San Jose's last chance to finally do it, to finally prove the hockey world wrong, and to finally bring home the grandest trophy in all of sports to San Jose before that "closing window" finally closed.
Yes, Joe Thornton and Patrick Marleau are on the wrong side 30 and approaching their twilight hockey years fast. But who is to say this squad cannot repeat what they achieved this season and take it to an even higher level next season?
Here is why the San Jose Sharks will be back in the Final next year, with an even better chance to win it all.
The Man, the Myth, the Legend: Martin Jones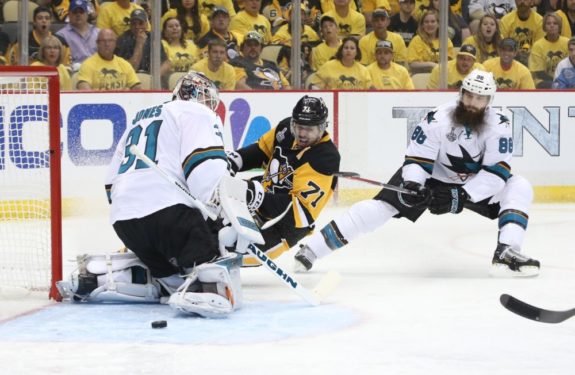 There is no denying it. Martin Jones was the best Shark in the postseason, especially in the Final. If it was not for Jones proving himself to be an elite starting goalie, making unbelievable save after unbelievable save, the Sharks would have had quite an embarrassing first-ever Stanley Cup Final experience.
Jones faced three Final games where he saw more than 40 shots on net, including Game 5 where he stopped 44 of 46 shots. It was the most saves ever by a Sharks goalie in a regulation playoff game.
The 26-year-old netminder finished the postseason with a 2.16 goals-against average and a .923 save percentage, not to mention registering three shutouts as well. Jones was the reason the Sharks stayed competitive, and a big reason why this team will be back in the Final in 2017.
Oh, They Grow So Fast
The youngsters came to play this postseason for San Jose, as Chris Tierney, Joonas Donskoi, Melker Karlsson and Tomas Hertl all made notable and significant contributions. Each of these young forwards had at least five goals and eight total points as they combined for a plus-19 rating on the ice in the playoffs. Probably the most pleasant surprise was Donskoi's powerful performance, netting six playoff goals, which included the Sharks overtime game-winner against the Penguins in Game 3 for San Jose's first Stanley Cup Final victory in franchise history.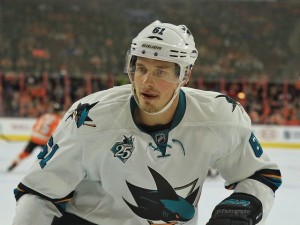 Although he can't be called a youngster per se, Justin Braun was a Shark that proved he has come a long way in his six seasons with San Jose. He put in his only two postseason goals in back-to-back Final games against Pittsburgh, and had five assists in the playoffs, finishing with seven points. But his contributions came in more than just point totals, as Braun showed huge signs of growth in his abilities as a defenseman. Look for him as well as the young forwards to come to play again next year, this time as Stanley Cup Final-experienced men.
Do It for Patty and Joe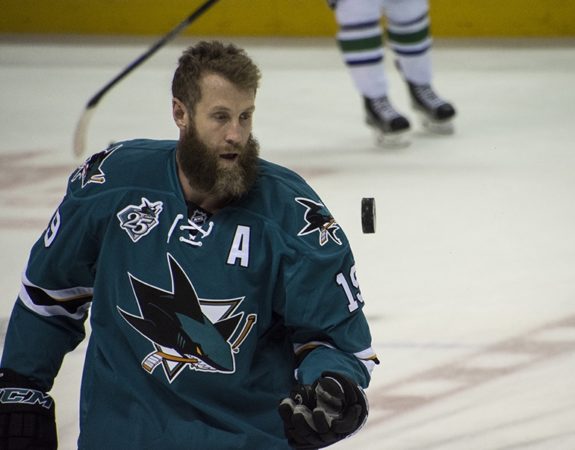 If there are two players that deserve their name on the Stanley Cup, it's Joe Thornton and Patrick Marleau. The top-two draft picks from 1997 have become franchise players for the San Jose Sharks – both having led the team as captain for multiple seasons — and have proven themselves to be valuable, skilled players that are sure to find their names in the Hockey Hall of Fame in the future. But for now a huge, daunting task still remains; that is to win the Cup.
Sharks fans would love nothing more than to see a bearded Thornton and Marleau raise the Cup above their heads in the Shark Tank, fulfilling all those seasons of hard work and justifying the repeated shortcomings of postseasons gone by. Both players have just one year remaining on their contracts with San Jose and have expressed their desire to stay in Northern California with the hope of getting back to the Final.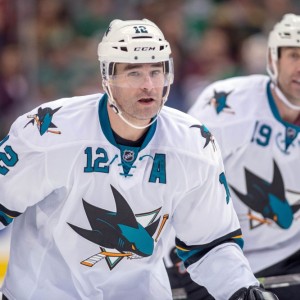 But in order to make that happen — and especially in order to accomplish the final task of winning the Cup — top players like Thornton, Marleau and current Sharks captain Joe Pavelski are going to have find ways to contribute more than they did against teams like Pittsburgh that they will face in the future.
So why couldn't the Sharks return to the Final next year? Without even mentioning other contributing key postseason players like Brent Burns, Logan Couture and Joel Ward, it seems the Sharks could have the ingredients for another deep run next season and even a Cup victory. It isn't like this has never happened in the past either. In 2008, the Pittsburgh Penguins lost in six games to the Detroit Red Wings in the Final, only to comeback the following season and defeat Detroit in seven in the 2009 Final.
Yes, this Cup loss stings San Jose fans. But think of how far this team has come since the lowest point in franchise history two seasons ago; just remember how bad that reverse sweep against Los Angeles tasted, and how much worse that taste got as the Kings continued on to win the Cup that very same postseason.
This year's Sharks playoff disappointment has bright spots. They made it to the Final and have the pieces in place to make a likely return.
To quote Alfred Pennyworth in Christopher Nolan's Batman Begins: "Why do we fall? So we can learn to pick ourselves up."
Ben is a graduate of the University of Southern California with a degree in Broadcast and Digital Journalism. Hailing from the East SF Bay Area and raised on college football and basketball, Ben found his true sports passion in ice hockey, watching the boys in teal from San Jose. He covers the San Jose Sharks for TheHockeyWriters.