In this follow up post to last week's Fantasy Hockey Stock Report dealing with the goalies and defensemen who best helped their causes for fantasy hockey next season, today we'll look at the forwards who best helped their cases this postseason. We saw some fantastic performances from some of the top forwards in the league in these playoffs, and some surprising players rose to the top as well.
All the names on this list are known, but some of the stats they put up in the postseason may come as a bit of a surprise to some readers who forgot about them. This list is very likely to change come the off-season thanks to both free agency and the trade market. Some players on this list could be moved come draft day, while others might be signing on the dotted-line and looking for a new address come free agency on July 1. I'll touch on those possibilities in the piece. So now let's take a look at the forwards who most helped themselves going into Fantasy Hockey drafts next season:
The HBK Line, Pittsburgh Penguins
Sidney Crosby may have taken home the Conn Smythe to go along with his Stanley Cup, but you can make the argument that the Penguins would not have gotten as far as they did without the consistent play from the aforementioned "HBK" line. The trio of Hagelin, Bonino and Kessel came together towards the end of the season when Evgeni Malkin went down with an injury. The line, and the Penguins, never looked back.
Kessel, the enigmatic winger who was much maligned during his tenure in Toronto, took some time to settle in with the Penguins this season. Under Mike Johnston to start the season Kessel was saddled on a line with Crosby that didn't take and led to both players under-performing, with Kessel notching only 21 points through the end of December. However after Mike Sullivan took over Kessel took off and put up 38 points after January 1, including 16 points in 16 games in March.
Kessel only got better in the playoffs and proved the organizations faith in him as a prime-time player by leading the Penguins in goals and points this postseason. The expectations for Kessel last season were high going into his first season in Pittsburgh and he delivered on that in the second-half of the year. Fantasy players probably will not invest in him as highly as they did last year, but if he is on your board in the third round, and certainly if he slips to the fourth, that is a good time for you to start targeting him.
That HBK line tho pic.twitter.com/WzkUVdH0UK

— NHL on NBC Sports (@NHLonNBCSports) June 13, 2016
In a savvy and underrated trade by GM Jim Rutherford last off-season the Penguins traded Brandon Sutter, a key piece of the Jordan Staal trade, to acquire Nick Bonino to better solidify their third line. Little did they know that he would potentially push the organization into a position where they could consider trading Evgeni Malkin and moving Bonino permanently into the second line pivot role. The centerman had a down season this year in the regular season posting a sub-30 point year and playing only 63 games after seasons of 49 and 39 points respectively in his prior two seasons. However, his game took another step in the playoffs and he tied-third on the Penguins in points in the playoffs with 18 and led the team with a plus-9 +/- rating.
It's hard to see the Penguins breaking this line up heading into next year and players believing that the trio can duplicate things over an entire season may jump on him earlier than others. He projects as a solid 3/4 center for your fantasy team and a guy you should start to target in the early-middle rounds of your drafts.
Yet another great trade by Rutherford that set the Penguins on this path was acquiring Hagelin and parting with the failed experiment that was David Perron. Hagelin was waffling about in Anaheim but immediately found his footing in the Penguins top-six after the trade. The speedy Swede found himself playing with Kessel and Malkin right off the bat, and after posting 12 points and 82 SOG in 43 games with the Ducks, Hags found the net 10 times and added 17 helpers in 37 games post-trade. Hagelin managed 96 shots while playing in Pitt and posted a plus-18 rating, good for a plus-28 shift from his minus-10 rating in Anaheim.
This line added defensive responsibility, strong possession and solid offense in the playoffs, and all signs point to them sticking together to start next season. Hagelin, who between his two teams this year posted a career-high 39 points, should start to be targeted by fantasy owners in the early-teen rounds with the thinking that he will be a firm top-six player to start the year next season.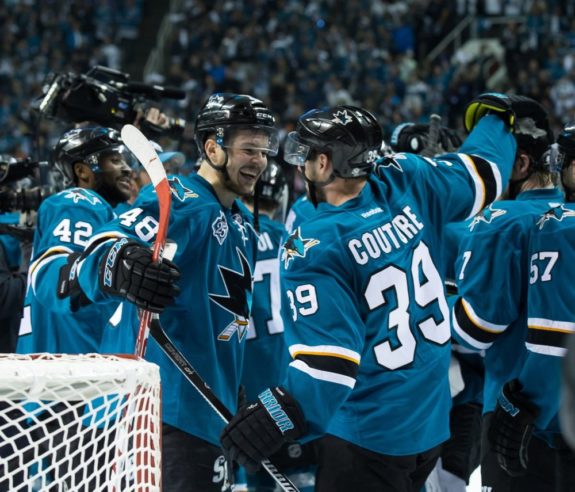 Logan Couture, San Jose Sharks
Couture is a known fantasy commodity whose stock took a big hit in the regular season this year. The young centerman is looked at as the future in San Jose, along with Joe Pavelski, but his regular season was anything but that. Riddled with injuries to start the year Couture played only 57 games, missing all but six games until the start of January and then finding himself struggling to produce offense in his first month back. He picked it up big-time in February posting 14 points in 14 games and continued that with 12 points spanning March and the final four games in early April. It was in the playoffs where he found his game and shined.
Couture was solid against the Kings in the opening round and exploded against the Predators posting 11 points in the series. He broke Igor Larionov's Sharks franchise-record of 18 playoff points in second game of the WCF against the Blues when he notched his 19th point. The 27-year old finished the postseason six points clear of the nearest scorer in the NHL tallying 30 points (10G, 20A) and 11 PPPs in 22 games to lead all players, while centering the team's second line and first power-play unit. The Couture that we saw in the second-half and postseason is the one that fantasy hockey owners should have no trouble expecting to show up next year and should draft him accordingly as a top-30 overall asset, and it should be an easy keep for those who have him in any keeper leagues.
Jonathan Drouin, Tampa Bay Lightning
After Steven Stamkos needed surgery on a blood clot in his right arm at the end of the regular season the Lightning were forced to turn to a place they had tried to avoid earlier in the season. The very public spat between the Lightning and Drouin is well-known at this point, as are his subsequent hold out and suspension after his demotion to the American Hockey League. Fantasy owners who invested earlier in Drouin, especially in keeper leagues, were left with a useless asset who was taking up a roster spot while they waited to see if he was traded. That didn't happen and you can make that argument that without Drouin the Lightning might not have gotten to the cusp of their second-consecutive Stanley Cup final with their Captain on the shelf.
From the end of December until his two games in April Drouin didn't see a game at the NHL level. In his two April games after the call up he notched a goal in both and carried that strong play into the playoffs. There we saw the flashes on the Drouin that was drafted third overall in the 2013 NHL Draft. Drouin posted nine points in the teams first 10 games against the Red Wings and Islanders. He added another five points in the seven-game loss to the Penguins that ended the Lightning season. Ultimately Drouin finished tied with Victor Hedman with 14 points, good for third on the team, and led Tampa Bay with six points on the man advantage.
Jonathan Drouin production above his career average over past 14 games (despite playoffs being tougher to score in) pic.twitter.com/MfHQlvYeEf

— StatsCentre (@StatsCentre) May 21, 2016
Still only 21-years old it seems that the fences have been mended between player and team. It sent shockwaves through the hockey world when he and his agents publicly demanded his trade, and even more when GM Steve Yzerman declined to move the talented winger at the deadline. Cooler heads prevailed and that could be a good thing moving forward for all parties. Regardless of Steven Stamkos staying or leaving via free agency Drouin will be a top-six forward for the Lightning next season and will be a must-own, top-100 fantasy player to start the year. Still only 21-years-old, those in keeper leagues, especially long-term keeper leagues, should consider him, but it's understandable if some are leery about that investment before seeing what he can do over the course of a full season.
David Backes and Robby Fabbri, St.Louis Blues
One, the heart-and-soul Captain who wears his emotions on his sleeve, and the other, the up-and-coming rookie who is presumably going to take his place in the lineup when free agency begins, the two Blues forwards both helped their fantasy stock for next season with the postseason performances.
Backes is viewed around the league as one of the best Captains in the NHL and he always carried himself that way. Heading into free agency in a few weeks, Backes helped his case this postseason after a sub-par year for the Blues. In his 10 years in the league Backes has broken the 50-point barrier in half of them, while being on pace to hit that mark in the lockout shortened season in 2012-2013. His 45 points this season were his lowest full-season total in six years.
Backes quelled any fears that he wasn't the player he has been in years' past with his performance in helping the Blues to the Western Conference Final. In 20 games in the playoffs Backes put up 14 points, tied for second on the Blues. He added four PPP and 36 SOG, while posting an impressive 19.4% shooting%. Backes is a great all-around asset for any hockey team, especially when it comes to fantasy. Fantasy players always need to consider what he bring to the table outside of his offense. In those leagues that count any, or all, of PIMs, hits, and blocked shots as categories Backes becomes a top-75 player.
It is almost a foregone conclusion that Backes will not return to the Blues who have both Troy Brouwer (UFA) and Jaden Schwartz (RFA) in need of contracts this off-season. Despite his solid output in the playoffs Backes finished playing wing on the Blues third line. He still has a lot left in the tank at 32, has the versatility to play center or wing and is still capable of playing a significant top-six role while bring a physical element to whichever team he goes to. As I said above for leagues that count more than just offensive categories Backes is a top-75 player. In those offense-only leagues he is still a solid player to draft in the rounds 9-11 range, especially if he retains dual eligibility at C/W.
One of the players who will step into the Blues top-six next season is Fabbri. The Blues 2014 First Round draft pick spent the majority of the year with the Blues in the middle-six of the lineup, mostly on the third line. A promotion to the second line in Feburary led to a 19-point scoring outburst that covered 25 games in February and March. Fabbri finished the regular season with an 18-19-37 stat line, while playing mostly a wing position.
The playoffs were a coming out party for the rookie forward. In 20 games he tied Vladimir Tarasenko for the team lead in points with 15, including leading the team with 11 assists. He needs to increase his SOG output going into next year, something that is not uncommon for players entering their sophomore seasons. He managed only 114 this season, and added only another 28 in the playoffs. However that number should grow with an expanded playing role and more confidence. Making him even more valuable, much like Backes, is the fact that he finished this season dual eligible as both a center and wing. The prospect of Fabbri playing in the top-six and on the Blues top power-play unit make him a great value asset if you're able to grab him somewhere starting around rounds nine or 10 as well.
Colin Wilson, Nashville Predators
This is one player that a lot of people are hoping is able to breakout come next season. The organization and fans alike in Nashville have been pining since Wilson was drafted 7th overall in 2008 for him to find the gear that he showed in the playoffs. Wilson was dominant for the Predators in the playoffs after years of inconsistency in the regular season.
Colin Wilson has scored 5 goals in the 2016 #StanleyCup Playoffs (13 GP). He scored 6 goals in the 2015-16 regular-season (64 GP). #SJSvsNSH

— NHL Public Relations (@PR_NHL) May 10, 2016
Wilson has steadily seen his PPG average drop each of the past five seasons. We all know how talented he is capable of being and has shown great flashes of that over those seasons, but he was never able to put things together on a consistent basis. However that changed in these playoffs when Wilson dominated the first two rounds for the Predators, notching 13 points in 14 games and helping Nashville get through a game seven against the Ducks and helping the team get to a game seven against the eventually Western Conference Champion Sharks.
Despite him having such a solid playoff and helping to carry the team as far as he did, the one knock on Wilson this postseason and in his regular seasons in general are that he does not produce on the man-advantage. Since he became a regular player for the Predators in the 2009-2010 season he has managed only 40 career regular season PPPs, 16 goals and 24 assists. That lowly production on the power-play was clearly evident in these playoffs.
Even-strength point leaders, 2016 #StanleyCup Playoffs:

1. Kucherov, 15
T-2. Tyler Johnson & Colin Wilson, 13
4. Killorn, 12#TBLightning

— Pete Jensen 🏒 (@NHLJensen) May 23, 2016
Wilson failed to notch a single power-play point in the playoffs, which hurts him overall going into next year. He did finish the season firmly entrenched in the Predators top-six forward rotation and fantasy owners and players should go into next season expecting him to be penciled into that spot. As long as Wilson is able to carry over his production from the postseason, and as long as he is able to start contributing something on the power-play, he will be a very solid player to draft later in fantasy drafts as a depth winger. Look to add him in the middle-to-late teen rounds of your drafts.
Other Forwards receiving consideration: T.J. Oshie, Washington Capitals; Reilly Smith, Florida Panthers; Alex Killorn, Tampa Bay Lightning; Joonas Donskoi, San Jose Sharks; Patric Hornqvist, Pittsburgh Penguins; Troy Brouwer, St. Louis Blues.
The Fantasy Hockey Stock Report will be back closer to, or after, the beginning of free agency when the dust of the draft and any trades have settled. In the meantime I am working on putting together end of the year/preliminary for next year fantasy rankings that should be finished in the next week or so.