Scott Laughton's first taste of the NHL came in the summer of 2012 when he was drafted 20th overall by the Philadelphia Flyers. While most of the other draftees were being applauded as they walked to the stage, Laughton was being booed. The unwelcoming greeting was no fault of Laughton's; he was in Pittsburgh, and they don't take too kindly to the Flyers. The boo birds are a commonality in this heated rivalry, one in which Laughton will be a part of in 2015-16 after making the club's 23-man roster.
Typical Flyer
Prior to the 2012 NHL Draft, teams weren't necessarily scouting Laughton for his scoring ability. Rather, he was being evaluated based on the various intangibles that make a prospect NHL-material.
While playing for the Oshawa Generals in the Ontario Hockey League, the Oakville native made a name for himself due to his gritty style of play that often opened the ice for teammates as a result of his propensity for taking the body and being fundamentally sound in all three zones.
On top of his play, he excelled at leading the Generals both on and off the ice. A natural-born leader, Laughton often led by example by playing the game the right way and expecting the same from his teammates. While not a flashy player by any means, his hockey sense and ability to consistently find the score sheet ultimately improved his draft status and secured his first-round selection.
On The Cusp
When the Flyers drafted Laughton 20th overall in the 2012 draft, it was obvious that they wanted to add to their storied culture, a culture rooted in hard-nosed, in-your-face exceptional hockey. Laughton exhibited these characteristics and more in his first two seasons with Oshawa where he scored 76 points in 127 games before being drafted. With his ceiling climbing and the Flyers always looking for help up front, he was given a five-game trial in the lockout-shortened 2012-13 campaign. Not wanting to burn the first year on his entry-level deal, the club sent him back to Oshawa to continue his development with the same team that produced one of the best players to ever wear the orange and black – Eric Lindros.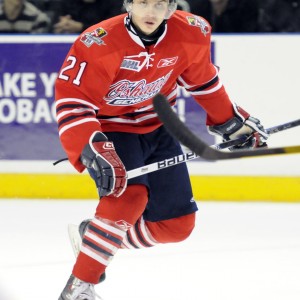 His final two years of junior hockey proved fruitful as he developed every aspect of his game from scoring (163 points) to captaining Canada's World Junior team in 2014. Laughton's attention to detail and training was noticeable at at each Flyers development camp and he was one of the last forwards to be re-assigned to Lehigh Valley of the American Hockey League prior to the start of last season.
With the Phantoms, Laughton centered the top line with fellow propsect Taylor Leier and veteran Andrew Gordon and came out of the gate flying, scoring four goals in the club's first few games en route to being named the CCM/AHL's Player of the Week. It's that type of play that will get you noticed by the big club, which is exactly what happened when the Flyers needed a healthy body in mid-November. With the Flyers playing inconsistent hockey, Laughton was a breath of fresh air and added some much needed hustle that Craig Berube's teams had been lacking. Though he failed to get on the board much, his play did not hurt the team either as their roster became a carousel of sorts while trying to right a sinking ship.  His energy was obvious, as evident by his first National Hockey League goal.
Laughton would spend the tail-end of the season in the AHL after a concussion seemingly derailed his flow and the Flyers brass thought it would be best to play more minutes in Lehigh Valley.
The Time is Now
Flyers General Manager Ron Hextall has been steadfast in his ideology that prospects will not consistently crack the Flyers roster unless they undoubtedly make the team better. Heading into his fourth training camp, Laughton made it a point to be in the best shape of his career and worked on improving his skating and two-way play over the summer. Considering his skill set, the Flyers tried him out as a third-line, shutdown center in the preseason, the roll that had been primarily occupied by Sean Couturier. With Couturier expected to produce more offensively on the second-line, the only logical choice for replacing his checking roll was Laughton.
As the Flyers reduced their roster closer to the 23-man limit, it became obvious that the final cut would either be one of the eight defensemen on a one-way deal OR Laughton since he is still waiver exempt and they team wouldn't have to risk losing a player. In a move that signified the concept that hard work truly pays off, Hextall opted to waive Andrew MacDonald and his $5 million annual salary in order to keep Laughton and only seven defensemen. As Dave Isaac reports, Laughton earned his spot by visibly making the Flyers a better team.
"Scotty pushed hard and I give him credit because he had to come in here and really make us a better team and thus far that's what he's done," Hextall said. "We're a better team with Scott Laughton on our team. Give the kid credit. He pushed the envelope and made this team."
In the Flyers season-opening game in Tampa Bay against the defending Eastern Conference champions, Laughton was in fact the third-line center on a unit with R.J. Umberger and Matt Read. In just over 14 minutes of ice time, he recorded an assist and two shots and was denied on a penalty shot in the league's first ever 3-on-3 overtime period. Although his 82-point pace will not continue, his effort and zest on the ice reiterated to Flyers management and coaches that he belongs in the NHL. It's role-players such as Laughton that will ultimately determine the fate of the 2015-16 Philadelphia Flyers.
To continue the discussion on Laughton, follow me on twitter @healedbyhockey